Your new movie Escaping Freedom - in a few words, what is it about?
Escaping Freedom is about two estranged foster siblings who attempt to reunite after choosing opposite paths in life and how their interaction forces each to take a hard look inside. Itís about being enslaved to an identity versus who you really are under the surface. Vincent is a pastor doubting his faith and struggling with his sexuality and his sister Krystal is an actress and self-proclaimed hedonist who struggles with the stigma associated with that label.
Before we continue talking about Escaping Freedom, could you say a few words about your mini-series Letters, and how it relates to your movie?
Letters was so much fun! Patrick and I started working on that series while we were developing the character Vincent. I was writing the script for Escaping Freedom at the same time we were producing Letters. It originally was just going to be this little experiment where we could play with ideas and see what sticks, but as time went on it became more and more a key part of the Escaping Freedom story.
What were your sources of inspiration when writing Escaping Freedom, and was any of this somehow based on personal experiences?
The story itself is fictional, but the questions and themes are all very much based on my own personal wrestling with faith, sexuality, and identity. This movie is really the result of an existential crisis I faced over the last 10 years or so.
To what extent could you actually identify with the struggle Vincent's going through - or Krystal for that matter?
The funny thing is, at the start of the film Vincent and Krystal are viewed as polar opposites and yet they are both equally and fully me. The fact that itís possible for that seeming contradiction to be true, I think, is captivating. Itís an example of how complex humans are. In fact, I feel like I can see myself in every character. Whatís really beautiful to see is that once it goes off the page and you have another human there to add themselves to the equation you see just how connected we all actually are and maybe we find out something together because of that. Itís amazing. Thatís my personal experience at least.
What can you tell us about your directorial approach to your story at hand?
In general, I like to exercise a lot of trust in both the cast and crew. I think for a film like this when there are so many very private moments that becomes even more critical. The actors knew their characters inside out and what the whole story meant to them personally. Itís important to give them the time and space to explore in a situation like this. The actors were living those moments and finding their way through it just like in real life. I was also quite literally always listening to some ambient music on set. It helped me connect all the pieces in my head to see if we were on the right track or not. Many times I would start the day in the corner with my eyes closed just letting the story say something to me while there is all this chaos of getting ready for the day happening around me.
Do talk about Escaping Freedom's key cast, and why exactly these people?
I have no idea how this worked out so well. I really mean that. So Patrick [Patrick D. Green interview - click here] was obviously already involved. We had known each other for a while and had wanted to work together. Kelly Godell we werenít familiar with. She saw our casting notice and sent us a couple video auditions. I remember when Patrick and I watched them we both felt certain we found Krytsal. We met her at a pub here in Portland called the Bagdad. I donít really remember saying much of anything. I just sat back and watched the two of them talk about whatever naturally came up. I wanted to see how they interacted with each other as themselves, first. If memory serves me, I think we offered her the role within 24 hours. Thatís kind of how it played out with a lot of the cast. We trusted our gut instinct. I feel incredibly fortunate to have these people give something of themselves for this story.
A few words about the shoot as such, and the on-set atmosphere?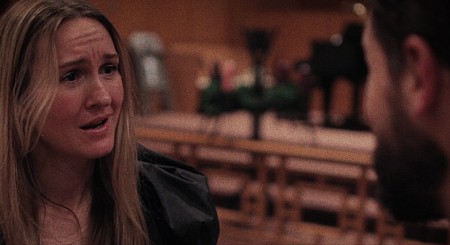 We had a very large script with multiple locations and, I believe, 14 days to shoot the majority of it. One of my goals was to make sure everybody, cast and crew, was on mission well before we stepped onto set. Not just that they were familiar with the script and their job, but that they were passionate about what meaning they personally found in the story. That might sound a bit like Mr. Obvious here, but it felt really important. I wanted to make sure we had time to really explore while having this massive page count on most days. Because of the visual style of the film, set-ups really didnít take that long and we were able to have a skeleton crew for the entire thing. I really like the intimacy that was created because of that and I think you can really see the resulting synergy in the final film. For being such an intense film, we had some of the best laughs on this set, too. I think it was probably kind of therapeutic for all of us.
Anything you can tell us about audience and critical reception of Escaping Freedom?
The movie has only been out for a little over a week at this point and Patrick and I are approaching this as a marathon, not a sprint. I think 12 months from now there will be a much fuller understanding of how itís being received. That being said, so far we have been really encouraged by the response. Audiences and critics seem to be catching on quickly that this is more of an existential film than they may have originally thought. It makes me really happy to hear people share their feelings more on that than what would be considered the controversial aspects or mere aesthetics. Not gonna lie, I enjoy it when they talk about those too, but what really gives me life is seeing those heavier conversations happen. I feel incredibly lucky to be playing some small part in helping those take place.
Any future projects you'd like to share?
I am writing a new script that I hope is the next feature. Iím holding it pretty close to my chest at the moment, but Iím really looking forward to getting more information out on it in the coming months. There are also a number of other ideas all floating around at varying levels of development. Find me on social media and Iím sure youíll get more details. Yes, thatís a shameless plug.
What got you into filmmaking in the first place, and did you receive any formal training on the subject?
My grandfather was a painter and was my best friend growing up. He taught me the value of art and was the one who made me believe I could have a career in this if I really wanted it. I honestly thought Iíd be an illustrator until around high school. I always felt connected to films, but it wasnít until I watched Grand Illusion in high school that things quickly shifted for me. I realized the power of subtext in storytelling. From there I just started studying on my own and making whatever I could. I could see how film is a beautiful amalgamation of all these different creative disciplines and I just fell in love with that.
What can you tell us about your filmwork prior to Escaping Freedom?
In 2012 I released my first feature film, A Tale of Delight based on a 2010 short of the same name. We are actually in the process of remastering the feature and having it available later in the year. Itís a surreal feeling going back to earlier work. Before that I made a number of shorts, but the majority of my work was for various not-for-profit organizations and some music videos which I was fortunate enough to have had some success in.
How would you describe yourself as a director?
The cast and crew are probably better qualified to answer that than I am. I like to think that I am a good listener and work hard to be in tune to what each personís real life needs are in that moment and how it relates to this fictional story we are telling. I hope the actors would say I am trustworthy because they are often asked to go to difficult places emotionally. I like to make sure each person on set feels equally heard and empowered to give ideas with the understanding that my job is to see the bigger picture and filter through those. I dislike calling cut and often continue to roll while the scene plays out over and over again. I enjoy roaming around while shooting and letting the actors find their way. My goal is to only break that moment when there needs to be a slight pivot in something or we have a technical issueÖ or itís lunch. That oneís important. I think this approach creates a pretty immersive style of storytelling that I look forward to developing as I grow as an artist.
Filmmakers who inspire you?
I find myself going back to Bergman and Tarkovsky regularly. I like Aronofsky and Kurosawa a ton. Chaplinís delicate balance of comedy and drama is a bar set so high that I think only Pixar really meets it with any sort of consistency. Fellini and Lynch are two artists who always bring you an otherworldly experience and I love that about them. Steve McQueen and Michael Fassbender are one of my favorite modern day creative pairings. When they work together you just know they will hit it out of the park.
Your favourite movies?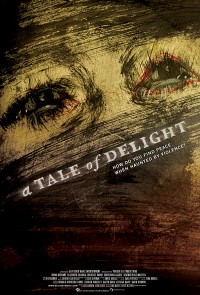 Feeling lucky ?
Want to
search
any of my partnershops yourself
for more, better results ?

The links below
will take you
just there!!!


The Cat from Outer Space is the best movie ever made. Iíll fight anyone on that. Actually, a filmmakerís body of work, especially those I listed earlier, is what I am drawn to more than particular films. I enjoy seeing how they evolve in craft and who they are as people.
... and of course, films you really deplore?
Is this a set-up? This feels like a set-up. Haha! I think films that I struggle with the most try to be ďabout somethingĒ but have what seems to be underdeveloped ideas and themes or they explore it from only one perspective. When an idea is only looked at from one side, the story more often than not is used for propaganda purposes, and for me that betrays what I see as an artistís actual role in society.
Your/your movie's website, social media, whatever else?
You can currently purchase the film on Amazon Prime in the US and UK and on Vimeo On Demand worldwide. We are adding to a number of different platforms over the next few months, so stay up-to-date on social media or our website:
Amazon: https://www.amazon.com/dp/B0885DY56K
Vimeo On Demand: https://vimeo.com/ondemand/escapingfreedom
Official site: https://www.escapingfreedom.net/
Facebook: http://www.facebook.com/EscapingFreedom
Twitter: http://www.twitter.com/EscFreedomMov
Instagram: http://www.instagram.com/AnyOtherNameEnt
IMDb: https://www.imdb.com/title/tt6614334
Mine:
Facebook: http://www.facebook.com/EddBlottFilm
Twitter: http://www.twitter.com/eddblott
Instagram: http://www.instagram.com/eddblott
Thanks for the interview!