Your new movie Dark Prism - in a few words, what is it about?
Dark Prism is about three women battling the demons in their head, troubled pasts, as well as literal demons, the undead, hauntings, possessions, and the like. These mysterious circumstances all seem to relate to the inexplicable appearance of a gigantic spinning prism that flies through the air and changes in size. Although the women live in completely different environments, worlds and time periods, slowly their realities become one until it all comes crashing down, culminating in one woman's confrontation with a secretive man known only as The Master.
Dark Prism sounds to be a bit surreal in approach - at all true, and would you care to elaborate?
It's surreal but also a lot more accessible of a film than anything I've made previously. It is actually quite linear in its initial approach, if not in the plot points themselves.
What were your inspirations when writing Dark Prism?
There are three acts. Act 1 was inspired by a dream. Act 2 was inspired by other people's ideas and some "what if" scenarios of my own. Act 3 was inspired by the film The Old Dark House, and many of the Roger Corman Edgar Allen Poe films.
What can you tell us about your co-writers Stephanie Domini, Ezra Pailer and Emma Kop, and what was your collaboration like?
Stephanie is an extremely talented actress and writer who I met at a meeting for women in production. She wrote much of the dialogue for the third act of the film. Ezra has always been my close collaborator, he did much of the matte paintings for this film and he made the posters for this one and my first film Glamarus. He came to visit me in New York and told me this idea for this office where everyone knows what they're doing except one man whose job it is to sort pictures of rodents and I told him "thats brilliant and im going to use that concept in my next film" and so the man is played by Robert Prichard and the vice president of the company is played by Lloyd Kaufman. Emma Kop is a dear friend who came up with an idea to put buttons in peoples drinks and I liked the idea so much I worked it into the movie.
The collaboration was really different and good and I think the ideas helped the story. I can't really say more but I'm glad I said it when I did or else I might not have anything to say at all.
Do talk about your directorial approach to your story at hand, and to what extent did you follow an actual shooting script, how much was improvised on set?
There was no script except for Mac DeMarco's special appearances, which is about a sheet or so of lines I'd written. With everyone else, I fed them lines or they came up with their own or one person came up with lines for others.
You were also the special effects technician on Dark Prism - so what can we expect from that department?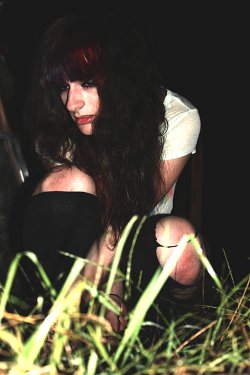 Dylan in Dark Prison
Deliberately exagerated and at times unrealistic effects that emulate different eras of effects from the 30s to the 80s.
Dark Prism also marks your first speaking role, right? So do talk about your character, your approach to her, and did you write her with yourself in mind?
I came up with a parody of Marlene Dietrich called Marlii Dietrik, and she's supposed to be the director of a movie within the movie. I thought since I'm a director I might as well play one. Plus it was one less actress I had to worry about not showing up. Honestly I think I look very foolish in the film and I am not sure if I want to act in my own films again. I love being in other people's films but acting in my own seems egotistical.
What can you tell us about your key cast, and why exactly these people?
Sofe Cote is an internationally acclaimed model for Silent. She has a way of making herself seem kind of off as a performative device and I think that's a really admirable quality. That's why I approached her to play Margaret East, a wealthy and troubled young girl. She has the distinction of being one of the first people to act in a major motion picture before they were born; she actually plays Amélie in the film of the same title, developing inside of her mother's womb in a time lapse scene that happens in the first 2 minutes of the film.
Sara Kaiser is a remarkable and up and coming performance artist. They were recently in a video for Rolling Stone with a troupe of other artists that do something called "Looping" which I'm quite fond of. Fritz Donnelly, who is also in the movie as the sinister but wacky butler Barnaby, is one of the founders of Looping along with Matthew Silver. Sara is a good comedy actor and I knew they'd be perfect as May West, our dada version of 30s film star Mae West [Mae West bio - click here].
Chandani Smith is probably one of the kindest people I've met in my life, and if you met her you'd understand. She gives off this aura of warmth that just fills your soul. I thought she would be perfect as Jesus so we put her in a fake beard and she rolled with it and got super into the character.
Stephanie Domini is one of the most experienced actresses in the main lineup of the cast, she plays a reporter in The Dark Knight Rises and has had a number of supporting and starring roles in various independent films including the short film she wrote and starred in A Cool Dark Place. One of the reasons I asked her to be in my movie is because she is a method actor and immerses herself in her character's emotion. This proved to be very important as I want the audience to feel her confusion and fear as Mary, the secretary with a troubled conscience.
Max Husten is an incredibly talented artist. He is a painter and a musician who works primarily with ambient music and lent two extremely haunting pieces to the film, one of which punctuates the title sequence. He plays Caleb Caldwell, a really nasty and entitled boy who gets tangled up with Margaret, and he also plays the Information Man, a character that also appeared in my previous film Wakers, who is a strange man that insists on knowing everything and documents it all. He also plays a number of smaller extra parts. He's just an incredibly versatile performer and I knew he was a great addition to the cast.
Wayne Garret Bal "The Jurgen Munster" is a member of the band The Slut Junkies. He had never had a speaking role in any movie before, which is lucky for me because I think if he did he'd be an A-Lister by now. He completely immersed himself in his role of President Bacel, so much so that at one point he actually threw a real knife during filming, which whizzed less than an inch past Stephanie's face. I honestly do think he has the potential to be the next Vincent Price [Vincent Price bio - click here]. He also was so helpful on set I'd go so far to say he actually saved the last third of the movie from not being finished. He brought his car, which we use in the film, lights, and costumes.
Amanda Flowers is a jack of all trades who was also in my last film Wakers as well. She plays the Queen of the S.A.D.O.s (Submerged Americans Dwelling in Ocean), which is basically a fucked up way of saying "mermaid". Anyone who meets her will agree she has a very magical quality to her and that's why I chose her.
Lucy Love is a fantastic artist who works with knitting and embroidery, and this was her first acting role, I believe. She plays Sodia, which is also an alias she uses in real life. She is best friends with Sofe Cote and plays her cousin in the film, which is great because they have a real chemistry that you can't match.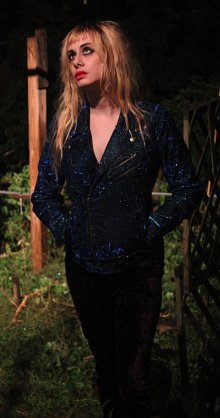 Amanda Flowers
You of course also have to talk about the roster of quite diverse guest stars you have for a bit, and how did you get them and what does each of them bring to the table?
I was able to film with Mac DeMarco because I went to his house, (he gives out his address in his album Another One and invites his fans over), gave him a mandolin, and asked if I could film with him for a little bit. He obliged as we both are friends with Ruby-Joy Baron who's a wonderful artist and pal (her and I did a song and music video together called Castle of Luv), and he was super nice. We filmed some material for a few minutes and then he drove my friends and I to the train station. I'm really grateful that he volunteered his time to be in my movie. He brings this sort of witty charm to the table; he delivers his lines in this kind of cold but also very lighthearted playful style that I think makes his character (a mysterious figure known as The Master), a lot scarier in a good way.
Matt and Laurel Katz-Bohen are great friends of mine and it's always a pleasure to work with and see them. I met Matt at an art opening my godmother Reverend Jen was reading at, and then the next day we ran into each other at a Gary Numan show. We began to know each other better ever since then, and then Matt was in my movie Wakers. This time I wanted to shoot something with both him and his wife Laurel as they have a great band called Daddy together. They do two fantastic original songs for the film as themselves, Love Pig and Let's Be Friends (which plays during the trailer).
Lloyd Kaufman is my boss and one of my mentors. My day job is that I am a full time editor at Troma Entertainment. Lloyd's taught me a lot and always encourages me to self promote. He also helped me a lot with the movie, letting me use stock footage from some of his films, and letting me use props like the Penis Monster puppet and a fog machine. He brings his brand of comedic sternness to the table and he's perfect as Cliff Kaufman, the vice president of a company that doesn't know what they're even doing.
Robert Prichard is a dear friend who I know through Reverend Jen. I had him in mind when I came up with the character of Elmer East, Margaret's father. He went pretty out of his way to be in the movie and I'm super grateful about that. Lloyd Kaufman's character Cliff is his boss in the movie, so the chemistry between them is funny as Kaufman actually was Prichard's boss in real life, directing him as an actor on his films The Toxic Avenger and Class of Nuke 'Em High.
I met Ophelia Rain while working on Return to Nuke 'Em High for Lloyd and Troma. She plays a student as Tromaville High School who encounters a slug monster and meets an untimely fate. We hit it off and became pretty good friends. Most people know her as a performer in adult videos, especially with the Burning Angel company, however she is also an innovator in the medical field and owns her own HIV Testing Company, as well as a director. She's a genius and I love to work with geniuses. All of her lines in the film are spoken backwards.
Fritz Donelly and Reverend Jen are both two amazing performance artists. I mentioned Fritz before, he's one of the co-founders of Looping, one of the most popular public performance art movements in New York right now. Looping is the art of taking a small movement. It's been described as "adult playtime" by Rolling Stone and involves people dressing up in silly costumes and playing with props, while also organizing into different sort of free form groups and immersing everyone on the street into the art, encouraging everyone to come Looping too, to get into the loop. He also directed and starred in his own movie I Like You and has a YouTube channel called tothehills. He has a very glitzy and glamorous appearance and demeanor and is truly a showman, so I thought I'd give him an extremely dramatic and performative role as Barnaby the butler.
Reverend Jen is the founder of the Art Star movement, which has been huge in the Lower East Side since the 90s. She has done some really amazing and crazy stuff, including performing her own one woman show outside of the venue showing the Broadway musical Cats. It was called Rats. She has also collaborated numerous times with one of my filmmaking idols Nick Zedd, most notably in her show The Adventures of Electra Elf and the short film parody Lord of the Cockrings. In my movie she plays twin old women, Terry and Edie. She loves playing really strange old women and so I thought, why not have her play two? She got totally into character and I love every second of it.
What can you tell us about the shoot as such, and the on-set atmosphere?
I tried to keep everything as chilled out as possible, and I think for the most part I was successful in that. I try to never ever yell or even really get angry (I try, but that doesn't mean I'm always successful). The film is in three acts and each act was filmed in kind of a different way, so the atmosphere would change. The first act was shot semi-rushed. We could only shoot on weekends because a lot of the cast would be in school on the weekends, but sometimes we'd be shooting on both days of the weekends, and because we were filming in other people's houses, we would kind of overstay our welcome a bit because we weren't paying to be there. We had to shoot several crucial scenes for the movie in like, an hour, at one point because of scheduling issues, and we stayed in this house right up until the very last second we needed to go.
The second plot wasn't rushed, but it was enormously complicated because it uses so many different locations. Each weekend my cast would have to come to a totally different part of New York. I had to book so many locations I felt like my head would combust. Luckily Torus Porta, this amazing performance space and club in Bushwick, let us use their space with no time limit, and at one point when we couldn't find any more locations, we came back, re-dressed the entire club with bedsheets, and shot new scenes there. It was just very chaotic. At one point I had pinkeye that was so bad I could hardly see. I had to make sure not to touch any of the actors while shooting. Unfortunately I also had to ACT in the scene that day as Marlii. I had these huge aviator shades on because I didn't want to alarm anyone with my eyes so in the movie I just decided I'd make that her thing, and then she rips them off, and she has demon eyes. Saved me loads on makeup.
I honestly can't say filming the third act was a laid back experience at all. It was fun and I loved it, but I was a nervous wreck and everyone could tell. This is because I shot all of the third act's principal scenes in a single day. Lucy Love and Mickala McFarlane who's been in all of my films were helping me out, and Lucy was in tears of laughter at some points from how chaotic the shoot was. We shot everything in my parent's house while they stayed in their bedroom and at one point people actually started throwing furniture. Some actors were late, others had to be places at a certain time, and I was just shaking and pacing back and forth nervously and sweating the whole way through. Everyone honestly came through so much that day and I really don't think I could have finished the shooting that day without having those people there, both the cast and crew of the film.
As far as I know, while the film's in the can, you're presently raising funds - so what can you tell us about your fundraising efforts, and what will the money go into?
We're raising money to premiere, screen and if we have any money left over, advertise for the film! The first 500 or so will go to renting a theater for the initial New York premiere, which will be open to the public and free, and if there are requests for more screenings we'll rent out more theaters, possibly even in other states. If we have money left over we will try to get some print ads for the film, and will print out promotional materials for the film as well. Our IndieGoGo is here: http://igg.me/at/darkprism/x/9867152
If all goes as planned, any idea when and where the film will be released onto the general public?
We want to get the film picked up by a distributor, and we'd like to release it on VOD, Blu-ray, DVD, and VHS for the collectors. It would be amazing if we could get some sort of limited theatrical release beyond renting out a few theaters, as well. So, honestly the short answer is, as soon as possible and in as many places as possible. If you are reading this and own a distribution company or would like to screen the film at your venue or theater, please email me at thisisdylangreenberg@gmail.com.
Any future projects you'd like to share?

Feeling lucky ?
Want to
search
any of my partnershops yourself
for more, better results ?

The links below
will take you
just there!!!

Find Dylan Greenberg
at the amazons ...

amazon.com

amazon.co.uk

amazon.de
Looking for imports ?
Find Dylan Greenberg here ...
Something naughty ?
(Must be over 18 to go there !)

I plan on filming an adaptation of a classic novel next. I'm going to take the original text and make it a lot more queer and a lot less boring. I also plan on distributing other people's films soon. I also am starting a music label and am distributing the album RCN by Ros Eotb, as well as my own albums Come On! Come On! Betty Bomb! and Really Secret Elevator. Search Disck Music Presents or Dylan Greenberg and you'll find it. I'm going to be doing some stuff with an up and coming musician called Ramona and we're going to release her debut EP on major online stores and do a music video for it.
Your/your movie's website, Facebook, IndieGoGo, whatever else?
Dark Prism's Facebook is: https://www.facebook.com/DarkPrismMovie
IndieGoGo: http://igg.me/at/darkprism/x/9867152
Disck Pictures website: disckmediagroup.co.vu
Anything else you're dying to mention and I have merely forgotten to ask?
I hope Clint Eastwood drowns in damp sand and I just want to remind everyone reading this that Clint Eastwood is the human equivalent of drying off with a wet towel.
Thanks for the interview!
My pleasure! Love you!