Your new movie Ghosts of Darkness - in a few words, what is it about?
Two paranormal investigators are unexpectedly thrown together in the hope of solving a 100 year mystery. Locked for three nights in a house with a dark and unsettling past, the two investigators must put their differences to one side and work together. Scepticism and showmanship are soon put to one side when the two investigators realise there is more at stake than just their professional reputation. For once they have stumbled onto the real thing, but this time it's their own lives at stake.
With Ghosts of Darkness being about a couple of paranormal investigators, what are your personal thoughts on the subject? And how much research did go into that aspect of the movie?
We actually met up with a real ghost hunter; all the props used in the movie by the Jack Donavan are gadgets paranormal investigators use in their real life investigations. Both my producing partner Lorraine Keith and I attended a ghost hunt on a famous haunted boat in Scotland. Although watching the process was interesting, it was also hilarious to observe the organisers trying to ramp up the fear factor as it was clear nothing of interest was happening in the paranormal. Iím more than open to the idea of ghosts & demons, but unfortunately Iím still waiting to see any of them with my own eyes.
Other sources of inspiration when writing Ghosts of Darkness?
Itís hard not to be influenced by other paranormal movies when writing this kind of script. We had a limited budget, so the tricky part was coming up with a story that would work with what we had available financially. Itís easy when writing any kind of screenplay to get carried away with what you envision will work on screen. Itís only when youíre standing behind a camera with actors and crew, that the reality of whatís possible hits you. For instance I would have loved to blow the location up at the end of the movie, but unfortunately that would have cost around twenty times more than the entire film cost to make. I now write all my scripts with the budget in mind. Itís a little frustrating but it definitely lessens the sadness of not being able to do something that sounds amazing on paper, but just impossible to do in the real world (unless you have the big bucks).
Do talk about your movie's approach to horror for a bit!
I think nailing the location for this film was a huge factor in the way we approached the actual filming. We started the location shoot with all these crazy camera angles and movements planned to heighten the horror, giving the movie more of a big budget look and feel. As we slowly started to work through the scenes it felt more natural to keep the actual camera in the background so to speak and let the actorsí performances take centre stage. With such a cool spooky location you donít need to do much cinematically to create an immersive horror atmosphere.
What can you tell us about your cast, and why exactly these people?
Paul Flannery runs a theatre production called Knightmare Live. Itís based on an old, famous, much loved U.K childrenís programme that used to air in the nineties. An actor friend invited me to one of his shows and I immediately knew I had to cast Paul to play the character of Jonathan Blazer. This was Paul's first ever film.
One of the investors stipulations was I cast a US lead to help with marketing the movie to a US audience. I found Michael Koltes on a website showcasing US actors (he is in fact German) working in the UK. His picture was the first to pop up and I loved his acting reel. I didnít look at anyone else and just prayed I could convince them both to star in the film before the start date.
Both actors were great to work with and had a huge impact on re-working the dialogue for their characters; in fact it turned out to be a very collaborative experience. They really worked hard on taking what I had written in the script and adapting it both for them personally and the characters they played in the movie.
Ghosts of Darkness was filmed in some very atmospheric locations - so do talk about those for a bit, and what was it like filming there?
The location in the movie is real. What you see in the film is exactly what you get if you rent this house out for family vacations etc. We spent 16 days shooting at the location which also doubled as our accommodation which proved to be tough. The house is located in a really isolated part of Scotland, no internet, no contact with the outside world. It kind of turned into some kind of surreal Big Brother experience. Budget-wise it made sense to have the actors and crew stay at the location, but I think in the end it felt like we were trapped there. Getting back to civilisation was a ferry trip across a Loch and a long drive into town. In a weird way it probably helped me as a director as I had nothing else to do but concentrate on the film 24/7, but I suspect the poor actors and crew were slowly going mad.
What can you tell us about the shoot as such, and the on-set atmosphere?
From getting the greenlight and receiving the budget, we had four weeks to organise the entire movie before the shoot, this included finding the cast and crew. The first couple of days are always a little weird as you are meeting all these people you donít really know, but it didnít take long for everyone to settle into the filming. The cast and crew for this film were tiny. Seven crew and two actors were on set full time with the other ghosts & ghouls travelling to the location for a couple of days to film their scenes and then leave. The 9 of us were stuck at the location during filming and then again in our down time at night. Looking back this probably worked in our favour as we quickly formed a really efficient unit both behind and in front of the camera and never fell behind once.
The $64-question of course, when and where will your movie be released onto the general public?
The movie comes out on the 7th of March on digital VOD, the DVD release follows in June.
Anything you can tell us about audience and critical reception of Ghosts of Darkness yet?
As Iím writing this the first of the reviews are just filtering through, so far so good, but the horror community can be a tough nut to crack and be quite unforgiving. This is an indie film so we have a bit of a mountain to climb to please everyone, so my fingers are crossed the movie does well. You can never tell if itís worked until the public get their hands on it.
Any future projects you'd like to share?
We have a slate of 3 films we want to produce, but finding investment is always a hard process to nail down. Hopefully Ghosts of Darkness preforms well for the distributor and we can get the other projects off the ground.
What can you tell us about your filmwork prior to Ghosts of Darkness?
Well Ghosts of Darkness is my first fully funded movie. The last two movies I made, Attack Of The Herbals & The Redwood Massacre, were funded through our own company Clear Focus Movies, and were devised specifically to see if we could actually make a film and sell it. Weíd almost given up on getting investment for Ghosts of Darkness when luckily we found someone who was willing to take a risk on us. Weíre delivering movies for under $40k including post-production. Unfortunately in Scotland our national film organisation wonít touch filmmakers with a budget of less than £800k, which kind of leaves us looking to countries like the US for money. Having investment makes a big difference to the productions and if you ever get the chance to watch the other films Iíve done you can definitely see the difference.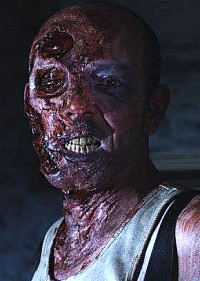 Feeling lucky ?
Want to
search
any of my partnershops yourself
for more, better results ?

The links below
will take you
just there!!!


Going through your filmography, horror seems a genre you return to time and again - pure coincidence, or is horror a genre at all dear to you, and why (not)?
To be honest I think the horror genre lends itself better to indie film making, you can produce fairly inexpensive films with a small crew and cast and know you have a passionate dedicated audience that will give the movie a chance. I grew up watching horror movies so at the moment it just feels like a good fit for us and obviously they are a lot of fun to make.
How would you describe yourself as a director?
Iím just like any director out there at this level, Iím just trying to do my best and make the films as good as they can possibly be. Maybe one day Iíll get the opportunity to work with slightly bigger budgets and finally get to pull off some of the crazy ideas we have on a larger scale.
Your/your movie's website, Facebook, whatever else?
www.clearfocus-productions.co.uk
www.facebook.com/SoulReaperFeatureFilm/
Thanks for the interview!