Your new movie The Family - in a few words, what is it about?
The Family is about a group of children raised to fear what lurks beyond the borders of the farm, indoctrinated to believe that if they are to even question the teachings of their Father and Mother and the false religion they preach, they could face severe punishment or even death. Itís about the reliance and strength it takes for these children to begin to question their world, and the real life trauma people suffer when having to choose between the twisted belief system that is their whole world and the truth.
You've written The Family together with the movie's producer Adam Booth - so what was your collaboration like during the writing process?
Adam and I have been working together for over 10 years. Weíve been roommates, we moved to LA together (until we quickly ran out of money) and we own several businesses together. We have a great relationship of honesty and trust needed when collaborating on a script. So when he was on a roll and wanted to take on an entire act I trusted him to do so, and when I wanted to scrap entire scenes and rewrite character arcs he trusted me to make the right decisions. We had so many conversations leading up to writing the script that although there were times when the exact path to writing was unclear, we were both steadfast in the message and the story we wanted to tell.
What can you tell us about The Family's approach to horror?
The Family follows in the footsteps of The Witch, Midsommar, and The Lighthouse. Films that arenít obviously scary but instead deeply psychological, creating space for nuanced characters and complicated themes. I think both Robert Eggers and Ari Aster really reshaped horrors in the last few years, and because of them itís possible for movies like ours to get made. We were also very influenced by older films, Alfred Hitchcock in particular. We really just wanted to resist the urge to be exploitative in any way, and let it be the childrenís existence and the horror of how they are treated by their parents lead the way. I think it leads to a much longer lasting terror, and also allows us to explore real lifeís themes of trauma and abuse that you might not see in most horror films.
A few words about your directorial approach to your story at hand?
Because the film deals with abuse, sexual assault, and grooming, I wanted to be very careful in how I approached the story. Everything that happens to the characters happens to people in real life, so it was important to take a realistic approach to the events that take place. I wanted it to be about the characters more than anything else. Itís their journey, their self discovery and their strength that makes the film so powerful. It takes a lot of trust to do this. Trust in your actors to understand their characters, trust in your creative keys to build a believable world. I think filmmaking should be immensely collaborative and for everybody involved to turn what was just a script in a deeply layered story about overcoming trauma.
Do talk about The Family's cast, and why exactly these people?
Every director will tell you that they needed the exact cast they found to make their film. That before a film is cast all you have are two-dimensional characters sitting lifeless on a page. It is the actors that breathe life into the characters, and I worked very closely with the actors to develop these characters and really discover what they were searching for. We went as far as rewriting major story arcs based on each actor's interpretation, making the story more true to the characters they have created. The film is anchored by Nigel Bennett as Father and Toni Ellwand as Mother, two deeply disturbing characters that are driven by their own trauma. Not just supervillains but hurt people hurting people. Itís their performance that gives the movie a steady pulse of terror that is unrelenting up until the final moments. At the heart of the story are Benjamin Charles Watson (Caleb), Jenna Warren (Abigail), Keana Lyn (Mary), Yasmin MacKay (Eve), and Onyx Spark (Elijah). Itís the collective strength of their performance that I believe will keep the audience engaged in their struggle. They are easy to relate to and easy to root for. Obviously having a multicultural cast was a choice, and we wanted to do this so the audience knew immediately that these children werenít born into this but brought to this place. Because we werenít limited to casting a family that looked alike we were able to find actors who fit the characters perfectly. Each actor brought so much to each character to the extent that some of the story arcs were changed to reflect their performance in the auditions. I believe in trusting actors with their characters and I would consider myself a very hands-off director when it comes to performance. Iím not looking to recreate the performance I had in my head but instead look to find each character collaboratively with my actors.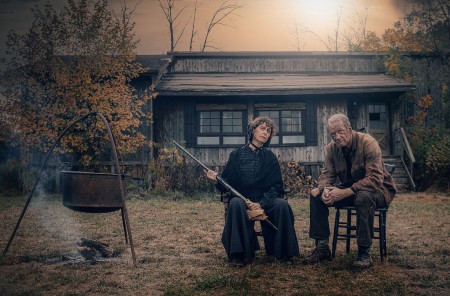 You of course also have to talk about The Family's beautiful out-of-time location, and what was it like filming there? And how did you find it even?
Finding the location itself was very lucky. Cristian, our producer was showing us some potential locations, and we visited an old estate that was beautiful but too nice for our story. We told the homeowners that it wasnít going to work for these reasons and they mentioned they had an abandoned house in the lot behind them. We all walked through a long pathway and were surprised to find this perfect field with an old house perched at the foot of it. The isolation of it was the perfect fit. The house itself was not destroyed by water damage, filled with mold, unusable and unsafe. We turned to our production designer Mercedes Coyle, asking if it could be restored. The transformation was incredible, the house was completely gutted, with new walls built, then aged to fit the look and time we were going for. We built that to look old and precarious with a huge credit going to Mercedes who designed it, and our head carpenter Steve Gupilijonus who, with a very limited budget, practically built it by himself. The childrenís bedroom was built in an old storage shed, and the shed wasbrought into a small field between our locations and an adjacent trailer park (which we lived in during filming). What we basically had was our own private outdoor studio, and we were contained there for the entire shoot. This was not only good for the pandemic, limiting our movement and situation in the middle of nowhere, but also allowed us to build our world and live in it for the entire production. I think this added to the energy on set as we were able to really put ourselves in these characters' shoes. This movie couldnít have happened without this location and the hard work of the entire art department to make it look the way it does in the film.
What can you tell us about the shoot as such, and the on-set atmosphere?
We had such an incredible, dedicated crew who worked tirelessly to make this film possible. Our shooting days were long, we were undercrewed (like every indie), it rained almost every day, and even our interior sets were practically exterior with temperatures dropping so low you could sometimes see our actors' breath. But everybody showed up everyday with an amazing attitude. They overcame every obstacle (like when Sheldon, our gaffer, had to move three 60 ft cranes by himself for a day) and we were really able to create a welcoming, safe atmosphere. Adam and I have owned a production company for several years, and we have worked with most of the crew before. We really like to find our people and stick with them and provide ourselves on finding talented, friendly and hardworking people that I know weíre going to work with for the rest of our life.
The $64-question of course, where can The Family be seen?
The Family just itís world premiere at Busan International Film Festival and is just at the very beginning of its film festival run. Weíre expecting a 2022 release, but the film will probably appear in a film festival near you in the next 6 months, so follow along @_thefamilyfilm on Instagram and Twitter, or the thefamilywestfilm on Facebook for news and updates on where the film will appear next. I canít say anything just yet about The Familyís next appearance but I can say that it will be coming to North America in the near future!
Anything you can tell us about the audience and critical reception of The Family?
The audience reception has been remarkable at Busan in South Korea, with the audience asking incredibly thoughtful questions. It tends to appeal to a younger audience, especially in South Korea where there seems to be a youth movement to push back against some older traditions. The critical response so far has also been quite positive with most reviews highlighting the acting as being especially strong - which I tend to agree with :)
Any future projects you'd like to share?
We currently have an exciting slate that includes a murder mystery TV series, a partially animated coming of age feature, and Canadian doc series. All are scheduled to film in 2022, so follow along at www.west.film for updates!
What can you tell us about your filmwork prior to The Family?
The Family is my third feature, and the first mainstream feature for our company. I also have extensive experience in music videos and commercials. You can find White Night, our previous feature that follows 7 strangers exploring an all night art festival (which we filmed almost entirely in one night with 4 separate units/directors) on Amazon Prime and iTunes.
How would you describe yourself as a director?
Iím very visual, very hands-on with cinematography, very open to collaboration, and I lean heavily on my cast and crew. I love being on set. Itís where I feel the most comfortable. So although I tend to be extremely prepared I want to leave room for exploration during production. I think filmmaking should be fun. I think it should be an experience for everybody. And I think itís important to have a message. To build strong multidimensional characters who can connect with an audience. You only have so much time and can only make so many things so they need to matter.
Filmmakers who inspire you?
Oh man, all of them. I love movies, TV. I was heavily inspired by Alfred Hitchcock as a kid. Specifically the TV show Alfred Hitchcock Presents, which was a series of shorts that he discovered, not necessarily made by him. I love Robert Eggers, Ari Aster. Grew up watching Tarantino, Scorsese, and Coen Brothers movies. I love Greta Gerwig and basically everything she does. Iím obsessed with everything Dennis Villeneuve does. Iíve somehow gotten this far without mentioning David Fincher or Christopher Nolan or other great Canadian filmmakers like Xavier Dolan and Sara Polley. I think the answer Iím looking for is that Iím inspired by a lot of different genres and I donít think Iíll ever stick to just one genre in my career. I think it's so fun to explore genres and techniques, and as long as the story is sound with real believable characters, I love to explore to film in its entirety.
Your favourite movies?
City of God was the first movie to ever make me think about filmmaking and the director's role. Big Lebowski made me respect scripting and the nuances of acting. Almost Famous, Whiplash, Jojo Rabbit, Lost in Translation, Arrival, Catch Me if You Can, The Witch, Silence of the Lambs, Donnie Darko, Waves... Iím missing a hundred more in whatís a constantly rotating top 100.
... and of course, films you really deplore?
Tree of Life is the worst movie ever made, and I will fight anybody who says otherwise.
Your/your movie's website, social media, whatever else?
Instagram: @_thefamilyfilm
Twitter: @_thefamilyfilm
Facebook: thefamilywestfilm
Our website: www.west.film

Feeling lucky ?
Want to
search
any of my partnershops yourself
for more, better results ?

The links below
will take you
just there!!!


Anything else you're dying to mention and I have merely forgotten to ask?
The hardest part of filming this feature is the entire time we were filming, my kidneys were failing as I battled end stage kidney disease. I am here and living out my dream of being a filmmaker because of a supportive crew who worked extra hard to make sure I didn't have to lift a finger during filming, Canadaís healthcare system which worked with me to maintain my kidney function through the film and performed a kidney transplant two weeks after we wrapped, and an incredibly generous friend who donated her kidney. So become an organ donor, push for equitable healthcare and treat people nicely, because we never know when we'll need a kidney like me ;)
Thanks for the interview!