Your new movie Elodie - in a few words, what is it about?
Elodie is about a playwright who is led into the world of her own writing when one of her fictional characters seeks her help in a kidnapping incident. In general, itís about an artist overcoming failure by gaining an appreciation for their own work.
Is Elodie's lead character Sabrina in any form or way based on yourself, and to what degree can you identify with her and the things she's going through?
My approach to storytelling has always been to use my own emotions and experiences, but to package them in a way that is entertaining and influenced by the films that I love. So, yes, Sabrina is very much based on me. One of the main reasons I made this film was in response to the experience I had making my first feature film, Timespace. The premiere of that film was a technical disaster, largely due to my own inexperience and poor planning (I was 18 at the time). The embarrassment I felt while sitting in a sold-out theatre with my film freezing, glitching, and turning to static was something that stuck with me for years. I couldnít shake the feeling that I was a failure. The only way I was really able to work through it was by writing.
The events of Elodie are set in motion by the public and painful failure of Sabrinaís play. In order for her to overcome her embarrassment, she literally enters the world that she created. This framework was pulled directly from my own experience and allowed me to write a character that, I hope, feels authentic.
Also, Elodie seems to be vastly reminiscent of yesteryear's crime cinema - was this at all on purpose, and is that a genre especially dear to you, and why (not)?
Absolutely. I like to think of myself as a film fan first and a filmmaker second. I believe anyone working in this field must have an admiration for the works that came before. So once I decided that I wanted to tell a story about a creator overcoming failure, I needed to find the hook that would actually make it entertaining. I settled on the idea of a film noir/crime drama. There are both specific and general/thematic references to many classic films of this genre such as Shadow of a Doubt, Laura, Kiss Me Deadly, Chinatown, Taxi Driver, Alphaville, and Leave Her to Heaven, to name a few.
I think what most draws me to the genre is the close relationship between story and visual style. The mood established by the low-key lighting and atmospheric locations is perfectly in sync with the conflict of the characters in a way that is more satisfying than nearly any other genre I can think of.
(Other) sources of inspiration when writing Elodie?
I defined the film for the cast and crew as equal parts film noir, French new wave, and fairy tale. Obviously these are three very different styles, but they are linked by my personal love for each of them. Film noir because the moody atmosphere served as a natural manifestation of Sabrinaís internal experience. French new wave because the experimental storytelling and editing techniques lent themselves well to a low budget, meta indie film. And fairy tale because I wanted to be earnest in my portrayal of the fantasy elements of the film. Stories such as Alice in Wonderland, Peter Pan and The Wizard of Oz all deal with characters who move from a difficult reality into a fantasy where their real struggles are represented in entertaining, allegorical ways.
Other specific influences such as Persona, 8 1/2, Cleo from 5 to 7 and Pierrot le Fou all helped as I formed the story and brought it to life. I could go on and on about inspiration, so I would just note that if you suspect I was influenced by a particular classic film, either consciously or subconsciously, youíre probably right. Whether or not I actually did justice to any of them or instead made a pretentious Frankensteinís monster of everything I love is another thing entirely! But thatís up to the audience to decide.
Elodie plays on two levels of reality that somehow interact with one another - so how easy of hard is it to follow through with such a concept without (literally) losing the plot?
It was very important to me that the two states of reality be intimately related with one another as far as story goes. The real life problems of Sabrina would be illuminated through allegorical scenarios in the world of her play. I thought of the structure in terms of a balance scale. Every element in ďrealityĒ needed an offset in the ďfantasyĒ story in order to stay in balance. It was definitely a lot harder than I expected to get there, however. It took several drafts to finally trim down the plot to a point where it was manageable. Getting outside eyes on the screenplay was invaluable, because oftentimes when youíve been working on something for so long, you canít see the forest for the trees anymore.
Iíll admit that one of my biggest weaknesses as a writer is my lack of subtlety. In earlier drafts, I overexplained everything in hopes that every detail I was going for would be understood by the viewer. Once I let go of that desire, I realized that as long as the throughline is clear, the subtleties of theme would come more naturally. Looking back, itís far from perfect in this regard, but itís an improvement. And, to quote from Ed Wood, ď...my next one will be better!Ē
What can you tell us about your directorial approach to your story at hand?
I think any director working off their own script has an instant advantage in terms of translating the emotions of the story into a cinematic experience. My first step was to assemble a lookbook of visual elements that represented my vision for the film. This included stills from similar films, location photos, art, anything that helped convey the images in my head. Then itís much easier to get everyone on the same page.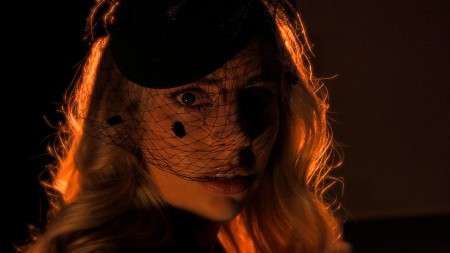 One of the most important things for me to get right was the visual contrast between ďrealityĒ and ďfantasyĒ. I already knew that the world of the play would be shot in black-and-white, with heavy shadow and dramatic film noir influence. But I wanted the real world to have a similarly compelling visual style. I figured that if the fantasy was black-and-white, reality must be full of bright color, like a cartoon or a comic. One night my friends and I put on the slasher horror flick Death Spa, and I instantly fell in love with its use of color in lighting. I wouldnít say itís a great film, but it was exactly the visual style I was looking for.
As far as working on set, my role as a director is to keep the ship headed in the right direction, always toward that pre-defined vision. In the chaos of fast shoots, late nights, early mornings, itís my job to make sure that at the end of the day, everything we do is supporting that unified vision. Of course I couldnít do it without the help of my amazing crew.
You just have to talk about Elodie's musical score for a bit, and about your collaboration with the composer Louis Coste?
Iíve always considered music to be one of the most important, yet often overlooked, aspects of film. Iíve heard many filmmakers and composers state that a movieís score is successful if you donít notice it. I disagree with that. I think music is just as important as the visuals, as performance, as every other art form that is made obvious to the viewer. Why wouldnít you want it to be bold?
I first worked with Louis Coste on my previously mentioned first feature Timespace. What instantly stood out to me was his incredible ability to translate the emotions of the story into music. Weíve worked together on every one of my films since then, culminating in the (now award winning!) score for Elodie. Before ever rolling the camera, I met with Louis to go over the screenplay in detail, as well as my own emotions and intentions behind the words. Having also been present for the Timespace premiere debacle, I think he was able to tap into those same emotions that I did. What resulted was a haunting piano dreamscape that made me smile from ear to ear the first time I heard it. It was bold, it wasnít what youíd expect. Maybe itís not for everyone, but Iíd rather have something truly unique and interesting than safe and boring.
Do talk about Elodie's cast, and why exactly these people?
What separates this film from a lot of others in terms of casting is that we had to find actors who could portray two different characters in the same story. Thereís the ďreal lifeĒ version, and the ďfantasyĒ version, which I view as being two halves of the same coin. For these roles, it was important to me to find actors who could be believable in both aspects, which requires a lot more skill and flexibility than you might think. Iím extremely grateful to have found Brittney Watson, Ian Holt, Taylor Dahl, and Brandon Caraco who I believe were all able to pull this off wonderfully.
The exceptions to the dual role concept are the leads, Sabrina and Elodie, who compliment each other as characters. For Elodie, I needed someone strong, pure, confident - traits that Sabrina aspires to have. Taylor McGlone was the perfect embodiment of this character. For Sabrina, I needed an actor who could appear vulnerable, but who was fearless. I found that with Faith Decker. The role of Sabrina is particularly intense. I made a decision early on that the entire film would be told from her singular perspective, so that meant she would be present in every single scene. I was extremely grateful to form a bond of mutual trust with Faith that allowed us to bring the character to life in a beautifully authentic way, and I think she did a phenomenal job.
A few words about the shoot as such, and the on-set atmosphere?
This was definitely a low budget film, so we often had to get creative with our shooting. There was a lot of guerrilla filmmaking out in the streets, with the occasional secured location if we were lucky. On top of that, pretty much everyone involved (cast, crew and myself) all had full time day jobs. So we werenít even able to begin filming until the evening or on weekends. Thankfully I had this in mind while writing and came up with a concept that takes place mostly at night, so it worked out. But it was definitely exhausting for everyone, having to work all day, film all night, then do it all over again the next day. But of course, it was a ton of fun. The crew was small, so we all got to know each other really well, which felt more like a family. Everyone would focus on their role, but also lend a hand wherever it was needed. This is essential when filming with a low budget. My goal was to create an environment that was safe, comfortable, and open to creativity, and I think we succeeded with that.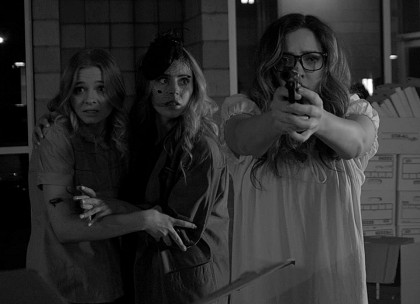 Any future projects you'd like to share?
Iím working on a few screenplays at the moment. Nothing I can share yet, but one is a feature adaptation of the comic I wrote. Rather than fall into a particular niche, I prefer to try out many different genres, styles, and subject matters as I move from project to project. So I can say that whatever I end up doing next, it will most likely be very different in form from Elodie.
What got you into filmmaking in the first place, and did you receive any formal training on the subject?
Iíve been interested in filmmaking nearly my entire life. When I was very young, my first love was Disney animation, and I wanted to be an animator. But then I saw Star Wars and everything changed. I knew I wanted to make movies as a director. I was probably 7 or 8 at the time, and Iíve never let go of that desire. I would use the family camcorder to set up and film elaborate productions with my little sisters in our unfinished basement. Usually re-enactments of whatever I was into at the time - Disney, Dr. Seuss, Scooby Doo.
It wasnít until high school that I started taking the craft of filmmaking seriously. I was active in the Drama department of my school where I met many of the talented people I still work with today. I founded the production company Black Box Films before heading off from my home state of Arizona to college at Hofstra University in New York. I received a B.A. in Film Studies and Production with a minor in Creative Writing. While it was helpful to go through a film program and make some important connections, the college experience paled in comparison to the education I got from actually going out and making films.
What can you tell us about your filmwork prior to Elodie?
As previously mentioned, I started getting more serious about filmmaking in high school when I wrote and directed my first legitimate short film, Writerís Block, produced under the Black Box Filmscompany I founded. That was followed by some additional short films of varying quality called Facade, Red Song and Tangled Wire. These were all produced with actor friends from high school, and whoever I could convince to be a crewmember.
After going through my freshman year of college, I wanted to tackle a feature length film, which was the aforementioned Timespace. That was both a wonderful experience, working with friends and family to tell a long form story for the first time, and a terrible experience, with long days in the sweltering Arizona summer heat after biting off way more than we could chew. The resulting film was adequate at best, but we saw it through to completion and Iím proud of that. Itís gotten terrible reviews (which I understand), but I think itís a good example of the constant process of trial and error that every budding filmmaker goes through when trying to learn the craft and find their voice.
After Timespace, I returned to making short films for several years, my favorite probably being They Hide Among Us!, a send up of 50s sci-fi. Then I started writing Elodie, and a few years later, here we are!
Other than making movies, you've also written a comicbook, The Spirit of the Shadows - so what can you tell us about that one, and how does working on a comicbook compare to making a movie?
Thatís another project that is very dear to me. The story is about a poor musician who falls in love with the daughter of a rich aristocrat, but is unceremoniously killed and brought back to life as a monster. It was heavily inspired by German expressionism, gothic horror romance, and the Universal Classic Monsters. Ironically, that story originated as a film script, but after realizing it was too large in scope for a low budget, I teamed up with my friend and incredible artist Nick Cagnetti (creator of the indie comic Pink Lemonade) to expand it into a comic.
I would say in some aspects it is very similar to writing a film (I once again infused my own emotions/experiences with a genre that I love), and in others it is very different. The biggest contrast is what you can portray with a small budget. In a low budget comic, you can have a horde of monsters burn down a Victorian Mansion no problem. In a low budget film, the biggest set piece you can afford is a warehouse kidnapping. But I look at the constraints as being part of the fun. It forces you to be more creative, which often leads to better results.
Iím currently adapting that comic back into a feature film screenplay, which has been a unique experience in its own right. Hopefully someday I will be able to bring it to life with the production value it deserves.
How would you describe yourself as a director?
Iím someone who deeply admires the history of cinema and wants to shine a light on the often forgotten styles and techniques of the past. My goal is not to blend in, but to stand out by pushing the boundaries of style with one foot in the past and one foot in the future. On set, my goal as a director is to create an environment that breeds creativity, while always ensuring the safety and comfort of my cast and crew. Some of the best ideas have come from the least likely people, so I will always listen to any suggestion, no matter who makes it.
Filmmakers who inspire you?
My single biggest influence would have to be Alfred Hitchcock. Others that have had a huge impact on me include Stanley Kubrick, Billy Wilder, Ingmar Bergman, David Lynch, Jean-Luc Godard, Christopher Nolan, Dario Argento, Fritz Lang, and so many others. And Walt Disney, while not himself a director, was a brilliant filmmaker/visionary and likely my biggest overall inspiration.
Your favourite movies?
So many, but perhaps the one film that exemplifies everything I love about cinema is Sunset Boulevard. The Empire Strikes Back, Sleeping Beauty, Vertigo, and The Shining are all high on my list and have been incredibly influential on my filmmaking and my desire to be a director. I love everything from silent films like Metropolis and The Cabinet of Dr. Caligari to more contemporary works like Drive, Mother!, and Thoroughbreds. A few more honorable mentions would be Phantom of the Paradise, Black Narcissus, Dracula (1931), The Day the Earth Stood Still (1951), Suspiria (1977), 2001: A Space Odyssey, Psycho (1960), the list goes on.
... and of course, films you really deplore?
I try to find something redeeming in every film. Knowing how hard it is to make a good one, I give the bad ones the benefit of the doubt. But if I had to choose, I strongly dislike Maleficent, which took my favorite Disney character and went against everything she represents. So I wasnít happy about that. I suppose a more recent, definitely controversial pick would be Hereditary. I absolutely respect the artistry and think itís an incredibly well crafted film that achieves its goal. Unfortunately its goal is to make you feel absolutely awful, and it did. Thatís just not why I watch films, so I didnít get much out of it except misery.

Feeling lucky ?
Want to
search
any of my partnershops yourself
for more, better results ?

The links below
will take you
just there!!!


Your/your movie's website, social media, whatever else?
All my work can be found on the Black Box Films website: http://blackboxfilmsllc.com/
Elodie is available on Prime Video at: https://www.amazon.com/dp/B087644F2Q
My personal social media is @DanZiggs on pretty much every platform.
Anything else you're dying to mention and I have merely forgotten to ask?
Iíd just like to thank everyone who watched the film and expressed their opinions, good or bad. Making any movie, especially on a low budget, is extremely difficult and is the result of so many dedicated people pouring their hearts into something bigger than any one of them. Please seek out and support independent films. If you like what you see, let the filmmakers know. Itís why we do what we do, and it means the world to us to know that itís appreciated.
Thanks for the interview!
Thank you!