Your new movie Lock-In - in a few words, what is it about?
Lock-In is an independent semi-sci-fi comedy-drama film, as we're calling it, shot at social distance. The film starts out as Earth's worldwide communications network is hi-jacked by a flamboyant alien entity named Flogg, and humankind learns that it is about to become the subject of an intergalactic social experiment: What happens when you take a social species built around its ability to see, feel, taste and kill each other and remove their ability to do so?
The film takes place just before the 6-month mark of a complete and total global lock-in - every human being on earth has been physically constrained within the confines of their homes and offices, kept alive through provisional rationing by their mysterious extra-terrestrial warden.
The film features a cast of over 100 filming themselves on-location from social distance in an interconnected tapestry of vignettes and insights into the lives and experiences of a captive species known as "Humans". With narrative tones ranging from the heartfelt to the absurd, Lock-In is a morality tale disguised as an irreverent comedy which urges us to strip away the frivolities of life on Earth and discover for ourselves what is truly, universally important.
What prompted you to make a movie under lockdown conditions in the first place?
Spring Theatre, our non-profit youth theatre company in Winston-Salem, North Carolina in the United States, was set to be producing Children of Eden as the opening of their 2020 season. COVID-19 forced us to postpone the show just a day before we were supposed to go into rehearsals. It was - to us - imperative to keep our Spring Theatre community strong during this time of isolation, and also to give creative outlets to our cast. So we offered to the cast of Children of Eden this option, and then opened it up to anyone who wanted to take part. We never expected to get a cast of 100 from all over the world.
What were your sources of inspiration when writing Lock-In?
I think kind of everything. I think this movie draws from a lot of different sources and also makes reference to most of them. There's a lot of satire in this film, but there is also a fair amount of heart. From a narrative standpoint, one big influence was the play Almost Maine, and the film Love Actually. Both of these pieces are comprised of individual love stories that coexist within the same universe but don't necessarily directly influence one another. They are these kind of tonal tapestries that sort of paint a picture rather than tell a tale, but they aim to ultimately move the viewer. We decided on a structure that aimed to do the same thing, but focuses on the theme of social community rather than romance.
Do talk about Lock-In's brand of humour for a bit?
A similar answer to the previous: There's a lot of different brands of humor in this show. We were writing this story for a cast of 100, so we really had to stretch the range of this film to accommodate for that many characters and to make sure we felt each characters had thematic, narrative or comedic relevance. So we really let ourselves go wild with the different brands of humor here. I think there's a strong Monty Python undercurrent here, but there's style reaching back to vaudeville and into the absurd.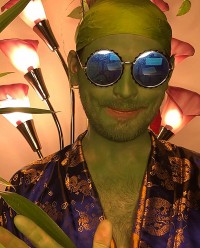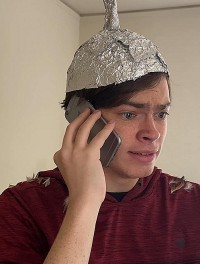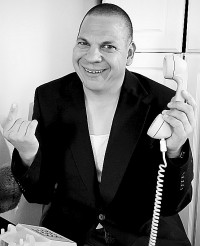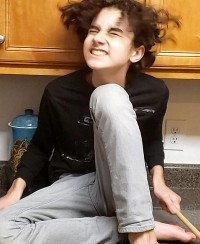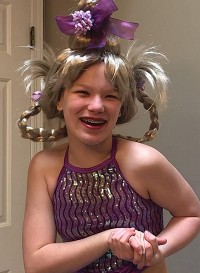 Feeling lucky ?
Want to
search
any of my partnershops yourself
for more, better results ?

The links below
will take you
just there!!!


Since everything in Lock-In has been shot remotely, how did you even go about directing the film and see to it that everyone and everything was spot-on?
Well, we had two weekly cast meetings where we'd brief our team on updates and information and assignments, descriptions of key moments in the film, etc. We tried to coach each performer on lighting, costume design, set design, sound and everything else you can think of with sort of a "crash course" in cinematography and film. We then held individual rehearsals for every single scene in the film — there were days we were on Zoom for over ten hours straight — and then we'd go back to writing. It was a ton of time and very little sleep, but never got old and was always so much fun to work on.
What was the collaboration between the two of you during all of this?
Erinn definitely wore the executive director hat, and Dan the artistic director one for this collaboration — even moreso than usual. However virtually everything we do in life is a collaboration, so we've got a pretty good teamwork figured out. After the two of us wrote the script, Erinn's priority was focusing on fostering the community involved, handling the communications for the film and overseeing the basic artistic needs of the performers, while Dan focused more on directing, editing and the final execution of the project.
You also appear in front of the camera in Lock-In - so what can you tell us about your characters, what did you draw upon to bring them to life, and have you written them with yourselves in mind from the get-go?
We are both performers first, so I think almost every character we write is written with our performing personas in mind — not consciously; I think it just happens that way.
The characters we play in this film are wordy anchormen-and-women who satirize the archetypical public broadcast newscasters. We got to play with language a lot with our characters, since the jokes we wrote for Kurt and Laney were more language-based than range-of-emotions-based.
What can you tell us about the rest of your cast, and why exactly these people?
The rest of this cast is the best 98% percent of the thing, in our opinion. They're from all over the world. We've got people down the block performing with us as well as people across the ocean — on both sides.
We basically started the digital performance project to give anybody who wanted to participate the opportunity to come and hang out, sing, dance, act, and just generally have a good time. So these are the ones who wanted to play. They're our digital family.
Several of them have also doubled as songwriters, logo makers and editors. It's been a truly inclusive experience.
So what can you tell us about the shoots?
Well I think the common denominator between everyone of the performers in Lock-In is the newfound ability to manufacture a tripod for your phone and a nice 45/45 lighting setup out of whatever might be laying around their house.
The $64-question of course, when and where will your movie be released?
We will be releasing the film on Friday, May 29th at 8pmEDT on the Spring Theatre YouTube page.
Based on the experience with Lock-In, could you ever be persuaded to make another "lockdown"-movie - and any other future projects you'd like to share?
Absolutely yes. We already have ideas of other stories that could work with a digital structure such as this one, and this film has been collaborative, inclusive and FUN to make.
As far as future projects, we have several. Spring Theatre is currently making decisions and developing safe and creative ways to make our next "live" production work under whatever circumstances will be given in less than a month. We also both tour with Letters From Home, and are working on a 10-year reunion show this year with that and next year a 50-states tour. In the fall, we'll be producing an original live show at Spring Theatre called Gil and the Wild Man which is written by Joe Haney and explores creativity in a magical world mixed with real-life parallels. There's not any time that goes by that we aren't starting a new creative project.
Your/your movie's website, Facebook, whatever else?
Lock-in trailer: https://youtu.be/xHkCLIF8r5E - and you can find out more information on Lock-In at www.SpringTheatre.org and on our Facebook page at facebook.com/springtheatreorg
Anything else you're dying to mention and I have merely forgotten to ask?
Just that the entire process of making this film has been surreal. I'm not sure what we're going to do as soon as we are free from being locked to our screens every day creating. But we've both changed as people as a result of the circumstances we were given to create at this challenging time in life, and we wouldn't have it any other way.
Thanks for the interview!
Thank YOU for the great questions!