Your new movie The Dark Days of Demetrius - in a few words, what is it about?
The Dark Days of Demetrius is my latest cinematic masterpiece that follows the exploits of Demetrius, a narcissistic serial killer who is dubbed by the press as "The Live Stream Killer", due to the fact that he live streams the murders of his victims on social media. Demetrius is able to evade authorities while his live stream videos become a viral sensation, earning him stardom. However, conflict arises when Demetrius crosses paths with Clive, a corrupt news reporter, cultivating in a disturbing, cinematic descent into evil, violence, death, depravity and narcissism.
Now I wrote about your movie it's a "social commentary on the sensationalism of today's (social) media with the consequential corrosion of morals" - would you agree to that, and your personal thoughts on the subject?
Yes I do agree with that statement. The Dark Days of Demetrius can be viewed as a commentary of the consequences of sensationalism that is prevalent in today's news media. Sensational news stories always have, and always will get more attention, which is why the media is eager to exploit violence and/or tragedies just as Clive the news reporter does in the film.
Your sources of inspiration when writing The Dark Days of Demetrius?
There were a variety inspirations and reasons I had for making The Dark Days of Demetrius, and it all started right after the release of my previous film, American Antichrist (in late 2018), when I began writing the script for what would become The Dark Days of Demetrius. My previous film, American Antichrist had a very abstract, almost nonscenical storyline - and since I attempt to do something a little different with each of my films, I decided that I wanted to create a film with a straightforward, clever, coherent, well-conceived storyline, that would be a departure from the non-linear storyline that I had perfected with American Antichrist.
The themes that The Dark Days of Demetrius deals with are primarily evil, violence, narcissism, and the corruption of the news media. However, another important element that I was trying to explore within the storyline of The Dark Days of Demetrius is the idea that even a serial killer can become an internet star/sensation - like Demetrius does in the film - by live streaming the murders of his victims online.
You also play the title character in The Dark Days of Demetrius - so what did you draw upon to bring him to life, and did you write him with yourself in mind from the get-go?
Yes I did write the main character Demetrius with myself in mind to play the role. Since the demise of my collaboration with Darien Fox, the lead actor in The Rise and Fall of an American Scumbag & American Scumbags, I have had no other choice but start being the star of my own films. Fortunately, I have consistently acted in all of my past films, playing major roles, so I definitely have acting experience, and having already played the lead role in my previous film American Antichrist, I felt extremely comfortable taking on the role of Demetrius, the character that is essentially the driving force of this film.
To efficiently portray such a vile, narcissistic, and evil character, I had to bring out the worst aspects of myself.
I also wanted to approach playing Demetrius differently because I wanted the character to come off as human, as opposed to a shallow embodiment of evil or nihilism. Not to say that Demetrius isn't evil or nihilistic, because he certainly is, but to me Demetrius is a very human character that posses human traits in the sense that he is narcissistic, extremely self centered, and ambitious. He was also abused as a child, which helps justify why he grew up to become such a fucked up individual. These elements of Demetrius are why I feel he is more human than some of the other characters that have inhabited my past films that embodied nihilism, evil or Satan.
In conclusion, I believe that I did manage to effectively bring Demetrius to life, as the feedback I have received has been extremely positive, with some even going as far as saying that my performance in The Dark Days of Demetrius is my "best yet", which validates my confidence.
Do talk about the rest of your cast, and why exactly these people?
Well, there is Fred Epstein, who plays the role of the corrupt and depraved news reporter Clive. Fred Epstein was best known for playing Chester, the drug kingpin in my second film American Scumbags. Prior to working with him again on The Dark Days of Demetrius, the last time I saw him in person was back in spring 2017, when he made a small appearance in The Acid Sorcerer. After that, I did not speak to him until March 2019, when I offered him the role of Clive, because he was the only potential actor I knew who I could imagine playing the role. It was kind of bizarre for me to work with someone from my earlier films (mainly because it made me think of my approach to filmmaking when I made American Scumbags, and how much I've changed as a filmmaker since then), but regardless, Fred efficiently portrayed Clive just as I instructed him to, and did an excellent job of bringing my vision of the character to the screen. I must also give Fred credit for being such a brave actor who was not fazed by the film's more "extreme" content , and for not being afraid to embody such a vile character. An interesting occurrence that happened during the making of the film is that while I was filming Clive's scenes with Fred, he told me that my approach to filmmaking had changed so much from when he worked with me on American Scumbags, that it felt as if I was a different filmmaker. I think that was very interesting to hear, and I can see why he thought that, due to the fact that I am now a lot more obsessive and put a heavy emphasis on lighting and atmosphere, which is a drastically different approach compared to what I was doing during what I refer to as my "anti-film" period, when I made My Master Satan: 3 Tales of Drug Fueled Violence and American Scumbags.
There is S. Donatello (who also worked with me on the visual effects on this film) who plays a role in the film as Baphomet, a masked serial killer who is a copycat of Demetrius, trying to attain stardom. I must also thank S. Donatello for being such a fearless actor who was left unfazed when confronted with some of the more "extreme" scenes required for the character, because some of the scenes involving the character Baphomet really do push the envelope.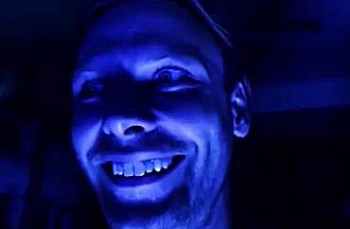 And finally, there is Lilith Frost, who I met later on towards the end of the making of the film. I was in need of an actress to play Bunny, a prostitute who is victimized and murdered by Demetrius. I met Lilith Frost online, after she had seen my previous film American Antichrist, and wanted to play a role in The Dark Days of Demetrius. I feel very fortunate to have had such a very fearless cast of actors and actresses who were not deterred by any of the extreme scenes of this film, enabling me to effectively bring my vision of this movie to life.
Now Demetrius is a pretty vile creature - so to what extent could you identify with him and his actions? Or with Clive or Baphomet for that matter?
Demetrius is a monster, but at the same time he is very human, and as I stated previously, he is one of my "most human" characters, therefore I am easily able to identify with his human traits such as his narcissism, his ambition, and ego. I think anyone can identify with any of the characters in the film if they are capable of setting aside their morals (as said in the film). Additionally, Demetrius doesn't perceive himself to be a vile human being or at all fucked up - he has a perception of himself as an "artist" or "godlike being, with the ability to control life itself", which makes him slightly more unsettling. That being said, those close to me who have seen The Dark Days of Demetrius are very repulsed by the vileness of Demetrius - there is something about Demetrius that really sickens some viewers. I think that maybe it is due to the fact that the viewer not only gets to witnesses Demetrius commit violent murders, but also gets to effectively explore his psyche, revealing that Demetrius IS inexorably evil. Additionally, some people close to me who have seen The Dark Days of Demetrius have even went as far as saying that Demetrius is my "most vile film character yet", which I think says a lot, considering all of the lecherous characters that dwell within my films.
Aside from Demetrius, there is Clive, the corrupt news reporter, and it is easy to identify with him - or at least understand his motivations. He is essentially a narcissist (similar to Demetrius) who is trying to remain relevant in the extremely competitive news industry, but because Clive is able to create his own "news stories" by fabricating the carnage he reports about, he has an edge over his competition. Finally there is Baphomet, who is essentially a faceless "copy cat killer" of Demetrius, with ambitions of attaining stardom and recognition, but due to his mental instability, he doesn't last long.
What can you tell us about The Dark Days of Demetrius' approach to horror?
One of my ambitions with The Dark Days of Demetrius was to create a film that was far more viscerally violent than any of my past films. People have often considered The Acid Sorcerer, or The Rise and Fall of an American Scumbag as my most violent/disturbing films - but The Dark Days of Demetrius goes beyond the boundaries of the disturbing violence featured in those aforementioned movies. People that are close to me (and/or friends of mine) that have seen The Dark Days of Demetrius have made remarks to me that the film is "vile", and "violent and very disturbing", which to me is an indication that I accomplished everything I initially set out to do when I decided to make this film.
I found a large amount of inspiration for the character Demetrius by reading serial killer interviews - which also were extremely significant in inspiring the powerful and chilling scene in The Dark Days of Demetrius, when Clive interviews Demetrius, who shares his philosophies, and his perception of himself as a god like being/artist-with Demetrius admitting that he perceives the live stream murders he commits as works of "art".
My cinematic inspirations for The Dark Days of Demetrius were Man Bites Dog as well as the film Nightcrawler, which was somewhat inspirational to me when it came to creating the character Clive.
Additionally, I also have a tendency to draw inspiration from older black and white horror films that rely heavily on atmosphere, because as a filmmaker, I find that it is my natural default to try to imbue my films with atmosphere.
A few words about your overall directorial approach to your story at hand?
My directorial approach was very artistic and obsessive. I put a lot of effort into the camera work, utilizing lots of close up shots, POV angles and pans to make the film's camera work really stand out.
I was also very faithful to the script that I had written for the film - there was no improvising with dialogue whatsoever, and I feel that the film is stronger as a result of that. I also attempted to make the film as artistic and bizarre as possible by sometimes altering voices, using strange sound effects, and essentially utilizing whatever effects I had to make this film as unique as possible.
Despite the film having a straightforward storyline, I still employed scenes of symbolism, such as Demetrius' surreal dream scenes where he envisions himself as a suffering God, or the scene of him rejoicing in his own pain and suffering.
I also wanted the cinematography of The Dark Days of Demetrius to have more of a grainy/lo-fi look. The film was shot with the same 4K camera that I used for American Antichrist, but the difference was that I implemented a strange monochromatic blue (and occasionally red) color filter, and degraded the footage. I think that this move worked in the film's favor, as the grainy, strange cinematography makes the film even more bizarre, giving it a very nasty, gritty, serial killer-esque kind of vibe.
And finally, the film's soundtrack comes from the advant garde death metal band Emperor Ov Larvae. The music from Emperor Ov Larvae meshes incredibly well with the film and its scenes. I believe that the soundtrack for The Dark Days of Demetrius is one of, if not the most-heaviest film soundtrack ever!
From what I know, it took 9 months to shoot The Dark Days of Demetrius and was by far the longest shoot you ever did? To ask quite bluntly, why?
The Dark Days of Demetrius was indeed the longest shoot I've ever done, and it does seem slightly surreal that the film is now finished and finally being released for the general public to see. Making this film was a long process, that initially began in late 2018 after the release of my previous film American Antichrist. After the IndieGoGo campaign ended for American Antichrist, the film began to receive a lot of notoriety as a result of it being extensively featured on the Kings of Horror YouTube channel as well as being streamed on Amazon Prime. The film has so far received fifty thousand views, making it my most viewed film. However, as a result of American Antichrist receiving so much recognition, it did receive a fair amount of hate. For this reason, I kept a very low profile for most of 2019, as I slowly, and secretly filmed The Dark Days of Demetrius.
I am very busy with my life outside of filmmaking as well, which is also a large contributing factor as to why The Dark Days of Demetrius took so long to make. But in regards to the making of the film, The Dark Days of Demetrius was filmed very sporadically, and the first scenes I shot for the film were the scenes involving the character Baphomet, which were filmed from December 2018 to January 2019. Then in March, I reinitiated contact with Fred Epstein, offering him the role of Clive, and after he accepted, we immediately began filming. The scenes involving Clive were filmed throughout March-May, and finally, I shot the scenes of my character, Demetrius between the months of May and August.
In conclusion this film took nine months to make. The only film I have ever made that took remotely as long to make was The Rise and Fall of an American Scumbag, which took six months to complete, but that was only due to internal conflicts and issues with casting. With The Dark Days of Demetrius, however, I just did not feel it was necessary or justifiable for me to rush the film's production, and this decision turned out to be beneficial for me, as taking my time allowed me to experiment more with the color correcting process, and to extensively tamper with the footage and sound design.
Do talk about the shoot as such, and the on-set atmosphere!
Despite the fact that I made the movie mostly by myself with the help of a relatively small cast, the on-set atmosphere was chaotic and sometimes miserable, and I suppose it was my fault. I was very obsessive during filming and in the process, I deprived myself significantly during the making of this film. I was so obsessive during the shooting of this film that I would usually be up all night filming, editing, and color correcting footage, not getting any sleeping at all. As a result, I became extremely hostile and irritable during the making of this film - which is why I believe that The Dark Days of Demetrius has such a dark, hostile, obsessive, serial killer vibe going on. The cast and I also enjoyed indulging in Absinthe - which Demetrius and Clive can be seen drinking in some scenes of the film.
The $64-question of course, where can your movie be seen?
We are currently having an IndieGoGo presale for the film, and with each passing day, we are getting closer to our $5000 goal, so I would like to thank everyone who has contributed to our campaign so far. After the IndieGoGo campaign is finished, the film will be streamed on The Kings of Horror YouTube channel as well as Amazon Prime, so as many people as possible will be able to see the film.
Anything you can tell us about audience and critical reception of The Dark Days of Demetrius yet?
So far, the audience reception has been very positive, with people praising the film for being a disturbing and vile cinematic experience while also being a social commentary on the news media and sensationalism. Viewers have also said that I managed to make a movie that is very different from the rest of my films, and that to me is rewarding to hear, because with each passing film, I try to explore a new facet of my filmmaking style, and I feel that I did in fact do something different with The Dark Days of Demetrius.
Any future projects you'd like to share?
I am going to be taking a six month break from filmmaking following the IndieGoGo campaign/promotion cycle for The Dark Days of Demetrius, but I do actually have a script written for my seventh full length feature film. However, the film is in its infant stages, and I have not even have name yet for it, and I am uncertain how I will approach the film from a directorial standpoint - but I can say with certainty that my next film is going to be very supernatural, bizarre, disturbing, vile and absolutely devoid of any light. I also believe that my seventh film will be a departure from anything I've done in the past. I hope to begin production on it next summer and have the film released around Halloween of 2020.
Your/your movie's website, Facebook, whatever else?

Feeling lucky ?
Want to
search
any of my partnershops yourself
for more, better results ?

The links below
will take you
just there!!!


The official Dakota Ray-R.A. Productions WordPress can be found @ https://dakotarayfilmmaker.wordpress.com - it extensively covers my films, and features a large photo gallery that spans my entire filmography/career. The WordPress site also contains several interviews I've done through the years as well.
Official Dakota Ray-R.A. Productions Facebook page: https://www.facebook.com/dakotaraydirectoractorartistdenver/
Anything else you're dying to mention and I have merely forgotten to ask?
I would like to say thank you for constantly covering our films, and for this interview. I'd also like for thank everyone that continues to support and watch our films!
Thanks for the interview!