Your new project is a webseries, MKC: Monster Killers Club. In a few words, what is it about?
It is about Crom, a 30 year old guy who still hunts monsters that most likely were never there, in a club he started in 3rd grade (or when he was like 8 or 9 years old) and of which he's the only member. Then something happens!
What were your inspirations for the series?
Monster Squad. I started a club in 3rd grade called the Monster Killers Club after I saw that movie. I still carry that business card with me today that I made when I was 8 with cardboard and pencil.
How did the series come into being in the first place?
Buz Wallick and myself were getting drunk at my house one night, and I pitched it to him in passing, not thinking much of it. He thought it was great and thought dread central would want to air it on their site. So he called them that night in my kitchen while I made a drink and we pitched it drunk and they loved it. I don't recommend pitching while drunk, but it worked.
Having written MKC: Monster Killers Club, are there any autobiographical details in the series, despite the monster mayhem of course?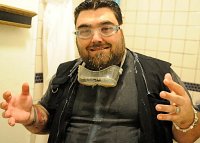 Creep Creepersin as Crom
Not really other than what was said above but the one thing Crom and I have in common is that even if everyone thinks we're idiots for trying to do something, we both still think it's a great idea and do it anyway.
Apart from having written and directed MKC: Monster Killers Club, you also play the lead. A few words about yourself as an actor, and how easy or difficult is it to direct oneself in a movie?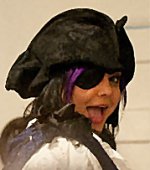 Nikki Wall
There are sometimes when it is hard. In other films where I've done that, it was a challenege. But, Crom is so easy for me to play. There were a lot of times that after the camera cut I was directing everyone in the Crom voice.
A few words about your co-star (and wife) Nikki Wall, and why is she a pirate in this one?
This is the first time that my wife and I havee ver been able to act together in something so that makes MKC special for me in ways that my other films haven't been. She is great as Pam. As far as why she is a pirate, I'm not sure. Maybe we will find out in the next season!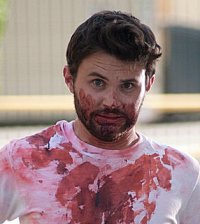 Buz Danger Wallick
The series also stars Buz Danger Wallick. A few words about him, and why is his character called Jett Jaguar?
Buz shot Vaginal Holocaust for me, did some work on Lake Death and Brides of Sodom, but he starred in Brothers Cannibal and he did such a great job that I wanted to act with him a lot more. So since he was so geeked about MKC, it was natural for him to play Jett. As far as his name on the show, Jet Jaguar (with one T) is a character in Godzilla vs Megalon. The name is so cool and the character is so stupid that I wanted to make a cool Jet Jaguar. So in MKC he is Jett (two T's) and we go all over that Godzilla thing on the show.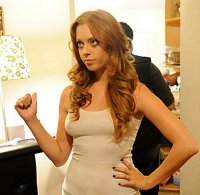 Cheryl Sands
What can you tell us about co-star Cheryl Sands?
Cheryl was one of the stars of Lake Death and everyone got along with her real good on set and wanted to work with her again. She did a great job on Lake Death, but I wanted her in the film more and it wasn't gonna happen. So, when MKC came along, Buz and I were both, "let's get Cheryl to play Mindy!"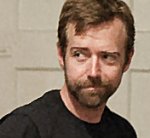 Charlie Vaughn
The villain of the series, The Evil Wong, is played by Charlie Vaughn [Charlie Vaughn interview - click here]. A few words about him and his character?
Charlie is the best actor I have ever worked with. He is amazing. He has such range, and is so talented. He is also an amazing director, so having him on set is a blessing because he is always working with actors. I'll be yelling at someone about a light, and I turn around and Charlie would be doing character back stories with the cast. He is just great.
Evil Wong is an amazing villan. He is very proper but out of his mind. There is a lot of history between him and Crom. The problem is that Crom has no idea who he is or why he is or anything. Wong knows all too well about Crom and has been following him for sometime. Charlie was directing Vampire Boys right when we were doing MKC so he isn't in it as much as I would like. But he is there and is the nemesis of Crom.
Any other castmembers you'd like to talk about?
Jonathan Loughran who has been in a ton of Adam Sandler-films and Quentin Tarantino-films plays Walt who is like the guy you go to when you need a flame thrower, shotgun, holy water, and a stripper's phone number. He is Crom's Obi Wan Kenobi.
Besides The Evil Wong, what other villains/monsters are there in your series?
We have aliens, mummies, gremlins, corpses, sleepwalking zombie cannibals, a succubus. And a bunch of other shit that doesn't exist.
How much (if at all) does directing a webseries differ from directing a movie?
It's not differnt at all. We shot seven episodes, it was fat-paced shooting. Running here running there. It was very similar.
In your movies, you at times get rather explicit. Do you show more restraint on your webseries?
Yes and no. Yes, there are no naked orgies. But there are some sexual situations. A lot is implied, a lot is after the fact.
But there are some nasty things that go down for sure.
The series' website?
Ya. www.monsterkillersclub.com, but the site doesn't launch until the show starts. There will also be a MKC page on dread central and the Twitter for it is Twitter.com/monsterkillers.

Feeling lucky ?
Want to
search
any of my partnershops yourself
for more, better results ?

The links below
will take you
just there!!!

Find Creep Creepersin
at the amazons ...

amazon.com

amazon.co.uk

amazon.de
Looking for imports ?
Find Creep Creepersin here ...
Something naughty ?
(Must be over 18 to go there !)

As far as I know, the first series of MKC: Monster Killers Club is already in the can, but you are presently working on a follow-up. How far has this project come, and what has series 2 in store for us?
It has come as far as the main arc of the second season has been done since the first season was written. We are looking to shoot 13 episodes in December and January and it will hopefully be on in January. But at the same time, we might get picked up by a network or something, and then I would expect it to be a longer wait.
Any other future projects you'd like to talk about?
Ya. I'm doing a film called Lovesick Captivity next month. I wrote a script that is now called Perfectus that is in preproduction right now that stars Danny Trejo, Malcolm McDowell, Tom Savini, and Electra and Elise Avellan. So that should be neat. I'm producing a bunch of films this next year. It gonna be busy!
Anything else you are dying to mention and I've merely forgotten to ask?
Just log on to www.dreadcentral.com on October 20th to watch the first episode! Then get all your friends and family to watch it! And keep tuning in every wednesday therafter to see more!
Thanks for the interview!
Thank you!