Your new movie The Perished - in a few words, what is it about, and what can you tell us about your character in it?
The Perished stars my character Sarah Dekker as she deals with an unplanned pregnacy. The movie follows her journey and explores the aftermath of her decision to get an abortion. Sarah ends up getting kicked out of her home and needs a place to escape. This is where her best pal Davet comes in with a plan. The pair go to his holiday home to take some time to recover. However, they soon realise that things are not as they seem in the house.
What did you draw upon to bring your character to life, and how much Courtney McKeon can we find in Sarah?
Sarah and I share the role of being young women in Irish society. We share the experience of hereditary Catholic guilt and the effect that has on sexual health and a women's right to choose. I am very lucky not to share Sarah's religious zealous parents. My family life is a stark contrast to what Sarah grew up with. My parents are both liberal, kind people who would never prioritise religion over my health. I also feel Sarah has much deeper loneliness than I have. I grew up with siblings, cousins and friends always around me, whereas Sarah is an only child and I feel Davet and Shane were two of the only people who were close to her.
To what extent could you personally identify with The Perished's Sarah, and the emotional turmoil she's going through?
Having grown up in the Ireland that this film projects, I can identify with the deep shame and fear Sarah feels surrounding her decision. I grew up Catholic (Catholic all-girls schools until I was 18 and prayer group as a child), and while I was lucky to have a very positive experience with the church and religious figures, I can understand that almost baseless guilt that comes with sexuality and the subsequent choices Sarah had to make in this film. I also understand her turmoil with telling her boyfriend Shane - as someone who is in a long-term relationship I would feel shattered if my partner left me in the position to make that choice alone - and I can identify with her struggle and eventual assuredness when Shane finally finds out.
How did you get involved with the project in the first place?
I was lucky to have been involved in The Perished from early drafts as more of a script supervisor. Writer/director Paddy Murphy [Paddy Murphy interview - click here] wanted my insights into the story from a young female perspective. As the drafts got more polished and became what would beThe Perished, I expressed interest in maybe playing Sarah. Paddy actually admitted that Kathy (his wife) had assumed I was already playing Sarah from the way he had written the character and he said he couldn't imagine anyone else. So from then I was to be Sarah!
What can you tell us about The Perished's director Paddy Murphy, and what was your collaboration like?
Paddy is an exceptional talent, although he will sometimes tell you otherwise. He is, at his core, a people person and can have a room laughing in minutes. Our collaboration for The Perished was definitely special. Paddy and I are friends outside of filming but I think we both know when to put our game faces on. As we had both such a vested interest in Sarah, I think we both trusted each other with each note. If Paddy wanted something done another way, there would be a conversation about why so that I could bring what he wanted to the scene. Paddy is never afraid to call himself out. If he gives a note and you try it and it doesnít work, he will own it and say "My bad! Go again!Ē, which is so refreshing as an actor! I think we make a great team and our history has shown we only get better with every project!
The Perished isn't your first collaboration with Paddy Murphy - so what can you tell us about your previous films together, and how did you two first meet even?
Paddy and I have been working together since maybe 2014/15. I first met Paddy at a play I was in called Teenage Memories. He then later messaged me on Facebook and asked me to be an extra in his short Ground Floor which stars the amazing Tristan Risk [Tristan Risk interview - click here]. A few months later he asked me to come on board for a new short called I Love/Need You. This short was my first time playing a major role on camera and I was super nervous, I still canít watch the footage without cringing at some of my choices! After that we worked on The Three Don'ts, Framed and The World As I See It. I also have worked with Paddy behind the camera as well casting The Mersey Boys and Saviour with Celtic Badger Media. After working behind the scenes, I realised how much I just wanted to be in front of the camera, and it was after we shot Saviour that I actually mustered the courage to ask to play Sarah in the next project.
Do talk about the shoot as such, and the on-set atmosphere?
Celtic Badger Media sets can only be described as familial craic (fun)! There is a genuinely addictive quality to being on set on a Celtic Badger Media production. We all get on so well and can push the lines of jokes as far as the eye can see, but we also know when to be professional and get work done. Most importantly we support each other. The Perished was a difficult film to do for me as I was pretty burnt out. I was working 40-hour weeks in a call centre as well as filming AND doing a two-woman play which I was rehearsing an additional 10 hours a week! Getting to set was always such a cathartic experience, I could laugh in between takes and cry when I needed to cry and then get back into it for "action". Producer Vachn Gill would always have a cuppa ready and the stove would be on in the big kitchen of the house to chill.
Any future projects you'd like to share?
I play a small role in Celtic Badger Media's latest film In Memoriam. However, currently I am focusing on my day job. I do hope to get back into acting as soon as possible. I am available for contact via email at courtneymckeon@yahoo.ie for any queries!
What got you into acting in the first place, and did you receive any formal training on the subject?
I have been into performance since I was very young. I trained with the Irish Board of Speech and Drama from the age of 7 until I was 17 and have an Associate Diploma in Teaching with them. I also attended the Limerick School of Acting and the Limerick Youth Theatre groups in my teens.
What can you tell us about your filmwork prior to The Perished?
Most of my filmography comes from my work with Paddy and Celtic Badger Media. However, I also have worked as a featured extra and body double on Netflx's Nightflyers.
The Three Don'ts would be my biggest role before The Perished, in which I played Katherine the badass female assassin!
How would you describe yourself as an actress, and some of your techniques to bring your characters to life?
My technique varies, I find sometimes the Laurence Olivier quote comes to mind "Why don't you just try acting" when I am preparing for a role. I think that everyone has what works for them and I love to hear how other people get into the zone, for me there is an element of just switch it on and go! If a scene is going to be particularly heavy, however, I will take some extra time to prepare my body. Sometimes if I need to cry, I will listen to a sad song. I love theatre also and find the transition from stage to screen can be tough so sometimes I will perform in front of the mirror to minimise the actions I would exaggerate on stage.
Actresses (and indeed actors) who inspire you?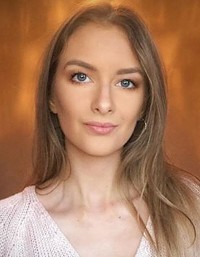 Feeling lucky ?
Want to
search
any of my partnershops yourself
for more, better results ?

The links below
will take you
just there!!!


Saoirse Ronan definitely comes to mind for me, mostly because I have spent so long being compared to her. Not in terms of talent or even looks but more like "Oh you're a young female irish actress? Like that Saoirse Ronan one?"
I also love Dakota and Elle Fanning. Jane Fonda and Lilly Tomlin also.
Your favourite movies?
I am not the biggest movie buff, much to the chagrin of basically everyone I meet! I am usually that idiot in the back of the room saying "I donít think Iíve seen that?" when someone speaks about a well-known classic or quotes a scene at me! However my top 3 are:
2. Coraline
3. Cat in the Hat
... and of course, films you really deplore?
I despise La La Land and everything it stood for. I am a true believer in a happy ending, I appreciate the nuance of realism and the portrayal of life beyond fantasy. However, I watch films to escape reality and I do not want to watch people fall out of love!
Your website, social media, whatever else?
Instagram: https://www.instagram.com/courtneyniceone/
TikTok: @courtneywhooo
Anything else you're dying to mention and I have merely forgotten to ask?
I canít think of anything just now :)
Thanks for the interview!
Thank you too.