Your new movie Circus Road - in a few words, what is it about, and what can you tell us about your character in it?
Circus Road is about a bride and her bridesmaids who get stranded in a desolate desert town run by a crazy clown cult! My character, Kat, is the only daughter of the twisted cult leaders, Tiny Clown and Myrtle. Having brainwashed the community into believing outsiders are no good, Kat isn't exactly who you would expect her to be, but she has the choice to be good or evil like anyone and I guess you could say things take a very interesting turn.
What did you draw upon to bring your character to life, and how much of Courtney Akbar can we find in Kat?
I drowned myself in a lot of research into the history of past and modern cults, brain washing and human psychology. I don't feel that there is too much 'Courtney' in Kat, besides maybe a little rebellious heart and my love of pink. Overall I enjoyed the full process and had a lot of fun with this character, I definitely wouldn't mind getting back into Kat's shoes in the future for the screen again. Wink wink.
To what extent could you identify with Circus Road's horror theme, and is this a genre at all dear to you?
Circus Road is a fun movie and I'm sure it won't disappoint horror fans, especially if you're afraid of clowns. I love horror movies! It's usually my go to for chill nights.
How did you get involved with the project in the first place?
I had auditioned for the director, Minh Collins, and got cast on another one of his upcoming films prior to Circus Road being written. I believe he had me in mind for Kat while he was writing the script with Sadie Katz. Circus Road got ahead and happened to be shot first, just how the movie business works sometimes.
What can you tell us about your director Minh Collins, and what was your collaboration like?
Minh is a really cool guy and very supportive to allowing everyone to get involved as artists within a collaborative environment. He gave me a lot of freedom to play with my character and it was easy to bounce ideas about scenes back and forth with each other during pre-production to even minutes before shooting the scenes.
Do talk about the shoot as such, and the on-set atmosphere?
I had a really good time filming this movie! All of the sets were phenomenal and really set the mood for everyone, I think some of the crew were even creeped out by some of the sets. Our production designer Chad Quick is amazing, he also worked on my previous film Astro. Most people don't think about it, but the sets are somewhat characters themselves as much as us actors. Great sets really do help a lot with performing in the world we create.
Any future projects you'd like to share?
I am currently working on a TV show called Paradise Apartments, which is very timely with everything that is happening in the world today. I also have a few scripts I'm reading at the moment but am not able to speak much on those yet, but stay tuned for all the updates as 2019 looks to be very exciting ahead.
What got you into acting in the first place, and did you receive any formal training on the subject?
I've had the desire to be an actress and have had a passion for the arts for longer than I can really remember as I grew up performing on stage for school plays. I do have a history of training at the Ivana Chubbuck Studio under her method which I started after moving to Los Angeles as a teenager. I have really enjoyed my studies there and I refer to her methods on every project. I learn more with every new project I take on and that is part of my fascination with the craft of acting. The research and preparation that I have been trained to use for each role educates me notably on that particular character and subject matter, it's always a learning experience and I love it!
What can you tell us about your filmwork prior to Circus Road?
I have a wide range of genres under my belt prior to Circus Road, but I do have to say this has been my favorite, as it's been my most vulnerable role yet. I've recently co-starred in a sci-fi film called Astro along with experience in drama, action, crime, and comedy films and TV shows.
How would you describe yourself as an actress, and some of your techniques to bring your characters to life?
I would describe myself as professional and versatile performer that has no problem taking direction and collaborating with my team to make the best possible project we can together. Along with the Chubbuck Technique, I consider myself a method actor when it comes to my characters so I truly feel what I am experiencing on set and I have no problem improvising on the spot if it calls for it.
Actresses (and indeed actors) who inspire you?
I definitely look up to great actresses such as Charlize Theron, Angelina Jolie, Jennifer Aniston and Margot Robbie to name a few as they are all very versatile and play the kind of roles I aspire to take on throughout my career.
Your favourite movies?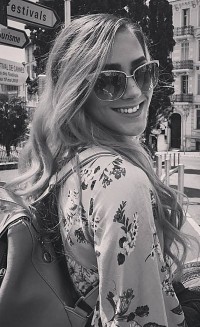 Feeling lucky ?
Want to
search
any of my partnershops yourself
for more, better results ?

The links below
will take you
just there!!!


That's always a tough question, but I would say Pulp Fiction, Tommy Boy, Kill Bill (both 1 and 2), The Nightmare Before Christmas, National Lampoon's Vacation, Titanic, Terrifier... these are just some of the films I don't ever get tired of. I feel as though film is like music, the mood, characters, and timing have to be just right for the type of genre it is.
... and of course, films you really deplore?
While I can say I honestly do not deplore any film because I understand and can respect everything that goes into making one and how hard it is to even get it on a screen, but I have seen a few movies I won't be watching again and don't have an interest in seeing, some I couldn't even get past 5 minutes of, but I don't think I have the right to judge anyone's artistic vision negatively to the world.
Your website, Facebook, whatever else?
The best way to stay up to date with what I am doing is through my Instagram. You can find me as @insta_courtneyy, and don't forget to follow me for all the fun and exciting updates ahead! I also love interacting with my fans and having a way for them to reach me personally so come and say hi!
Anything else you are dying to mention and I have merely forgotten to ask?
I would like to just thank you guys for this fun interview and for having me here! Also, a big thank you to all my fans around the world that continue to love and support me, I love you all! <3
Thanks for the interview!