Your upcoming podcast The Malone Family in the Enchanted Forest - in a few words, what is it about?
Clinton Festa: The Malone Family in the Enchanted Forest is a seven-episode action-comedy audio series. It follows the Malone Family (dad, daughters, killer cat, and wall-busting horse) as they escape their hometown of Salem, Massachusetts in the year 1700. They go through a portal to an enchanted forest where they meet all sorts of creatures who live under druid protection, though an evil force threatens to destroy it all.
How did the project come into being in the first place, how did both of you get involved, and what are your respective jobs on the show?
Clinton: I'm the playwright and voice director. I had been writing stage plays, but sometimes you come up with an idea that just won't work because of costumes, effects, scenery, etc. For example, you'd have a hard time staging Rebecca and Nicole Malone teleporting from a snow-covered Yeti-infested mountain to the cave of a sleeping dragon with toadstools and big piles of treasure. But with an audio series, that's no problem. The disadvantages are the same as the advantages: You can't see it, which is great for the imagination. I had heard that the Cary Playwrights' Forum was open to proposals for five-to-ten episode audio series, and that opportunity sounded great, so I pitched the idea to Christian O'Neal, who does fantastic work with sound effects and editing. He was on board, and here we are.
What were your sources of inspiration for The Malone Family in the Enchanted Forest?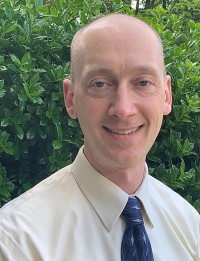 Clinton Festa
Clinton: I used a bit of Celtic myth to create the world of the Enchanted Forest, specifically the legend of Dagda, his magic harp, and the battle against the Fomorians. I also used what we know about ancient druid culture, with a few comedic embellishments like them numbering their spells to save time. But believe it or not, the idea started with a dream (an actual one) that I developed into the second scene of episode 1. That's when Paul Malone has to fetch a turkey for the Governor of Salem's party. In the dream, it was a keg of ale for the obnoxious king's party (seriously). He started insulting everyone to the point that each of his knights knew he was going to get himself killed, and they'd all end up being suspects. I woke up thinking that might be a good idea for a short play, but it ended up being a little different setting, and turned into a full audio series instead of a play. It's still crazy to think back that the whole show started with an embarrassing little dream I had about two years ago. It's definitely not how I usually write, but it's fun that it happened this way this time.
Do talk about the series' approach to both horror and comedy for a bit!
Clinton: The core of the comedy comes from a nice, normal, reasonable guy (Paul Malone, played by Chauncey Miller) being put in absurd situations that everybody around him seems to accept… even his kids, who adapt to the Enchanted Forest a lot faster than he does. If you were to encounter a troll, or if your cat were to go hunting and kill a pixie queen, do you think you could handle that reasonably? Probably not. But I think the comedy also comes from the world-building, and this was the fun part because I was able to navigate new comedy ground, like giants scrounging for bones in dumpsters behind Enchanted Forest fast food restaurants. The horror element is still comedic, but it comes from our main villain, Tethra, played by Sarianna Gregg. She's the Queen of the Fomorians, which in our story also makes her the Queen of the Banshees. The danger for the Malone family is definitely real with her around. Episode 4 is our monster-filled horror episode, called Full Moon Date Night, and it features the hilarious Carl J. Grasso as the New Jersey Devil.
Carl, what can you tell us about your character(s) on the show, and what do you draw upon to bring him/them to life?
Carl J Grasso: My character is the New Jersey Devil who is aptly called in the piece NJD. He's a fantasy demon that loves to eat kids and he's trying to get his old gang together. The script is hilarious and with Clinton's writing it's not hard for me to find my motivation. We both agreed that we wanted NJD to kind of have an edge, so I mixed Andrew Dice Clay and Robert DeNiro and came up with this abrasive accent that going to be really funny. When I do any character, I look at the script and if I can immediately get the guy and what the guy wants then I know I'm reading a good script. If I have to do some work I invent back stories, read books, articles on the internet, YouTube videos, movies for inspiration, I create a whole hodge-podge of stuff, then I annotate my script... and finally when all the prep work is done, after the seventh take (usually) I'm comfortable enough with my character to just do many free takes as me being that guy. I just like putting the work in.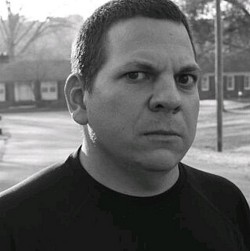 Carl J. Grasso
What was the collaboration between the both of you actually like?
Clinton: I know Carl from the Greensboro Playwright's Forum (GPF), and we've worked together on a few projects before. He directed another audio play I wrote called Picky Zombies. We also had a short film called For the Record that placed in a contest earlier in 2021 that was open nationally. I know how much energy he brings, and how great he is with voices. But I still had one character in mind that I had to hear him in, and thankfully he agreed. He plays 'NJD', the fast-talking New Jersey Devil. Just don't touch his hair.
Do talk about the rest of The Malone Family in the Enchanted Forest's cast, and why exactly these people?
Clinton: The cast is fantastic! We unofficially call ourselves the 'dodos', which will make more sense once you get to the hilarious second half of episode 2. As for the cast, you just got me started, so now I'll never stop talking about how much I love this group. I was able to get so much talent on board (more on that below), and still can't get over how good they are. The casting process went well, but it was nuts. I first contacted a few of my local actor friends like Carl that I thought would be perfect for certain roles. A lot of them I had already heard read scenes from the series that I brought in to workshop at GPF meetings. It got to the point where I would write later episodes and hear the actor's voice in my head for certain characters. If I remember right, everybody that I asked agreed to do the show, which was very fortunate. So that covered a few of the key roles, but I still needed to cast most of the characters, which had me a little panicked until I put out the casting call. The response was crazy. I put out the call locally, but the internet being what it is, I started getting emails from adults all over, and kids' casting agents all around the country. So much talent out there… it's unbelievable. I could have cast the show many times over with the quality and amount of auditions I received. This was January 2021, in the dead of winter and the height of the pandemic, before any vaccines had been approved, and theaters were still mostly shut down. So the response was very high given the unfortunate circumstances, and my goal was to get as many people involved as I could. Some sent me headshots and resumes, which was fine and professional, but I needed to hear people read the parts, so I had sides prepared. Your voice alone was your audition, and that was all I cared about. I looked for acting, vocal distinction, and comedic timing. If you auditioned for a satyr or a goblin and you did something unique and entertaining with your voice, I knew the audience would be able to instantly tell you apart from the other characters that they couldn't see, so that went a long way. What hurt a lot of auditions was when someone sounded like they were reading a story to a group at a library, and not coming across like an actual character inside the story. I also needed to hear the sound quality of your recording equipment, because we knew we wouldn't meet in person in a recording studio due to COVID. But doing independent and socially-distanced recordings turned out well, because it opened the roles up to actors who were more spread out geographically. In the end, we had over twenty main actors meeting on Zoom regularly (depending on who is in which episode) plus another twelve actors who helped by recording characters with a few lines. Plus musician Louis Panzer, my wife on the harp, our fantastic sound effects editor Christian O'Neal, and graphic artist Jerome Eyquem who did our incredible promo art.
(Full cast and crew list below.)
What can you tell us about the recording sessions for The Malone Family in the Enchanted Forest?
Clinton: The casting call ended on January 31, 2021, and we went right to work. We rehearsed via Zoom starting in mid-February one episode a week through early April. It was a lot of work for the cast, but a lot of fun. We dealt with some ice storms and power outages (Texas) but we made it. Everyone who started also finished, and for me it was the highlight of the week. I'd give a little intro for each scene, explaining where we were and what I was looking for, then the actors would play the scene. Then I'd give any feedback I had, and we'd move on to the next scene. If we had time, we'd run through the whole episode straight through. About two hours total on Thursday nights. Some of the best moments though were when we needed actors to fill in for each other in rehearsal, and people could cut loose as various creatures and just enjoy it. Then over the weekend the actors would record on their own, just their lines. But the rule was if you get busy, don't worry about it. The plan was not to add any additional stress on anybody's lives in the middle of a pandemic. They'd send the recordings to me and Christian O'Neal. He'd check for audio quality and I'd check for characterization. If we needed anything re-recorded, we'd just ask. The actors were all very cool about that, and they typically nailed it on the first recording anyway.
The $64 question of course, when and where will The Malone Family in the Enchanted Forest be released?
Clinton: October 30, 2021 at 8pm we'll be doing a live premiere event of episode 1. Check out the Facebook page for updates. To download, it'll be released and posted through the Cary Playwrights' Forum Radio Hour podcast site, with a new episode coming out weekly through December. The episodes will make their way to other websites and places people listen to podcasts, which will all be updated on the Facebook page, but they'll start here:
https://www.facebook.com/The-Malone-Family-in-the-Enchanted-Forest-101309255259092
https://cpfradiohour.podbean.com/
Any future projects you want to share?
Clinton: I have a fiction novel coming out on December 14, 2021 called Ancient Canada: A Mythological Tale. It's an epic fantasy told by a revolving narrator and set in an alternate Arctic Circle. It's available now for pre-purchase online everywhere and through the publisher CamCat Books.
Your/your podcast's website, social media, whatever else?
There are a few places, depending on the project:
The Malone Family in the Enchanted Forest: https://www.facebook.com/The-Malone-Family-in-the-Enchanted-Forest-101309255259092
Ancient Canada: https://www.facebook.com/Ancient-Canada-11238318217415
I also run a small charity called Sentences Book Donations, if anyone has any books they're ready to donate to prisons or juvenile detention centers. The Facebook page for that group is https://www.facebook.com/sentencesbookdonations, and the Goodreads page is https://www.goodreads.com/group/show/125524-sentences-book-donations-
to-prison-libraries-and-juvenile-detention-cen
And for fun, if you're ever poking around the internet, you may catch a recording of one of my short plays, like https://www.youtube.com/watch?v=VZK4e9cgQsU for example which features Charlie Machalicky (Judah Bradstreet in The Malone Family in the Enchanted Forest) showing his range and stage skills as Henry VIII.
Anything else you're dying to mention and I have merely forgotten to ask?
Just a huge thank you to anybody who checks out our podcast. If you're driving in the car, out on a hike through the woods, or however you listen to podcasts, I hope you'll tune in for some fun, laughs, action, and imagination.
Thanks for the interview!
Cast and crew of The Malone Family in the Enchanted Forest
*Indicates actor under thirteen years
Chauncey Miller as Paul Malone
Raine Palmer as Maggie McCloud
El King as Rebecca Malone
*Lyra Benjamin as Nicole Malone
Rhonda Lemon as Lady Macbeth (the cat) and Baby Malone
Charles Machalicky as Judah Bradstreet
Rebecca Stanifer as Tabitha Brewer
Jaimie Oakley as Malory Brewer
Sarianna Gregg as Tethra
Meredith DiPaolo Stephens as Sarah Malone
Thom Haynes as the Governor and Lenny the Satyr
Andy Ralston-Asumendi as the Troll
Jini Zlatniski as Edna the Grumpy Elf and Baba Yaga
Nate Oakley as Ruben the Giant
Jay Zadeh as Sniff the Goblin, Snort the Goblin, Dagda, Old Dagda, and Druid Leader
*Andreas Phelps as Terrence the Leprechaun
*Evelyn Festa as Felicity the Werewolf
Drew McGinnis as the Boogeyman
Carl J. Grasso as the New Jersey Devil
Patsy Hawkins as the Dragon
Sally Kinka as Mrs. McCloud
Twelve additional cast members, mostly friends and family, provided voices for brief characters throughout the series. Six of the twelve were under the age of thirteen. Names available upon request.
Louis Panzer arranged and performed the theme song and scene change music.
Sanna Festa performed harp sounds and harp effects.
Christian O'Neal did the sound editing, sounds effects, and production for the series.
Clinton Festa wrote and directed, and provided lyrics and melody for the theme song.
Promo art by Jerome Eyquem.
Produced by the CPF Radio Hour (Cary, NC Playwrights' Forum)