Your upcoming film Grainne Uaile: The Movie - in a few words, what is it about?
Grainne Uaile: The Movie is 4 hr and 30 minute historical dramatization on the life of Grace O Malley, the Irish pirate queen from the 16th century who patrolled the Irish coast and demanded that anyone who crossed her path pay a 'water tax'. She was a thorn in the side of the English who occupied Ireland at the time. In her own right an important chieftain from a well known clan, she was a political mastermind who was also a fearless, ruthless pirate who commanded her crew with an iron hand and brought chaos where ever she sailed. The movie is a violent. dramatic and edgy exploration of an incredible woman, her life and an important part of Irish history.
The story of Grainne Uaile (Grace O Malley) is one of Irelands greatest stories and the incredible and true story of a great iconic woman, she was a fighter, a rebel, a tactician, a pirate and sea Captain, a noble woman who even met Queen Elizabeth, which in itself was a massive feat for any Irish noble. Her story happens to the backdrop of the English/Spanish war so a particularly significant part of history. The 16th century was a violent, terrible time, with a very low life expectancy. Grainne was an incredible sea Captain whose crew and soldiers remained faithful to her, at the time it was rare for sea generals to not have a mutinous crew, probably with her a mixture of respect and fear. In short this is the tale of a remarkable woman who created her own destiny
When she was a child she wanted to sail with her pirate father Donal, who didn't think the sea was a place for women, so she chopped off her hair and stole aboard. The ship was attacked by English and a raging battle soon ensued. It was then that her father called her Grainne Uaile, meaning 'bald'. The name stuck and she was infamous for her battle tactics, cut throat prowess and intensity. Not a woman you want to cross! Looks very impressive!
How long did it take to film Grainne Uaile: The Movie, and when and where might it be released upon the general public?
It is a massive production with castles, ships, horses, swords, incredible fights sequences, large scale set pieces, a huge cast, spanning a life story of 70 years, so filmed through two sets of seasons, often battling with the raging elements, near freezing conditions in the brutal and yet beautiful landscape of Ireland, culminating in a gritty and thought-provoking dramatic movie with a climatic and violent payoff. By no means an easy film to make. The cast and crew were pushed to the limits and beyond with no trailers, toilets or any of the usual amenities. The energy of this endurance can be seen on the screen. If anything is practically impossible to create then it is exactly the sort of project that is worth doing. This was a very special (and grueling) journey to take, but it is only right that we went through such hell as Grainne Uaile is and was the ultimate badass. It is now completed and currently on the festival circuit and in talks with distributors. We will post news on the films Facebook page https://www.facebook.com/grainneuailethemovie as it comes in. Our website is http://loosegrippfilms.co.uk, find us on Twitter @loosegrippfilms and find me @ciarondavies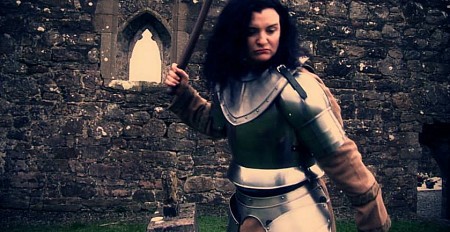 Any past and future projects you'd like to share?
Currently we are filming Cu Chulainn, a fantasy epic about the life of the Irish Celtic warrior hero of the same name, based on the ancient mythology. A tale of gods, godesses, heros, fighting clans, dark magic, romance and adventure! Also we have another epic short sci fi B movie comedy going into filming, It Came from Dimension X.
Previously we created Intersection Number Nine, a dark noir horror art film, Invasion Ireland, a comedy sci-fi satire, The 5th Dimension, noir fantasy, and The Magic Island, an epic short, fantasy, macabre comedy, somewhere between Pirates of the Caribbean and The Seventh Seal. These are all streaming somewhere or other now, Amazon, Fantasy Network, and other realms!
What got you into filmmaking in the first place, and did your recieve any formal training on the subject?
Ever since I was a child I always wanted to be a filmmaker and was fascinated by films, old and new. Love the medium from a storytelling point of view. Cinema itself is like a modern church or the joining of people from cultures and social groups as would have been done in ancient celtic times with a grizzled and worldly storyteller around the fireside telling tales of daring adventure, intrigue and romance, kings and queens, gods and goddesses to capture the imaginations of the listeners and make their hearts skip a beat. Film is a powerful medium, a form of magic where the viewers are transported to ancient times or alien worlds or live out the lives of others in dramatic timelines, that not only entertain but remind us of who we are, where we have been, and where we may be going. I have always loved cinema, especially the classic sweeping epics such as Ben Hur, The Ten Commandments, Spartacus, Lawrence of Arabia.
How did The 5th Dimension come about?
I had wanted to experiment with a non linear time frame and to cross genres of time and space. What better than the idea of the metaphysical forms of Fate and Destiny battling through alternative dimensions for eternity? It's film noir, but it's also fantasy and sci-fi and horror all mixed together in a bag with a nuclear bomb inside it with the look and feel of a comic book. Impending doom also is a slow trigger used throughout, and I wanted to break the third wall by employing massive widescreen closeups to give us a feeling of genuine disturbance.
How would you describe yourself as a director?
As a director I have a very clear vision of what I want on the screen after its edited, like to build an atmosphere for the actors and also interested in extreme technical visualizations, costume, makeup, hair, lighting, the whole package. Interested in great stories, intense acting and stunning visuals. Often our shoots are grueling and demanding physically and mentally, but true magic comes from pushing the boundries and going beyond the realms of possibility.
Filmmakers who inspire you?
Favourite directors are Kubrick, Peckinpah, Coen Brothers, Terry Gilliam, Ken Russell, Kurasawa, Sergio Leone. I love all genres of film, anything which is authentic, beautiful, meaningful, has great depth and truth, art, the immortal.
Your favourite movies?
Lawrence of Arabia - stunning and splendour, amazing cinematography, faultless script. Peter O Toole's performance a master class in the metamorphosis. It's a perfect film. For a Few Dollars More, greatest western ever made, incredible atmosphere. Genius directing and acting from Gian Maria Volonté played El Indio, possibly one of the greatest cinema villains along with Hannibal Lecter. He brings a depth to his psychotic character, which has sensitivity, loneliness and an insatiable lust for vengeance. And of course Clint Eastwood, which brings us to Dirty Harry and The Unforgiven - say no more.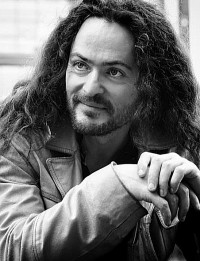 Feeling lucky ?
Want to
search
any of my partnershops yourself
for more, better results ?

The links below
will take you
just there!!!


... and of course, films you really deplore?
Rather than deplore, love to embrace B MOVIES! The worse they are the better. There is nothing as satisfying as two grown men in terrible rubber creature costumes wrestling each other in muck and and stomping on cardboard cities. Hollywood blockbuster versions of Godzilla will never reach the pure greatness and genius that is say Godzilla vs the Smog Monster. Or even Zontar the Thing from Venus, an aweful sci-fi 'Z' movie based on a Roger Corman movie [Roger Corman bio - click here] which was based on another movie. This film is so terrible that it transcends awefulness and thus is the world's greatest movie ever made. Maybe even the inspiration for our new sci-fi, who knows. Its on YouTube, watch it if you dare.
Your/your movie's website, social media, whatever else?
Website: www.loosegrippfilms.co.uk
Social media:
Facebook https://www.facebook.com/loosegrippfilms
Instagram: @ciarondavies
Twitter: @ciarondavies
Grainne Uaile: The Movie on Facebook: https://www.facebook.com/grainneuailethemovie
Thanks for the interview!