Your upcoming movie Shadow Boxer - in a few words, what is it about?
Shadow Boxer is about a man's struggle to find validation and acceptance from his father. In the film we see Mason, played by myself, fighting his former stable buddy, played by pro boxer Humzah Awan, for the world title. The film opens in the middle of the 9th round. The plot twist here is that Mason's father, who is an ex-boxing world champion and legend, played by James Cosmo, is in his opponentsí corner.
Why? Well youíll have to watch it to find out.
Being a former professional boxer yourself, is any of Shadow Boxer based on personal experiences? And other sources of inspiration when writing your movie?
Oh massively, Shadow Boxer was inspired entirely from my life and career. Without giving too much of the story away, Shadow Boxer deals with issues such as depression, anxiety, expectations and the mental wellbeing of a young man and his struggle dealing with these life issues. The film is based on true events that I experienced as a boxer, where I myself had to deal with such struggles. Iím hoping this film will speak to young men and women everywhere and help them in some way. This was the drive behind writing Shadow Boxer. Ross McGowan and Craig McDonald-Kelly were on the same wave length when helping develop and write the script.
Over the years, a great many films about boxing have been produced - so what do you think sets yours apart from the crowd?
The reasons why this film is different to what everyone has seen before in a boxing movie is that the fighting is done by two professional boxers, this gives the fighting authenticity. Also, we filmed the fight scene in front of a live boxing audience, where we only had 30 minutes from start to finish. After seeing the rough version of the film, I can hand on heart say that we really have delivered a great film with amazing fighting, fantastic acting and a unique storyline with a message that will speak to people everywhere: 'Validation is from within.'
According to my information, Shadow Boxer is the first film you also stepped behind the camera - so what made you choose exactly this movie to branch out for the first time?
In all honesty, as an actor, writer, director and producer I wanted to produce something that I know about. I know boxing, I know the emotions a boxer feels in the ring, I know family issues, I knew how to put this all together. With the help of Deadline Films UK we managed to produce a film that has been in my head for 5 years.
What were the challenges of bringing Shadow Boxer to the screen from a producer's point of view?
We had a huge amount of challenges with this project. To name but a few, we needed a live boxing event to film in front of, and the first promotion fell through, so then I had to find another event to film on. Thatís when I spoke to Ring King Events who allowed us to film on their show. Being a low budget production we also faced some issues with actors/crew commitment - we had a few members pull out of the months - but this didnít stop us and I can honestly say I wouldnít change the cast and crew that we had on the night, they were all amazing. Most challenges we had were due to the one shot movie sequence. Overcoming this was down to the sheer brilliance and vision of director Ross McGowan. When you see the film you will wonder how we did it.
You also play the lead in Shadow Boxer - so what did you draw upon to bring your character to life, and did you write him with yourself in mind from the get-go?
Mason was always going to be played by/based on me and my experiences. As a pro boxer there was an immense amount of stories and moments in my life and career that I could have written about. I went with this particular story because It was based on the biggest turning point in my life and career.
What can you tell us about the look and feel of your movie?
We took inspiration from Raging Bull and Creed - when you see our film, youíll get what I mean and feel great nostalgia!
Do talk about your co-director Ross McGowan, and what was your collaboration like?
I met Ross on the set of a feature film at the end of 2018, he was crew and I was part of the cast. We remained friends, and at the wrap party we discussed collaborating in the future - I took the opportunity to present my idea of Shadow Boxer, which he then helped to develop over a Nandos. Ross with his great industry experience and wealth of ideas - it was a no brainer to ask him to be the lead director of Shadow Boxer, while I directed the boxing scenes to ensure they were authentic.
No boxing movie without some action - so do talk about the boxing scenes in Shadow Boxer for a bit, and how were they achieved?
A pet peeve of mine in fighting films is when the storyline is great, but the action looks staged. I always wondered why they hadnít used real fighters, so I took it upon myself to ensure the boxing scene was realistic - having the 2 boxers of professional standard, and to the point that I actually took some punches.
What can you tell us about Shadow Boxer's key cast, and why exactly these people?
Iíve already explained some background with regards to the boxers, however the role of Eddie Royce had to be played by someone of great stature and authority. Who better than film veteran James Cosmo - I was absolutely thrilled when he accepted to join the key cast. My cornermen in the film, David and Craig also work together as part of Deadline Films UK, so were able to demonstrate their chemistry in the film too.
Do talk about the shoot as such, and the on-set atmosphere?
All 24 cast and crew got on so well, rehearsals every week, we became like a family. Everyone gave it their all, I couldnít have been happier with who worked on Shadow Boxer.
The $64 question of course, when and where will your movie be released?
We are happy to announce that Shadow Boxer will be having a private screening and released on Sunday 3rd November 2019.
You'll also appear in Guy Ritchie's upcoming The Gentlemen - so what's that about, what can you tell us about your character, what was it like to work with Mr. Ritchie, and how did you get involved with that project in the first place?
Firstly, Guy Ritchie is one of my all time favourite directors - especially his work in Rocknroller and Snatch. My agent Mandy Perryment got me the casting (I was over the moon) and a week later I discovered Iíd got the part! As Iíve signed an NDA I canít disclose much about the film, however I will say that itís a throwback to his classic English gangster movies and I canít wait to see it - I had some of the best weeks on that set.
Other future projects you'd like to talk about?
Right now itís all about promoting Shadow Boxer and taking it to film festivals globally, as well as getting myself ready for the upcoming pilot season in LA. I will be going to LA in October to set everything up for January.
As mentioned above, you're a former professional boxer - so do talk about that aspect of your career for a bit, and what made you switch to acting eventually? And did you receive any training as an actor, and to what extent has your being a boxer prepared for your career as a thespian?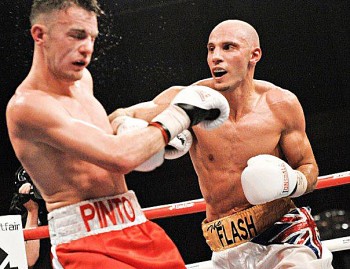 In a nutshell, I had an amazing professional boxing career - 6 amateur international gold medals, national ABA title, and the professional international welterweight title, to name a few of my accolades. However due to a hand injury, I was advised by my surgeon to withdraw from boxing for a substantial amount of time, so I went back to my first love - acting. Iíve acted since I was young whether it be events/college/theatre... In recent years Iíve gone to the Actors Centre in Leicester Square every month or so to continuously grow my acting skills. One thing I can definitely say is the discipline needed to be a successful boxer has certainly helped me in the acting world. I always give castings 100%, and when I go into the room I remind myself that I once fought in Wembley Arena in front of 10,000 people.
What can you tell us about your filmwork prior to Shadow Boxer?
Walking into the acting world can always be a bit of a slow burner, but with a few credits under your belt, momentum builds up. Iím fortunate enough to say that over the last 2 years Iíve been a part of some high profile company commercials, such as Samsung and Heineken, as well as 2 feature films - one of which I play the lead.
How would you describe yourself as an actor, and some of your techniques to bring your characters to life?
I go about my acting career the same way I carry myself in general life - being kind to everyone I come across. A major difference between boxing and acting is that as an actor itís of upmost importance to be vulnerable (to the story) - the complete opposite to boxing in fact. As an actor all I care about is portraying the character as truthfully as possible - taking the background, emotion and flaws into account, not just that moment/scene.
Actors (and indeed actresses) who inspire you?
For me, Tom Hardy is the actor Iíve always aspired to be like. As of late, Iíve seen a lot more of Matthew McConaughey's work - his acting ability and natural talent really impress me.

Feeling lucky ?
Want to
search
any of my partnershops yourself
for more, better results ?

The links below
will take you
just there!!!


Your favourite movies?
The Matrix, 300, Rocknroller and Braveheart.
... and of course, films you really deplore?
300 Part 2, Matrix 2 and 3... Some films are just better left at 1!
Your/your movie's website, Facebook, whatever else?
Instagram: @Chrisevangelou
Twitter: @Chrisevangelou
Facebook: Chris Flash Evangelou
Thanks for the interview!