First of all, could you please sum up your latest movie Livestock in a few phrases?
Livestock is a film about a cult which is trying to grow but still remain unseen at the same time, while two young women search for love and success in their lives. There two worlds cross paths and we watch the drama as it unfolds.
What were your main inspriations when writing Livestock?
I wanted to make a horror film that played more like a drama. I also wanted to make something I haven't seen before. I really like all those old Hammer horror films and Vincent Price movies. I'm also a big fan of Dario Argento.
Livestock has a sort-of open ending. Do you plan to ever make a sequel?
Not really, but the Idea has came up. I like those type of endings because you can make up what happens. It feels more personal that way.
A few words about your cast and crew?
The cast and crew were great! They made the whole process smooth. I was lucky enough to have Nolan Yee as my D.P. who's not only talented but a great guy. Nicholas Potvin gave us a beautiful score. The cast came in wanting to work hard. I can't say enough good things about them. Robert Hines and Irina Peligrad are getting recognized for the great job they did at some festivals. Fiore Leo who played Victor has such a great presence. He's a very talented man. Also Michael Reardon and Johanna Gorton did such a great job. Johanna was amazing when she needed to be scared on screen. I'm big into having people who can not only act but come to the set and have a good attitude too. All the way down they where very professional.
The film starts out as a fairly conventional gangster movie but then goes into vampire territory via serialkiller thriller and survival flick. How did you come up with that kind of genre mix?
Well I knew right from the beginning that I didn't want to make your typical vampire film. I wanted to play along with the cult idea. I thought if there was a cult like this in Boston today they would work more like a mob so they can remain unseen. I could have went the other way with the whole secret order wearing hoods and stuff but it felt this would add a nice twist to the film. As far as the film going serial killer thriller to survival flick - when I write a I just let it play out.
Your favourite gangster movies?
This is a hard one. Donnie Brasco, Goodfellas, Casino, Road to Perdition, The Godfather and yes all three, A Bronx Tale, The French Connection... I don't know if that one counts as gangster. It's more about cops, but it's a great movie! Once Upon a Time in America. I can keep going... maybe it's not that hard!! Jason Miller (Producer) and Vincent Di Nunzio (Actor) can quote every line from Casino.
And of course, your favourite vampire movies?
Vampyres, directed by Jose Ramon Larraz, Nosferatu - the original silent film and Herzog's version, Dracula with Lugosi, Horror of Dracula with Christopher Lee and Dreyer's Vampyr. I have to say I loved Let the Right One in and I just saw Thirst and thought it was a really good film too.
How would you describe your personal take on the vampire myth?
They are Demigods, like Hercules. But with my Vampires it was their mother who was the God. Their Mother is the Hindu God Kali, who some say is a type of Vampire God. In my story she wanted to birth a child so she found a mortal. So they are like human but with some special powers and needs. I did a lot of research and found a lot of things with big gaps so I filled them in with a Vampire take on them.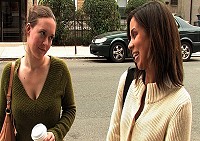 Johanna Gorton and Christina C.Crawford in Livestock
With films and TV-series like the New Moon-movies and The Vampire Diaries, vampires are increasingly marketed to a young, female audience. Your thoughts on that?
Vampires can hold that image of the romantic stranger. They can be powerful and mysterious. They can be good looking or ugly. They have the perfect recipe for the classic love story but with a dark side. Females like Horror too! And marketing it to a younger audience just makes it safe, but in the end you still get your love story. I think women have always liked Vampires, it's just making it's way around on a mainstream level.
You worked on Livestock as producer, writer and director. Which aspect of filmmaking do you enjoy the most?
Directing. I like watching it all play out in front of me.
A few words about your short Last Bet, Last Mistake?
Last Bet, Last Mistake is a film written by Jason Miller and directed by me. It's about two men who started out in the same operation, but now business and jealousy have ended old ties. Fiore Leo and Michael Reardon are both in this one too. When the Livestock DVD comes out this will be the bonus film. We made the film in 24 hours! It was a lot of fun. Also I think it's good to watch for Mike and Fiore, to see how different their characters are to the ones in Livestock. Mike plays a funny and energetic take on a mobster and in Livestock he's a rebellious brat with a mean streak. Fiore plays a cool and calm Clint Eastwood kinda guy and in Livestock he's a nervous, but very powerful man. They do a great job in both films.
Any other projects you have worked on you'd like to talk about?
I'just finished shooting a documentary about the St. Agrippina Festival in Boston's North End. It may seem like a huge jump to go from a vampire film to religious documentary, but I like experimenting with different styles of filmmaking. Also it's very personal to me since I have a lot of family members who have been part of the tradition for many years. When it comes out you will see that its not really even a religious documentary, but more of a story of family and tradition.
Any future projects?
Currently I'm writing a script for another horror film titled Paint. It's kind of a love triangle between an artist, a ghost and a psychotic woman! I don't want to say too much without giving it away. Also myself, Jason Miller and Nolan Yee have been discussing possible collaborations on some other projects.
How did you get into filmmaking in the first place, and did you ever take any classes?
I took a few classes at School of the Museum of Fine Arts and Mass College of Art in Boston. I've read numerous books on filmmaking and also made lots of short films with Super 8 and 16mm.
You live and work in Boston. What can you tell us about the (independent) film scene there?
It's growing. Just last year Massachusetts passed a new tax incentive for filmmaking and more motion pictures are being shot here, so I think the more that happens the more the independent film scene is going to grow. Its definitely a great time to be working here.
How easy/difficult is it to find actors and actresses willing to star in a horror movie in your area?
It wasn't too hard. There are a lot of people who enjoy horror films, but you still come across those few people who are against doing horror films for some odd reason. Overall most of the actors around here are eager to work as much as possible, so they won't limit themselves. In my opinion actors shouldn't be afraid of doing horror films because a big part of acting is about controlling your emotions and horror films really put that to the test. A person can really show off their talents (or lack thereof) in a horror film.

Feeling lucky ?
Want to
search
any of my partnershops yourself
for more, better results ?

The links below
will take you
just there!!!

Find Christopher Di Nunzio
at the amazons ...

amazon.com

amazon.co.uk

amazon.de
Looking for imports ?
Find Christopher Di Nunzio here ...
Something naughty ?
(Must be over 18 to go there !)

Your website, MySpace, whatever else?
www.myspace.com/creepykidproductions
www.myspace.com/livestockmovie
Directors who inspire you?
Dario Argento, Mario Bava [Mario Bava bio - click here], Stanley Kubrick, Federico Fellini, Michaelangelo Antonioni, Sergio Leone, also Roman Polanski and David Cronenberg.
Your favourite films (not mentioned above)?
Rosemary's Baby, The Ninth Gate, The Good, the Bad and the Ugly, Suspiria, Deep Red, Videodrome, 8 1/2, Blow Up, The Jacket, 2001: A Space Odyssey, Eyes Wide Shut, A Clockwork Orange, Black Sunday, All the old Universal horror films and many many more.
And of course, some films you really deplore?
Nothing worth mentioning. Bad films just shouldn't be talked about. I like to talk about the good ones!
Anything else you are dying to mention and I've just forgotten to ask?
Not that I can think of. Thank you for taking the time to interview me!
Thanks for the interview!