Your upcoming film A Life not to Follow - in a few words, what is it going to be about?
Well it's a feature film and here is the storyline: A trilogy of Neo-Noir films: Eric is a dead man and he knows it. Death is imminent and he must make amends for his past sins, by killing those who wronged him, no matter the price - A wiseguy willing to do anything to move up in the world must now make the ultimate sacrifice. He must kill his best friend or in turn be killed - An F.B.I.agent turned P.I. is on the trail of a missing girl. In his long search for her he comes face to face with a host of unsavory characters who will lead him to perdition or salvation.
As far as I know, A Life not to Follow is still very much "in production". So how far along is it?
We just started filming last week. It's going really well so far. People are having fun and I'm getting what I want. I couldn't be happier. We have some tough shoots ahead so we'll see how it goes.
What were your initial inspirations when writing A Life not to Follow, and a few words about your co-author Pedro Alvarado?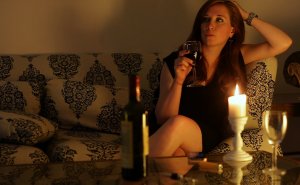 Amy DePaola
Me and Pedro really love old noir films and we just love gangster films in general. So making something like this just seemed like a no-brainer. We also know a lot of people who could play these roles. Pedro is a good friend and a good drinking buddy! LOL. He has written a lot of short stories before and is great with dialogue. Writing for me can be very hard, so having someone like Pedro was great! We both wanted the film to be the best it can be. We put any egos we had aside and worked on this baby. It was a lot of fun and I already can't wait to work on another. He has a good perspective on things and he likes dark stuff like me.
As far as I know, A Life not to Follow will be a sort of neo-film noir, right? Is film noir a genre particularly dear to you, and some of your genre favourites?
This is going to be our way of doing a modern day noir film. I think film noir from the 40's and 50's were America's best films! I love the 70's too. For films I love The Third Man and most Humphrey Bogart films. M is great as well.
To what extent are you trying to recreate the look of classic film noirs, and what can you tell us about your directorial approach to your movie in general?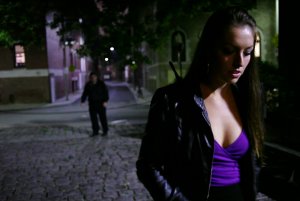 Molly Kay
We use a lot of shadows. The look is coming from lighting not wardrobe or anything like that. Also it's dark. My approach is making sure the performances are organic and feel natural. So far it's good. I have a bunch of great actors so it's easy. Just this past shoot I worked with Molly Kay (one of the nicest people you'll ever meet) and Justin Thibault (another good guy as well). Everything we talked about at the read through and before the shoot they just took it all in and from the first take they were those characters. They nailed it! I love it when people prepare for a shoot. I can't stress that enough. Now all I have to do is watch and make sure it stays on track and keep the energy up. I'm also trying to make sure the tension and dark vibe are felt on screen. For me filmmaking is a very organic process. It's fun to see what comes from it. I go into every film with a set of ideas but I'm not afraid to adjust it if it all starts to move in a new dierction. I don't fight it. I try to figure out what's best to make this film the best it can be.
Why did you choose the anthology format for A Life not to Follow, and will the seperate stories be interlinked in any way narratively?
I love short films and the idea came from Mario Bava's Black Sabbath [Mario Bava bio - click here] and maybe a litte bit of Akira Kurosawa's Rashomon. I love Bava's work and I dug the idea of having three short films making up a feature. But in Bava's film the stories are seperate. Ours will be interlinked. Characters will be in and out of the story. Also this isn't a horror film. It's a dark crime drama.
A Life not to Follow is produced by Jason Miller, with whom you have worked repeatedly in the past. You just have to talk about him for a bit!
I would love to talk about Jason! This guy is an unoffical film historian. He's great to work with, not because he's laid back and easy to get along with but he just knows so much about films. It's good to reference things with him and make sure you're not falling into too many cliches. It's great to be around someone who loves film so much. A lot of people say they do but they really like the idea of it. No real love. Jason loves film with all of his heart. Me, Jason and Nolan Yee also run the Massachusetts Independent Film Festival. Which is alot of fun. We are still taking submissions!
A few words about your main cast?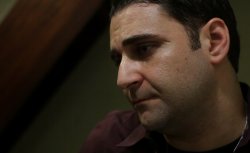 John Martellucci
I'm working with Forie Leo again because he's a great actor so why wouldn't I? John Martellucci is another actor I love to work with. He has a big role in this film. I can't wait for people to see how good he is in this film. Michael Capozzi is an actor to look out for. He has a lot of talent. He's funny as hell too! Molly Kay, as I said above she is such a nice person and so talented. Erica Derrickson, I got to see a film with her in it (Rafi Baby), good film and she was amazing in it. I can't wait to start working with her. Salvatore D'Girolamo, a guy who's face you'll see a lot on the big screen. I can go on and on about the cast, we got some talented people! It's a big film so we got a big cast. I also get to work with William Bloomfield and Leighsa Burgin again. I love those two. And I can't wait to work with my brother Vinnie and Johnny "Shoes" Cammarata. We've got a few more but I'm getting carried away! I can't forget the wonderful Amy DePaola! She likes some bad sport teams but I won't hold that against her. I'm also happy to work with our DP Nolan Yee again. He's another good friend and great filmmaker. We've also got a great sound person Laura Grose. When you know good people who like to work on a film there is nothing better. This shoot is going to be a lot of fun!
It might be waaay too early to ask, but when and where will the film be released onto the public?
Sometime in 2013. Summer/fall.

Feeling lucky ?
Want to
search
any of my partnershops yourself
for more, better results ?

The links below
will take you
just there!!!

Find Christopher Di Nunzio
at the amazons ...

amazon.com

amazon.co.uk

amazon.de
Looking for imports ?
Find Christopher Di Nunzio here ...
Something naughty ?
(Must be over 18 to go there !)

Any future projects beyond A Life not to Follow you'd like to talk about?
Just a few scripts I'll be writing. Nothing good to talk about yet but I'll be busy working on something.
Your/your movie's website, Facebook, Indiegogo, whatever else?
Yes! We are still trying to raise some more money for A Life not to Follow, please help if you can. http://www.indiegogo.com/ALifeNotToFollow?c=home&a=409016
Check us out on FaceBook as well: http://www.indiegogo.com/ALNTFthemovie?c=home
Anything else you are dying to mention and I have merely forgotten to ask?
I would like to thank the good people at Harvest Tide Productions. William DeCoff and Skip Shea. They helped me find some actors and have been very supportive. So thanks guys! They are also good filmmakes themselves. They have a new horror web series coming out called Longreach http://www.watchlongreach.com - I can't wait to see it!
Thanks for the interview!
Thank you for taking the time to do this interview with me!