Your movie Alien Agenda: Project Grey - in a few words, what is it about?
Alien Agenda: Project Grey is a sci-fi drama loosely based on ideas found in books like those by David Ike and similar writers.
With Alien Agenda: Project Grey being firmly rooted in conspiracy theories - is that at all something you're also personally into, and some of your favourites (for whatever reason)?
I've always enjoyed conspiracy theories... I think the truth is always somewhere between a conspiracy theory and what most people would consider reality.
Other sources of inspiration when writing Alien Agenda: Project Grey, and what was your collaborative writing process like?
Believe it or not, we had such a small budget on the film that we didn't have time to write a script - instead, we worked with the actors and made the scenes up as we went along. We would usually have a scene, with a brief description of what each character needed to achieve, and we would improvise and shoot different versions. Later, we pieced it all together. We did write a script for the scenes in the hospital, and the scenes with the Russians. Those scenes were written at the end to help glue everything together.
You have also co-directed the movie (like you have quite some others before and since) - so what can you tell us about your directorial approach to the story, and how do you share your duties on set ... and are there ever any moments you clash, for whatever reason?
Crystal & I have been co-directing since 2001. At the beginning, it was quite challenging for us to see eye to eye on things, but as time has passed, we've become more and more in tune with each other, to the point where we are starting to feel like the same person in two different bodies. I think this happens to most married couples over time. But I can tell you it hasn't been easy getting to this point. On one occasion, while arguing over the color of a certain scene in Alien Agenda: Project Grey, we were screaming at each other so loudly, that a neighbor must have called the police to investigate. After explaining the situation, one of the police officers asked me "Do you love your wife?" and I said yes, to which he replied "Then do it her way". We laughed our asses off after they left... We colored the scene her way.
Christian, you also play one of the leads in Alien Agenda: Project Grey - so what can you tell us about your performance, and what did you draw upon to bring your character to life?
Acting and directing at the same time is not an easy task. I'm lucky to have Crystal. She really does make it possible for me to be in front of the camera while at the same time have a hand on what is going on behind the lens. She's like a magical unicorn. :)
Crystal, what's your husband like to be directed?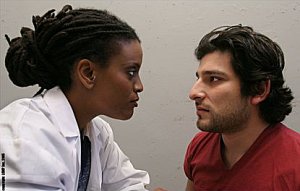 Nneka Croal, Christian Blaze
He's kind of an asshole at times cause he thinks he knows it all all the time. (Christian: baby!) Seriously though, working with him on set is like working with any other actor... I forget we're married when he's in front of the camera.
You of course have to talk about the rest of your cast for a bit, and why exactly these people?
The entire cast of Alien Agenda: Project Greyy was great. They were the only ones brave enough to take the risks we did with the film. It was not an easy film to make, we were far from the city, living and working in small cabins, we had very little food, very little money and supplies, and I think at one point they all hated us for how difficult we had made it for them. We tried our best to make it less painful, but there was only so much we could do on such a small budget. I hope one day they they can all look back and see how cool it was to do what they did.
According to my informations, your movie was released in 2007 in some territories, but was later enhanced with improved special effects for a re-release - so what can you tell us about the effects work in Alien Agenda: Project Grey?
The main reason we re-released the film was because when it first got distribution in 2007, the distributor had us cut the film a certain way (The Distributor's Cut), and we never liked it. We re-cut the film to the way we originally intended it to be, and at the same time polished a few of the VFX's and sound. The VFX work was mainly completed by students who volunteered their time in exchange for a credit. Special thanks goes to Vincent Lin, who spent many months designing and animating the Aliens.
What can you tell us about the critical and audience reception of Alien Agenda: Project Grey?
Reception to Alien Agenda: Project Grey has been mixed... people either love it or hate it. I think if you accept it for what it is, a low budget sci-fi film, and go into it without expecting the high gloss of a big budget movie, you will enjoy it.
Let's go back to the beginnings of your careers: What got you into filmmaking in the first place, and did you receive any formal training on the subject?
I come mainly from a computer background. I remember when I was 19, I visited the set of Stargate SG-1, and I met Michael Shanks who gave me some advice about acting and the film industry, and after watching how the show was made, I realized my computer background actually helped me understand how to make movies... digitally. Later that year, I started studying acting at Gastown Actor's Studio, and by age 23 Crystal and I had shot our first short film Spank. By 25, we were shooting Alien Agenda: Project Grey.
You of course have to tell us how the two of you first met and how your professional and personal relationship developed?
I met Crystal on the set of a student film when I was 21. We started talking to each other at the wrap party... 6 days later, I proposed to her, and 6 weeks later we flew to Vegas and got married. From there we formed our own new media company, and have been working together on film projects ever since.
The first film you co-directed was I believe Spank - so you of course have to talk about that one?
Spank was an interesting project. We shot it in my parents apartment with help from all our friends and family. We got a great DOP, Kim Miles, to shoot it for us at the time, and he did an amazing job. Acting and directing it was a challenge sine it was the first time we had done that together, but in the end it all came together beautifully. It went on to win awards and was eventually licensed by the CBC here in Canada.
What can you tell us about your filmwork since Spank?
Since Spank, we've shot Project Grey, and Defending Maldito which was a short film shot in Stereocopic 3D! You can watch it on YouTube at: http://www.youtube.com/watch?v=nET4SZXQQC4
Any future projects you'd like to share?
We're currently working on a political drama called Through the Eye of the Needle. It is a story about a Salvadoran war orphan who escapes to the USA in search of a better life. We hope the film sheds some light on how US foreign policy has sometimes created more problems than it solves and how war is not the answer to our problems... We also want to inspire people to look at the developing world in a different light and realize that if we are to survive here in the developed world, we must take care of our brothers and sisters in the developing world.
How would you describe yourselves (and each other) as directors?
Christian: Crystal is the most organized, multitasking, artistic and bossy person I know... I can see her bossing all the kids around when she was little and making them act out her plays. It's a good thing on set, because she gets things done! Personally, I see a little of myself in everyone, I wonder if they see themselves in me....
Crystal: I tend to focus more on the artistic side of things while Christian tends to focus on the technical.
Filmmakers who inspire you?
Crystal: Tarantino, Paul Thomas Anderson.
Christian: Stanley Kubrick, Steven Spielberg.
Your favourite movies?

Feeling lucky ?
Want to
search
any of my partnershops yourself
for more, better results ?

The links below
will take you
just there!!!

Find Alien Agenda: Project Grey
at the amazons ...

amazon.com

amazon.co.uk

amazon.de
Looking for imports ?
Find Alien Agenda: Project Grey here ...
Something naughty ?
(Must be over 18 to go there !)

Crystal: Boogie Nights, Django, Swing Kids.
Christian: Schindler's List, Forrest Gump, Pulp Fiction, Murder in the 1st.
... and of course, films you really deplore?
I think after you make a movie and realize how difficult it was, you learn to appreciate all films on some level...
Your/your movie's website, Facebook, whatever else?
Anything else you are dying to mention and I have merely forgotten to ask?
We are all one thought away from peace on earth, and that thought is... LOVE.
:) Thanks for interviewing us!
Thanks for the interview!