You currently have two science fiction films upcoming, Worm and Rhombus.
Let's start with Worm - in a few words, what is it about?
I m not known for few words and short answers, but Iíll try my best! Worm is about the environment. When the essence of Mother Nature decides to take back what is hers. It's about corporations and their lies and deceit, and it's about a man, a human, who is out of sync with both reality and the society that harbours him.
What were your inspirations when writing Worm?
Sitting in a call centre just outside of Altrincham gazing out towards the fields and endless stretch of pylons. That was the initial inspiration. Iíve always been fascinated with the concept of energy, energy into corporations, energy into the world, the world into nature. I believe some of the named ĎGreen Energyí companies are up to no good, we shall see in a few years time.
Do talk about the look and feel of your movie for a bit!
Look-wise I always had the intention of shooting this film as low grade as possible. I had looked into 8mm film and super, but the cost was rather out of my reach. Plus I knew that should something fail on me I needed fast replacements, thatís why I used a consumer market vhs-c camcorder. I think it cost me about £10 from ebay. So armed with my cheap camera and about £200 budget we set about making a short experimental sci-fi. Shooting the film in Cardiff proved a bit of a challenge, as I wanted these domineering buildings oppressing the masses and the main character, unfortunately Cardiff has been built with a great deal of width and height issues. So I went about shooting down the back alleys, the tiny streets and rooms to give a sense of not only an enclosed world, but a dark and miserable place. The place I would like to live.
Anything you can tell us about the movie's key cast, and why exactly these people?
Mention here has to go to Gavin Sims. Gavin plays the lead, all the characters are really sketched out, so each one is simply called who/what they are. Gavin is simply ĎThe Maní. I found him through a fairly popular casting website that I shall not mention as I think they are unrelenting arseholes, but through there it was a simple casting call. I'd spoken to a fair few actors before about the role, but with Gavin he had the model looks and the slim frame. But he was excellent, both as an actor, helper on the film and his general willingness to put up with a lot of shit from me regarding scenes. So hopefully we will work together on more films. As for the rest, ah thereís a lot, Rose for patiently being in make up for hours and hours in the basement of an art gallery to play the creature, Keyo for borrowing his brother's suit to get buried in it, Nic for wearing that lingerie for the seduction and to Seb for wearing a wonderful suit in the middle of field before stripping off. The whole gang worked really well.
Do talk about the actual shoot and the on-set atmosphere for a bit!
It's harder to explain this one, as I would say there was never really a set. I had a very small budget that allowed to pay for some of the SFX and a few cameras/tapes. When that money was gone it was very urban shoot style. I shot it over a period of around 6 months and it was literally when someone was free I would shoot something with them. The script started as a relatively small 10-15 pages and by the end Iíd got about 30 pages. So it was a very organic shoot that kept growing all the time, changing and shifting, I really did enjoy that experience. Most films are hectically shot over a few days or weeks, but to have the ability to all live in close proximity that we could shoot 2 days in a row, then not do anything for 2 weeks before coming back and shooting some more, I mean we started in 2011, and the amount of cast and crew had over that time makes it look like a full on set, at most it was probably about 3-4 of us at any given time. It also gave me chance to see what was happening, and rather than dictate the film to my wants I decided to let the film show me where it wanted to go, which is probably why I wanted a short film, and could well end up with a feature length, as last time counting was around an hour, and I'm still shooting extra bits. I would strongly advise any budding video/filmmaker out there to do a film this way, almost like a hobby. It's very cleansing. But with all the actors and meetings and chats over coffee, it all had a very nice relaxed atmosphere. Certainly the most enjoyable film I have created to date
Rhombus - what is that one about?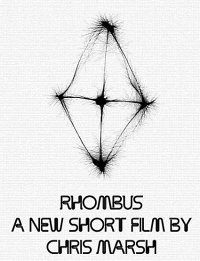 Ah the flip side to the coin. Thatís the way I see it anyway. Whereas Worm is very basic, hardly any effects at all, apart from the city flyover (give mention here to my resident VFX chap, Laurynas Tauyns here), Rhombus is laden with effects and colour and shapes. This is a short film, almost an ode to the old independent sci-fiís, the Le Dernier Combats or La Jetťes fused with a side helping of colourful Jarman. It's about a pair of wasteland wanderers, the girl and the boy but also about the time traveller, the minister of time and the brute. Behind the surface it is trying to bring together various characters from various places in time and space, putting them in a desolate barren landscape and then letting the whole thing play out. I tend not to try to explain too much about what the storyís about, primarily because it would ruin the discovery and secondly because sometimes I simply canít explain it. It's in my head, I know exactly what its about in my head.
Again, what were your inspirations when writing it?
I did draw on my filmic educational background on this one. I had the idea for a while that Iíd like to create my own little piece of pure sci-fi, rather than social sci-fi, I'd had the idea of a traveller going back in time, disrupting the flow and then having to not only face the consequences, but to watch those around them do so as well. So when writing I was watching a few sci-fiís from the 80's. I try my best not to pay attention to, when researching, the story of another film, but rather the feel, the style and look. Filmmakers are all a bunch of thieves anyway, so I have no problem in saying I steal looks from some films and effects from another, but then to put them in the way that I want to fit. So moments from the BBCís Threads and the TV series Quatermass and Children of the Stones were all mini inspirations, as well as good trips down memory lane.
Rhombus has a very retro look to it - was that at all intentional?
Not really, I wanted grain, but I general refuse to put in a Ďfilmí grain to make it look like its an 8mm camera or old stock film, if you're going to shoot in HD then make it look like fucking HD! So I've wanted to keep the HD sharpness running through it, but I wanted it to be darker and with more bite, so via various editing experiments I went with a look that I really hope people donít think I went down the fake grain route, instead opting for shades and sharpness, from that the colour just seemed to drain out of the image. To counter balance that we went for a far more bright and colour experience when dealing with various Ďoff worldí characters, I felt this brought the film back from being pure experimental and into a sci-fi again.
Also, there isn't a single line of dialogue in Rhombus - what are the advantages but maybe also challenges of this?
It seems to be a trend of mine, this no speaking lark. In Worm there was virtually no spoken word, but then I added in a few key paragraphs to explain the unexplainable by making the speech unclear. With Rhombus I wanted it to be a very visual experience. To have the viewer fixed to the visuals, originally I wanted cuts to be every 2 seconds thus giving said viewer a headache after the original 10 mins or so. Instead we re at a nice 19 minutes, so I've been convinced out of it. Part of the advantage is you donít need another member of crew to record the sound! I love sound, absolutely adore it, and all that is from good sound operator, so to me they're the most important person behind the director. Just with this we had a limited number of spaces I could accommodate for the shoot and I always felt that nobody should talk anyway, why talk when actions can say everything. Challenges of this are that the story can sometimes not be explained as easily as people want it to be, but then, should everything be simple and easy? No. Otherwise I d make a film with me doing a Bob Dylan, telling you everything thatís happening, and Bob Dylan is boring, so I have no desire to be put in that class.
What can you tell us about Rhombus's cast?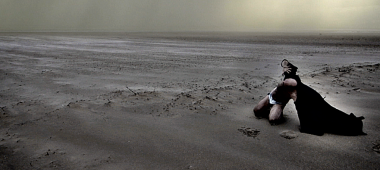 For the extremely short duration we were together, they were fantastic. A real bag of different. We had the main character, the Girl, played by Roseanna, who was a last minute snatch and grab as the original female actor seemed to be in a constant daze or state of surprise, so it wasnít sitting well with me, I then did a very quick search on said shall-not-be-named casting site, you'd think I like them but I really cannot stand them, chastising bastards that they are, and found this wonderful looking blonde haired woman who had that child-like innocence, so it was a quick case of getting in contact with them and getting them onboard. Along with Roseanna we had Mike, the Boy, who is probably one of the best actors I've worked with, again I'm a firm believer that for me to work with someone, it's not just about them on screen, it's about the whole package, and Mike was very easy to work with and helpful. Then there was Kayleigh in the role of the Time Traveller, who Iíd met earlier when there was a possibility of working together on a fashion video, but I turned her down, not because of her ability but because I thought she was actually a bit too good and too experienced to do it, I hope she doesnít mind me saying that, she is my partner now after all! But Kayleigh came because I wanted a model for the Traveller. Someone who didnít need to have any acting experience, although she had, but someone who knew how to walk, thereís a certain way models walk, it's powerful and strutting, like a peacock, and this was needed for the power and stature of the Traveller. There was Edward, or Vincent, who plays the Brute, a typical gentle giant, the man was a fucking hoot! Good fun to be around, and did have to have the boring position of sitting around for most of the time, so any actor who does that and doesnít complain goes down good in my books. Last we had Nick, who I've actually just finished shooting with today, finishing the last sequence I wanted to throw in Rhombus. Due to Nick's character mystery I didnít get to work with him as much as the others, but on the occasion we've been together, be it chatting or walking through wind swept gales on sand dunes, you can immediately tell the talent and depth, he has a strong presence, so I m hoping it wonít be long before I get him front of the camera again.
A few words about the shoot?
I will never ever be the Independent Director, Producer, Editor and DOP again. It was the most draining filming experience I ve ever had. After 2 nearly 20 hour days and a long night before the main shoot, when we were shooting night scenes outside Runcorn, I felt my body went into a form of regression when we finished. Even my lips went dry, I couldnít eat the Big Mac Iíd wanted for days with my usual enjoyment, that was a bit of a pisser for me. But, considering the long long hours and complete lack of shelter other than cars on set I have to commend the actors and crew for their work. Giving special mention to my not then partner Kay for lying on a slab on cold concrete for about an hour with nothing on but a flimsy tunic and sheet covering her top. For some reason I always end up shooting naked or semi naked or long shoots during very cold periods of the year. I think I've yet to shoot a film in summer. This year was the coldest March the UK had had for a very long time. What annoyed me the most though was that it didnít snow, and I really wanted it to, would have given the film a Christmas edge.
Both Worm and Rhombus are science fiction movies - a genre at all dear to you, and how would you describe your approach to the genre?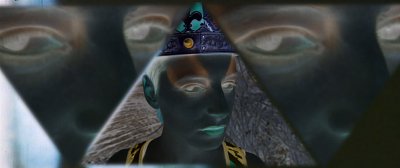 Rhombus
I donít know to be honest. I try not to go in with any preconceptions about what a specific genre movie Ďisí, rather I believe I am slowly developing a style now, I see it and I feel I should nurture it and care for it rather than look at the genre and think ďthatís how I should do itĒ. So like I said before I do watch films, both for minor research and for pure pleasure, but I try not to get overridden by what I ve just seen. Plus with something like sci-fi, in todayís video world there is literally nothing you cannot create with software like After Effects etc. but I donít own After Effects, nor do I have any desire to do so. I've gone from being cutting edge 4 years ago to now being behind the trend, I think that speaks volumes for what this industry is like, and I think rather than keep changing and being fairly good at everything, why not stop, concentrate and be really good at one thing. I also donít think sci-fi is all about spaceships and ray guns, although there is a spaceship in Rhombus, but it's barely seen and in reality it's not a spaceship, its something far more vanity driven and acquired.
How would you say the two films compare stylistically?
I wouldnít, or hope they donít compare the same. I feel they are the same, as in a coin, each one on one side, totally different in look, feel, style and story, but yet they fit in the same world. Worm is present and Rhombus is either some point ahead, or behind, in time. I think it's something that isnít thought about enough in films of the modern day, especially at the lower end. We have limited time and money so I think you've got to be creative and one way, my way, of doing that is to take a scenario or moment, one that is in Ďourí perceived reality and then to shift it, just a fraction to left or right, so it may seem strange or a bit confusing as to why a certain character would do that, but as long as the world you create follows suit, then it can be justified. I find lots of short films to firmly stick themselves in our reality, and frankly itís a fucking bore. Now I'm not saying my films are any better, I think most of my work is shit, but once its complete, I'm not the one watching it, so I leave it to others to decide, I'll be happily moving on to the next one.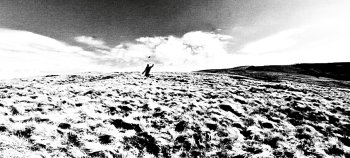 Rhombus
Both films were shot on a rather low budget. Is there anything you would do differently if money was not an issue?
Iíd have a directors chair. Thatís not so much of a joke either. Yes I'd love money, I'd love buckets of the stuff, but even with Rhombus I found that having a large small budget, I was originally going to shoot it for around £200 but ended up with about £1000, that there was a bit of waste, a few props bought but never used, a few location trips taken to find the right place when in reality I'd found it all along. I would like to try to make a film with a large budget one day, but it's not something I aspire to. Iím aware of the restrictions that can take place when shouldering the weight of the Dollar, Pound or Euro. I quite like having freedom, but on my next solo project I would want a budget of around 20k, but that is a feature length film, and I think it would be justified.
Any idea when and where the films will be released onto the general public yet?
Rhombus should be finished within the next week or so, Worm is still ongoing, but now has a new editor after I lost my way with it, but it will return to me shortly, so I would say by the end of this year both should be out and, hopefully, doing the rounds at the festivals. After that I might create a joint DVD, if nothing but for pure ego that someone might want to buy it!
Any future projects you'd like to share?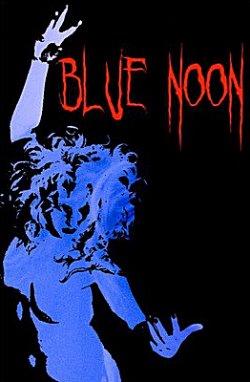 There are 3 in particular. 2 underway as we speak. There is the international feature film Blue Noon, that I believe has been present on this site, involving myself, Cassandra Sechler, Jesse Richards, Salem Kapsaski and Scott Barley, an ode to Franco and Rollin [Blue Noon interview - click here]. There is The Passing of Film, set up by video artist Jason Marsh (no relation) that is also international, and revolves around the concept of taking 8mm film, sticking it in a camera, shooting, then passing it onto the next artist. Something that I'm very interested in to see the end result. Then there is the last one, the one I'm about to start writing, I wonít go into depth about it, other than I ve given it the title of Liquid City AKA Night of the Demons, and that itís a move to horror, specifically body horror, and takes place in a city not too dissimilar from that of Worm, maybe even some reoccurring characters might pop in. But its certainly the biggest idea I've had in scope, and now is the time to take my endless note books with sketches and doodles and turn them into a barely understandable script.
How did you get into filmmaking to begin with, and what can you tell us about your formal training on the subject?
My training on film production was basic, very TV orientated, and I hate TV. I look back at my education for production, and whilst I see that I learnt the basics I was never really shown to break those rules, so thatís what I m doing right now. I donít work with a storyboard for example, unless your shooting a multi-million dollar sprawling production I canít see how it can help other than be a hindrance. If for some reason you have to shoot something different, due to light, weather or other various reasons, then doesnít it throw every other proceeding drawing out the window? But I got into filmmaking and video work after lecturing Film and Video at a college. I went from being a critic, a film theorist, to a filmmaker. As for the most influence I'd have to say that the Curriculum Leader at the time, Diane Gregory, was a massive presence. To me this is a woman who has been there and done that, a great lover of fine film and video art. She taught me a hell of a lot, indirectly.
Do talk about your filmwork prior to Worm and Rhombus for a bit?
Itís a bit here and a bit there. I donít think anything to write home about, though Spotter seems to have a small place in my heart. Although one did win a major award at the Wales student film festival, that was a shock I can tell you. But I think my early work has elements of decent moments, I'm evolving right now, I'm changing and I'm better at what I do than when I started in 2010, so by 2016 who knows! But for me its always learning and adapting to yourself and your content, rather than the innovations that are thrown at you by those perceived to be in the know. I've enjoyed it all though, even if I donít like looking back at them specifically, so with Mother Prudence was the first real time I'd worked with actors, Spotter was my first documentary, Paris 35 was my fist experiment and Dry Mouth was to see if I could basically do a film in one day with just me, a camera and Laurynas as my assistant.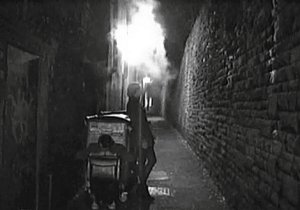 Worm
How would you describe yourself as a director?
Visually preoccupied is what I'd call myself. As a director I know I have the downfall of sometimes not communicating with my actors as much as I should, and that I am far more interested in how the scene will play out in my mind. Though I donít think I'm going to change that, everyone works in their own way, I donít believe I can really tell an actor what to do, I feel I can explain to them a scene or where it fits within the film, but how to act it, they're the actors, they donít tell me how to shoot and I donít tell them how to act, much. I'm still in a state of discovery though, I'd love to think I'd be a disciplinarian and run a tight ship, but I doubt that will be evident unless I make a large film and pay the actors, then I'll have just cause to vent. But until then I'm largely willing to give actors and crew a say, as at this level of filmmaking the team is everything.
Filmmakers who inspire you?
I hate to say it as you always seem to come off as some sort of groupie or adorner, but I question any video artist or filmmaker to not have David Lynch in there somewhere. To me the man did more than create beautiful surrealist films, he showed that you can do that with money behind you, and that these forms of films can be shown and be successful. I would also have to say that Chris Marker is a favourite of mine, as is Christopher Petit, Bill Douglas, early Besson, Von Trier, Herzog and Bela Tarr.
Your favourite movies?
Almost impossible, depends on my mood, a real film students answer for you there. At this very exact moment in time, I'd have to say the My Ain Folk / My Way Home / My Childhood trilogy by Bill Douglas and Possession by Andrzej Zulawski.
... and of course, films you really deplore?
Ah, this is far easier, most of Hollywood. So your Bays, Camerons, Verbinskis, especially Tarantinos. I think the current crop of Hollywood Ďtopí directors is particularly shit. Be curious to see the next generation and whether or not they are engulfed with CGI. I do like Ridley Scott though, so donít put him in that bracket.
Your/your movies' website, Facebook, whatever else?

Feeling lucky ?
Want to
search
any of my partnershops yourself
for more, better results ?

The links below
will take you
just there!!!

Find Chris Marsh
at the amazons ...

amazon.com

amazon.co.uk

amazon.de
Looking for imports ?
Find Chris Marsh here ...
Something naughty ?
(Must be over 18 to go there !)

Me Ė www.retronicavideo.com (currently being updated)
Also me - https://www.facebook.com/christopher.marsh.3386
Worm/Rhombus - https://www.facebook.com/pages/Worm-Rhombus-2013/642560965775920
The Passing of Film - https://www.facebook.com/thepassingoffilm
Blue Noon - https://www.facebook.com/bluenoonfilm
Vimeo - https://vimeo.com/retronicavideo
Anything else you are dying to mention and I have merely forgotten to ask?
I think your readers might have had enough of me by now. But one group of people I do forget are the musicians who have created some beautiful tracks for me in the past, so thatís to Darkroom for Rhombus, Lesbian Horse for Dry Mouth, Ant Dickinson for Worm and Xentrix for most of the stuff prior to those
Thanks for the interview!
Pleasure.