Your upcoming movie Call Girl of Cthulhu - in a few words, what is it going to be about?
Call Girl of Cthulhu is our sleazy gore love letter to weird fiction author H.P. Lovecraft. Inspired by his stories and the Cthulhu mythos, our tale follows a virginal artist who falls in love with an escort who is destined to be the bride of the alien god, Cthulhu.
Obviously, Call Girl of Cthulhu was inspired at least to some extent by the works of H.P. Lovecraft - are you following any particular story/stories of his, and what can you tell us about your fascination with Lovecraft to begin with?
Almost every role in Call Girl of Cthulhu is based on a character from a Lovecraft-story. We spent months researching and analyzing his stories. The major ideas we borrowed from were Call of Cthulhu (obviously), but we touch on many other stories of his (Terror at Red Hook, Music of Erich Zann etc).
Lovecraft is very interesting in many regards. Culturally, he is the unsung hero of horror literature. Sure, many fans know who he is (which is ironic because most of his stories dabble in the idea of human insignificance in the grand scheme of the universe), but it's an almost cult-like fame that spreads his influence. I heard the term, "Lovecraftian" as a young horror fan before I even knew he was an author. His writing style and strange concepts were unbelievably influential to an entire generation of horror storytellers (on both the page and the screen).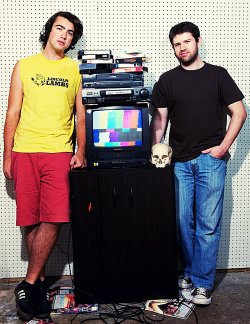 Chris LaMartina, Jimmy George
What is fantastic about Lovecraft is the mastery of mood and atmosphere. Everything swells with a "profound sense of dread". True horror stems from the idea that horrible things are bound to happen ... they are eventual, and there is nothing we can do about it. That's scary.
Other sources of inspiration for Call Girl of Cthulhu?
Well, obviously it's a horror comedy... or hopefully that's obvious with the title alone. That being said, we grew up on 80s horror comedies (stuff like Return of the Living Dead, NIght of the Creeps etc). and those films (especially stuff like the Stuart Gordon-Lovecraft adaptations) were definitely important to the genesis of this film.
What can you tell us about the actual writing process, and of course about your co-writer (and co-producer, and frequent collaborator) Jimmy George?
Jimmy and I have been best friends and writing partners since 2006. We met years ago through a mutual friend in the punk scene and I can't imagine making a movie without him.
The writing process goes a little something like this: First, I pitch Jimmy a title and a logline - he then convinces me that we have to make it "bigger" - I fight him on it for about ten minutes cuz I'm cheap - and then, we settle on a general plot/beat structure (using Blake Snyder's model in his book Save the Cat). We knock out a treatment together (but usually Jimmy is the voice of reason here). Then, one of us does a first draft and then the other knocks out the second draft. We show it to 'script doctors' (professional folks who we pay to tell us how bad our script is) and friends (professional folks who tells us how bad our script is for free). Finally, we come together based on those nights and assemble a final draft we believe in.
As far as I know, you are currently still raising funds for Call Girl of Cthulhu - so what can you tell us about your fundraising efforts?
Kickstarter, man: http://www.kickstarter.com/projects/1972109475/call-girl-of-cthulhu-a-lovecraft-inspired-horror-f
We're almost at 50%. It's remarkable, but daunting. Our support system has been amazing and I think we can pull off our proposed budget of $25k. Fingers crossed. It's been exhausting promoting and sharing the link every day, but we really believe in the project and we're doing everything we can to make sure it comes together.
Anything you can tell us about your projected cast yet?
Nothing is cast yet. We have some ideas based on the folks we usually work with - but no parts have been "officially" offered. But I will say this, there are atleast 3-4 roles that were written with some 'regulars' of ours in mind.
What can you tell us about Call Girl of Cthulhu's approach to horror (as in mood vs all-out gore, atmosphere vs shocks, and the like)?
Call Girl of Cthulhu is the darkest film we've written, but it's still funny despite it's grim undertones. It's gross, but it still has heart. It's atmospheric, yet it still has some truly shocking senses. There are plenty of characters that the audience will love and root for... and there are some elements that are completely morally incomprehensible. I'm not going to say "there's something for everyone", because I don't think the Moral Majority would give us thumbs up - but I believe both Lovecraft fans and horror movie junkies will dig what we're doing.
Also, Call Girl of Cthulhu will have a comedic edge to it, right? So what can you tell us about the film's brand of comedy? And in private life, do you consider yourself a person with a good sense of humour?
It's definitely a dark comedy with some weird, eccentric characters. There are some good laughs and some sick ones too. To speak to my personal demeanor, I do consider myself to have a "good" sense of humour. You have to have a sense of comedy to enjoy this world sometimes. There's too many horrible things that exist around us to be serious all the time. Without smiles and jokes, you'll implode - and on that knowledge, I make sure I smile too much to counerbalance some of the more depressing elements of the universe.
What's your schedule once your funds are raised? Any idea when you're going to start shooting, or when the film might come out even (though I realize this is waaaay to early to ask)?
We plan on shooting in the spring... and hopefully finishing post production sometime in the fall. Fingers crossed! That's IF we raise the $25k. There is no way we can make this flick if we don't hit our Kickstarter goal - http://www.kickstarter.com/projects/1972109475/call-girl-of-cthulhu-a-lovecraft-inspired-horror-f
Let's go back to the beginnings of your career: What got you into filmmaking to begin with, and did you receive any formal education on the subject?
For as long as I can remember, I've been telling stories, and when I finally got my hands on the family camcorder at age 11... I knew I'd found my passion. It has become an addiction like no other. I ended up going to an arts high school with a Telemedia program, and then to Towson University in Baltimore where I raised a BA in Film.
According to my information, your first feature film as a director was called Dead Teenagers. What can you tell us about that one, and lessons learned from it?
Dead Teenagers was a very cheap ($300, shot on a consumer camcorder) anthology that I shot from age 18-20. It was a crash course in scheduling, casting, and distribution. It's rough around the edges, the acting is weak, and the editing is pretty sloppy... but one of the benefits was the ability to gauge what needed work for our next project. You've got to walk before you can run. It was an experiment to see if I could 1) finish a movie and 2) find professional level distribution. Both of those were achieved and we were ready to tackle another feature shortly after.
Two of your films, Witch's Brew and President's Day, have just been released or are about to be released in the next coming months. A few words about those two?
President's Day is a horror comedy about a high school student election where a maniac dressed as Abe Lincoln murders candidates during a student council election. It was shot for $5k and will be released this winter through Spy Global Media.
Witch's Brew is a gory splatter comedy about cursed beer. Basically, two microbrewers screw over the town witch and she makes their latest batch of alcohol inflict ironic curses on anyone who drinks it. The DVD for Witch's Brew comes out this fall from Media Blasters.
Is it true that you are currently in pre-production of a film called WNUF Halloween Special - a few words about that one?
WNUF Halloween Special is a 1980s period piece/found footage flick we are currently producing. It follows a local news channel on Halloween night 1987 where several TV personalities are exploring a the town's supposedly haunted house during a live broadcast. It's a strange flick where every five minutes we have commercial breaks (filled with faux 80s tv commercials we and our filmmaker friends from around the country are producing). We just finished casting and will be shooting through December. More news on that project as it develops! ;p
Any other films of yours you'd like to talk about?
I think you've covered the big ones.
Any future projects beyond Call Girl of Cthulhu?
Besides WNUF Halloween Special, that's about it.
Most of your films are of the horror variety - is horror a genre especially dear to you, and why?
I grew up on horror flicks and I love them. One day, we'd love to produce a romantic comedy or a political satire... but with no money and no star power, a project like that would be a hard sell to a distributer.
Filmmakers who inspire you?
John Carpenter, Robert Rodriguez, George Romero, J.R. Bookwalter, Eric Stanze [Eric Stanze interview - click here], Tom Holland, Fred Dekker.
Your favourite movies?

Feeling lucky ?
Want to
search
any of my partnershops yourself
for more, better results ?

The links below
will take you
just there!!!

Find Chris LaMartina
at the amazons ...

amazon.com

amazon.co.uk

amazon.de
Looking for imports ?
Find Chris LaMartina here ...
Something naughty ?
(Must be over 18 to go there !)

Harold & Maude, Jack the Bear, Lady in White, Monster Squad, Night of the Demons.
... and of course, films you really deplore?
Deplore is a strong word... and I think I can find something to appreciate in most examples of visual storytelling. My mother always taught me that if you don't have anything nice to say, don't say anything at all...
Your/your movie's website, Facebook, Kickstarter, whatever else?
If you visit anything, check out our Kickstarter!
http://www.kickstarter.com/projects/1972109475/call-girl-of-cthulhu-a-lovecraft-inspired-horror-f
Or find me on Facebook or "like" our production company...
http://www.facebook.com/midnightcrewstudios
Anything else you are dying to mention and I have merely forgotten to ask?
I think that covers it. Thanks so much, Michael! We really appreciate it!
Thanks for the interview!
My pleasure, sir!