Your upcoming movie Dark Specter 2 - in a few words, what's it going to be about?
This time around, the Dark Specter finds himself in a life or death struggle with another one of his many enemies, the ramifications of which find their way again into his personal life and it makes the Specter make a choice he might not want to make.
What were your inspirations for writing Dark Specter 2, and how closely will it be related to the first Dark Specter?
The original Dark Specter was an adaption of a comedy skit brought to the small to medium screen (I donít know what you are reading this on). In doing so I ended up having to ask myself many questions that you donít normally have to consider when you are just writing something for a few laughs. Who is this person really, why would his mother be present if we assume he isnít just a loser, & why is he is so flustered by that turn of events. As I sat with those questions, the answers I began to come up with pointed me into a more realistic (well as realistic as we can be talking about in regards to a supervillain) life and world for the Dark Specter to be living in. From that thought experiment came the idea of the second short. It will be directly related to the original, all the situation setups that were hinted at in the first one are explored at a greater depth and we examine what might make the Dark Specter tick and why he makes the choices he feels compelled to.
From what I know, you're planning for Dark Specter 2 to be much larger in scope regarding action, effects work and the like than the previous one - care to elaborate?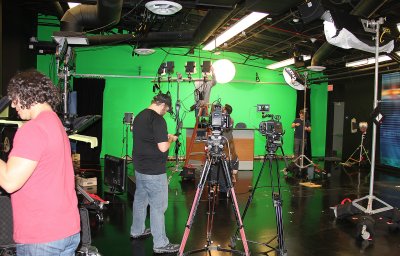 The original Dark Specter was a one day, one location shoot that took place in the back of an industrial manufacturerís warehouse. Most of the crew were doing me a solid in working with me, they were all professionals and for the most part friends of mine. Between them, the vfx artist, the composer & the sound designer, we ended up with a short that doesnít look like the small scale operation it was. However, I had wished I could have done more. Which brings us to the Dark Specter 2. To start, we are shooting over multiple days, with the primary shoot day being our March showdown fight. We have already shot a few elements, including a newscast that will be reporting on the fight. Speaking of which; this one day of shooting will have a fairly large crew, probably three times the size of the original shoot last year and a cast of about 28 people with extras included. The fight itself is being choreographed by Henry Layton, who is a professional fight and stunt choreographer; he has built a brutal looking encounter that incorporates a lot of vfx elements from the get go. This time the fists will be flying and the fireballs wonít be hitting things off-screen. We have moments built right in to highlight the powers at play with main characters. The fight is being shot on an actual downtown city street during the day; which means street closures, traffic control and a lot of wrangling. All in all, this one day set-piece will be more complex than the entirely of entire Under the Doghouse web series shoot was. We also will be going to the Specterís house to see his family in their native environment, which is an additional, albeit smaller set of logistical challenges. All in all, we are looking at 3 to 4 shoot days, 3 times the crew, and a lot more work to make it all run smoothly.
What can you tell us about the overall look and feel of your movie?
Dark Specter 2 will have the look and feel of a superhero movie you might see in the theaters. We are shooting 4k and will be using cinema quality lenses for detail and depth. Ideally it will feel as you would expect it to if suddenly two men started to throw fireballs and sonic waves at each other in the middle of main street right in front of you. The color palette with be rich to give you that comics on the big screen feel. Ambitious? Sure, but we can pull it off!
I'm just assuming now that you'll again be playing the title character in Dark Specter 2 - so what will you draw upon to bring him to life, and how much fun is it to play this fallible supervillain in the first place?
Of course, you donít create your own maniacal monster and then pass them off to some shlub, you revel in it! The Dark Specter was always supposed to show how life obligations and familial obligations can get in the way of your potential. For myself, I have always had a part of me that felt held back due to various obligations that I could not get out of or have a lack of support or resources have prevented me from attaining some of the goals I have set for myself. Bertrand is a vast exaggeration of those dynamics, he could take over the worldÖ If only he didnít have to take care of someone a little more important to him than the world. Also, we all have that little voice in the back of our heads that feels slighted by society itself and has the desire to assert our superiority on the people we secretly look down on. As a villain, you get to do indulge that voice openly and without apology. It is amazingly freeing to be able to metaphorically let your pants down and just fly your flag. Yesterday, I spent the better part of an hour pretending to fight while talking in a funny voice, and this was all considered ďpart of the jobĒ It doesnít get any more fun than that. You havenít lived until you can watch yourself lasering open a steel door. Being the Specter is the most fun Iíve had as an actor.
Anything you can tell us about the rest of your key cast and crew yet, and why exactly these people?
I can tell you that these are people I trust and can depend on. The people involved are highly talented industry professionals; considering the risk that I am taking in trying to do this project, they bring a level of comfort and security just by my knowing that they will do their jobs effectively and without issue. The DP is the same from one from the original Dark Specter; Chris Warren has been with me going all the way back to the Under the Doghouse days. Iíve watched him grow as an artist for the last 5 years and I donít know anyone who is as passionate about cinematography as he is. Richard Tatum has been directing, acting, producing and critiquing for at least 25 years, the man has a great ear and eye. Art Hakhverdian is an amazing vfx artist and comics fan who loves to use these projects to stretch his skills beyond the commercial graphics realm and indulge in his passion of creating bad ass images. Our sound guru Vince Tennant has been my friend for 6 to 7 years, works managing a major Hollywood sound studio and just lives to create the amazing sound scapes that he has done. Judy Nazametz is such a talented woman, she brings such humor and attitude to everything she does and I donít think this project would have been the same without her. Mark Iverson is a very talented actor and someone who proved that he could be trusted not only with performing the role I need him to but have the discipline and control to not hurt me as we are shooting, we will be hitting each other. These people have a great synergistic energy that makes them more than just the sum of their individual parts. In the end, most of the talent and ability I get to take credit for comes from the abilities and the work ethic of these amazing people, without them, Iím just a guy with a clever idea.
As far as I know, your film's still in its fundraising stages as we speak - so what can you tell us about your campaign?
I launched our Kickstarter yesterday please click here to check it out and donate to it. https://www.kickstarter.com/
projects/1096136768/dark-specter-2
We are looking to raise about $5000 towards the shooting of this short. All those things that I had talked about, closing a street, getting permits and all that comes with it, all cost quite a bit of money. Sadly porta-potties just donít magically appear when you need them, you have to order them and make sure they are hauled away. Same goes with dinner, that costs and we need all of those things and more. This Kickstarter makes these things possible.
Once the funds are raised, what's the schedule? And even though it might be waaay too early to ask, any idea when the film might be released onto the general public yet?
As far as the schedule goes, we really have 3 parts of the short. We already shot part 1 last week when we did all our newscast setups. We are going to be shooting our big fight on March 20th. We will be shooting 2 days after the Kickstarter close so we have to prepare regardless. There are a lot of logistics that are going into the fight so we are looser about the final shoot date but it will be happening shortly after the fight, sometime early April. And then post production will take time since Art will have a lot on his plate in regards to the vfx, I assume we will probably have a finished project by September.
You're also planning to extend Dark Specter into a series, right? So what might future episodes have in store?
The idea of extending to a series starts with this short, it really lays out the central conflict the character is facing. While I donít have any particular next episode to share right now, I am plotting out a season arc that will cover the Specterís first appearance to the end results of his first major plot. I am writing a show bible for all of this.
(Other) future projects you'd like to share?
Two things. My dating comedy short Approve-O is finally finishing up post, we have a few sound sessions left and it will be ready for release.
My improv/sketch comedy group Bizarre Love Triangle is starting to make our move from being just a live performance troupe to a multimedia production. We are going to be launching both a YouTube channel and a podcast in the next few months with regularly occurring content. There are a lot of good people involved in Bizarre Love Triangle, it is going to be very entertaining and high quality so keep your eyes posted for it.
Your/your movie's website, Facebook, Kickstarter, whatever else?

Feeling lucky ?
Want to
search
any of my partnershops yourself
for more, better results ?

The links below
will take you
just there!!!

Find Bruce Nachsin
at the amazons ...

amazon.com

amazon.co.uk

amazon.de
Looking for imports ?
Find Bruce Nachsin here ...
Something naughty ?
(Must be over 18 to go there !)

Support Dark Specter 2 here: https://www.kickstarter.com/projects/
1096136768/dark-specter-2
Come learn more about it here: www.thedarkspecter.com
Learn more about me at my website: www.brucenachsin.com
Tweet me: @brucenachsin
Facebook my ass: https://www.facebook.com/brucenachsinfanpage/
Check out Bizarre Love Triangle here: https://www.facebook.com/BizarreLoveTriangleLA
Anything else you're dying to mention and I have merely forgotten to ask?
If I were normal, Iíd have been an engineer. However Iím not so I hope everyone enjoys the bits of comedy and silliness that I provide and I also hope you also enjoy the little clever bits I hide in there as well.
Thanks for the interview!