Your new movie Dark Specter - in a few words, what is it about?
Dark Specter tells the story of a great and powerful supervillain who, while in the midsts of springing a trap for one of his greatest adversaries, ends up having to confront his greatest nemesis, his own mother.
Quite obviously, Dark Specter was influenced by superhero comics - a genre at all dear to you, and do you consider yourself a comicbook geek?
I have a great affection for the superhero genre, but I couldnít really call myself a comicbook geek anymore, it has been a long time since I have collected and Iím not current on any of the storylines. I will still pick up a graphic novel when it either strikes my fancy or is something I used to be really into, for example I recently picked up all three of the current deluxe hardcover Sandman collectionÖ Ok, maybe I still am a comic geek. These days, I am more into the Marvel movies and the Warner Brother DC cartoons.
Other sources of inspiration for Dark Specter?
Aside from the obvious comic book connection with Dark Specter, a large inspiration was the Woody Allen and Albert Brooks style of humor. I was also inspired by many a conversation I had with me dear old mum.
How would you describe the brand of humour of Dark Specter?
I would say that it is an absurdist take with a twist of standard family sitcom humor thrown in with just a twist of Yiddish for spice.
You also play the title role in your movie - so have you at all written the character with yourself in mind, and how much of Bruce Nachsin can we find in Dark Specter?
Funny enough, quite a bit. To start, the mother character is an exaggeration of my own mother who could walk into a room and just by her presence take complete control of any given situation. In my youth, she had a very dominating personality and the gravity of such would warp the local reality around her to fit whatever she wanted. It wasnít done in an overbearing manner, it was just her nature and people loved her even as it was happening. The Dark Specter is a mamaís boy and that is me as well. Another aspect of the Dark Specter that I feel reflects my actual life is how there are times I have felt my abilities outstrip my current opportunities. Like most people trying to make it in a field that requires a high quotient of good fortune, I spend a lot of time trying to just get by. And that getting by can also get in the way. The Dark Specter could rule the world, but he also has to get his mother home by 8:30 and that holds him back a little, I have a large client base who might be having a problem that I have to take care of, so my projects get pushed back sometimes. It can be frustrating but that is part of the life of an actor/producer.
What can you tell us about the rest of your cast, and why exactly these people?
The mother was written specifically for the woman who plays her. Dark Specter started life as part of a sketch comedy revue I was part of. When I saw just how funny it was onstage, I knew I wanted to film it and I desperately wanted Judy Nazametz to reprise her role as the mother. I mean, she is an amazingly talented actress who is comedic gold regardless to what she does. She is also an amazing singer. I canít love on her enough, she is someone who should be a regular on a sitcom right now and it is beyond me why this is not the case.
As far as the Spark goes, I held a casting to find him. I saw about 40 people of varying degrees of talent, some of them pretty good too. However Evan Judson won me over by having the best understanding of the material not to mention one of the best reads. In fact, there was a particular line that most of the people who auditioned didnít get the intention behind, Evan was the only one who interpreted what I was trying to do with it. The line was: ďWait, your name is BertrandÖ as in Bertrand the Dark Specter?Ē He saw that it was meant as an insult and he did that long laugh thing, which was his creative choice. That moment, I knew he was the guy. He also had a great friendly air about him that told me he wouldnít be a problem on set. That is very important when you are spending your own money.
Do talk about the shoot as such, and the on-set atmosphere?
Well, to start I was fortunate to have a client who had a large warehouse that could look like the kind of place a villain might break into and they were willing to let me us it after hours for the shoot so that was a great start. I try my best of have friendly and professional atmosphere on my sets so I do my best to avoid working with people who might be a detriment to that. I had previously worked with at least 6 of my crew before, most of them from back in the Under the Doghouse days. I had a great producing partner who worked her ass off to make sure things were running smoothly, even when they were not. We had a few issues out of the gate with the costumes that required a bit of patching up before we started. My poor producing partner Roe had to keep gluing the Spark back together, including reattaching his cod piece mid shoot, something that was both amazingly funny and embarrassing. Aside from the costume stuff, the shoot ran smoothly. We had a good idea of what we wanted so we kept to a good schedule once we got started. Everyone was having a good time and it was easygoing. We shot a 14 hour day on an overnight, which is rough but we got everything we needed. I feed my people well and that makes them happy so they were willing to go the extra mile for me. Thatís why I feel good food and crafts is one of the most important thing you can do when you are trying to shoot things on a low budget. If you have great food and a friendly attitude, people will work their asses off for you, but be skimpy and cheap, no matter what the reason for that is and your crew will just want to leave as fast as they can. Doesnít mean they wonít be professional but they wonít care and it can really affect the end result.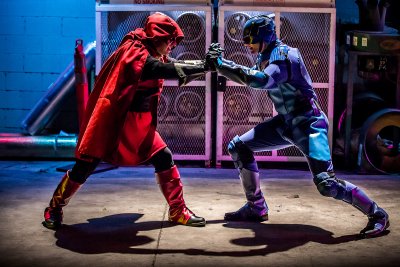 Anything you can tell us about critical and audience reception so far?
So far, everyone Iíve shown it to loves it. They find it smart, funny and entertaining. I think most people donít expect an independently funded short like this to have the level of visual effect and sound design that Dark Specter has. No one has given me any real criticism on it. I personally think it is the best thing I have done and it sets a very high bar for me to shoot for with my future projects.
Will we ever see more of Dark Specter ... and other future projects you'd like to share?
Funny you should ask. When I wrote Dark Specter, I was just writing a sketch however there are a lot of questions that the short asks that I have been thinking very deeply about. I am planning on writing and producing additional Dark Specter episodes that will both tell an extended story and act as a series pitch. On top of that, I have shot another short that is currently making its way through the post production process, I donít have an ETA on that one yet but Iím hoping to have it done within the next few months. Beyond that, I have a few other irons in the fire. I recently founded an improv/sketch group called Bizarre Love Triangle that can be seen performing around Los Angeles. We have plans that will include a podcast, a YouTube channel and quite possibly our own web comic but these are all things that will materialize in the upcoming year.
Your/your movie's website, Facebook, whatever else?

Feeling lucky ?
Want to
search
any of my partnershops yourself
for more, better results ?

The links below
will take you
just there!!!

Find Bruce Nachsin
at the amazons ...

amazon.com

amazon.co.uk

amazon.de
Looking for imports ?
Find Bruce Nachsin here ...
Something naughty ?
(Must be over 18 to go there !)

Subscribe to my channel here, there is good stuff there: https://www.youtube.com/channel/UCp68Bn5LmnQXMouTQdX9lmw
Become a fan of Dark Specter: https://www.facebook.com/thedarkspecter
Follow me on Twitter, I am funny sometimes: https://twitter.com/brucenachsin
Like me on Facebook, or just like me, I need friends: https://www.facebook.com/brucenachsinfanpage
My website, in case you want to see a few of my other brain droppings: www.brucenachsin.com
Finally, become a fan and track me in Bizarre Love Triangle: https://www.facebook.com/BizarreLoveTriangleLA
Anything else you're dying to mention and I have merely forgotten to ask?
Thank you for interviewing me. To your readers, please come visit my channel, enjoy my comedy and subscribe to see what I will be producing in the future.
Thanks for the interview!