You've only recently released your autobiography Adventures in the B Movie Trade - so what made you put your own story to paper, and why at this point in your life?
The book came about after I moved from Hollywood to a forested hill in rural Oregon. Time for a new adventure I thought, and that included writing prose as well as screenplays. First I wrote a novel Alice Through The Multiverse, a paranormal thriller which I hope will become a streaming series one day. Adventures in the B Movie Trade is non-fiction, though it probably reads like a novel; it's about fifty years in the trenches of the film business, a personal journey and a portrait of an era now passed, written with a degree of humor. It's aimed at a wide range of film fans, film schools, showbiz professionals and media studies enthusiasts.
Now how would you describe yourself as a writer, and what can you tell us about Adventures in the B Movie Trade's writing style?
I am so lucky to have been able to play in the business/art hybrid that I love for over half a century. Like Bill and Ted, I've had many Excellent Adventures. So I'm sharing those adventures, successes, and many mistakes to amuse movie nerds worldwide, and perhaps be food for thought and lessons to learn for aspiring filmmakers. In telling my story, I ignored the advice I have given to many writers: Cut to the chase. I occasionally pause along the way to muse on old technology, politics, social changes, movie stars, trailers, censorship, camera style, editing, music, visual effects, etc., a wide range of cinema trivia that I find interesting in the hope that readers will too. My Id will occasionally surface. Perhaps it will offer some insight on the demons that drive directors, and this director in particular. Snack on what interests you.
Adventures in the B Movie Trade goes into quite a bit of detail about everything - so did you actually write just from memory alone, or did you do some research on yourself ... and have maybe come up with some stories that would have remained forgotten otherwise?
I kept extensive documentation related to my work from 1972 onwards, which helped refresh my memory. Prior to that, there are memories in childhood that always remain vivid. I started chronologically, writing a little bit each day, revising, then moving on. At least a hundred pages of the finished book were written during a three week visit to Australia where I was brought to host screenings of some of my films in different cities. There are a few stories I did not include – 580 pages is perhaps long enough. They will become fodder for my blog, which could one day become the basis for another book of musings on cinema.
So what can you tell us about audience and critical reception of your book?
More than 30 five-star reviews on Amazon so far. The book seems to hit the mark for cinema nerds and battle-scarred entertainment industry professionals. But non-film folk like my neighbors in rural Oregon enjoy it as a stranger than fiction adventure story about people doing crazy things all over the world.
Any stories you'd like to tell that actually didn't make it into Adventures in the B Movie Trade?
I'll leave those for another time.
Let's dive into your autobiography a bit as sort of a condensed version: What made you want to become a filmmaker in the first place, and did you recieve any formal training on the subject?
Aged 4, I had an early infatuation with the moving image, projected outdoors on a sheet hung from a clothesline at an RAF airbase in Libya. My child's mind deduced that the pictures emanated from a whirring gadget with spinning wheels and made sounds that helped you understand the pictures. At prep school I helped the teacher who ran the 16mm projector in the school library. He moonlit as a projectionist at the nearest cinema on weekends, and took me there for a matinee shift, where I watched the process of reel changeovers. I helped out by twiddling the nob on the antiquated carbon arc projectors that kept enough light on the screen, while watching both the movie and the audience reactions below. Perhaps that was the seed. Then at thirteen, I saw Hitchcock's Vertigo and realized that film making was a job. And clearly a fascinating one. OK. That's what I'll do, I announced to my parents upon returning home. They encouraged me to go for it. I could have gone to one of the few film schools, maybe the London School of Film Technique. But I had had 10 years of boarding school and wanted to be out in the world.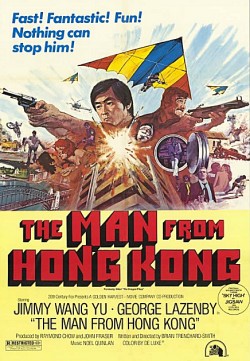 To actually launch your career, you moved from the UK to Australia, which didn't actually have much of a film industry back when - so what prompted that move?
In the UK of 1964, other than at the BBC, entry into any craft in film production was strictly regulated by the governing union, the ACTT. To get into post production, you had to join a laboratory for two years before you qualified for a union ticket, then you had to serve two more years, before you could change your department and move into the cutting room, where you would start as a junior assistant. Patience has never been my strongest virtue. I decided, aged 19, after a few non-union jobs on the periphery of the business, to go to the land of my father, Australia, which had no film industry of its own but 4 television networks, and no restrictive trade practices, in showbiz at least. By a series of extraordinary coincidences and luck as recounted in the book, I got a news film editing job three weeks after arrival.
From very early on in your career, you've shown a fascination for stunting, so much so that you did the occasional stunt yourself in some of your movies - so how would you explain this fascination?
I did some stunts to better understand how to shoot them; in particular fire stunts. Part of my motivation was a legacy of scorn I received for my unenthusiastic response to the school combat sport - rugby. I preferred fencing. Combat is more enjoyable if you have a weapon. I had indeed been a lanky over-protected child. As a young adult I did things to prove to myself that I had courage. Silly. I stopped doing such things after I got married.
I'd like you to say a few words about some of your movies if you don't mind:
The Man from Hong Kong, and working with Jimmy Wang Yu and George Lazenby?
I deal with Man From Hong Kong extensively in the book. George Lazenby and I related well. My relationship with Jimmy Wang Yu was inevitably affected by the fact that I was a first time director and he had directed 8 successful films, on budgets a quarter of what I had been given. I don't think he grasped my ironic approach to the invincible hero who causes prodigious loss of life, not to mention property damage, in the cause of justice. Genre satire was not a factor in Hong Kong movies at the time. In post-production, I replaced Jimmy's voice with Roy Chiao, a HK star of the 1960's, whose deep resonating timbre matched Wang Yu's physical toughness. I am eternally grateful to Jimmy for the athletic skill and ferocious energy he brought to the action scenes.
Stunt Rock, and what inspired you to that fusion?
Well, I do like genre hybrids. I came up with this one in the shower. What about famous stuntman meets famous rock band. Much stunt and much rock takes place. The kids will go wild, I thought. And a perfect vehicle for stuntman Grant Page, whose career I managed at the time. I toweled off and wrote a six page outline in a couple of hours. When a film maker gets a wild arse idea, normally there is a system in place to prevent such an idea from ever reaching the screen. In this instance the system failed. Thank goodness! Stunt Rock is my professional love letter to stuntmen. It is a proudly eccentric piece, that has developed a cult following in the US, where fans watch it over and over. It's a good party movie.
Turkey Shoot was another genre hybrid. I saw it as 1984 meets The Camp on Blood Island and they play The Most Dangerous Game/The Naked Prey/Running Man/Hunger Games/The Hunt etc. Choose your derivative. As you will read, it was a challenging production. Initially reviled by critics, Turkey Shoot has been re-evaluated over the years, because its anti-fascist message amid the action horror tropes is as prescient today as I intended it to be at the start of the Reagan/Thatcher era. That's why we named the camp commandant Thatcher. Political subtext enriches any B Movie.
Similarly Dead End Drive-In, because of its social issue themes and societal allegory, is more of an A movie in B Movie dress.
Strike of the Panther and Day of the Panther?
The Panther pictures are films I took over after 4 days, junked the footage, started shooting both again within a day, re-writing, re-casting, re-choosing locations on the run. It was a wonderful experience and a campy tribute to 1980's low budget fight movies.
Leprechaun 3 and Leprechaun 4: In Space?
The Leprechaun movies were similarly great fun to make. The producers gave me the creative freedom, and accepted my absurdist cinema approach. I went for broke with characters like the evil Dr. Mittenhand, who was played as a kind of Nazi Dalek by Guy Siner, an old schoolfriend of mine and a star of BBC's classic WWII long-running comedy series 'Allo 'Allo!. Guy amusingly channeled Colonel Klink and every possible Gestapo movie cliché. When Dr. Mittenhand (yes, really) becomes a giant spider/scorpion (brilliantly realized by prosthetic FX master Gabe Bartalos on low dollars), he squeaks the final line from The Fly: "Help me!" before being blown to pieces. I steered the films towards comedy, and the genre cocktail was appealing to direct-to-video viewers where it was the highest selling non-studio DTV of 1995.
Tyrannosaurus Azteca/Aztec Rex?
I tried to blend The Pirates of Blood River with Jurassic Park, but there was no Ray Harryhausen or Stan Winston to help with visual effects on a $1.5M budget, and a 15 day shoot. You do the best you can with what you've got; we could afford an Aztec tribe of ten ... but I could have made a much more interesting and spectacular film if I had been allowed to shoot in Mexico with racially appropriate cast rather than in Hawaii, where the investors lived, but production was so expensive. In a forgiving mood, Aztec Rex is still ripe campy fun, with excellent gore effects by Brian Furer.
Any other past films of yours you'd like to share?
That's enough I think.
From the mid-1980s onwards you've also worked on various drama shows for TV - so how does working on a TV series compare to making a feature film for you as a director?
In low budget movies, 7 – 10 pages and upward per day are common, just as they are in episodic television, in which a director has to shoot 44 minutes of screen time in 7 or 8 days. So the disciplines are the same. You have to be time efficient. I once produced and directed an 89 minute movie with a week of prep, two 6 day weeks of shooting on a Caribbean island, a locked cut 7 days later, and airing within a month. It can be done.
You haven't made a movie in some years - so will you ever return into the director's chair?
I'm at the height of my powers, physically fit, came ninth in 2016 in the US Epee Nationals for competitors over seventy. I have some really good scripts, but ageism makes it harder. There are always new talented directors coming up with promising sizzle. The young lions move the old cats aside. As The Mandalorian puts it – this is the way. I decided five years ago to liberate my head from Los Angeles, move to a rural area, and write books while pitching projects and recording wild life for pleasure. But, have viewfinder, will travel…
Having worked in a wide variety of genres, which do you prefer, both as a director and as audience, and why?
I am an omnivore at the cinema or the streamer. From Bergman to Troma. Professionally I am drawn to genres that offer the opportunity for visual flair. I'm always drawn to a firm offer. I'm good at action, war, horror comedy, and melodrama. I enjoy it all.
Having made movies for several decades now, how have both the business and the art changed over the years?
Massively. In the book I chronicle the changes in technology from the 1950's to present day, and finished writing just before the 2020 pandemic stopped the recorded entertainment industry in its tracks, changing film making, distribution and exhibition for the foreseeable future. Studios and broadcasters have now developed new methodology to facilitate covid-free production till a reliable vaccine is available. Indie movies may still enjoy the romance of all-location photography and close actor interaction, but big movies will minimize employee contact by requiring each department to leave the set once its function is completed. Actors shot against an LED-screen in the studio will be inserted into photo-real crowds and environments via ever improving digital technology. Some crew functions will be automated or carried out by robotic equipment. Might take the fun out of things, I fear, having been lucky to have enjoyed 50 years of close proximity with cast and crew. There's certainly a brave new movie world ahead. It gives this book a fin de siècle quality.
How would you describe yourself as a director?
I try to be an enthusiastic communicator, brigade commander, group therapist, and make the daily work for cast and crew as enjoyable as possible. Some actors and producers have called me eccentric. But in a good way…
Your movies are mostly of what one might describe of the B-variety - that in mind, would it appeal to you to one day handle a big budget Hollywood blockbuster?
Is the Pope Catholic?
Filmmakers who inspire you?
So many that I hesitate to name but a few: David Lean, Alfred Hitchcock, John Ford, Stanley Kubrick, Billy Wilder, Robert Aldrich, John Frankenheimer, Roger Corman [Roger Corman bio - click here] were all early influences. Today, again, so many film makers whose work I admire. Start with the usual suspects: Tarantino, Spielberg, Coen Brothers, Del Toro, Nolan, Wright, then add another couple of dozen. There are some great new filmmakers coming out of Europe and Asia.
Your favourite movies?
Depends which genre. Again, too many to choose. The Wild Bunch is a western I can always watch again. Same with Terminator 2.
... and of course, films you really deplore?

Feeling lucky ?
Want to
search
any of my partnershops yourself
for more, better results ?

The links below
will take you
just there!!!


No, it's not for me to deplore any film, except possibly a proposed sequel to the Human Centipede franchise.
Your/your book's website, social media, whatever else?
Adventures in the B Movie Trade - here's the website and trailer: https://briantrenchard-smith.com/
Anything else you're dying to mention and I have merely forgotten to ask?
I think you have enough to work with.
Thanks for the interview!
Thanks to CJ Walley for his assistance with this interview!