Your new movie Friend of the World - in a few words, what is it about?
A person has to brave the apocalypse, and with the help of an unlikely mentor, she faces many inner demons that plagued her with self-doubt in the old world. But the conflict is that if she becomes a stronger person in this new world which is now devoid of life, will it even matter?
With Friend of the World being a post-doomsday movie, is that a genre at all dear to you, and some of your genre favourites?
Iím not a huge doomsday-themed movie fan, though I love Zack Snyderís version of Watchmen and obviously Dr. Strangelove. I canít think of too many post-doomsday movies off the top of my head besides Mad Max, but I really like movies where the end of the world feels like itís on the horizon, like George Romeroís Living Dead movies or even The Thing.
(Other) sources of inspiration when writing Friend of the World?
Itís a personal story based on a friendship I had since I was young with someone who taught me a lot as we grew up. But as the friendship died, a lot of darkness was revealed about them and within myself, as well as a parallel between us. While working on later drafts of the script I started watching movies like Persona for inspiration. The idea was to use a small budget with a high concept to tell a story that felt big and epic.
What can you tell us about your movie's approach to horror and science fiction?
I love gross-out moments, and this movie has a few of them. But I wanted to use those genre elements, particularly the body horror, as an undercurrent for what is happening thematically with the characters. I think the best movies always try to earn their scares with tension and character development.
You also have to talk about Friend of the World's brand of humour for a bit!
The comedy is what started to lock things in for me. Though incredibly bleak, this is an absurd scenario with at least one contagiously absurd character. Itís only a matter of time before insane thoughts lead to insane conversations, and insane conversations lead to insane situations. It gave the movie balance but also felt like a completely natural deviation for these characters as they become more unstable.
A few words about your overall directorial approach to your story at hand?
As with the script, one of the few things you can control with a low budget is the way you shoot the movie. So it was crucial that the look of this little bunker flick needed to be big and epic. Luckily for me, our DP Ray Gallardo has both the skills and the toys to give our nano-budget film the glorious black-and-white anamorphic widescreen cinematography required to make it work (big thanks to producer Luke Pensabene for recommending him). Not to mention finding actors who could balance the absurd comedy with the gloomy nihilism. And a great practical effects artist C.J. Martinez to do the body transformations the right way, as well as my VFX wiz brother Daniel N. Butler to bring the grandiosity of the bunker to life.
Do talk about Friend of the World's key cast, and why exactly these people?
Nick Young was also suggested by our producer Luke, and damn if it wasnít the most spot-on first audition tape Iíve ever seen. What you see in the movie is exactly what he did in his first read of the character, filming himself with his phone on the couch. We spent a lot of time casting Diane, but Nick was with us pretty much since day one. Heís just had this character in his bones somewhere, and itís been waiting for years to get out of him.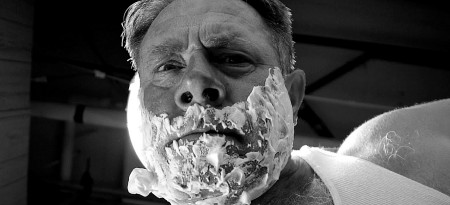 I've known Alexandra Slade for a few years but hadnít thought of her for this part because it was originally written as a male. Something wasnít clicking in the rehearsals, and it dawned on me that the dynamics would be more interesting if the apocalypse wasnít just a sausage fest. I still didnít think of Alex until I bumped into her at one of the worst places to have a bump-into: at the gym. What could normally be an excruciatingly awkward situation was incredibly relaxed. She was very upbeat and charismatic, so I found myself thinking ďI canít imagine anyone in this situation Iíd root for more than herĒ. She auditioned, but she didnít even need to. Youíre rooting for her to make it out based on a natural charm she didnít have to fake. (Spoiler alert) So itís too bad she gets contaminated with Goreís genocidal goo.
What can you tell us about the shoot as such, and the on-set atmosphere?
99% of the movie was shot in a basement, which gets taxing (and sweaty) for people. The oppressive environment helped get in the mindset needed for the shoot, but in general people were bubbly and had a lot of fun toiling through the body-morphing post-apocalyptic waste. And I think for my first feature I was appropriately stressed while also having the time of my life.
Anything you can tell us about audience and critical reception of Friend of the World?
Surprising! I was a newbie when we started this, and I set out to make the movie for selfish reasons. Which is why I am legitimately shocked to find the critical reception has been so understanding and enthusiastic about so many weird elements of this movie. I really thought of this project as just a self-indulgent learning exercise, so it was a huge surprise to find so many people are enjoying it for what it is. Iím not surprised about those who find parts ambiguous, though many seem to appreciate the intentionality of that.
Any future projects you'd like to share?
I wrote and acted in another bleak and bloody flick coming out called Hemet, and have another gritty little feature in post-production called Fruitful Mold. Fans of this movie should definitely appreciate both.
From what I know, you've entered the filmworld as an actor - so what can you tell us about your acting career, and what made you want to become an actor to begin with?
I guess I entered as both an actor and filmmaker. I started shooting my own little movies at age nine. But on the professional side, it was about 15 years later that I began acting professionally in films and theater. I think Iíve always had a lot of manic energy that needs exercising and exorcising.
What made you want to step behind the camera eventually, and did you receive any formal training on the subject?
I took a few film classes in college, but most of my formal training was acting-based, which helped in terms of directing actors. But like all the cool kids say, the best film school is watching movies, which I did a lot of.
Having held many jobs on both sides of the camera, what do you enjoy the most, what could you do without?
There are some that I enjoy, and others that an obsessive compulsion forces me to take on. And I think this changes from project to project. Like in Friend of the World, I quickly realized I didnít have much desire to act in this movie. But I edited it and designed a handful of posters for it with a feverish delight. Acting, writing, and directing are my absolute favorites though. I would never want to hire myself in the sound or lighting departments.
What can you tell us about your filmwork prior to Friend of the World, in whatever position?
Iíve worked as a PA a few times, and have done a lot of background acting. But aside from the short videos I made in my teens, I directed two shorts proper before Friend of the World: folk-tale horror drama Hatred and horror comedy The Phantom Hour. These were pretty instrumental in learning how to actually make a movie with a team, rather than filming yourself with a direct-to-VHS recorder on a tripod.
How would you describe yourself as a director?
How other people see me, I donít know. Hopefully an effective communicator. I see myself as an obsessive kid in a candy store (or a DVD store). Iím fully consumed by the project, doing my best, thoroughly enjoying myself, and trying to help everyone else involved feel the same way.
Filmmakers who inspire you?
Mel Brooks, Terry Gilliam, Herzog, Kubrick.
Your favourite movies?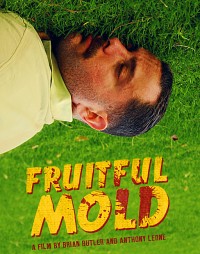 Feeling lucky ?
Want to
search
any of my partnershops yourself
for more, better results ?

The links below
will take you
just there!!!


The same as everyone whether they admit it or not: Jaws and Pulp Fiction. Also Hausu.
... and of course, films you really deplore?
Once you get to 5,6,7 installments of horror sequels, those can get pretty bad. Thatís not to say they canít be done well, but itís rare!
Your/your movie's website, social media, whatever else?
IMDb: https://www.imdb.com/title/tt6074542/
Rotten Tomatoes: https://www.rottentomatoes.com/m/friend_of_the_world
Letterboxd: https://letterboxd.com/film/friend-of-the-world/
Official site: https://charybdispictures.com/friend-of-the-world
Available to watch at Amazon: https://www.amazon.com/dp/B09L7815LN/
And Troma Now!: https://watch.troma.com/videos/friend-of-the-world
Anything else you're dying to mention and I have merely forgotten to ask?
My least favorite Harry Potter movie is Goblet of Fire.
Thanks for the interview!
stills by Ray Gallardo