Your new movie Queen Crab - in a few words, what is it about?
Well, it's the story of a young woman and her beloved pet, rather along the lines of Lassie or National Velvet or something, only in this case her pet is a giant crab.
Basic question: Why a crab?
Crabs make great monsters. They're armor plated and have menacing claws and no real faces. Blow them up to giant size and they're naturals for monster movies. Corman thought so, and so did Harryhausen. Also they're quite fun to animate.
I think it's fair to say Queen Crab has been inspired by 1950s drive-in monster movies - is that a genre at all dear to you, and some of your genre favourites?
I do love 1950s monster movies. In many ways it's my favorite period for the genre. Beast From 20,000 Fathoms, Them, 20,000,000 Miles to Earth, Godzilla, it really was the Golden Age. Queen Crab is patterned more on the Universal science fiction movies from that period, and specifically the sort of second string features like Monolith Monsters, with the small town setting and the sheriff investigating and all, although I think the influence of Tarantula is quite clear.
Other sources of inspiration when writing Queen Crab?
Not really. Well, maybe Mighty Joe Young in the sense that the main character is a lonely young woman whose only close companion is a giant beast (except that Jill Young wasn't nuts). In fact at one point I jokingly titled the script Mighty Joe Crab.
How would you describe your directorial approach to your story at hand?
Get it done! Really, that's your main focus on a shoot like this. We shoot these things in about a week, with barely any crew, so everyone has to work his or her ass off just to get all the footage we need to make the movie. There isn't time for a lot of finesse. Fortunately there's not a lot of finesse required either. You try to hire people who are right for their parts and then just let 'em go. If they stray too far off from what you think you need then you have to guide them back on track but honestly there isn't a lot of time for that. Mark's mantra is "CE --- Committed to Excellence or close enough." It's the nature of the beast (so to speak).
What can you tell us about your key cast, and why exactly these people?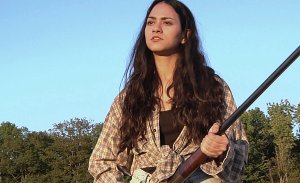 Michelle Simone Miller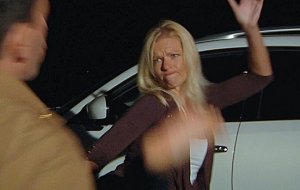 Kathryn Metz
We're sort of slowly building up a little repertory company, which is nice. I write a lot with certain people in mind. Unfortunately we live and work pretty much in the middle of nowhere so there isn't much of a talent pool to draw from. It's expanding, bit by bit, but a lot of the local people are Polonia regulars, people Mark has known and worked with for years like Ken VanSant and Steve Diasparra. Yolie Canales, who is a hoot as Sally Rae, is local also and a relative newbie but we've used her in everything since Dark Sleep. We had to bring our leads in. Michelle Miller is from Manhattan, Richard Lounello and A.J. DeLucia are from Albany, Kathryn Metz from south of Philadelphia, all quite a distance. It's not bad when you're doing a sustained shoot but when you need to do quick retakes it can be a real pain. We had to bring Richard and Kate back one night to retake a handful of shots and Kate drove for four hours to do about an hour's work (but it was worth it).
You of course also have to talk about the wonderful practical effects of your movie for a bit, and how were they achieved?
Well, I'm using state of the art technology from 1920! Actually It's not quite that bad. I still do the monsters using old fashioned stop-motion, but I do my comps and such digitally. Composite effects that would have once cost me thousands of dollars I now do for free on my desk top. And it simplifies the stop motion process somewhat. Just as a tiny example, I don't animate blinks any more --- no more crafting tiny eyelids from resin or latex and sticking them on every hundred frames or so, I just add them in post when I want them. And I can correct things. If I bump the animation table it's no longer a disaster, I can realign on the computer. I had a fang break off a creature and I just kept animating and created a new one in post. So I'm not a total Luddite, but I still like to build models and miniatures. It's part of why I do these movies. And I can't afford CGI!
Do talk about the shoot as such, and the on-set atmosphere!
Chaos! There's never enough time, you're always struggling just to keep from falling behind. It's like Lewis Carroll wrote, it takes all the running you can do to stay in the same place. But everyone is good to get along with. There's a lot of joking on the set. We don't have any temperamental people. We had a couple on Muckman and they got replaced. It created all kinds of problems but I'm glad we did it. Now the only pain in the ass on my sets is me.
Anything you can tell us about audience and critical reception of Queen Crab yet?
It's a little soon for that, although most of the feedback we have gotten has been positive. One person gave the movie a generally favorable write-up but mentioned that most people won't like the old fashioned effects. Well, I'm sure he's right but that's too bad. We're making movies for a niche audience. I'm perfectly happy with that. Let me make a comparison: when I listen to music I mostly listen to jazz and classical. Only about ten percent of music sold falls into those categories, which actually makes me feel like part of an enlightened minority. If we can sell as many movies as Branford Marsalis does albums (or whatever) I'll be happy.
Any future projects you'd like to share?

Feeling lucky ?
Want to
search
any of my partnershops yourself
for more, better results ?

The links below
will take you
just there!!!

Find Brett Piper
at the amazons ...

amazon.com

amazon.co.uk

amazon.de
Looking for imports ?
Find Brett Piper here ...
Something naughty ?
(Must be over 18 to go there !)

We've just finished Triclops (after two years in post). It's a real old fashioned monster movie, basically a compendium of all the old cliches I could think of all wrapped up in a nice cheap package. And we're currently shooting another movie tentatively called Outpost Earth, your basic small-band-of-survivors-in-a-post-alien-invasion-world story. It's coming along pretty well.
Your/your movie's website, Facebook, whatever else?
https://www.facebook.com/brettpiperofficial
Thanks for the interview!
You're more than welcome. We can do it again on the next one!