Your upcoming movie Apparition of Evil - in a few words, what is it about?
Apparition of Evil is about a researcher called Emilie Price who is working towards her most controversial article yet; the study of extreme fear. She has got in touch with one of her sources, a rogue police worker named Alton Miller, in order to acquire a collection of unsolved paranormal mysteries, which he "borrows" from the records archive.
Basic question, why an anthology movie, what do you find so interesting about this concept?
Well, Apparition of Evil didn't start out as an anthology; it was initially the Haunted House of Karl Hendry segments, 100% found-footage. But the story was done and it wasn't a full feature and we didn't want to shoehorn in additional scenes merely to pad the runtime out, so we came up with the idea of a bookend segment with a reporter watching the clip, and the anthology idea just grew from there to feature two or three other stories also.
What can you tell us about the directors of the other segments of Evil Apparition, Dion Cavallaro and Chad Hylton, how did you first hook up, and what was your collaboration like?
I got in contact with Dion Cavallaro via YouTube to take part and we found Chad Hylton through reading up one of his more recent projects on IMDb, a musical he had produced with some of his family members. I then looked into what other work the Hyltons had done and contacted Chad to contribute to Apparition of Evil. They were all very keen to be part of our film and we are extremely glad to have them on board, their two segments really help the flow of the story and development.
In a way, all of the segments of Apparition of Evil deal with paranormal investigations - so your personal take on the subject, and other sources of inspiration?
I've always enjoyed the realms of the paranormal and I enjoy watching movies about haunted houses or demonic possessions too, so I guess films such as Poltergeist, The Ring, The Séance Hour etc all inspired the creation of Apparition of Evil.
Do talk about the look and feel of your movie for a bit, and how would you describe your approach to horror?
Well the style of Apparition of Evil changes within each segment, from night vision to grainy camera-phone footage to High Definition scenic shots. Throughout most of the videos Miss Price is watching you will notice intentional degrading of the footage and multi-layers of static and jumps and electrical screeching, I also like using various sound beds and effects to add to the scenes, so there is a distinctive grungy look to some parts.
Do talk about your cast for a bit, and why exactly these people?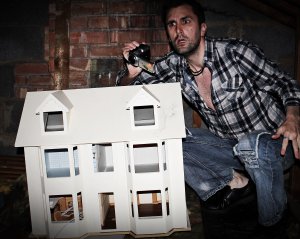 Nathan Head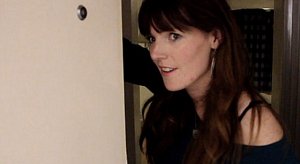 Kate Marie Davies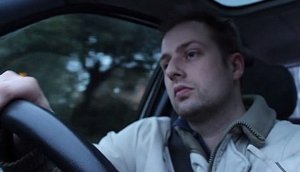 Keiron Hollett
Well some of the cast were friends and colleagues of actor Nathan Head [Nathan Head interview - click here] - Keiron Hollett, Melissa Hollett [Melissa Hollett interview - click here], Paul Sutton [Paul Sutton interview - click here], Dayna Shuffle [Dayna Shuffle interview - click here] - he recommended them for roles in the film. They were all great to work with and very keen to offer input for various scenes. Most of the dialogue was adlibbed, to help give it a more natural flow, resulting in some very in-depth character backgrounds which again help the flow of the plot (or plots, as there are a few stories). We were also very fortunate to get a cameo from screen legend Suzi Lorraine [Suzi Lorraine interview - click here], who is a friend of Nathan Head's from the horror scene, she plays the local studies archivist in Karl Henry's library and he goes to her to find out history on a missing little girl, who he believes is haunting his house.
What can you tell us about the shoot as such, and the on-set atmosphere?
The shoot has been going on for so long, due to pick-ups and additional sequences being written in last minute, that it's hard to compare it from one particular shooting day. I've been working mostly with my co-creator Keiron Hollett, who also shot most of the second unit, so he's been the main constant throughout Apparition of Evil's production process.
The $64-question of course: When and where will the film be released onto the general public?
Hopefully Apparition of Evil will be available on DVD and on-demand later in 2014, we're aiming at a summer release but that's completely down to our distributor and I'm sure we will keep everyone updated as the release approaches.
You've already started production on your next feature, Night Fall - so you obviously have to talk about that one for a bit!
Yes, Night Fall. I swore I'd never make another and there is Night Fall already. Ha ha, oh well. Well Night Fall is a scifi movie AND a zombie movie, it's a mixture of government conspiracy and gore. Night Fall is set shortly after an object crashes to Earth, poisoning the rainwater and turning everyone into frenzied zombies. We've only shot three scenes so far and this one is a bit more adventurous in regard to filming locations, so it could take a few months for production on principal photography to start. But it's looking promising, we already have three cast members attached, who also worked with us on Apparition of Evil, and we're in talks with a certain Hollywood A-lister in regards to a cameo. So watch this space.
You've recently also executive-produced Blood Curse - a few words about that one?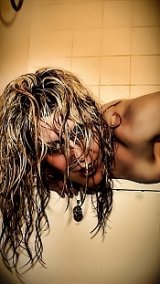 Melissa Hollett in
Blood Curse
Blood Curse is Keiron Hollett's baby really, I've just been helping with organisation and story notes. It stars Melissa Hollett [Melissa Hollett interview - click here], Keiron Hollett, Nathan Head [Nathan Head interview - click here], Lee Martin (of Lee Martin's The Midnight Hour fame) and scream queen Monique Dupree. Blood Curse is a very atmospheric movie about a husband and wife who receive a mysterious gift in the post from a distant relative, soon the wife starts to act strangely and nothing is as it seems. There are some very shocking scenes in Blood Curse too, you really won't expect them coming so I won't ruin them by giving them away here. Filming of Blood Curse is only about two thirds complete and we're looking to finish all scenes by the end of Summer 2014 and hopefully it should be released shortly after then.
Any other future projects of yours you'd like to share?
Just Night Fall, Apparition of Evil and Blood Curse really, I have no plans for a project after I complete Night Fall but you never know.
What got you into filmmaking to begin with, and did you receive any formal education on the subject?
My background is set and prop design, creature effects etc. So I never really thought I'd get into producing and writing. Apparition of Evil started as a creative "pet project" with Nathan Head that unexpectedly grew into a bigger project. I have enjoyed the creative process of making a feature film and I'm looking forward to getting stuck into Night Fall.
What can you tell us about your filmwork prior to Apparition of Evil?
Before Apparition of Evil I'd only ever produced short films, I created a Hellraiser fanfilm in 2005 and a series of three alien invasion short films between 2003 and 2006.
How would you describe yourself as a director?
I pretty much prefer the actor's input during a scene and try to get their take on the dialogue, in most situations I think it's best to improvise the lines and just give the actors notes on the direction of the conversation and certain key points they need to include. Working this way the resulting scene is much more natural and a stronger performance, acting wise.
Filmmakers who inspire you?
I really enjoy following independent and cult films so I can't really say any mainstream filmmakers who have inspired me, but people such as Scarlet Fry [Scarlet Fry a.k.a. Walter Ruether interview - click here], The Aquinas [Aquinas interview - click here], Mike O'Mahoney, Rusty Apper, Philip Gardiner [Philip Gardiner interview - click here], Andreas Schnaas, Keiron Hollett, Andrew Jones and Jason Impey [Jason Impey interview - click here] are up there with my inspirational sources.
Your favourite movies?

Feeling lucky ?
Want to
search
any of my partnershops yourself
for more, better results ?

The links below
will take you
just there!!!

Find Brel Offkel
at the amazons ...

amazon.com

amazon.co.uk

amazon.de
Looking for imports ?
Find Brel Offkel here ...
Something naughty ?
(Must be over 18 to go there !)

I have a few, and my list is always changing, but a few personal favourites are Wishmaster 1 - 4, The Crawling Eye/The Trollenberg Terror, The Craft and Knowing.
... and of course, films you really deplore?
Any chick flick with a predictable plot and a repeated clone character and storyline. Don't get me wrong, I sometimes enjoy chick flicks, but you gotta admit they get very predictable.
Your/your movie's website, Facebook, whatever else?
https://www.facebook.com/breloffkel for the latest updates on Apparition of Evil and Night Fall. And if anyone wishes to contact me regarding Night Fall then please feel free to email breloffkel@gmail.com as I'm always open to input and collaboration.
Anything else you are dying to mention and I have just forgotten to ask?
Nothing I can think of, just keep your eyes open for Blood Curse and Apparition of Evil.
Thanks for the interview!
You're most welcome.