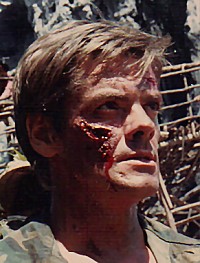 Bert Spoor
(still from Firebird Conspiracy)
You are of Dutch descent. Why did you move to the Philippines in the first place, and did you have any film-experience prior to your stay in the Philippines?
Well, I never ever thought about being in the movies and I did not have any prior acting experiences. I was travelling thru Asia those days to participate in a Judo training in Tokyo. I had a stop-over in Manila (and other places) when a guy asked me if I was interested in doing a movie. I decided to join. I also was invited to training the NBI agents in Manila, which I did for a couple of months. I didn't like their attitude and quit. I did some teaching at the PAJA (Phil. Amateur Judo Ass.) and I liked that much more. After shooting Juramentado I was infected with the film-virus, even if most of us didn't get payed for our efforts due to a typhoon and greedy producers. My next film, Firebird Conspiracy, made me stay for the rest of the '80's. And I never regretted a day of it.
How did you initially hook up with the local film industry?
The guy asking me to join was Paul Vance, a Belgium who did a casting for a local film-producer. Since I'm Dutch we switched to my native language. A local Philippine production was about to film a notorious revolt of a moslem jihad during WW 1 against the Christians on the southern island of Mindanao.
What can you tell us about your first film, the pretty much unknown Juramentado (1984)?
Juramentado means as much as going mad, a blind hate or as the pinoy call it themselves: running amok. But there is more behind this word. It is a holy oath with an intention to fight till death. For their religion. The Japanese have a simulair word: Kamikaze, also until death, but on behalf of the emperor...
An A.D. explained to us what to expect and what to do upon action. He left us some space to perform our own vision and improvisation. Our first confrontation would be with a superior power of Moro-militants. Some of us were soon to die, but everything was great footage shot from a distance so most of them were be raised back to life in no time. Die in a close up, it was not the real end, because in the next hot outline everyone was provided with other clothing and wigs
There wasn't much of a story I thought, but is there any story in a real war? I mean a thing such as war is out of any proportions, it all happens with the intention to slaughter each other as fast as possible and under the most cruel circumstances. And that's exactly what we did, creating blood and death, sorrow and pain as brutal as we could. So did the enemy, they tried to be even badder as we were.
We couln't finish the shooting cos a typhoon destroyed the complete set ...
A few words about The Firebird Conspiracy (1984, Jun Gaillardo, Vittorio Romero), which I understand had a rather chaotic production history?
We (the G.I.Joes) had a contract for three weeks or so, but it would take for over a half year to shoot the whole damned movie.
I wasn't complaining as I was in it for over four months...
And you're right this film had a lot of comlications, from the very start. A tension built up between Jun Gaillardo (he died about 10 years ago) and one of the leading cast: Bruce Baron. This guy wanted to play first violin and constantly argued with the producers and other BoBos. Commander Beck was his part.
One time he was doing the wise guy again and Jun asked his advisers to come up with a plan to get rid of the guy. Nick Nicholson suggested to kill him... Nick was an old vietnam war veteran and he was our military adviser. We worked together on several movies
A mine field was prepared. Holy shit, I guess it was one or two too many, blasts all over, Bruce was ordered to stay down just a little longer to wait the last smoke to disappear. "And cut!"
Of course we had noticed the friction but only realised what actually happened when Bruce got confronted with his own condolences. The script was revised and for sure, not for the last time... A couple of days later an new guy, Steve Rogers, another Vietnam veteran, showed up. He took over Bruce's part. Vittorio Romero made his entrance, he was directing second unit. He and Jun absolutely didn't have anything in common. Anyway, he changed the script and added his view of porno. And Jun got sacked as well.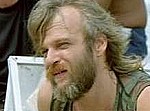 Nick Nicholson
The Firebird Conspiracy was also the first film you worked on with Nick Nicholson, a frequent collaborator of yours from then on. What can you tell us about him?
The first time I met with Nick was during the takes in Fort Santiago, Intramuros.
He was chained against the wall, facing the camera with his naked ass. His manhood was wrapped in a handkerchief.
That's how I got to know Nick. As soon as we started shooting outside of Manila, I got to know him a little better. Couldn't miss him, the aroma of cannabis was covering him all over.
Missing in Action (1984, Joseph Zito): A few words about that film, and about its lead Chuck Norris, whom you worked with time and again over the next few years?
My first movie with Chuck, yes that was something. I was selected for the auditions in Ken Metcalfe's office. We were lined up, 20 guys or something. I was in the middle of the row and only informed about the kind of movie we're gonna shoot, so I knew it was Vietnam war stuff. I was quite confident to get a part, 'cos Henry Strzalkowski was the assistant to the production and we had become friends. I didn't know anything about the cast, so I was surprised to see Chuck Norris to enter the room ... He was holding our application forms and started short chats with the guys first in line. Couldn't believe my fucking eyes to see my idol in person. I was a fan of this man since his fighting scenes with Bruce Lee. And he came closer to me, tell you man my heartbeat went up ... Then we shook hands, I noticed he was a small guy like me, makin' 1.70 m only. Now that was my luck as well, he didn't like to work with people taller than him in the same frame. We talked about my martial arts skills and all of a sudden he asked me to step forward, wtf !! He asked my weight, I told him: 66 k's. Then he grabbed me and lifted me on his shoulders. "Perfect", he said. That sounded positive and I smiled, I got the job.

Later I screwed up by showing up late at the shooting and missed the scene I had to do with Chuck, you can read about that on my blog. This was MIA 1.

I missed the 2nd MIA but was invited for a line-up for MIA 3. I had a good feeling about it already. This time Chuck's bro Aaron Norris came to do the casting. Circumstances were similar to the MIA-line-up. I stood somewhere in the middle again and felt sort of disappointed that Chuck didn't show up. But then ... Didn't expect it at all, Aaron ignored all the others and came straight to me, saying: "Hey, how are you, I remember you". That felt great and I got the job ... I had to play a commando and we were very well trained, we used to work on our routines in Luneta park Manila. On this job I made a name as a Hilot (Tagolog: healer). First cameraman Joao Fernandez all of a sudden suffered a sour shoulder and couldn't handle his cam anymore. Big shit. I got to talk to the man and offerd him my expertise as a psychic healer (I posted an article on healing in American Ninja). I did what I had to do and Joao could move his arm again, everybody happy. So was Aaron.

And that helped me when the casting was there for Deltaforce 2. Same scene, same line-up and Aaron doing the casting. The only thing he said to me was: "You got a job ...". Later when I walked into Joao, he asked me if I had a part in the production. I confirmed and added that I needed to shave my head to play a skinhead (something I didn't like to do). He entered Ken's room and returned a little later to tell me a got a better deal. I was a Deltaforce soldier.
I became good friends with Chuck, Aaron and Joao. I was even invited by Chuck to watch our activities of the day that were taped on VHS. With some other guys we watched the video in Chuck's room sitting on te bed ... Nice to remember, thanks for letting me write this Mike, hahaha.
The Destroyers/King's Ransom/The Devastator (1985) was the first film you did with director Cirio H.Santiago, with whom you would film quite a few movies in the future. Could you talk a bit about the film and about Mr Santiago?
The Destroyers, my first shoot with Cirio - I guess he liked my way of dying, because in this movie I probably died 4 or 5 times. And once I came pretty close to an accident. We were playing a couple of outlaws, defending our marijuana plantation!!! In one scene I was trapped, a booby trap was placed beneath a tree with a hanging rope, ending in a loop, I hook my leg and go face down, the camera stops rolling and my foot is placed in the loop. Camera rolls again. There were a couple of guys, pulling the rope, but with too much horse-power, I ended off-frame way too high. It had to be done again, and I was placed in position again, and "Action!"

And up again, at the right height this time, but I was moving and swinging too much, and Cirio wanted a 3rd take...

But half-way the 3rd take I went back down with the same speed as I got up. I hit the ground but was able to break my fall, the knot in the rope didn't hold and slipped. All four guys were down on their asses as well. I was furious, and told the director to find another stuntman to finish the take, I didn't feel much like hanging up side down again, well, they found me a double to finish the shoot. They placed a bamboo frame (having sharp spears in it) around his body. I didn't know what was going on and asked someone what they were up to. I was told the booby-trap had a follow-up. This bamboo frame was supposed to pierce the guy as it swings down. Now it will be filmed backwards and later edited the reverse way. The same guys, holding the rope with the bamboo frame were to do the job again. On action they pull their asses off, and believe it or not, two of them slipped, and the bamboo frame went back all the way it came, the move came to a hold only inches before it was to hit the hanging man. My stomach turned: I was supposed to be hanging there, if I had, would the frame have missed me ????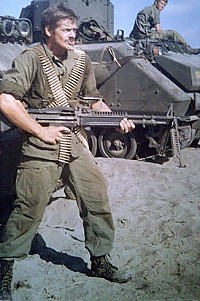 Bert Spoor in
Born on the 4th of July
What's the difference between working on a low budget movie with a director like Cirio H.Santiago and a big bucks feature working with Oliver Stone, with whom you did Platoon (1988) and Born on the 4th of July (1989)?
Working for the big guys was a little different. Of course they had a bigger budget, but they also brought the best professionals with them. Only the lower cast was done in Manila. Payment was about the same - an extra could make a 500 Ph pesos per day, bitplayers made it up to 2000 Php. I was lucky to do some stunts so that paid a little extra. Catering with the local movies sometimes was a terrible experience, I'd call it fishheads and rice. The Italians of course brought their spaghetti - not too bad. The American productions served good food. I was in Platoon only for a few days, but Born on the 4th of July was good for several weeks. We shot this movie in the north of the Philippines (Ilicos North) during the Christmas holidays '88. The best food we ever had, and a new years BBQ at Jan 1st '89. Staying on location for that long is a good time to get to know your friends cos we spent the evenings together.
On the set of The Destroyers, you also met Richard Harrison for the first time [Richard Harrison bio - click here]. What can you tell us about him?
I met with Richard Harrison the first week shooting The Destroyers not much later we met again shooting King's Ransom, and a while after that we were shooting The Devastator. It was much later that I learned that it was all the same movie with different working titles. I remember Richard as a very nice person, always talking about his family, especially his son Sebastian.
A few words about American Ninja (1985, Sam Firstenberg) and its star Michael Dudikoff?
I'll never forget American Ninja, as I was surrounded by a bunch of martial artists, most of them stuntmen from the SOS Philippine stunt association. Dudikoff wasn't really skilled in any art (neither was David Carradine) but both of them did a nice job. My part in the American Ninja was to play a bodyguard, easy job, not much action but a lot to see and enjoy. I learned a lot from other martial artists. It was very diverse, there were Judoka, Karateka and Tae-Kwondoka, and other experts showed their skils in Kendo, Nunchakudo or Shurikendo. I became a real fan of Kuntao with its typical short moves and whipping technics. I became good friends with the guys from the SOS-team and would see them again on other filmsets.... Here's a clip I found on You Tube, I'm the bodyguard with the beard and glasses.
On Behind Enemy Lines (1986, Gideon Amir), you worked with the recently deceased David Carradine. What can you tell us about him?
David Carradine, yeah, a very nice person. Did you ever see him in Kung Fu? He wasn't a martial artist at that time, but a cladsic ballet-danser. He had the moves however and the mysterious looks as well, so he made it in the series. By the time I met with him on the set, he had become a master already and wrote a book about the spirit of the Shaolin. I had the privilege to talk with him for a while and I think he was a very friendly and educated man, open to our questions. What I remember from Behind Enemy Lines is the chaotic choreography of the helicopter-scenes. I had to play a medic on board of one of those helis. We were supposed to land in the middle of a lot of action, explosions, fire and noise. About 2 feet above the ground, my buddy and I jumped down with a stretcher to resque the wounded. We were very close (too close) to the fire and explosives, but as soon as we hit the ground, the pilot told us to board again 'cos he couldn't hang around over there while all sorts of debries could hit the propeller. Well, it wasn't just the heli that was endangered, our asses weren't safe there either... The second take was about the same, we couln't see enough, too much smoke, the pots with explosives too close, complete chaos, no rescues at all. Guess that's what the director wanted...
... it was the next day when our leading actor hardly escaped decapitation. There were about 4 helicopters involved and they had to land in a specific sequence. When we did the rehearsels there were no problems, but when we had to do the real action, things got really fucked up. David's heli was supposed to be the first to land. But the pilot in another chopper took that position and David's heli landed second... When he jumped out he couln't see the heli in front of him, cos he was looking down to protect his face against the strong winds produced by all helicopters and was walking straight towards the tail-rotor. It must have been a couple of meters only when he was notified by shouting and waving people. Once again I thought about the accident with Vic Morrow about seven years ago...
A few words about Women of Valor (1986, Buzz Kulik), probably the chick flick in your filmography?
Women of Valor, that was indeed different stuff. It wasn't Nam, it was 2nd WW. We were held prisoner in Bataan province in the Philippines and we started the Deathmarch. That's what I remember best, the walk in the sun, the burning heat and of course Kristy McNichol!!! Wow! OK, Susan Sarandon was there, but Kristy was HOT. One evening she even came down to visit one of my friend's house (Carlos Palacios) , where I used to stay during the shooting. I think it took Buzz more than a week to shoot the march. Since I lived near the beach for several years already, I got used to the sun, but a lot of extras from Manila got their first full exposure after their San Miguel in Ermita... They got sun-burned I tell ya. As the title suggests, the women are in charge. We men just were background J. The last day on the set was a painful one. We are hiding in a building when Japanese Zeros fly over at low altitude, I mean LOW... We are supposed to panic and run away. My scene seems easy, a truck in front of me is accelerating and I chase it and try to get on board. But the very moment I jump to get inside, the truck hits a hole or a stone or something, and the edge of the truck hits me full on the knee.....
From the knee down my leg felt numb, but I managed (with the help of the people inside) to get inside.
It took me quite some time to recover.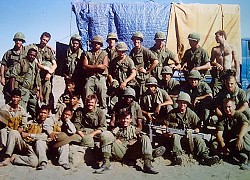 Cast of Hamburger Hill
What about the starkly realistic Vietnam War movie Hamburger Hill (1987, John Irvin)?
Hamburger Hill was an environmental disaster. Thousands of car-tires were burned to achieve the special fx. Sometimes we couldn't breath due to the smoke, there were heavy complaints about it. The scene I'll never forget was when we had to climb the Hill. This was supposed to be action during the rainy season, but it didn't rain ...!! That's why the fire brigade showed up to wet us. A couple of hoses were pointed at the hill which we had to climb. This was mud man... and slippery. For each step we made forward (upward if you like) we slided down two. We were soaking wet to the bones - good for us it wasn't cold. I got shot and killed several times in this movie ...
A few words about Return from the River Kwai (1989, Andrew V.McLaglen)?
Return from the river Kwai was one of the nicest films to work for. We were POW's and treated badly by the Japs. We had to march and stand in the hot sun for hours, without water of course. For real this must have been a hell for the prisoners. When the allies destroyed our bridges we were transported to Saigon by rail. For several days we were travelling in our wagons before we reached the harbor. There were 2 waggons and we were cast by dialect. So we had an English one with Edward Fox in it and the other one with Nick Tate to for the Aussie group. It was a real pleasure to hear the dialogues between Edward and Nick, both of them very friendly and nice guys. Another nice person was George Takei, our japanese camp commander. So different from the character he played. It was here I think where he met his friend, Brad Altman, whom he married in 2008 when homo-marriage was allowed in California.

When we reached Saigon (Manila harbor) we had to embark the Brazil Maru. We are sailing the South China sea (Manila Bay) when we get torpedoed by an american sub. Just after we defeated the japanese and were in charge of the ship. The scene where we jump overboard is filmed in a swimmingpool. The mock-up they built was a perfect (part) replica of the Brazil. I remember the water was cold, didn't do any good to my back (already suffering the hernia at that time) so I decided to drown. That's why I'm not in the final shot when the survivors are rescued by the submarine... !
On Indio (1989), you worked with Italian cult director and Philippines veteran Anthony M.Dawson/Antonio Margheriti [Antonio Margheriti bio - click here]. What can you tell us about him and the movie you made together?
Indio was a nice film to do. I didn't have to do a screentest as I was recommended by Ken Metcalfe to the production. They needed a stuntman. Ken had told me to visit an address in Makati to get more details. There I met with the casting director and had my contract signed in no time. The shooting was to start the very next day. Our location: Caliraya lake, Laguna. That's where Apocalypse Now was shot. MIA 1 had some scenes shot here. Most of the cast and crew were on the set already. There were just me and 2 other guys whom I had never met before. It was only on the set where I learned that this Francesco was the son of Anthony Quinn (Guns of Navarone). We didn't talk too much but he seemed to be a nice guy. He was playing the Indio protecting his people against the forest burners. He eliminates one after the other, then finaly the baseball team is mobilized to terminate this pain in the neck. But he gets us all. I got blown up by a coconut bomb. It was a relaxed 2 weeks on the set, where I met with Kay Wade and Chuck Hicks (both in their 80's now but still active as stuntpersons). Brian Dennehey was our chief and sent us after the Indio. nbSome old buddies I met here: David Light and David Brass (who worked for the production). I still have contact with Kay and her friend Chuck.
Are there any other movies not mentioned here you'd like to talk about?
It was only recently I found a clip on YouTube from Blood Debts aka Eliminator. It wasn't on my filmography as I forgot about it !!!! A film directed by Teddy Page, Richard Harrison [Richard Harrison bio - click here] is the one to kill me in this movie. See this:
With the dawn of the 1990's, you seem to have quit making movies. Why is that?
I returned to Holland in 1990. My old man got sick, so I went home. He lived for another 3 years but then the international film industry was almost gone, so I desided not to return anymore. An old hernia was biting me once in a while. I started a small practice in alternative healing and like to get the real difficult cases. Last year I started my blog to publish some of the movie stories, but for now it becomes more and more a health blog.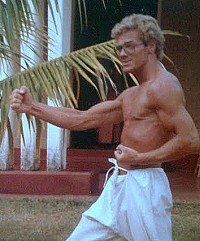 Bert Spoor in
martial arts pose
Has your background in martial arts helped you in your movie career?
My martial arts background gave me an advantage over others. I was in a good shape and could make a nice fall... This helped me to get access to film productions. However my reputation as a hillot (healer) opened many doors, and I think this was one of the reasons why Ken and Maria Metcalfe liked to have me on their filmsets...
On most (maybe all) of your films, you were hired primarily because of your background in stunts. Do you see yourself more as an actor or as a stuntman?
I see myself absolutely as a stuntman, less an actor - I had some dialogs in Indio and American Ninja, but that was all deleted or cut, how do you call that ???
Are you still in contact with some of your frequent co-workers from your Filipino days?
After such a long time I was surprised to find so many friends from the past. Henry Strzalkowski, Don Gordon Bell, Steve Rogers, Bill Kipp, Eric Hahn, Dick Israel, Kay Wade, Chuck Hicks. I'm still looking for more...
With your film career over, what are you doing these days, and could you ever be lured back into making movies?

Feeling lucky ?
Want to
search
any of my partnershops yourself
for more, better results ?

The links below
will take you
just there!!!

Find Bert Spoor
at the amazons ...

amazon.com

amazon.co.uk

amazon.de
Looking for imports ?
Find Bert Spoor here ...
Something naughty ?
(Must be over 18 to go there !)

I consider myself retired, Mike, no more shooting for me at 61. I still do some healing stuff but most of my time is spent behind the PC.
Your website, blog, whatever else?
Blog: http://bert-firebert.blogspot.com
The coming months I will up-date my blog and be active on Facebook.
I can say the blog is a succes with having ALL the US states as visitor and over 100 other countries.
Most of the movies you made were warmovies (and among those mostly about the Vietnam War). Is that a filmgenre especially dear to you?
As a matter of fact I'm not a big fan of war movies at all. But that was the genre at the moment and I could use the money...
Your favourite films (you are not in yourself)?
My fave movie? That'll be the old classics like The Sound of Music and Spartacus. The modern ones: Jackie Chan's...
And of course some films you really hated?
Movies I hate? Slow movies without a story and sound-dubbed ones I can't stand.
Thanks for the interview!
Thanks for being interested...