First of all, why don't you introduce yourself to those of us who don't already know you?
Bio:
Barry Ratcliffe – Actor, Comedian, Producer, Writer
Full Credits, Reels, and Photos at www.nowcasting.com/barryratcliffe
Barry Ratcliffe has an extensive resume in television, film, and commercials ranging from network and cable series, to numerous guest starring and supporting roles. His credits also include writing, directing, producing, and live comedy.
His television appearances include guest starring on the award winning ABC show Brothers and Sisters, costarring in the latest Hallmark movie of the week, The Wish List, starring in an MTV series, a recurring role on Nash Bridges on CBS, a recurring role on Untold Stories of the ER, a recurring role on The Michael Jackson Trial on E!, guest starring roles on America's Most Wanted on Fox, Nip/Tuck on FX, Threshold, Wanted, The Division, 3 National Commercial Ad campaigns, and many more.
His film work includes starring in 6 current releases, 4 upcoming releases, supporting roles in over 20 films, and 5 producer credits. He is also the writer for his latest feature film, Pocahauntus, with 2 projects in preproduction.
His goals are simple. To be the best performer he can be; whether acting in dramatic or comedic roles, or as a stand up, entertaining with his intelligent, insightful, and hilarious commentary on today's events.
Let's talk about Forbidden Fruit, in which you don't only play the lead but which you have also produced. What's the movie about and what is your role in it?
It is about a Farmer who discovers that the Viagra plant spilled has chemically altered his apple crop, a comedy :)
What attracted you to produce the film?
The script was fantastic, original, and simply funny :)
As far as I know you are also going to have your hands in the production of The Perfect Serial Killer, in which you also have a role. A few words about that one?
Yes, I am going to be an associate producer.
These films are not the first ones you have starred in and produced though. What can you tell us about The Cost of Living?
It is with the same production group in Seattle and it too, is a comedy.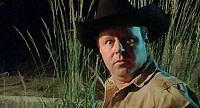 Pocahauntus
On the wonderfully titled Pocahauntas, you don't only play the lead and had your hands in production, you also wrote the screenplay for that film. Could you talk about that movie for a bit?
It is the second worse film I have ever seen and so far, a cult hit that has made money. I loved making that movie with friends and Wes Craven's niece. I was approached to write a horror movie, and to act in it. I did, and it is nonstop laughs - so I must be very bad at writing horror films
What made you write Pocahauntus in the first place?
I was asked to write a screenplay for my good friend Veronica Craven and I agreed :)
Go for Broke 2 was the first movie you have produced I think. A few words about that one?
It was a great adventure with Glen Plummer from Showgirls and ER, and I loved the story line.
Any productions of yours I forgot to mention?
No, my acting resume is much more extensive, I am currently in talks to produce a period piece in NY
What pushed you into producing in the first place?
Innevitable evolution I guess, although it is not my first choice, I prefer to act only
As an actor, you have quite a few upcoming movies with wonderful titles to your name. What can you tell us about Memphis Rising: Elvis Returns?
I had the great pleasure to work with Marv Silverstein and Sonny, Elvis' bodyguard on a quirky and fun story with some incredible actors - and I am an Elvis fan
What about Madoff's Inferno?
It is with a new up and coming director and I am huge supporter of those following their passion.
A few words about Legend of the Red Reaper?
Tara Cardinal [Tara Cardinal interview - click here] is a dear friend of mine, and an incredible actress, I will go anywhere and do any project that she is a part of :)
What can you tell us about Owen Land's Dialogues?
You need to call me for this one, what an experience to work for such an avant garde legend :)
Any other upcoming or future projects you'd like to talk about?
I am currently playing the Cowardly Lion on the feature film Witches of Oz in NY with Christopher Lloyd. It is amazing :)
Let's leave the future behind for the moment and move forward into your past: What got you into acting in the first place, and did you ever receive any formal training?
I actually minored in theater and I was born and raised the youngest of 7, my mom the youngest of 18, so we acted out plays my entire life, and I have always wanted to be an actor :)
Your first regular acting job in front of the camera was a recurring role on the Don Johnson-show Nash Bridges I believe. A few words about working in that series and your role in it?
Don Johnson was the best boss ever and I made soooo many lifetime friends on that show, it was simply an honor. Worked with some stuntment from the show last night in NY :)
I have picked a few TV shows and made-for-television-movies from your resumé I'd like to discuss: What can you tell us about Call Me: The Rise and Fall of Heidi Fleiss?
It was a made-for-TV-movie, I have some great Tom Sizemore stories here to, what a dick.
A few words about The Plot to Kill Nixon?
It was fun to shoot a gun in a plane, that is the most I can tell you :)
What about The Michael Jackson Trial?
I had an incredible time spending 6 months on this project that aired in 65 countries. All teleprompter with 3 lawyers on staff :)
And then there's of course Untold Stories of the ER ...
As a brain surgeon, I have cured 100% of my patients so I am very good. I get recognized from that show a lot, it repeats all the time :)
Let's move on to your work in feature films: On both Dead and Breakfast and Brothers in Arms, you worked with David Carradine. What can you tell us about the films, your roles in it and of course the late Mr Carradine?
Who cares what kink David had, he was an incredible man, a great mentor and friend. He was a gracious actor and very, very good to his family and friends. My best memory is a 45 minute walk in the hills of Paramount Ranch talking about life and looking at the stars. I miss him!!!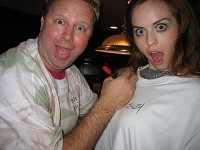 Barry Ratcliffe, Eliza Swenson
What can you tell us about Candy Stripers?
What more can you say than having my heart ripped out while trying to have a threesome with 2 alien women, now that is Oscar worthy. Again, I met Eliza Swenson [Eliza Swenson interview - click here] there, who is still one of my best friends today :)
A few words about The 9/11 Commission Report, which seems to be one of production company The Asylum's more ambitious films?
It was directed by Leigh Scott who is an incredible director, and I was asked to play George Tenant in a serious movie, I really enjoyed that.
Trailer Park of Terror is quite simply put a great title for a movie. Could you talk about that one for a bit?
Trace Adkins if funny, and you cannot possible think that the title is better than Pocahaountas? [I didn't say that - the editor]
On the short Getting through Security, you also had your hands in casting and assistant directing. A few words about that one?
Written by a friend of mine on security at the airports, pure comedy , I couldn't pass on that :)
Going through your filmography, one can't help but notice you are very often cast as a cop or similar figure of authority. Any explanation for that?
Simply my looks, I get called officer on the street, guess it is all the donuts I eat:)
Your website, MySpace, Facebook, whatever else?
I have myspace, facebook under my name, Barry Ratcliffe
and of course, nowcasting.com/barryratcliffe, barryratcliffe.net
www.nowcasting.com/barryratcliffe
Imdb.com (Barry Ratcliffe)
http://www.youtube.com/user/bratcliffe
myspace.com/pocahauntusthemovie
5 Minute Reel: http://www.youtube.com/watch?v=dO__FOEmN-I
Over the past few years, you seem to have been filming almost constantly. What do you do when away from the camera?
Sleep, I have had 2 days off in the past 4 months, and I certainly know how lucky I am :)
Actors (or indeed actresses) who inspire you?
Anthony Hopkins, Sam Elliott, Billy Boyd, Tara Cardinal [Tara Cardinal interview - click here], Eliza Swenson [Eliza Swenson interview - click here].
Roles you'd really like to play (no matter how improbable)?
Archie Bunker, I am reading a pilot now with Sally Struthers.

Feeling lucky ?
Want to
search
any of my partnershops yourself
for more, better results ?

The links below
will take you
just there!!!

Find Barry Ratcliffe
at the amazons ...

amazon.com

amazon.co.uk

amazon.de
Looking for imports ?
Find Barry Ratcliffe here ...
Something naughty ?
(Must be over 18 to go there !)

Your favourite movies?
Airplane and Casablanca.
... and of course, some films you have really deplored?
Anything with Meg Ryan, she is not a nice person.
Anything else I have forgotten to ask and you are just dying to mention?
Nope, but call and I will talk for hours :)
Thanks for the interview!
You are very, very welcome :)