First of all, why don't you introduce yourself to those of us who don't already know you?
Well, my name is Barron Christian and I have been an actor since my late teens. I have mistakenly been referred to as a playboy because I enjoyed attending those more outrageous Hollywood parties rather than taking my career seriously.
I became known because of a sign I had painted on the back of my Bentley Mk VI. The sign read:
"Star-ving Actor.
If you are a producer or director,
please pull me over and give me work!"
This was simply a joke and not intended to produce results. However, this stunt had an untended side effect. I was surprised to find that the media had picked up on the Starving Actor sign and I began to be besieged by reporters requesting interviews. The TV, news and magazine articles were showing up all over the globe and it seemed that the public could not get enough information about my gag and me.
Of course those days were very different and I can't imagine something like this causing such a sensation in today's world.
I had become more of a celebrity or a curiosity rather than an actor.
It was great fun, because I enjoyed having my name well-known and I was considered a top-of-the-list guest at the more sensational Hollywood parties.
Your career by now spans about half a century, so let's start at the beginning: What got you into acting in the first place, what got you to Hollywood?
In my early teens, I was given an 8-millimeter film camera and started making my own movies. Just for fun, I would gather my friends together and cast them in these amateur films. I think this is how many people begin in the business.
If my information is correct, pretty much at the beginning of your career in 1966, you were set to star in Michael Musto sr's Educated Heart, which unfortunately fell apart. What can you tell us about the project and the story behind it?
I was living in film star Greta Garbo's mansion in Hollywood Hills. The house was rather large and had a maid's quarter that I was not using and wanted to turn it into a guest suite. To complete the guest quarters, I went down to Sunset Blvd, to an antique and junk store in search of a kitchen sink.
While I was rummaging around, a soft, quite voice behind me said "You are my Owen". I turned to see a small fellow who repeated, "You are my Owen". Knowing that Hollywood tends to draw eccentrics, I disregarded his strange statement and asked if he had any kitchen sinks. He showed me a sink and then introduced himself as Michael Musto Sr. He explained that he was producing a film called Educated Heart and I was perfect for the role of "Owen". I was to play the love interest of a wonderful actress named Ann Archer who later became a star and worked with such well known actors as Mel Gibson and Sam Elliott. Another well known film actor, James Craig, who starred in many films of the 1940's, was also a lead in the cast. This film was where actor Tony Geary got his start, later to star in the TV show General Hospital.
A few months later we were on location in Salt Lake City, Utah, shooting Educated Heart. From the beginning, this film was cursed. Anything and everything that could go wrong, did go wrong. I will spare you the long and complicated details, except to add that we all begged to go home as soon as possible.
Acccording to my informations, you have been quite big on the Hollywood party circuit of the 1960's and 70's. How did you hook up with the Hollywood jet set in the first place, and what can you tell us about the Hollywood-scene back in the days?
In addition to what I previously mentioned, unlike the "rags-to-riches" stories one frequently hears, I came to Hollywood toting a rather substantial bundle of money. Since I did not have to work, I threw myself into the fast crowd and began to seriously party.
Everything one has heard about those legendary, "Old Hollywood" parties was true. So much effort was made with a "Money is no object"-attitude just to make the next party more spectacular and unforgettable than the last. This was done to assure that the evening's glamorous and outrageous happenings would end up on the front page of The Hollywood Reporter and Variety.
These soirées were also places to conduct business. Actors were cast, finances for the next high budget film were agreed on and you could always count on someone falling fully dressed into the pool or running around naked to get the attention of the power brokers without anyone really noticing.
I miss those days and I am saddened to say that parties today are tame and pale in comparison to the spectacular affairs of the past.
In your opinion, in what way has Hollywood changed over the years?
Hollywood is not near as much fun as it once was. With some exceptions, the film industry is less an art form and more a business with those in charge making decisions that only pertain to increasing the bottom line.
You have done quite a bit of television work in the 1970's. Why don't you talk about that for a bit?
Back in the seventies, I was a member of the Paramount Studios Club, which gave me free access to the studio grounds. I did a little work in series that were shot at Paramount, but mostly just visited the sets and hobnobbed with the cast and crew of such television shows as Mission Impossible, Star Trek, Bewitched and The Lucy Show. When I was in my twenties, I thought that it was much more fun just to have the benefits of a well known personality than to work for them.
You have also had your hands in music video production, right?
Yes. Today's music videos are so much more sophisticated and entertaining than in my time.
The other day, I rolled some of the music videos I directed and was surprised how dated they looked and yet it feels like I shot them just yesterday. I suppose, at my considerable mileage, everything seems to be like it happened just yesterday. Nuff said.
With BabyVision, a film you produced, directed and narrated, you broke new ground in pre-school kids entertainment in 1990. What can you tell us about that one, and how was the idea concieved?
In the early 1990's, it was common thinking that babies were not as smart and aware as they truly are. My partner Robert C Boswell and I looked into this misconception, found a need to create a program for this age range, then took the ball and ran with it, so to speak. Because of its obvious controversy, BabyVision was picked up by the media with frenzy. The video was greeted with warm enthusiasm and demonized at the same time. The majority of reviews were very positive; however we were also accused of creating a generation of TV watching baby zombies. Yet, these days it is generally accepted that stimulating and teaching young minds is a healthy advantage.
You have worked on both Star Trek VI - The Undiscovered Country and Star Trek: Deep Space 9 - and since I know many of my readers are Trekkies, you just have to tell a Star Trek-story!
Well I have a few. Since Star Trek VI, was to be the last movie with all the original Star Trek-cast, everyone fought to be in it. When I was told I was one of the lucky ones, I was warned by everyone to be careful of William Shatner (Captain Kirk). They said that he can be difficult and gets angry at the drop of a hat. In reality, while everyone else was going nuclear, Mr. Shatner remained cool and calm. He was a very likeable gentleman; easy going, friendly and had a great sense of humor. When the director Nicholas Meyer, would call me over to position me on the set, he would say, "Klingon number one". I would then say "My name is Barron", or "Please call me Barron". The director continued calling me Klingon number one several times more and I, of course, would again say "My name is Barron". Then, after hearing me continuing to say "My name is Barron", Mr. Shatner said quite loudly, "Oh Barron…" and then with his oft imitated inflection and with great arm gesturing, continued, "Barron!... Barron!, Barron!, Oh Barron!, would you kindly please stand here Barron". Shatner's unexpected flood of theatrics broke everyone up and it took quite a while for us to get back to the business of making the film. Another, lesser known piece of trivia is that; many of the Phaser guns, carried by the Star Trek crew to blast away the bad guys, started disappearing. This was quite a mystery since the set was the highest security closed set I have ever been on and nothing could come and go with out the guards knowing about it. Yet it seemed that each day another phaser would come up missing. This was most perplexing to our director Nicholas Meyer. Finally, the mystery was solved. A studio guard spotted the nanny for Nicholas Meyer, who brought his babies to the set each day, was seen stealing a phaser and hiding it in the baby stroller and then casually leaving. It may be interesting to note that because of the popularity of television and films, an original Star Trek phaser is extremely collectible and can sell for thousands of dollars.
In recent years, you have done lots of voicework, also for commercials and stuff. How did that come into being?
A voice agent heard me speak and (perhaps mistakenly) thought that I had a rare sound that others have said sounds like the "Voice of God". It seems that when you are in the voice over business, your voice is frequently touted as being much more than it truly is. But why argue? It got me quite a bit of work. In 1996 I was the voice of the Ford Tough-commercials. That same year, I narrated the Academy Award-winning documentary A Story of Healing. That one was a case of timing and luck.
The neat thing about working voice is that you can look like hell, because no one sees you. A young lady once said to me "If you only looked like you sounded, you would be so handsome". After she realized what she had said, I could tell that she was mortified. I quickly reassured her that I understood and also had to agree.
Rather recently, you acted opposite Eddie Murphy in Imagine That. A few words about that one?
It was quite a privilege to have worked with such a gentleman as Eddie. (I'm not being too familiar. He told me to call him Eddie.) Unfortunately, as I was told, a generous tax incentive given to the producers by the powers that be was not honored, and 99% of the Denver footage was dropped. Still, I had a great time spending the better part of ten hours sitting next to him and exchanging lines.
Of late, you have collaborated with director Kristian Day [Kristian Day interview - click here] on various films in various positions. How did you two initially meet and hook up?
In 2004 a friend of mine said I must meet this remarkable fellow who was into sound engineering of films. So I stopped in the Diamond Shamrock mini mart where this guy was working to get some gas, a hot dog and perhaps introduce myself. I got in line, and while waiting to move up the cash register, I listened to the way Kristian was interacting with the customers. It struck me that he was way over qualified to be working in a gas station.
When it was my turn to check out, I introduced my self and told Kris that a mutual friend named Aaron Long insisted that we meet. After a short conversation, I became aware of this fellow's brilliant intellect and the way he understood the entertainment business.
I have always had this talent for sensing if someone was going to do extremely well in the film business. I am not in the least psychic, just somehow intuitive in this matter. When on the set of Fresh Prince of Bel-Air, I told Will Smith that he would be a major star. I often wonder if he remembers that. I have told this to only five people and I was right each time. Kris was one of these people and I was not at all surprised when his career began to rocket well beyond even what I expected. He is still amazing me by blazing forward with success after success. Well, Kris and I became fast friends and today we work together in a film production company called Modern American Cinema. Kristian is a voracious reader and when there is something he wants to know, he quickly becomes an expert on the subject. My belief in him keeps being fortified by the next thing he does and that is why he is great fun to be around. Oh, I must add that because Kris decided to drag an old Hollywood relic out of retirement and back into the light of day, I am once again working in films and other productions. Thanks, old fellow.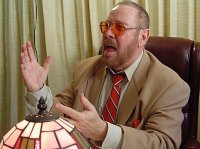 What can you tell us about the films you have worked on with Kristian Day, and what kind of a director is he?
He is a relaxed and supportive director that lets his actors do their thing, unless of course they go too far off script. His motto is "Never set anyone up to fail", and carefully casts actors that he feels are easily capable of doing the role they will play. Kris Day and Carey Kilpatrick are the two directors that, if called upon, I will unhesitatingly jump at the chance to work with.
Other films you were involved with you'd like to talk about?
Generally, one talks about the current or upcoming productions when it is time to promote them. Since there are a few films in pre and post production, I will if I may, reserve my comments until a more appropriate time. I do this so I don't risk getting a spanking from the producers for inadvertently saying something that might spoil the plot.
Any future projects?
Thanks to Kris Days dragging me, kicking and screaming, back into the business, I am now frequently being offered work. I'm completing narration and some on camera work in two exquisite documentaries and doing a film trailer for United Artists. There are some interesting projects in the pipeline and since I believe that life is a "treasure hunt", something new is always popping up.
You have pretty much done it all, acted on the stage, the big and the small screen - where are the differences, which do you prefer, and why?
With the stage you get instant gratification with the applause from an audience. That feels good, but working in film or video allows you make many mistakes that are thankfully edited out, resulting in what appears to be a brilliant performance.
Roles you'd love to play (no matter how unlikely)?
A substantial role in another Star Trek film would be great to work in. A good part in a well written comedy like The Hangover or the classic Airplane would be on the top of my list. I would enjoy work on more animated productions like Dane Bernhardt's Nikolai and the Vedma, where I had the privilege to voice the part of the Russian story teller. Accents are great fun to do. For me the most fun in being an actor is to work a character while disguised behind heavy makeup, or doing the voice of a character that no one would guess was you.
Actors (or indeed actresses) who inspire you?
The great Richard Burton. I idolized him so much that I tried to drink a quart of vodka each day as he did. I lasted one day. I don't like vodka anymore. Another was Sir Lawrence Olivier. He was the biggest star in films between the 30's and 50's. When I was sixteen, I had the privilege of traveling with "Larry" on a road trip from Paris to Versailles. I wish I had asked questions and listened more closely, but I was too young to appreciate the experience.
Your all-time favourite movies?
2001, A Space Odyssey because of its uniqueness and ahead-of-its-time effects. Sunset Boulevard - if you have seen it, you know why it is a favorite. If you haven't, then I highly recommend that you do. Elvira Madigan, because it is poetic. Ingmar Bergman's Persona, just because. Spirited Away or any anime produced by Hayao Miyazaki.
... and of course, films you really deplore?

Feeling lucky ?
Want to
search
any of my partnershops yourself
for more, better results ?

The links below
will take you
just there!!!

Find Barron Christian
at the amazons ...

amazon.com

amazon.co.uk

amazon.de
Looking for imports ?
Find Barron Christian here ...
Something naughty ?
(Must be over 18 to go there !)

Don't get me started. There are so many badly made films that I have begun writing a book called What Film Makers Should Never, Ever Do. For instance, films that are directed in a lackluster way, without creativity and inspiration. Lame productions with plot holes big enough drive a truck through. Motion pictures that over-use hand-held camera work because it's cheap and easy. This takes me out of enjoying the film and slaps me back into reality. Films that have not carefully choreographed their fight scenes, but instead go on the cheap and rely on quick cuts to make the audience think they are watching an exciting movie. Poorly written dialogue, etc, etc, etc, ad infinitum.
Your website, Facebook, whatever else?
I have a few, but I don't keep up with that stuff. Sometimes, when I surf the web, I find some mention or another about me that comes from God-knows-where. I figure that's good enough.
Anything else you are dying to mention and I have merely forgotten to ask?
Probably. But it's like thinking of something clever one could have said after the conversation is over. I will most likely think of something after your article comes out. But, thank you for asking.
Thanks for the interview!
Thank you for being interested in an old Hollywood relic like me.