Your new movie All Through the House - in a few words, what is it about, and what can you tell us about your character in it?
All Through the House is a Christmas themed 80ís throwback slasher flick written and directed by my brother, Todd Nunes [Todd Nunes interview - click here]. My character, Rachel Kimmel comes home for the holidays. She has abandonment issues and starts to unfold a mystery sheís been longing for. Fortunately, itís a slasher film, so we get lots of gore, kills, and the creepiest Santa ever!
What did you draw upon to bring your character to life, and how much Ashley Mary Nunes can we find in Rachel?
My oldest brother Robert, who passed away when I was 16, was a huge source of inspiration for my character, Rachel. I have a million in one questions for Robert that I will never have answered. I feel like Rachel took a lot of risks trying to get answers and I believe I would take those same risks. So, I guess I brought a little bit of Ashley Mary Nunes.
With All Through the House being a slasher movie, is that at all a genre dear to you?
Absolutely! I was born and raised loving the horror genre. I canít imagine my life without the gore, the scares, the screams, and all of my brotherís terrifying stories and pranks. I grew up admiring Jamie Lee Curtis and knew from a young age that I wanted to be just like her, a final girl.
From what I know, you've already been in an earlier incarnation of All Through the House, Here Comes Santa - so do talk about that movie for a bit, and the process of developing it into a feature, as far as you were involved?
Here Comes Santa is a Christmas-themed horror short that Todd and I did in 2011 with Melynda Kiring who plays Mrs. Garrett in All Through the House. We shot the short in one day while visiting our family back home. The backstories are completely different, but the idea of a Santa killer is well, the same. When Todd was approached with writing a script he instantly wanted to improve Here Comes Santa. I remember Todd pacing back and forth brewing up ideas for All Through the House. And thatís where it began.
All Through the House's director is also your brother and frequent collaborator, Todd [Todd Nunes interview - click here] - so what's working with him usually like?
I am a huge Todd Nunes fan! I love working with my brother, so of course I would jump on any opportunity that I can just to work with him. Todd knows that he can push me past my limits and that I will deliver. I trust him 100%. Plus, we have my entire lifetime working with each other.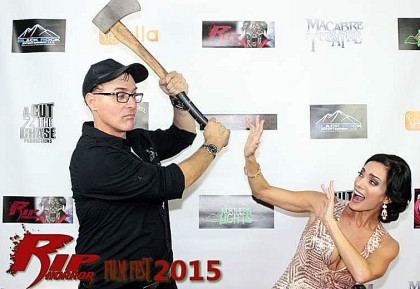 Ashley with Todd Nunes
What can you tell us about the shoot as such, and the on-set atmosphere?
There was a lot of passion on set. Without passion, I donít think we would have accomplished what we did. We were on a micro-budget, where every dollar counts. We were fighting Ďtimeí day in and day out. We worked long restless hours and no one complained. We were making a movie!
You're also in the upcoming Safe Place - so what's that one about, and what's your character in there?
Safe Place is about a man who suffers through a horrific tragedy that involves his family. He decides to live his life in isolation and fears the world around him. He crosses paths with a group of friends in the prime of their lives and vows to save them. Even if it means taking them out.
So how are you preparing for your role in Safe Place?
I canít give away too many details about my character at the moment. But I will be approaching this role the same way I do with all my roles. I will find the ďAshleyĒ within my character and build from there. I will be playing a kick ass role, so watch out!
Do talk about Safe Place's director Nicholas Hunt [Nicholas Hunt interview - click here] for a bit, and what's your collaboration like so far?
When Nick approached me about a role for his film, I was ecstatic! Nick is a huge horror fan and knows the genre really well. Heís very passionate about his work, so I am grateful to be a part of his team on Safe Place. You have to have passion! Heís working hard as we speak and I look forward to shooting.
Any other future projects you'd like to share?
I am currently working alongside my brother on our next horror feature, Death Ward 13. It is a reimagining of the 70ís cult classic, Donít Look In The Basement. I canít reveal my role in this film just yet, but I can say that I am the model on the poster. I am very excited to be working with Todd again.
Going through your bio, you seem to have had a very colourful career that includes track and field athlete and probation counselor, and you've a degree in psychology - so how did this past of yours prepare you for your acting career, and what made you pick up acting eventually? And did you receive any formal training on the subject?
I was involved with pageants, modeling, and acting at a young age. I put acting on hold when I went to Middle School. From that point on I became a full time athlete with Track and Field being my priority. I got a lot of praise as a runner, so I continued to run and received a scholarship to California State University, Stanislaus in Turlock, CA. I ran the 400 meters, 400 meter hurdles, and the Mile Relay. I majored in psychology and graduated with honors. I later became a probation counselor. I think at this point I realized I was just settling. That this was not what I wanted to do with the rest of my life. I was born to entertain. I was born to SCREAM! I had to make a change. I will take all those life experiences and apply them to my character developments in future roles.
What can you tell us about your filmwork prior to All Through the House and Safe Place?
Just prior to moving to Hollywood, I saw an ad on my Facebook page looking for actors to submit footage of a couple of short scenes for a horror feature called Redd Inc., directed by Daniel Krige. It was a contest, and in my eyes a long shot. I called up Todd and told him the scene and asked him for his direction. With my neighborhood backing me, we filmed the scene and submitted it. And I won! My scene was featured in the movie's opening sequence now titled Inhuman Resources. It is distributed by Fangoria. That was the trigger I needed to get back in the game. The film turned out great and something I am proud of.
Besides acting, you've also been competing in SyFy's Robot Combat League - so you obviously have to talk about that experience for a bit?
Robot Combat League was the experience of a lifetime. I still canít believe to this day that I controlled and fought with 8ft tall giant robots! For those who donít know the show, itís a competition series where teams of two coordinate fighting skills together, rock Ďem sock Ďem style. I honestly went into it not really expecting to go far. I lost touch with my competitive side for a while and this show definitely brought the fire back. We made it to the finale and placed runner-up. Forever Team Steampunk!
Any other talents of yours you'd like to share?
I am very athletic and quick to pick up techniques. I may not be the best with swords, but if I trained, I would probably kick a lot of ass.
How would you describe yourself as an actress, and some of your techniques to bring your characters to life?
I would say that I am pretty versatile as an actress. I believe there is always room to grow and risks to take. I donít look at actors or actresses as guidelines to how I would approach a character or scene. I donít want to imitate characters that have been done before, because we are all different. Not one person is the same. I like to give a good backstory and find myself within the character.
Actresses (and indeed actors) who inspire you?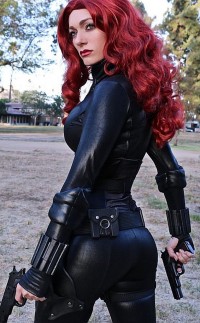 Feeling lucky ?
Want to
search
any of my partnershops yourself
for more, better results ?

The links below
will take you
just there!!!


I have so much love for my all time favorite Friend... Jennifer Aniston. Sheís my kind of funny. But I am also a huge fan a Jamie Lee Curtis, who also happens to be my kind of funny. There's also something about Kevin Spacey that absolutely intrigues me. He could be talking about a doorknob and I would be listening lol. He definitely inspires me to want to work on finding my voice and delivery.
Your favourite movies?
My all time number one favorite horror movie is John Carpenterís Halloween. The opening POV sequence of young Michael still fascinates me to this day. Iím also a huge DC Comics fan and I have been waiting my whole lifetime for a Wonder Woman movie. After seeing Gal Gadot on screen in Dawn of Justice and the Wonder Woman movie trailer, I am very confident that Wonder Woman will be my favorite movie ever! June 2017!
... and of course, films you really deplore?
You know, I canít say that I 100% deplore a film. There are certain topics that I choose not to watch (close my eyes). Like, unnecessary rape scenes, with the remake of The Last House On The Left being an exception. Even though it was extremely hard to watch the rape scene, the movie was done extremely well and it paid off in the end.
Your website, Facebook, whatever else?
I keep my social media accounts pretty active. You can find me on Instagram @girl1der2002, Twitter @girl1der, Facebook AshleyMaryNunes, and Snapchat girl1der2002. And by visiting my website, www.ashleymarynunes.com
Anything else you're dying to mention and I have merely forgotten to ask?
Yes, you can now buy and rent All Through the House from Amazon, iTunes, Vudu, and all major VOD platforms. You can also find more about my projects by searching All Through the House, Death Ward 13, and Safe Place on IMDb and like and follow the social media accounts for updates.
Thanks for the interview!