Your new movie Lamb Feed - what is it about, and what can you tell us about your character?
Writer/director Michael S. Rodriguez's [Michael S. Rodriguez interview - click here] follow on to his Night of the Sea Monkey is a short film called Lamb Feed. Briefly, it is a story about a young traveling sales rep guy who is driving a rental car to his next seminar when he gets off the main highway and has a flat tire. Discovering the rental car is missing it's spare and without any cell phone service, he walks to a small village to find a phone, where he sees a stranger who invites him to a local festive celebration which at first appears harmless enough but quickly turns into a horrific nightmare for the young man. I dare not say more without fear of ruining it.
My character is a small supporting role as Eldon "Pa" Wicker, the patriarch of the bizarre cult known as Wicker clan. Think the Manson on steroids maybe?
What did you draw upon to bring your character to life, and even if this might sound mean, how much Arch Hall jr can we find in Pa Wicker?
LOL! Actually there are really no elements of Arch Hall Jr nor any of my other three alter egos, be it Bud Eagle, Charlie Tibbs or Nicolas Merriweather in SSG Eldon "Pa" Wicker.
I made some suggestions to Rodriguez and he gave me free rein to create the character. Like most actors, I looked to wardrobe and makeup to assist me. I scoured the Internet collecting a considerable amount of real Vietnam era collectables such as indigenous made special unit patches, authentic jump wings from USA, South Vietnam, Laos, Cambodia. North Vietnamese general shoulder boards. Unofficial unit patches + select reproductions.
True, my "Pa" Wicker character was a Vietnam veteran and served in the Central Highlands as a Special Forces Medic, in addition to "sheep dipped" covert operations in neighboring Laos and Cambodia. He suffers from many issues stemming from his wartime experiences, including having developed an insatiable addiction to freshly harvested human gallbladders after been introduced to it on numerous unofficial self directed activities across the border within Cambodia. Note: The eating of human gallbladders and livers is well documented among many high ranking as well as low level Pol Pot Khmer Rouge cadres in the Killing Fields of Cambodia from 1975 - 1979. It can be assumed that this "addiction" was passed on to the entire Wicker clan. Pa also suffers from Dioxin poisoning from exposure to Agent Orange, PTSD, dementia, addiction to prescription drugs supplied to him by the VA, alcohol and other unspecified drugs. But he's mostly into gallbladders!
How did you get hooked up with the project in the first place, and what made you choose exactly this film for your comeback to the screen after almost five decades? And to what extent could you identify with the film's horror theme?
Michael S. Rodriguez [Michael S. Rodriguez interview - click here] made contact with me and I took a liking to him and thought, what the hell... why not? It's not like there are hordes beating down my door these days.
What can you tell us about your director Michael S. Rodriguez, and what was your collaboration like?
To me, Rodriguez represents the real deal with just the right mix of core natural talent and grassroots passion for guerrilla filmmaking. You can just feel it being around this guy. Hollywood weirdo he is NOT! Rodriguez is not only a family man, writer, photographer, director, etc. He is also an incredibly gifted artist who is actually capable of doing his own professional storyboards! If this all sounds like I am a fan of Michael's? Perhaps I am just that!
What can you tell us about the shoot as such, and the on-set atmosphere?
All the participants, cast, crew, extras and volunteers were dedicated. Rodriguez was the Captain of the ship and he had the full cooperation and admiration of all participants. Note: Many times he reminded me of my father on the set, such as staying focused yet concerned with details like kids on the set, etc. He's a good guy and I wish him well.
Any future projects you'd like to talk about?
Well, I am working on a screenplay but I'd rather not discuss it at this time.
Now I have written a bio-piece on your early days in the film business a few years ago - click here - anything you need to add or correct with that one?
I'll check it out and get back to you.
How do you feel about all of your films still being in circulation after all these years, and today maybe more fondly remembered than back in the day? And among all of your films from yesteryear, which were your favourites?
People enjoyed them in the drive-ins back in the day. Today, I think it takes people back on a sort of nostalgia trip to recapture the innocence of their youth in simpler times that many miss?
As mentioned, you have taken a break from acting for almost five decades - so what did you do in the meantime, did you miss acting at all, and what prompted you to return at all?
For all those years I had the best job on the planet. In fact it was more an adventure than a job if the truth be known. Flying airplanes for a living and traveling the world is not a bad gig at all, but you've gotta love it and I did (and still do).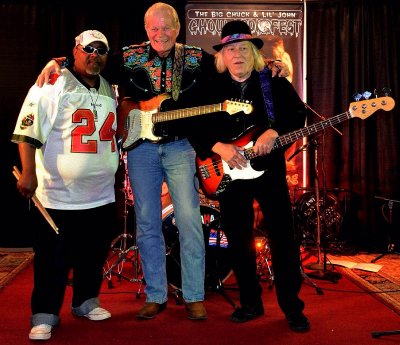 Saxton "Meat" Wilson, Arch, Keven Scarpino
I'd also like to ask you to talk about your music for a bit, and do you still play, actually?
Absolutely, in fact I've recently collaborated with two incredible guys, Keven Scarpino and Saxton "Meat" Wilson, we look forward to working together more in the near future.
How would you describe yourself as an actor, and some of your techniques to bring your characters to life?
I honestly don't know how to answer that. Maybe, I don't do it often enough to develop a method?
Actors (and indeed actresses) who inspire you?
Living: Kurt Russell for an actor maybe and perhaps Josie Ho for an actress.
All time favorites: William Holden, Charles McGraw, Grace Kelly.
Your favourite movies?

Feeling lucky ?
Want to
search
any of my partnershops yourself
for more, better results ?

The links below
will take you
just there!!!


The Bridge over the River Kwai.
... and of course, films you really deplore?
Basically anything Michael Moore does.
Your website, Facebook, whatever else?
Arch Hall Jr on FB + archhalljr.com.
Anything else you are dying to mention and I have merely forgotten to ask?
Maybe just to remind people as my character Bud Eagle from the 1962 film Wild Guitar might say: Why not surprise somebody who has wronged you by giving them a second chance soon?
Thanks for the interview!