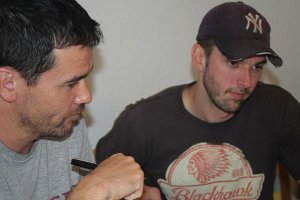 Alexander Drummond, Andy Hoff
First and what will probably be the longest response, please tell readers who you are and about your company!
Alex Drummond - I'm originally from New Jersey. I moved to Los Angeles 12 years ago to pursue screenwriting and filmmaking. I wait tables. I've written 26 screenplays. It took years of bad writing before I wrote something that was even "OK." And that's just what my mom says.
Andy Hoff - Iím an actor in and one of the producers of The Shower. Most of my acting work in LA has been in episodic TV - Mad Men, Justified, Prison Break, How I Met Your Mother, etc. I used to produce theatre in NY and ran a theatre company for a long time, but I had stopped producing when I moved to LA.
I met Alex working in a restaurant. Heís also from the NY area, even if it is New Jersey. After moving to LA, I found that I gravitated towards others from that part of the world - just because they have a similar type of energy. Or whatever. Turns out heís a really talented writer, too.
We had worked together on a few shorts and I always read his feature scripts as they came out. Weíd talked about producing something bigger for quite awhile before he wrote this one. It was right and we did it. Thatís it. As it happens, producing theatre and producing film is the same skill-set.
Does the company have a web page?
Alex - Our movie, The Shower, has a webpage: www.theshowerthemovie.com. The site is a work in progress. But we have a lot of information about the movie and you can see nice pictures of our cast. We raised a big portion of the budget for our movie on the website.
Tell us about the plot for The Shower!
Alex - A group of Hollywood friends get trapped at a baby shower when mysterious outbreak starts turning people into a homicidal maniacs.
Tell us a little about the stars!
Andy - The funny thing about the stars is that there arenít any. The most recognizable one is probably Suzanne Sena, who plays Brooke Alvarez on the Onion News Network. She plays Joanne, a low-level Hollywood agent. When youíre pitching a movie, the first question out of any executiveís mouth is ďWhoís in it?Ē. At first, we scrambled around, trying to avoid the subject, expounding upon the virtues of the writing, performances, niche marketability. Did nothing for us. My favorite response to the question is now:
Important Executive - Whoís in it?

This Guy - Nobody, itís great!
Might not be effective either, but at least itís honest and usually gets a chuckle. A few years from now, though, and youíll know a bunch of these actors!
Alex - The stars of the movie are my wife and our friends. Most of us worked together at a restaurant, so I wrote parts for them. Suzanne Sena, who plays Joanne, was in my wife's first acting class here in L.A. and they've been great friends ever since. We did a little bit of casting to find a few of the actors, but even some of those folks were already friends with my friends, so it's a definitely a case of Hollywood nepotism. The truth is, I believe in my wife and my friends and I wanted to do something where we got to show off our talents.
This is starting to make the rounds at some of the horror festivals?
Alex - We just played at our first festival, Shriekfest, and it was awesome. We saw a lot of great movies, met a lot of cool people and our screening sold out, so they had to open a second theater and that one sold out, too. It was crazy.

Any upcoming showings or fests in the works?
Alex - We'll be submitting to other festivals, and are really targeting the horror festivals and indie festivals.
Are there any interesting behind the scenes tales to tell about the filming of The Shower?
Alex - The biggest behind the scenes story, that I'm aware of, is that my wife's water broke on set at the beginning of our seventh day of shooting. She wasn't due until September 15th, and we planned to wrap production on August 10th, so I thought we'd be OK. I was wrong. On the morning of August 9th, around 6:30 A.M., right before I left for the set, she asked if we had a contingency plan in place in case she went into labor so we could quickly shoot her scenes. I told her no, and then tried to use the power of positive thinking to keep the baby in her womb for at least two more days. It only lasted about 2 1/2 hours. I was standing in the backyard of our location, setting up the second shot of the day, when our makeup artist, Rikki Techner, approached and said, "The water broke." My first thought was that a pipe in the house broke, and I thought, "Why is she telling me?" I might have said something about calling a plumber and she said, "Your wife's water broke."
Andy - An interjection: When Rikki from makeup came out to tell Alex, you could just see all the wheels turning. I think, at first, he thought heíd misheard. Like sheíd dropped her drink. When he realized, he took a couple steps towards the house, couple back to the set, one to the house, one set. The conflict was palpable. He made the right decision though. In the end.
Alex - So, it was a surprise, but not a surprise. At that point, I wasn't concerned about the movie. I was concerned about the baby, because she was 5 weeks early. It was stressful for a few hours, but everything turned out OK, and we have a happy, healthy one year old girl named Isabel. We went back and finished principal photography a month later.
Do you feel you have achieved the right blend of comedy with horror?
Andy - Did we find the right blend? I hope so, but the audiences will tell us for sure. In my mind, the blend is right if they like it. I donít want the audience thinking about whether itís this or that, funny or scary, I want them to enjoy the ride. If they stay involved in the story and have a good time on the journey, weíve done our job. From the audience reactions at Shriekfest, Iíd say we accomplished that.
How would you rate this film on a horror level?
Andy - I saw a 50 year old man so scared at The Ring that he had to leave the theatre. We didnít make that movie. It wasnít our intent. However, Iíve seen this thing a hundred times and I still get wrapped up in the suspense. It still makes me jump. And I know whatís coming. Thatís pretty good, in my book.
And as a comedy?
Andy - Worse than Tommy Boy, better than a lot.
Do you have any future projects baring planned?
Andy - Whoa, take it easy, man! One thing at a time. Thereís a reason I have 10 books on my nightstand with 30 pages left to read. Canít stay focused long enough. Wanna do too many things at once. Thatís something Iím trying to change. Weíll see this project through to completion and then...weíll plan the next.
Thatís me. Ask the writer.
Alex - The last year and half have been all about The Shower. From the first ideas to getting into our first festival. There's still a lot of work that needs to be done, but I'm anxious to work again, whether it's writing a new script or directing. Or both. Of those 26 scripts I've written, I do think a few of them would make good movies, so maybe The Shower will help me get them made. I'm also excited about writing another horror script. The Shower is more of a horror-comedy, and my previous attempt at the genre a few years ago was also a horror-comedy. I have a few ideas that I've been thinking about, and I'll outline them, watch movies, read scripts, and see which one needs to be written.
Anything else to add about the film?

Feeling lucky ?
Want to
search
any of my partnershops yourself
for more, better results ?

The links below
will take you
just there!!!

Find The Shower
at the amazons ...

amazon.com

amazon.co.uk

amazon.de
Looking for imports ?
Find The Shower here ...
Something naughty ?
(Must be over 18 to go there !)

Alex - Making the movie was a tough process. And I feel like it was totally worth all the agony. I think we made a fun little movie. I learned a lot. I got to work with great people. And I can't wait to do it all again. I'd really encourage anyone who wants to make a movie to go out and make one. Maybe it doesn't have to be a feature. It could be a short, or even just a scene. But write, cast it, produce it, shoot it, edit it and show it to people. Take the next step. Fear held me back for a long time. I was hoping someone would just buy one of my scripts and make it easy. Eventually, I got sick of waiting around. Probably because I was a waiter and my wife was pregnant with our second child. So whatever motivation you need, just go out and do what you want to do.
Andy - Iím not a horror guy. I mean, I love movies of all kind. All due respect to the genre, but Iím not that guy. It doesnít take up 50% of my collection. When Alex wrote this one, I thought ďWell, OK, maybe... not my cup of tea, but it could be funĒ - turns out it was! Now, looking back, Iím really proud of what weíve done. It isnít a typical slasher flick, it isnít a typical comedy or drama. It is its own animal, with a lot of personality. It is a fun movie. It has revitalized my love of the genre.
Closing comments?
Alex and Andy (in unison) - Thanks for taking the time to talk with us. We really appreciate it.
Thanks for the interview!