Your new documentary The Table - in a few words, what is it about?
The Table is a story about a group of tenacious individuals who provide support and inspiration for each other through the heartbreaks and triumphs of making it in Hollywood.
What prompted you to make the film in the first place? And how did you first learn about the actual Table? And have you ever attended a Table-meeting outside of your function as a documentary filmmaker/Are you, or have you ever been, a Table-member?
I met Table founder Marc Zicree almost 10 years ago when I produced the special features for the Twilight Zone Definitive Edition DVD. I mentioned to him around that time that I made movies on the side so Marc urged me to come check out the Table group. But I never get around to going to a meeting until 2009.
What can you tell us about the atmosphere at a typical Table-meeting?
A perfect example of the kind of atmosphere a typical Table meeting has was during the first meeting I attended. It had been a while since I made a movie and I had no intentions of making another one. The only reason I went to the meeting was just so I can tell Marc I went, and call it a day. At the meeting, hearing the Table members' projects, war stories, updates, etc. that evening got me all pumped up and reawakened my passion to make movies again. By end of that first meeting, not only did it get my creative juices flowing once again, I found the perfect subject for my next project!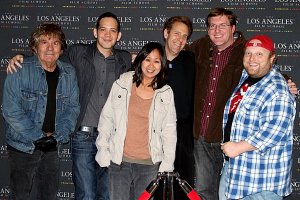 Ana Barredo, surrounded by some of the cast and crew of The Table
When doing research for The Table, you must have heard hundreds of Hollywood stories. How did you choose which to tell in your film, which one were the most endearing, and could you porbably tell some that did not make it into movie for whatever reason but are still worth telling?
I found that even more difficult than going through all 60 hours of footage I shot was selecting which ones will make the final cut. I'm hoping that when The Table comes out on DVD, we'll be able to feature these Table members in the Special Features section because their stories are just as compelling as the ones that made the cut. For instance, there's Robert Amico, a working actor/producer who decided he was going to write one screenplay a month - and has been doing it for the last 36 months! There's also Sara Jo Elice, who introduces herself as a recovering Environmental Engineer. Sara graduated from MIT with 2 bachelor's degrees and a masters degree, but decided to give all that up to become a full time actress. I also followed the making of a Table-produced short film from its inception to its premiere in LA.
The Table of course would be nothing without its founder Marc Scott Zicree. What can you tell us about the man, and what kind of a guy is he in real life?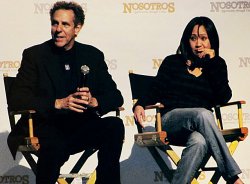 Ana Barredo with Marc Scott Zicree
I've always been fascinated with Marc ever since I met him 10 years ago. He has such a good heart you can't help but like him. He and his wife Elaine are the perfect people to run the Table group because they genuinely enjoy helping.
Are you still in touch with Marc Scott Zicree or any of the other people you have interviewed for The Table, and what has since become of some of them?
I'm still in touch with almost all the Table folks I interviewed for the documentary, thanks to Facebook. The most recent event I saw almost everyone in the same place was at Jim Troesh's Memorial in North Hollywood. It was a bittersweet "reunion" for all of us, I suppose. Leave it to Jim to make that happen. Another one of my favorite Jims is Jim Metropole, who has since become a really dear friend of mine - maybe due to our mutual love for Martinis.

Roger Lay jr, Marc Scott Zicree, Ana Barredo, Chris Wyatt discussing The Table
Has making The Table in any way altered your personal perception of Hollywood?
Not sure how to answer this. Not really, I guess. One thing I learned from this is that there's an alternative to Hollywood.
What can you tell us about audience reception so far, and when and where will the film receive a widespread release, tentatively?
The Table has screened in several venues now and the audience response has been extremely positive so far. The most common question during our Q&A is "Where is the Table meeting next Thursday?" Or, I also get a lot of "I should really finish that script I've been working on?" My goal is to make a movie that'll inspire anyone who's ever wanted to accomplish something – the same way this group has inspired me after that fateful first Table meeting I attended.
Let's go to the beginnings of your career: What got you into filmmaking in the first place, and have you received any formal education on the subject?
As much as I wanted to make movies, I've always accepted that it was a long shot, This is why I decided to major in Psychology. And of course, I never worked a day in the Psychology field since graduating from UCLA. Some back-up plan, huh? The closest thing to film school for me would be taking a 6 week directing course at the AFI weeks prior to starting principal photography for A Real Job. Then I took an 3 month extension class at UCLA in documentary filmmaking before embarking on The Table.
As far as I know, your debut feature was the romantic comedy A Real Job. What can you tell us about that movie?
A Real Job was my first attempt at writing and filmmaking. It was made on a shoestring budget of $15 K and was financed by my 2 friends - Visa and Mastercard. With the help of my friends and family, we shot this feature in 16 weekends! It went on to screen in several film festivals and got picked up for distribution by Image Entertainment. It received pretty good reviews, even garnering a nomination at the Video Premiere Awards (for Best Director). I didn't win, of course – but who cares? My little movie was up against direct-to-video features from major studios like Disney and Warner Bros. I was thrilled!
Here's a link to one of my favorite reviews for A Real Job: http://www.digitallyobsessed.com/displaylegacy.php?ID=3581
In your stock footage short The Plight of the Angelenos, you seem to in a way satirically anticipate some of the underlying themes of The Table. So what can you tell us about the short, also in relation to your documentary?
After the success of A Real Job, I really thought I finally got the filmmaking bug out of my system. Turned out, I still had a burning desire to make movies – but I was also burnt out from" traditional" filmmaking which required shooting actors, hiring a crew or renting equipment, etc. My solution was to make The Plight of the Angelenos, a 16-min short created entirely from stock footage and public domain film clips!

Feeling lucky ?
Want to
search
any of my partnershops yourself
for more, better results ?

The links below
will take you
just there!!!

Find Ana Barredo
at the amazons ...

amazon.com

amazon.co.uk

amazon.de
Looking for imports ?
Find Ana Barredo here ...
Something naughty ?
(Must be over 18 to go there !)

If there were some underlying similarities in the themes of The Plight of the Angelenos and The Table, I certainly wasn't aware of it. But I see it now that you pointed it out.
Check out my favorite review for The Plight of the Angelenos below. You might get a kick out of the LA Shorts Fest screening story I tell: http://www.pollystaffle.com/independent/plightoftheangelenos.shtml
Any other films of yours you'd like to talk about? Any future projects?
I'm collaborating with Roger Lay (co-producer of The Table) on a time travel 80's film called Auto Reverse. We begin shooting in Jan, 2012. You can follow us on Twitter @AutoReverseFilm for up-to-the-minute updates on the making of the film. Should be fun!
What made you gradually shift from narrative filmmaking to documentary, and where do you find yourself more at home?
I decided to try my hand at documentary filmmaking because logistically, it seemed to perfectly suit a nine-to-fiver like me better. Since I was a one-woman operation, it was easier to schedule interviews and go to shoots when needed. I also discovered how much I enjoy the documentary storytelling process.
Thanks for the interview!