Your new movie Le Marquis de la Croix - in a few words, what is it about?
A mysterious Marquis lives out his days, trapped in a decadent prison, acting out his twisted violent fantasies, writing about the philosophy behind them, and listening to the crowd who chants outside for his head.
To ask a blunt and maybe silly question: How come a nice girl like you makes a film like this?
What goes on in a person's interior, in the realm of fantasy, has no limits or morals or ethics. I simply tend to express mine on the outside in the form of movies.
Le Marquis de la Croix is somehow based on the writings and if I'm not mistaken also the biography of the notorious Marquis de Sade. Since there are also de Sadean influences in your other movies - what do you find so fascinating about the man and his writings? And what would you deem recommended reading by/about the man?
The narration is based on and in some cases directly quoted from the Marquis de Sade. I also took a sampling of the tortures he describes in his writings for the scenes of violence in the movie. And, yes, the Marquis in my movie is similar to the Marquis de Sade in that he's in prison writing dirty books while the crowd outside calls for his head.
Through his writing, de Sade brings a visceral violence to life. He connects these inappropriate pieces of the soul to that violence, he explains the dynamic between the victim and the monster in a way that is very complex. Emotions are complex, people are complex, and their fantasies, psyches and instincts sometimes unexplainable. He attempts to explain the unexplainable. He's a philosopher of the basest instincts, something that was continued later through other philosophers such as Georges Bataille..
I would recommend Justine to those who haven't read his books. My favorite short story of his is Eugénie de Franval. There's a movie by Jess Franco, Eugenie de Sade, based on that story, that I like very much.
Other sources of inspiration when dreaming up Le Marquis de la Croix?
I looked at a lot of etchings and illustrations from the time period and we researched music from that time as well to give the movie an auditory atmosphere. Book illustrations can be invaluable because they were considered a "low art" and are thus more connected with the popular culture of the time.
How would you describe your directorial approach to your subject in hand, also in comparison to your other films?
My goal was to bring de Sade to life in a way that channels the essence of his writings, blunt and visceral, full of a twisted romance. So I couldn't pull any punches. I needed to make the violence as true as possible while creating a sick romance within that context.
I was working with mostly acting and action in this film, there's not a lot of space, the arc of the characters, especially that of Mila, is the centerpiece here. In some instances I had to let the two characters be and do without my interference. That's also similar to what I've had to do in other films. I don't like to force a dynamic between two actors, I prefer to nurture it into being.
Almost all of Le Marquis de la Croix was shot in one single room - was this merely for budgetary reasons, and what are both the advantages and the challenges of filming on limited sets?
In portraying de Sade's life as a writer and a prisoner it was only fitting that it be a story of interiors. The inside of the prison cell also represents the interior of the Marquis' imagination.
In terms of budget, we used the same set as the dungeon in Maleficarum. We redecorated it completely and shot it Roger Corman-style [Roger Corman bio - click here].
Torturer and victim in Le Marquis de la Croix are played by your frequent partners-in-crime Jac Avila [Jac Avila interview - click here] and Mila Joya. Why them, did you write the characters specifically for them to begin with, and how did they react to the roles they were destined to play?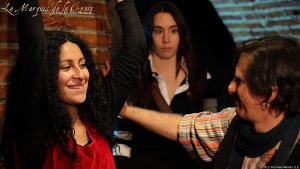 Mila Joya, Amy Hesketh, Jac Avila
I wrote the roles specifically for the two of them. Jac was excited to play the role of the Marquis, being a fan of the writings of de Sade. He was at the same time a bit reluctant to play a character who is essentially a monster so soon after playing a psychopath in Barbazul (Bluebeard). It was a challenge for him as an actor because of the heavy reliance on subtext for his character.
Mila had no qualms about the role and threw herself into it. I think for her it was a way of working on her acting as well. She really wanted to be able to bring out her scream and inner horror and go through the arc of the victim. She latched onto the subtext I gave for her character really quickly.
Mila Joya spends most of the movie in the nude and in slightly degrading positions. How do you make sure she feels comfortable enough during such a shoot - also considering of course you have been a similar situation as an actress in Maleficarum?
The movie needed to be made in that way. As her character is based on a mix of de Sade's characters, she would inevitably be placed in less than desirable positions. While the portrayal, the end product, is depicted as degrading, the acting itself was not. Mila was a good sport and we laughed constantly on the set. It's actually funny to make a movie like this because the characters are so contrary to the actors themselves.
I tend to think that it's easier for me, as a woman, to make another woman feel comfortable playing this kind of role. I've been through worse, I know how it feels, I know how to describe it and talk about it, what the woman is going through. That creates an instant communication in most cases. The actress also has to have an open mind to doing these kinds of scenes, so personality and background are big factors as well.
Le Marquis de la Croix is much more graphic and blunt in its depiction of violence than either of your previous films, Sirwiñakuy and Barbazul. How come, and which approach to violence do you actually prefer as director as well as movie audience?
The violence in Le Marquis needed to be on par with de Sade's violence; extreme, drawn out, creative. So that's what I did. I don't feel as though many directors truly want to portray de Sade's characters as they are, victims and monsters. Without that the meaning of his works is deadened. As a director I also tend to approach my violence from a psychological standpoint. The violence in each specific film is driven by the psychology of the characters. Also, if one cannot affect the psyche of the audience, the violence is simply action without meaning.
As an audience member, I tend to like really over-the-top bloody violence. The movie Audition comes to mind. There's a movie called Bottled Fools that I like a lot for the violence as well.
What can you tell us about critical and audience reception of Le Marquis de la Croix so far?
It's been great, lots of people like the movie and my uninhibited approach to de Sade. Horror writer C. Dean Andersson wrote me after seeing the movie to say this:

Feeling lucky ?
Want to
search
any of my partnershops yourself
for more, better results ?

The links below
will take you
just there!!!

Find Amy Hesketh
at the amazons ...

amazon.com

amazon.co.uk

amazon.de
Looking for imports ?
Find Amy Hesketh here ...
Something naughty ?
(Must be over 18 to go there !)

How you manage to create such subtexts beneath the obvious surface story is amazing. And you DID capture a truer feeling of DeSade's writings than any other film about him I've ever seen. His detached clinical observations combined with the intimate interactions with his victim, her hope at first that slowly fades as she realizes there is only death waiting at the end, like Justine having thought the worst was over just before she is struck dead, and while the chant of the people executing nobles hovers in the background as a noble executes one of the people… then that nicely done "don't drink that tea!" ending…
Any future projects you'd like to talk about?
I'm working on finishing two scripts right now, Olalla, based on the story by Robert Louis Stevenson, and Animal, set in the 1930's in Bolivia. I'm location scouting this month for both. I love location scouting because when I find the right place, my characters come to life. Like Pinocchio.
Your/your movie's website, Facebook, whatever else?
http://www.facebook.com/lemarquismovie
http://www.facebook.com/amyhesketh
http://twitter.com/Amy_Hesketh
Thanks for the interview?