Your new movie The Voices - in a few words, what is it about, and what can you tell us about your character in it?
After a devastating breakup with her fiancť, Grace (the character I play) seeks refuge with her sister at their familyís secluded cabin. However, while there, Grace discovers her sister, Catherine, is suffering from paranoid schizophrenia, much like their late mother. While coming to terms with this heavy realization, Grace also begins to question her own sanity. In the process, Grace uncovers another secret that leaves her struggling to save herself and her family. The lines between reality and dreams become increasingly blurred for Grace and it is an intense struggle for her to find her way out of the chaos.
What did you draw upon to bring your character to life, and how much Amanda Markowitz can we actually find in Grace?
We all have experienced vulnerability, including myself, and I have certainly questioned my own sanity at times. I have also had moments in my life where Iíve had to question my own sanity for reasons that most certainly go outside the realm of this interview, hah! But it helped me to understand how easy it was for Grace to go down such an emotional rabbit hole. Grace is searching for love and answers and validation, things I think a lot of people look for, including myself. And in that process, things donít always go so smoothly. The difference is that Graceís circumstances are incredibly heightened.
I spent many months working on this character. I wanted to fully step into her life and become Grace, which was incredibly challenging to shake off after filming. Even after production was over, Grace stayed with me for probably another year, and in some ways is still with me. This was the most challenging role I have ever played. I chose to dive deep into her psychosis, which made my performance very real, but also made emerging from her very difficult. Like Grace, it was hard for me to differentiate reality from non-reality, but in my case, it was the difficulty of differentiating my own reality as Amanda from the imagined reality of Grace.
How did you get involved with the project in the first place?
I have worked with Andy Wizenberg, Bradley Fowler and Victoria Matlock many times before. Together, we are Three Tales Productions. Our first feature was Love Meet Hope, which I starred in with Bradley Fowler and Ed Asner. Bradley specifically wrote The Voices for me and Victoria to play the incredibly challenging and nuanced characters of Grace and Catherine. When I read it, I was beyond excited (and somewhat nervous) to take on this film, both as an actor and producer. Ultimately, I am very proud of what we made. We work incredibly well together and I am grateful for everything we brought to the table individually and as a team.
To what extent could you actually identify with The Voices' horror theme?
Throughout the film, Grace doubts herself and has a lot of fear about her future. I think we all have similar doubts and fears that parallel what she is going through when she first arrives to her sisterís cabin. She is at a point in her life where she is feeling lost, struggling with her new identity, and searching for answers, which is a place I have certainly been in before. Horror movies may be heightened circumstances, but they are still about real people with real problems. Additionally, since filming, I now have a daughter and I can deeply understand why Grace was so worried about whether or not she would be a good mother. It was definitely something I thought about while I was pregnant. Turns out, I am a great mother! Phew!
What can you tell us about The Voices' directors Wesley Alley [Wesley Alley interview - click here] and Bradley Fowler, and what was your collaboration like?
When we first hired Wesley, it was going to be the first time he directed a feature film, as well as our co-director, Bradley Fowler. However, they were both very eager and seemed to be excited to collaborate. Bradley had written the script so he knew it very well and it was clear that Wesley had a real grasp of the script and was going to bring a lot to the table, particularly from a technical standpoint. Bradley and Wesley would be co-directing and they immediately were on the same page. Their skills also balanced each other out very nicely. Wesley brought a lot of experience of the technical aspect of filmmaking, while Bradley brought his experience of the acting side. Our production company, Three Tales Productions, prides itself on working collaboratively and I felt at ease while on set, Bradley and Wesley seemed to divide and conquer as well as collaborate efficiently and effectively. Because there were two lead actresses, myself and Victoria, it also helped to have two co-directors, so that one of them was always available to each of us in between takes and throughout the process.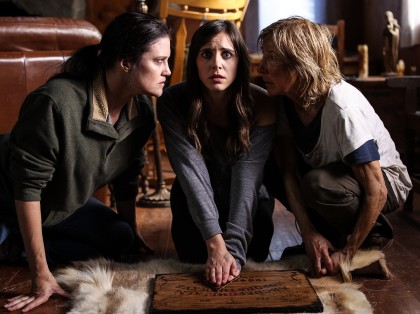 Do talk about the shoot as such, and the on-set atmosphere?
It was a very collaborative set. It really was a set where we all balanced each other out and supported one another through it all. Everyone who was there wanted to be there. Many of the people involved were friends who we brought on from past projects that are extremely talented and everyone we worked with for the first time turned out to be incredible team players with such a high level of talent. I feel so fortunate to have worked with the team we had! It is because of the combined efforts that we were able to create a low-budget independent film with such a high production value. I am particularly grateful to the crew members, who worked so hard and kept incredibly positive attitudes throughout long hours and challenging situations Ė I feel now is the part where I should mention we filmed on suspension bridge that was 100 feet long and constantly swinging high above a fast-moving river. Thank you, incredible cast and crew! I would love to talk about each and every one of you, but this article would go on forever. I hope you know that this project wouldnít be what it is without each individual that was involved. I am particularly grateful to Andy Wizenberg and Christopher James Fechser who were always there to help so that Victoria, Bradley, Wesley and I could focus on the acting and directing. I also want to give a special shoutout to our director of photography, Ryan Patrick McCoy. His positive attitude, creative input, and hilarious sense of humor really made such a difference in the filmmaking process. However, while we definitely had our fun and fair share of laughs, the overall atmosphere was needed to be quiet and serious due to the subject matter. There were various times where I asked for silence because my character required such a state of intense psychosis and everyone was very respectful of that.
Any future projects you'd like to share?
It is a bit of a strange time right now and most everything is on hold. However, I do have projects in post-production and hopefully will have more to come soon as both a producer and actor. Keep looking out for me on social media (see below) in order to see whatís next!
What got you into acting to begin with, and did you receive any formal training on the subject?
I am from Los Angeles and grew up acting from a young age. It was obviously a lot for my parents to constantly take me to auditions and sit on set with me while also having full-time jobs, so I decided to continue acting in school when I could. However, upon high school graduation, I ended up taking a different path Ė I decided to go to college at USCís Marshall School of Business, an education I am incredibly grateful for. Upon graduation, I was recruited to a prestigious program at a great company. While there, I realized how much I missed acting and ultimately left the program to pursue acting full-time, immediately enrolling in classes. I spent a majority of my formal training with Howard Fine and Margie Haber, two incredible teachers who will forever have my gratitude and respect. Somewhere along the way, I started getting frustrated by struggling to open doors. I decided that I wasnít going to wait for someone to open the door for me and that I would instead build my own door and burst through it. Thatís when I met Bradley Fowler Ė he was a one-day guest teacher at my acting school Ė and it was absolutely perfect timing. We immediately loved working together. After class, like a crazy person, I ran down the street chasing him and told him that we had to work together. Cut to meeting at a coffee shop and starting to write a webseries, which ultimately turned into our first feature film, Love Meet Hope, that we starred in and produced together. Our production company, Three Tales Productions, was born, run by myself, Bradley and Andy. Victoria soon joined our team and we have been working together ever since. I am proud to have produced a variety of feature films and short films during my time as a producer thus far. I am both creative as well as academic, so producing ended up being a great fit for me. It has allowed me to create stories I want to tell, while doing excel spreadsheets (which I love Ė nerd alert) and following my passion of acting at the same time.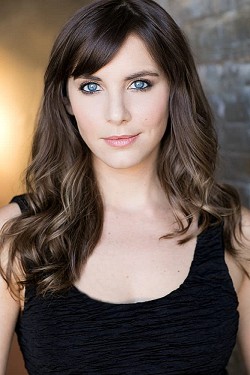 How would you describe yourself as an actress, and some of your techniques to bring your characters to life?
To me, acting is living. Everything I have actually lived through and everything I am as a person always shows up in my work. My characters are an extension of myself, just in different circumstances. I always want to give an honest performance and breathe life into these characters in a way that makes them a completely nuanced person, as people are in real life. People are many things, and characters are no different. As I did with Grace, I tend to fully immerse myself into my roles, which is Meisner-based (some may call it Method, but that tends to scare people, so letís go with Meisner). I also draw from my own experiences, due to my foundation that is based off of Uta Hagen, focusing on substitution, specificity, and authenticity. Additionally, I spent years studying improv, which is incredibly useful as an actor. I always like to have different acting tools in my metaphorical toolkit, which is what I was taught to do, and I can pull one, or multiple, out as needed. Ultimately, I think each role calls for a different approach and combination of tools, but in The Voices, it was primarily Meisner-based.
Actresses (and indeed actors) who inspire you?
I am going to take this question back some years. I grew up as a HUGE Lucille Ball fan. She was groundbreaking Ė a powerful woman yet still vulnerable, utterly hilarious, full of tenacity, completely committed, a tad mysterious, and spunky in every way possible. She created some of the most memorable moments in film and television history. She had a big impact on me and is likely the reason I wanted to be an actor. She will never cease to make me smile. And little known fact Ė Lucy was the first woman to portray a pregnant woman while actually pregnant, something I found difficult to do even in todayís world. And when I finally booked a pregnant role while actually pregnant, I got to channel my inner-Lucy. She was a working mom, something rare for the time, and still challenging to do. Lucy was and still is a boss babe, and everything I aspire to be. Without a doubt, Lucy inspired me deeply and continues to inspire many people all these years later.
Now, letís bring it back to present day. As cheesy as this sounds, because she is actually in this film with me, Lin Shaye has been a huge inspiration to me. Because I know her personally, the way in which she inspires me is deeper than someone I donít know. Lin has become family to me. We clicked from the moment we met on set. I immediately felt I could divulge everything to her and she has since been a constant source of encouragement. She has taught me to take ownership and power as an actor in a way I realized I had never done before. I used to doubt my choices and crave validation, but because of her, I know that I can give that to myself. It still doesnít hurt to have some validation, but I donít need it. Not only is she a talented actress who dives deeply into the mind of her characters, but she is also a wonderful person who holds so much knowledge and experience. I am beyond grateful to have her in my life. She is an inspirationÖ and also now an Emmy award-winning actress!
Your favourite movies?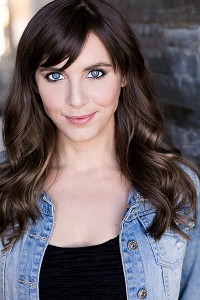 Feeling lucky ?
Want to
search
any of my partnershops yourself
for more, better results ?

The links below
will take you
just there!!!


One movie that always comes to my mind is Life is Beautiful. I am the granddaughter of four Holocaust survivors, which has shaped who I am today. My grandparents lost a majority of their family in the camps. I feel this particular film truly explores the nuances of the circumstance in such a unique way. It is a tragic moment in time, but the film is filled with comedic moments and beautiful imagination. It shows these people as real people, capable of a variety of emotions and experiences, and it is not just the tragedy that defines them. I love when films arenít just one thing, because life isnít just one thing. It is messy and complicated and full of conflicting emotions. In dramatic moments, we can still find the comedy, and in horrific times, there can still be romance. Those are typically the films that really impact me.
... and of course, films you really deplore?
I actually canít think of a movie I absolutely deplore. I tend to find something in every story that I enjoy. Iím a pretty easy to please critic and tend to not put down other peopleís work. There is a reason they wanted to tell that story, even if I donít understand it, and I have to respect their process and creation. Making a movie is really hard work and once you make one, you really understand that. Itís a feat just to make a film and I canít put down someoneís hard work. So, Iím not going to publicly call anyone out. Sorry to disappoint!
Your website, social media, whatever else?
You should be able to find everything you need at these sites, including even more links if you want to continue to find out more!
www.instagram.com/amandamarkowitz
Thanks for the interview!