Your new movie Trouser Snake - in a few words, what is it about?
Trouser Snake is exactly what you think it is! It's a comedic send-up to 1950s creature features, but the monster is a mutant penis.
With Trouser Snake being inspired by 1950s creature features - could you at all elaborate a bit on that?
While a movie about a penis monster is funny enough, I thought a movie about a penis monster set in the 1950s would be even funnier. A lot of modern horror movies are throwbacks to the '80s, which I love, but I wanted to do something a little different. The '50s, when sex was so taboo and monster movies were rampant, seemed like the perfect fit.
Other sources of inspiration when writing Trouser Snake?
I wanted to capture the style and essence of the '50s without setting it in an exact time or place and without directly referencing any previous films. To get myself in the mindset, I watched some of my favorite monster movies of that era, like Creature from the Black Lagoon, The Thing from Another World, The Blob and Them, along with Leave it to Beaver.
What can you tell us about your co-writer James Cilano, and what was your collaboration like?
James is one of my best friends. He's a really talented musician, so I had him score my first short, The Horrors of AutoCorrect. He did a great job, but it was apparent his creativity extended beyond the musical realm. He and I got together for a few days of writing, during which we came up with several short scripts and treatments. I believe Trouser Snake was the final one we wrote. I pitched the idea to him, and he agreed that it was just so dumb it could work.
I really enjoy working with James, because we have similar tastes but are not afraid to challenge one another in order to come up with funnier lines, scarier scenes and better scripts. I'm sure there will be more collaborations between us in the future.
Do talk about Trouser Snake's brand of humour for a bit!
Trouser Snake's humor is, naturally, sophomoric. I enjoy dry humor and clever wit, which I tried to incorporate into The Horrors of AutoCorrect, but sometimes there is nothing funnier than a good dick joke. While that plays a big part in it, there's some non-penis-related humor as well.
You of course also have to talk about Trouser Snake's titular creature, and how was it achieved?
The Trouser Snake was created by Jordan Pacheco, a good friend of mine who is an amazing special effects artist, as well as a talented filmmaker [Jordan Pacheco interview - click here]. Jordan is actually a large reason as to why the short happened. I had mentioned the concept to him on the set of a film we were both working on, and he told me he would do it as long as I credited him as the Trouser Snake. A few days later, out of the blue, he sent me a picture of the Trouser Snake sculpt. If he hadn't been so enthusiastic about it, I probably never would have made it.
There were three Trouser Snakes created for the shoot. One was essentially a prop filled with stuffing that could be tossed around, another was a hand puppet that had the ability to open and close its mouth, and the third was attached to a super soaker so it could "spray." It was Jordan's first creature, and he knocked it out of the park.
What can you tell us about your cast, and why exactly these people?
Casting on this one was funny, because I had to approach these talented actors who I deeply respect with a script about a penis monster. Thankfully, everyone was game. I also cast my 12-year-old cousin as the little sister; it was an interesting experience to ask her parents about their child appearing in a movie called Trouser Snake. Luckily, my family shares my sense of humor.
Both the lead actors - Alexander Gauthier and Jamie Lyn Bagley - were last-minute replacements when previous actors had to drop out, but I couldn't be more pleased about that happy accident. They both deliver performances far better than a movie called Trouser Snake deserves, and they're extremely fun have on set as well.
Do talk about the shoot as such, and the on-set atmosphere!
Needless to say, the atmosphere on set was a lot of fun. The jokes were endless, but everyone was serious when they needed to be. I had a very small but dedicated crew, many of the same who worked on my previous short. We've all done several projects together, so whenever we get together it's like a little reunion.
We shot for three days. The first day was all of the indoor scenes, which went really smoothly. The second day was the car scenes, which was cool because we had a guy who was nice enough to let us use his genuine '50s car. The final day was inserts with the creature, which was actually the toughest. Thankfully, my three main crew members - J. Poisson [J. Poisson interview - click here], John Mosetich and Jordan Pacheco [Jordan Pacheco interview - click here] - are all accomplished filmmakers themselves, so we were able to work out any kinks and come away with something I'm proud of.
The $64-question of course, when and where will your Trouser Snake be released onto the general public?
Trouser Snake recently had its premiere at the Boston Underground Film Festival, which was a blast. To finally see it on the big screen with a receptive audience was amazing. There may be a couple of other theatrical screenings in the near future as well.
Beyond that, it should be online in the spring. I can't say exactly when or where yet, as I'm not 100% sure myself, but I will certainly let you know.
Anything you can tell us about audience and critical reception of your movie yet?
The Boston Underground premiere was great. We played first in a block of locally-produced shorts, which was an honor in itself. BUFF is my favorite film festival; not only is the line-up always great, but the audience that attends really understands and appreciates these weird movies.
Any future projects you'd like to share?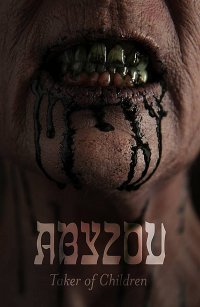 Feeling lucky ?
Want to
search
any of my partnershops yourself
for more, better results ?

The links below
will take you
just there!!!

Find Alex DiVincenzo
at the amazons ...

amazon.com

amazon.co.uk

amazon.de
Looking for imports ?
Find Alex DiVincenzo here ...
Something naughty ?
(Must be over 18 to go there !)

I'm currently producing a feature titled Abyzou: Taker of Children - https://www.facebook.com/AbyzouTakerOfChildren/ -, which is written and directed by Jordan Pacheco [Jordan Pacheco interview - click here]. It's a possession movie based on a real demon from Hebrew folk lore. We're blending a modern style with old-school special effects to create something scary. We're really excited with the footage so far.
I recently made a faux-trailer called Cybershock 1999, which plays as part of the prolific Richard Griffin's latest horror-comedy, Seven Dorms of Death [Richard Griffin interview - click here]. As a lover of campy '80s slashers, it's seriously one of the funniest movies I've seen in a long time, and I'm so honored to be a part of it. My trailer is a take on the cheesy post-apocalyptic movies that came along in the '80s in the wake of Mad Max, Escape from New York and The Terminator.
While producing Abyzou: Taker of Children and working on filmmakers' projects is currently taking up the majority of my time, in the back of my mind I'm trying to figure out my next short. I'd like to do a sequel to Trouser Snake sometime, but first I want to do something that's straight horror.
Your/your movie's website, Facebook, whatever else?
You can be the first to know about the release of Trouser Snake and stay up to date with all of my movie work on the Grimbridge Productions Facebook page at facebook.com/grimbridgeprods. You can also find me on Twitter (@alexislegend) or Facebook (alexdivincenzo). I also run BrokeHorrorFan.com, where I share cool horror merch I can't afford and ramble about movies I love.
Anything else you're dying to mention and I have merely forgotten to ask?
I'd like to thank you again for taking the time to speak to me about my silly short. You have been a supporter since the beginning, and it really means a lot.
Thanks for the interview!