Your film Invasion of the Not Quite Dead - in a few words, what is it about?
Invasion of the Not Quite Dead is a planned horror trilogy thats a unique take on the ZOMBIE genre, we will be taking horror back to when it was believable & scary, so there will be NO CGI gore or explosions, if it's not do-able, we won't be doing it...
You have decided to rely entirely on fan-funding to get the budget for your film. Why, and how is funding coming along?
It has always been important to me that we make this a personal movie, personal to the horror community, for over 2 years I hit nothing but dead ends, no one cared about my movie to fund it, but in 2009, the horror community over on Twitter all stood up & said, yes, we will help you, and that means a hell of a lot to me, & no matter what & no matter what offers end up on the table, I will keep this movie project 100% fan funded, no outside interference, so thats how it came about, and since using Twitter to fan fund since May 09, we have had over 1100 people from 27 different countries donate, with over £45,000 raised so far, we are currently in the process of re-launching our main website in the hope that it will help increase our fundraising capabilities...
Invasion of the Not Quite Dead film has received endorsement from quite a few prominent names. How did that come about?
Over the past few years we have been endorsed by a lot of big names from the film industry, and 9 times out of 10, it's been because they have come across our project on Twitter, the most recent people are Emilio Estevez, Tim Roth, Gale Anne Hurd, Carl Weathers, Andrew Ellis... The support coming in for the project has been incredible...
Over the years, there have been countless zombie movies. What sets Invasion of the Not Quite Dead apart from the rest?
I am a huge ROMERO fan, his first 3 zombie movies are the BLUE-PRINT for any zombie filmmaker, but over the years we have been flooded with ZOMBIE movies, most of which are unwatchable, most companies that make these movies are NOT zombie fans, they just seen MONEY from an easy genre, so, with this in mind I find that the best POST ROMERO zombie movies are those that are done by TRUE fans of ROMERO & filmmakers that have put there own spin on the genre, like for example, Shaun of the Dead, Return of the Living Dead, 28 Days Later, Resident Evil, to name just a few, I am hoping that my NEW spin on the genre will also help it to stand out from the overly crowded zombie movies...
Is the zombie movie a genre especially dear to you, and your genre favourites?
It is... Some of my earliest film watching memories include watching Night of the Living Dead & Dawn of the Dead, these are timeless classics, and my biggest inspirations to make my own ZOMBIE movie, it's way too easy to just copy someone else's work, which is why I spent over 3 years developing my own script for Invasion of the Not Quite Dead...
How did you come up with the ingenious title Invasion of the Not Quite Dead in the first place, and how does it relate to your zombies?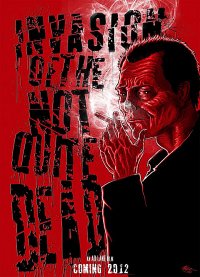 Well, basically, when I first began promoting the project back in 2006, I was in my final year of university doing a film degree & I managed to get the official Newport Uni press officer on board & he began helping me promote my project, he was the guy who said, if you're going to promote this film project, then you best come up with a film title that's catchy, so that evening I wrote down 4 titles & went around my film campus & just gauged everyones reactions - Invasion of the Not Quite Dead was the stand out winner, making everyone laugh or chuckle who I said it out loud to, so I knew that was the one, then a few months later, I had a very talented illustrator design the poster, which has a smoking zombie, which is a perfect combination to show off that this film is something a little bit different, so much so, you can't really tell, if its a comedy, horror, or somewhere in between, there is a lot of mystery behind the movie...
What were your initial inspirations to write Invasion of the Not Quite Dead?
I have a few favourite movies that inspired me when I wrote Invasion of the Not Quite Dead, they are: Invasion of the Body Snatchers, Dawn of the Dead, The Thing, An American Werewolf in London & Return of the Living Dead - when I began writing Invasion of the Not Quite Dead my main goal was to write my all time potentially favourite movie, keeping in mind all the things that excited me about other movies of the past, so essentially, Invasion of the Not Quite Dead is my favourite horror movie that's yet to be made...
From what I've read, Invasion of the Not Quite Dead has some comedic aspects about it. How would you describe your brand of comedy?
The script so far does include a few bits of dark comedy, more in the tradition of An American Werewolf in London, that's a movie that doesn't overdo the comedy, in fact, the comedy you do get makes the horror that much more scarier...
You plan to turn Invasion of the Not Quite Dead into a trilogy, right? Would you like to elaborate on that?
Yeah, its a planned trilogy, I have enough ideas to make this into a really cool franchise & best of all, each new film will answer more questions, which I think is a great way of storytelling, and it keeps the fans excited, not all films should be popcorn for the brain, sometimes it's cool to learn more with each movie in a franchise, it worked for the Saw-movies...
As far as I know several scenes of Invasion of the Not Quite Dead have already been shot. What can you tell us about the footage so far?
Earlier this year I took a small crew to Bulgaria to film some of the INTRO sequence, the footage we got was incredible, but we encountered a hell of a lot of problems, with us trying to keep costs to a bare minimum, it meant relying on a lot of favours, some things went perfect, other things couldn't have gone any more wrong, this will make interesting viewing for the MAKING OF, but trying to make a movie that's quite ambitious on next to nothing is very hard work, but the main thing is what we came away with, and we came away with some amazing footage...
What can you tell us about Invasion of the Not Quite Dead's projected cast?
Currently attached is FRANK JAKEMAN (Breathe), ZACH GALLIGAN (Gremlins), HOLLY MATTHEWS (Waterloo Road), ANDREW ELLIS (This Is England), TERRY STONE (Rise Of The Footsoldier), SAPHIRE ELIA (Emmerdale)...
The $64 question of course: When and where will the film be released?
I will be self distributing Invasion of the Not Quite Dead in the UK, on CINEMAS & on DVD & on DOWNLOAD, the rest of the world will be open to offers, so hopefully a few international film festivals & markets will help get us international distributors... the way things are moving now, it's looking likely to be 2013 when the movie will be completed & ready to be shown publicly...
What can you tell us about your filmmaking experiences prior to Invasion of the Not Quite Dead, and how did you get into filmmaking in the first place?
I have been filmmaking for over 18 years off & on, making music videos, short films, documentaries etc, this is my first go at making a feature-length movie. Since leaving school, I have been excited about what it takes to make films, it has pretty much consumed my life, but it's only been in the last few years since doing a FILM degree at the International Film School Of Wales, that I would say I became a professional filmmaker...
Any future projects beyond Invasion of the Not Quite Dead?
We do actually have a few other projects in the pipeline, 3 more features from different genres, a WEB-TV-series & a feature length documentary called Wheatus, You Might Die, & that's actually 70% complete as we speak, this will be released in 2012...
Directors who inspire you?

Feeling lucky ?
Want to
search
any of my partnershops yourself
for more, better results ?

The links below
will take you
just there!!!

Find AD Lane
at the amazons ...

amazon.com

amazon.co.uk

amazon.de
Looking for imports ?
Find AD Lane here ...
Something naughty ?
(Must be over 18 to go there !)

Steven Spielberg, Robert Zemeckis, George Romero, Martin Scorsese, John Carpenter, Wes Craven, PT Anderson, Paul Verhoeven...
Your favourite movies?
Back to the Future, Dawn of the Dead, Invasion of the Body Snatchers, The Aviator, Empire Strikes Back, The Thing, The Lost Boys, 2001: A Space Odyssey, A Clockwork Orange & many more...
... and of course, films you really deplored?
Rather than name & shame all my WORST movies of all time, let me just say, any movie that uses poor CGI gore & CGI explosions, any film that you watch & enjoy, then a poor shoddy CGI sequence just takes you out of this makebelieve world, & puts you off wanting to continue...
Your website, Facebook, whatever else?
http://www.indywood.co.uk (Fan Fundraising Site)
https://twitter.com/indywoodFILMS (Twitter)
Anything else you are dying to mention and I have merely forgotten to ask?
Only that I am proof that if you believe in something & have a dream, then, you have the power to make it happen, so to anyone reading this interview, please, NEVER give up on a dream you have, this is the year of the dreamer... let's make our dreams come true...
Thanks for the interview!