Your new movie Painkillers - in a few words, what is it about, and what can you tell us about your character in it?
Painkillers is an elevated horror/thriller that some people are also calling a vampire movie, because of the lead characterís eventual blood lust that comes into play in the film. But it is unlike any vampire movie weíve seen, because it treats a form of ďvampirism" as a real malady that a person can be stricken with. I play John Clarke, a skilled cardiothoracic surgeon who gets into a tragic accident driving his son home from soccer practice. When John awakes in the hospital, his wife tells him that their son didnít survive the crash. He is immediately overcome with an intense psychosomatic pain and shaking that wonít let up, leaving himself, his wife, and experts in the medical field baffled. With no choice but to return to his home, John is forced to accept this as his new normal, as well as deal with the grief of losing a child. When an incident occurs at home after a fight between John and his wife, Chloe, John cuts himself on broken glass, and when he brings his hand to his mouth to stop the bleeding, the pain and the shaking suddenly ceases. John hides the fact that blood seems to be the only thing can ďheal himĒ and it turns into an obsession, as he seeks a permanent cure for his pain. The movie then takes an even darker turn, and we start diving into the deeper themes of the film, where we explore addiction and coping with grief, and the lengths we may go just to feel human again. And it begs the question, at what point does going to any length to live and remain ďhuman", perhaps make you inhuman?
What did you draw upon to bring your character to life, and how much Adam Huss can we find in John?
Well, we all have dark sides to our personality, donít we? Dark sides that we hide from the rest of the world, or perhaps choose to not entertain, for the sake of our own moral codes. Iím not saying we are all evil by nature by any means, Iím primarily led by my heart always in life, and if there is one thing I can say I fully trust and am confident in, it is the good nature of my heart. But in life, the short cut or the easier way is sometimes not the most moral. And I, myself, live by a strict moral code. I make a choice to be a gentleman and do things with integrity and act from my heart. I believe that is who John is at the start of the film. Now, we donít see much of John pre-condition in the film, but I believe he was always a bit of a control freak perfectionist. He was the best at everything he did. Best in his class, best in his medical field, makes the most money, had the best house, and the best car, everything looked perfect on the outside. But he is failing when it comes to slowing down and acknowledging the love in his life. From his wife and his child. The most important part of life. Until it is too late. When John is stricken with this disease, everything in his life is now out of control and beyond anything he can do to get it all back to the way he is used to. And while it is the worst thing that has ever happened to him, it also becomes this moral trial. After he has now lost everything, does he choose love, fighting for the love that is left in his life, over being back in control of his life and the way that it used to be? We then see his journey as he makes that choice. And that is how I was really able to relate to John. Iíve always liked to have things ďin orderĒ, let's say. And I also have always been a huge believer in love beyond all else. So I imagined what I would do if I was faced with something like this. What part of me would win out? And I let my imagination take it from there. I learned a lot myself from playing this character, and a year later, I was in a similar situation where I got injured, and had to have a back surgery, that had me out of commission for almost a year, and I thought of John Clarke a lot. And how he had to re-evaluate all that he was and how he did things. Of course it wasnít as EXTREME, there was no blood lust involved, but I could relate to feeling out of control and really understanding what is important in life and what we really need to wake up and just be grateful, at the end of the day.
John suffers from quite an unusual condition that among other things makes him shake all the time - so how did you prepare for the role, and what kind of physical strain is it to play someone in permanent shakes?
Yes, he sure does suffer, and after this film I did too! HahaÖ I am joking, but I donít think I even knew how exhausting taking on this role would be. I mean, I had an idea. As I said, I read the script and knew I needed to play John. But once I was offered the role, I remember I was like, "what the hell am I thinking?!Ē Because I then realized the physical challenge that lay before me. Iím always up for a challenge, but I was really grateful that I had Roxy [Roxy Shih interview - click here] as my director. Because she and I were able to find the levels of the shaking together and where it had to come from to be authentic. We didnít have much time, because I was cast a week before we started shooting, but we got together as much as we could and worked on it. What I discovered was the shaking had to come from my core, and reverberate from there. Eventually, the arms would shake, then the hands, so it didnít look fake. If I just tried to shake the hands, it didnít look or feel real and it took me right out of the scene. Before takes, I literally had to spend time shaking for a few minutes before we shot to keep it up through the takes and I had to continue it throughout the whole shoot day, so you can imagine how exhausting that would be at the end of the week!
Roxy and I also discussed the malnourished look that John should have, because he does wind up being close to how a strung out addict would be, physically and mentally. I wanted to feel that as much as I could, especially with only having a week before shooting. So I was eating very little and I stopped working out. Now, Iím a guy who works out every day, so Roxy suggested that I stop, to help me loose any sort of healthy, bulkier look, and it sure did work! Toward the end of the movie shoot, I was so gaunt and tired looking and skinny and we had to shoot all the healthier looking beginning of the film scenes! Thank God we had a great makeup artist in Veronica Rodarte, because she helped me look half way normal.
How did you get involved with the project in the first place?
Cambria Hankin is a casting director that cast me in a few other films, and from those films we developed a good rapport. When the role came across her desk, she knew that I was the man for the job, her words not mine. We had also gotten to know each other as friends, and she knew me to be this vulnerable guy and thought I would relate to the material, which I immediately did. I have to really give it up to her for that, because not all casting directors take that time to get to know someone and think beyond what theyíve seen them do in their body of work as an actor, based off what they get to know and see in them as person. I love these kind of roles and hadnít had the chance to get cast in them yet. So I really thought it was awesome that she saw that in me as a person and took it into consideration enough to fight for me to get seen for the role.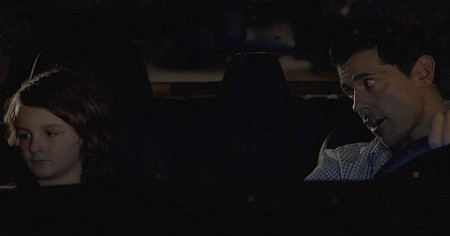 Then, when I read the script, I knew it was a dream role. The layers that were in there, the themes that were being explored. I needed to play this part. Now, I never had to audition per se, but I was asked to have a phone call with the director, Roxy Shih. And we hit it off right away, I can say with confidence. I really loved that Roxy wanted to talk to me and break the script down with me, and my take on John. It reminded me a lot of how I hear one of my other favorite directors David Lynch casts his projects. If he feels the person has the essence and understanding of the character, AND they jive together well on the phone, he usually hires them. So, I just spoke from my heart with Roxy, and being a heart person herself, she did the same and we connected. And the rest is Painkillers history!
What can you tell us about your director Roxy Shih [Roxy Shih interview - click here], and what was your collaboration like?
I adore her. I trust her so whole heartedly. I just explained above how we connected on the phone immediately, but then on set, it was like working with a skilled conductor. Especially when it came to this film, with the shaking and the levels of that and the pain, and keeping it subtle and real. Like I mentioned above, Roxy and I only had a week to work together once I was cast, being an independent film and all, but we found those levels together and the language to communicate within all of this sensitive material by working together and meeting as much as we needed to. In between all of her prep as a director, and my own private process as an actor. We also worked together with her surgeon friend, teaching me some quick skills, suturing a banana peel, which sounds so funny, but helped to put me in this mind set of a perfectionist surgeon who has done this for so long and is the best at what he does. I wanted to feel competent in that, and capable, so when I ďlost itĒ all as John Clarke, I could feel the sting of that, and the weight of that. Would we have wanted more time, of course, but when you donít have the luxury of that, your mind and your body almost force themselves to rise to the occasion to do what they have to do, mentally and even physically to trick themselves into believing all of these things. Especially if you stay sharp and hone your skills on the down time, when you arenít working, filming or doing a play or whatever. Also, Roxy aims for authenticity and perfection too, so it helped to pull from that energy and to acknowledge that we have that same work ethic. Because we knew how far we are both willing to go in the name of authenticity. I always say to any director that I have an open dialogue with, and who I trust and who isnít throwing their own ego around, but is in it as a group effort to make the best project possible, push me as far as you need me to go! If youíre not getting what you need, know that I can go there. Just do what you have to! And with Roxy, I knew I could say this and that wouldnít be abused, but only used in the best way for us to get where we needed to be for the integrity of this film.
Do talk about the shoot as such, and the on-set atmosphere?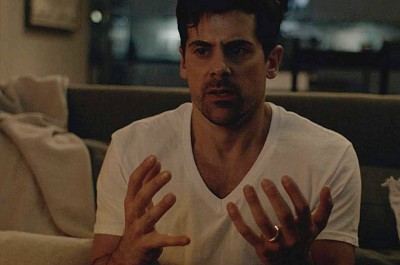 The shoot was amazing. Everyone from our awesome producers, to our amazing director, to our uber talented cast and crew, were all in it to make something great and collaborative and that really makes all the difference. Because you feel like everyone has each other's backs! And everyone is working hard toward the same goal, to make a great film that people will remember. I really believe that starts at the top. Luke Barnett and Vincent Masciale, our on set producers from Lone Suspect, are two of the kindest producers Iíve ever had the privilege of working with. They get it done, but they do it with respect for all involved, and with a great attitude. Then thereís Roxy, who has a great work ethic, like I have mentioned, but is such a fun, endearing character in between takes, you canít help but smile even as youíre shaking like a leaf and putting yourself through torture. I really do believe those attitudes, that start at the top, trickle down and create the rest of the vibe on the set. And it also makes everybody want to work hard and happy. We only had a week with Giles Daoust from Title Media, who produced and wrote the film, but he was so positive on set and nurturing as well. He also had such a sense of gratitude on set, at seeing his work come to life the way he envisioned it and he expressed that, which helped me as an actor have more confidence in what I was doing. I appreciated that.
Any future projects you'd like to share?
I am in rehearsals for a world premiere play that opens in March at the Zephyr Theater in Los Angeles and I'm also currently working on producing a movie I wrote called Let It Kill You, which is an elevated horror same sex love story that uses the werewolf myth as a metaphor to show the silent hypocrisy that exists in America even today, against anyone or anything that is different. It has elements of Frankenstein, where it begs the question, who is the real monster of the story, while still being a no-holds-barred fun, scary, and terrifying ride!
What got you into acting in the first place, and did you receive any formal training on the subject?
I always loved playing pretend as a kid, and especially based off of whatever show or movie I was watching at the time. I had an older and younger brother, and between the three of us we were exposed to everything from horror films, to cartoons, sitcoms, dramas, you name it. And I ate it all up, then ran around trying to get everyone to act them out with me. I have a huge extended family, my dad being one of nine kids, so I would write out scripts and recruit all my cousins into making little movies and plays. It was a blast, and I knew there was nothing else I wanted to do with my life!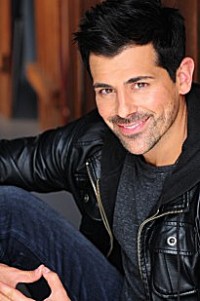 After I realized I had the bug, I then realized I needed some training. My elementary schooling only offered plays, and usually musicals, so I found my way into those and by senior year was playing the leads and learning how to sing and dance. Once I went to college, that was when I really began learning what acting was all about, studying with different teachers who taught Meisner and Stanislavksi. But it really was this one teacher, who was originally from Julliard, Gene Lesser, that kicked my ass but good! He taught us that if we had any hangups, get yourself in therapy, work it out, but get rid of them and donít bring them on the stage or set, because no one wants to see that, or your insecurities. We want to see the work, unabashedly, fearless, brave work! And that really began my journey into working on myself in those ways, and reading great plays, and taking part in all I could to hone my craft, and get better and better at what I wanted to do. I am still learning every day. You canít get lazy, that is for sure. And you canít sit around and get stale, or stuck. Otherwise, time to hang it up!
What can you tell us about your film and TV work prior to Painkillers?
I started out doing a lot of indie films, because I wanted to work. I moved to LA, having only that theater experience that I just mentioned, and I wanted to get on set and learn the ropes. I wanted to know what it meant to hit your mark, and find your light, and also how to act for the camera, because it is much different than acting on stage. And I wanted to be prepared for the big leagues, so I wouldnít lose my cool once I stepped foot on the professional sets. Some of my best experiences to date have been on those indie films, but yeah, that is how I really cut my teeth. I was lucky enough to fall in with some talented directors who are still coming into their own, and they would use me a lot or recommend me to other filmmakers. I got more confident in my abilities as an actor the more I just threw myself into it. Sometimes I fell flat on my face, but I kept learning from every experience, as I still do today.
My biggest break came on the Starz show Power, in 2013/2014. I had worked so hard to be ready for the bigger leagues, and when that role came up I was in a place where I felt ready for it. i didnít have any connections, I just auditioned like everyone else and made it through the VERY LONG process of finally being tested, then cast. I was on the show for three years, two of those as a series regular, and while it was hard to let go of the steady job, I really am so grateful for the experience, and all that I learned there. And for the great opportunities it opened up for me, like getting a shot at working on films like this one.
Having been both in feature films and TV series, what are the main differences filming either - and what do you prefer, actually?
I love it all. The main difference is time, but I really love every bit of it. Put me on a set and I donít care if i have to sit there all day and wait, I am so happy. The great thing about film is you make these little communities with all the (hopefully) great people you are working with and you get to be with them and live this secret mini life that only you all experience, together, for 1-3 months, sometimes more. And then you all go your separate ways, and come together again to celebrate itís rebirth into the world when it premieres. Itís so unique to any experience and I love it. I always fall in love with crew people especially, because they are there on set the longest, every day, and itís evident they do what they do because they love it. I just love their attitudes.
How would you describe yourself as an actor, and some of your techniques to bring your characters to life?
I work hard, that is for damn sure. I have to have every part of my script broken down, and know the character's arc from beginning to end, and have it mapped out and written out in a journal or notebook that I could refer to on any given day. Most movies shoot out of order, so for me thatís really important to have a reference of what that character has gone through right before or in the build up to whatever scenes we are doing that day. If you saw these writings you wouldnít be able to make heads or tails of them, but they make sense to me! Haha.
As I mentioned, sometimes in indie filmmaking, time isnít something you have the luxury of. So you have to go with the flow and sometimes let go. I am learning more and more as I get older and more experienced, to do the work, then trust and let go. But that prep work is also so vital. AND sometimes beautiful stuff happens when you donít have time to think about it, as long as youíve stayed on top of yourself as an actor in those downtimes, and didnít let yourself get rusty. Because then you can just trust those instincts to guide you.
Iíve been trained in so many different techniques, and I pull from all of them. One of my biggest is substitution. To find an experience in my life that feels similar to whatever may be happening to the character, even if itís nowhere near the same scenario, but itís connected to the same visceral reaction or emotion Iíve felt in real life, and then I can dial it up or down from there, helps me tremendously to make it real. And then adding imagination, of course. And imagining how I would feel if something like this really happened to me. Or the part of me that is like this character. Iíve always loved to play pretend as a kid, and now I get to play pretend as an adult while trying to tell "the truthĒ, if that makes any sense to you. And it is so much fun for me! I am such an avid believer in honesty in life and in work, and I strive to reach that level and convey that in whatever role I take on.
Actors (and indeed actresses) who inspire you?
Many manyÖ I love the greats like DeNiro, Pacino, DiCaprio, younger Depp, young Nicholson, Pitt, but a lot of the guys my age inspire me because it makes me feel like I can reach thatÖ Jake Gyllenhaal, Ryan Gosling, and Garrett Hedlund, who I think is really underrated and will get to show the world what he can really do soon! There are so many great actresses too that I love to watch, Amy Adams, Emma Stone, Rachel McAdams, Cate Blanchett, Nicole Kidman, Jessica Lange, Parker Posey to name a fewÖ they all inspire me so much.
Your favourite movies?
SO so many Ö I will try just to name a few: ET, The Goonies, The Lost Boys, Scream, Back to the Future, Stand by Me, Ghostbusters, Donnie Darko, Superman, Itís a Wonderful Life, Star Wars, Raiders of the Lost Ark, The Graduate, so many John Hughes films, The Howling, Evil Dead 2, Legends of the Fall, Interview with the Vampire, Dazed and Confused, True Romance, The Wizard of Oz, Brokeback Mountain, Halloween, Baz Lhurmanís Romeo and Juliet Ö I have so many more but I will stop there, because otherwise we will be here forever!
... and of course, films you really deplore?

Feeling lucky ?
Want to
search
any of my partnershops yourself
for more, better results ?

The links below
will take you
just there!!!


I try not to keep track of the films I hate too much. I think if I have to name any it would just be any uninspired remake or sequel, which there are just too many to count! Or care to name! I love werewolves and Iíve seen way too many bad werewolf movies
Your website, Facebook, whatever else?
You can keep up with me at www.adamhussofficial.com
Via my Instagram/Twitter: @adamthuss
Facebook at www.facebook.com/adamhussofficial/
Anything else you're dying to mention and I have merely forgotten to ask?
Just that I am so grateful that I get the opportunity to do what I have always loved and wanted to do since I was a kid. I appreciate people bearing with me through the learning years of my craft, haha, and I am just ecstatic that people are finding Painkillers and reacting so positively to it.
Thanks for the interview!