Your new movie Painted in Blood - in a few words, what is it about?
Painted in Blood is the "haunted art museum" movie we've always wanted but never had! Haunted paintings, a sinister creature, a tortured artist, and of course -- BLOOD!
What were your sources of inspiration when writing Painted in Blood? And as weird as it may sound, is any of it based on personal experiences?
Actually, it was based on personal experience! I was short on money and was offered the exact job that the main character in the film was AT the art museum that we filmed at! They had their first expensive show coming to town and wanted someone to stay there overnight to watch over the paintings while proper security was hired and installed. I wasn't able to do it, but I know that building well. It used to be an old civil war hospital. I knew that staying there all night with strange and valuable paintings would be terrifying!
I was also inspired by Herschell Gordon Lewis' trash-hit Color Me Blood Red from 1965 [Herschell Gordon Lewis bio - click here]. It's free on Tubi, and it's got a great premise and a super fun "killer artist" character. It's my favorite "painting" horror movie.
Do talk about the key art shown in Painted in Blood, and was it all painted specifically for the movie, or were at least some of it existing pieces?
All of the main paintings were made for the film! In fact, I made them myself in Photoshop! I combined photographs, stock images, pieces of pre-existing paintings, and digital painting by hand in photoshop to create them.
I've made movie posters as a side-gig for a couple years (I did the poster for this film!) and all of the techniques from making posters worked when making the paintings! Then we had huge prints of them done at FedEx.
All of the other paintings were a combination of stuff from furniture stores and digitally replacing the art in the actual museum (for copyright reasons). All of Malik's landscapes in his studio were done by someone I found on ShutterStock named Alex Green (https://www.shutterstock.com/g/brontazavra).
What can you tell us about Painted in Blood's approach to horror?
This project was unconventional for me in that I funded it myself. I normally work on commission from small studios who have guidelines on what they do and don't want. Since it was my money, I wanted to do something "unsellable" and maybe something more unique!
Usually, we're pressured to cram in as many scares and action scenes as possible, which is fun, but I wanted to try something different. For this I tried to focus deeply on story and character. I tried to follow that Stephen King quote, I can't remember it exactly, but something like "we're only scared of what's happening in a story because we are invested in a realistic character and don't want anything bad to happen to them".
I saw an article referring to Painted in Blood as "elevated horror", which is a term I don't like. I don't think of this as elevated horror at all! Genre-wise, I was attempting to sit somewhere between The Twilight Zone, an old 1940's monster movie, and a Stephen King novella.
A few words about your overall directorial approach to your story at hand?
I'm completely obsessed with Steven Soderbergh and his workflow. I shoot and edit all of my own stuff like he does. Originally that was out of necessity, now I do it because I enjoy it. And like Soderbergh, I wanted to make something clear, stripped down, and dark. Something "clean" in its approach to storytelling, if that makes sense.
Do talk about Painted in Blood's cast, and why exactly these people?
I was a producer and cinematographer on my buddy Charlie Steed's movie Death Ranch. There, I met Deiondre Teagle. Death Ranch is an over-the-top exploitation homage with exactly zero subtlety. It's a fantastic movie, but the whole time we shot it I kept thinking about how great it would be to see Deiondre do something more detailed and subtle. Something with a bunch of minor character changes, and eventually ending up somewhere quite different from the beginning. So when I wrote Painted in Blood, I wrote it with him in mind.
Everyone else were simply actors I deeply trusted. Since I was self funding this, I wanted as little margin for error as possible. Brad Belemjian, Deborah Seidel, and everyone else are all actors I trust deeply and know well.
What can you tell us about the shoot as such, and the on-set atmosphere?
So, the budget on this project was just $13,000. Self funded. Partially from saving a ton during the pandemic, partially from running up a credit card (oops). Going in, I knew two things: 1) I did NOT want to mess any of this up, and 2) I wanted to take my time.
Usually, for a studio, my shoots are 10-15 days and jam-packed with action. For this, I had one other crew member (Dylan A Young, who played the monster as well) and I spent a whopping twenty days filming. So very often, it was just Dylan, myself, and Deiondre. The days were really fun, really relaxed, and really quiet. Deiondre is a deep-focuser, and Dylan was always helping me rig up lights and whatnot. Days were short, usually eight hours, and I'd go home and edit everything we shot that day. If something wasn't right, we'd go back the next day and re-shoot it.
Half of the movie was shot in an actual art museum, which was a 200-year-old building in Tennessee. It used to be a civil-war hospital, and the place is allegedly haunted. We didn't see anything, but we sure felt like something was watching us the whole time. The other half was shot in a set in my parents' garage that was made to look like an art gallery (so we could make a mess and not worry about damaging expensive art).
Anything you can tell us about audience and critical reception of Painted in Blood?
So, it's no secret that I've made B-horror my whole career. I take it seriously, and I love what I do. But the only way to get funding in the beginning is to do mockbusters like Curse of the Nun or movies with silly titles like Clowntergeist or Ouija Craft. No matter what I'm doing, or how little money I have, I'm always fighting to make the very best movie I can make. No matter how hard you work though, your movie is still called Curse of the Nun or Clowntergeist, and it still cost $15,000. So pretty much no matter what, you're gonna get a lot of bad reviews.
For this, I wanted to be conservative about the effects and action scenes we did. I wanted them to look nice! I wanted to hide my budget. I also wanted a poster that wasn't silly looking and a title that didn't make us sound like hacks. To my delight, this has made all the difference. Audience and critical reception has been very warm, and I'm so grateful everyone has enjoyed the movie.
Any future projects you'd like to share?
I just completed a film called The OctoGames, which is a SUPER fun and TOTALLY WILD Battle Royale/Hunger Games kind of movie. I'm so pleased with how it came out, and early audiences have been really receptive to it. That's coming out this year.
I'm currently about to shoot another film similar in tone and style to Painted in Blood, but I can't share much more than that. I CAN say, however, that it's based on a famous novel, which has been a TON of fun.
What got you into filmmaking in the first place, and did you receive any formal training on the subject?
I've been making movies since I was eight years old. I was lucky enough to have a "digital media" program at the public school I went to, which had some great teachers who taught me the basic technical ins and outs. Then, I went to film school for a semester and quickly dropped out. After that, I made my first feature, sold it, and started getting tiny pieces of funding for some tiny movies from some tiny studios.
I'm almost entirely self-taught, and all of that self-teaching has been through trial and error. I've made some extravagant screw-ups in my previous movies. In five years, I'm sure I'll look back and notice screw-ups in Painted in Blood! But for now, I'm quite happy with it.
What can you tell us about your filmwork prior to Painted in Blood?
I started by pestering everyone I ever worked with, pestering my family, and pestering my parents for money. I got a bit of money and then ran up two credit cards (double oops) to make Clowntergeist. It took three years because I had no idea what I was doing (my last two movies only took four months each). Originally, it was called "Fear Itself", but the studio that bought it thought something crazy like Clowntergeist would be more eye-catching. They were 100% right, and it launched my career in B-horror.
From there I did Curse of the Nun (a movie that was *cough cough* similar *cough cough* to another nun movie) which ended up to be quite popular. I love the characters in that film, but that one's tough for me to go back and watch. Then I did American Hunt, which is a film I'm still very proud of, and the cheapest film I've ever done at just $5,000. Then I produced and shot Death Ranch for Charlie Steeds (a must-see, in my opinion). Then I did the sci-fi thriller The Alpha Test (another film I'm still pretty proud of, even though we didn't have nearly enough cash for a good looking robot character). Then I did the fantasy-horror hybrid Ouija Craft - a film I wish people would give a chance. Ignore the title! It's a cool Harry Potter/horror hybrid. Yes it's a cheap movie, and it's not perfect, but I'll apologize to you personally if you don't find it super fun and fast-paced with solid acting and interesting characters.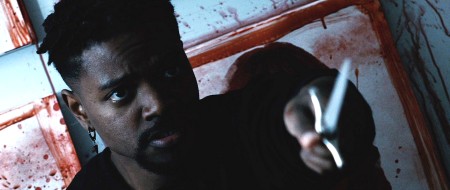 I've been really fortunate to be able to have a career in the low budget field. I'm also very lucky to continue to grow and expand into some slightly bigger projects in the near future.
Going through your filmography, one can't fail to notice you seem to return to the horror genre quite regularly - so why is that, and is horror a genre you're especially fond of, and why (not)?
I'm a deeply nervous person. Have been since I was a kid. I was terrified of horror movies, and they were absolutely banned in my home growing up. My grandparents (major horror fans) took my mom to see Jaws and The Exorcist at a drive-in when she was six years old. They put her in the back of the station wagon (facing away from the screen), gave her a book to read and told her "don't look." She, obviously, looked and it traumatized her. So there were no horror movies allowed for me growing up.
Then, as a teenager, I saw Hitchcock's Psycho and everything changed. I was already making movies at that point, but I went all-in on horror, thriller, and anything that put me on the edge of my seat. Crazy, brutal, fast-paced action movies count too! I just love suspense and surprises. It gave that nervous kid a sense of control over his own anxiety. It gives me, as an adult, a way to embrace my still-anxious side.
I think these movies speak to that part of me. The anxious side. They entertain that part of me. I do like other genres, but I can't help but find myself gravitating back to horror. And I've gotten my mom back into horror somehow! But maybe that was inevitable, given that her parents love the genre.
How would you describe yourself as a director?
All of this is subject to change as I grow, but right now: I like short movies. I like good pacing. I like to keep things cheap. I'm focused more on the script than fine visual details (gotta get better at that). I like to edit things myself, usually while I shoot. I like to make a lot of movies. I love getting good performances out of actors. I love getting in there WITH the actors by operating camera myself and feeling like a part of the scene.
Filmmakers who inspire you?
I find myself constantly going back to Steven Soderbergh's movies and Stephen King's novels. I'm also really inspired by my peers like Charlie Steeds and Dylan A Young. I also love filmmakers with a good sense of pacing like the Safdie Brothers or James Wan.
I tend, however, to be more inspired by specific movies than filmmakers. I'll become obsessed with a specific movie, but have seen nothing else the filmmaker has done. For example, I'm currently obsessed with The Stepfather from 1987, but don't have much interest in any of Joseph Ruben's other films.
Your favourite movies?
Ooh! I love this question. I feel like they change a lot, but a few keep sticking with me. They are... Heathers (1989) directed by Michael Lehmann, Christmas Evil (1980) directed by Lewis Jackson (I want to do a remake of this one!), The Baby (1973) directed by Ted Post, Unsane (2018) directed by Steven Soderbergh, Nocturnal Animals (2016) directed by Tom Ford, Lords of Chaos (2018) directed by Jonas Akerlund, Big Fish (2003) directed by Tim Burton.
... and of course, films you really deplore?

Feeling lucky ?
Want to
search
any of my partnershops yourself
for more, better results ?

The links below
will take you
just there!!!


I never like getting specific publicly. Y'know? People work hard on their movies! I'll keep it vague. I hate art movies with long runtimes where nothing happens, everyone whispers their dialogue, and the dinner scenes are really long for some reason. I hate movies that think they're so smart for regurgitating political commentary they heard on TV and read about online. I hate movies that think they're better than everyone else. I hate movies where visuals take priority over story (unless that visual is King Kong fighting Godzilla). And I absolutely abhor Mother! written and directed by Darren Aronofsky starring Jennifer Lawrence and Javier Bardem and distributed by Paramount Pictures. That movie can suck it.
Your/your movie's website, social media, whatever else?
Find all my work at http://aaronmirtes.com! Or follow me @aaronmirtesfilm on Twitter or @aaronmirtes on Instagram!
Anything else you're dying to mention and I have merely forgotten to ask?
Stream Painted in Blood here: https://linktr.ee/aaronmirtes - I really hope you enjoy it!
Thanks for the interview!