Your new movie Talk of the Dead - in a few words, what is it about?
The zombie apocalypse has finally happened and all hell breaks loose on a TV news show, tongue-in-cheek style.
How did you get involved with the project in the first place?
My agent Eirian Cohen [Eirian Cohen interview - click here] called me one day and told me she was producing a zombie flick with this Austrian dude and I was directing it. I'm a big lover of direct action.
With Talk of the Dead being a zombie movie of sorts, is that a genre you're at all fond of, and some of your genre favourites?
My fav zombie flick is Day of the Dead, the original Dawn of the Dead and Return of the Living Dead, the creepiest is Zombie Flesh Eaters. I think there are a lot of zombie geeks killing the scene that were not even born when classics were about but think because they dress up like a cunt they know something I don't. This bores me and the modern zombie genre has some class acts like The Horde, Versus and Shaun of the Dead and 28 Days/Weeks Later. My fav genre is dark drama where the hero is a anti-hero, Wild At Heart comes to mind. Action films like To Live and Die in LA, anything by Spike Lee, Michael Mann, twisted horror with a bit of action in it, I love aliens and sci fi, oh and Kevin Smith films - BOOM!!!
You of course also have to talk about Talk of the Dead's brand of comedy, and to what extent could you identify with it?
It has a classic slapstick British comedy feel to it, I am a massive slapstick zany comedy fan, Monty Python and the Holy Grail, Airplane and Kingpin are my faves but to be honest anything by Monty Python and Police Squad teams have me laughing all day long. I also can imagine Peter Sellers making a cameo on Talk of the Dead, that is the style I was going for.
What can you tell us about Talk of the Dead's writer/producer Michael Haberfelner [Michael Haberfelner interview - click here] [and watch your mouth, since he's actually me ;) ], and what was your collaboration like?
He listens to my ideas and we work like a team, he writes something down and I like to have scope to analyze every option and go full steam ahead , he lets me do that. I'm not a sit down "action" type of director, I'm a jump up get into the cast's head with my passion director. Me and Michael will soon be working on a big budget film together, I know it's on the horizon, a four month lockdown with me that's when this collaboration will kick ass.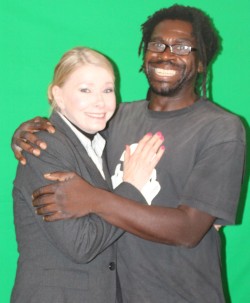 with Lynn Lowry
What can you tell us about your directorial approach to the story at hand?
I loved it because I had as I said above the freedom of creating the vision of the script. I wanted every scene to look Hollywood. And I wanted deadpan newsreaders - what a amazing casting in Alexander Fernando [Alexander Fernando interview - click here] and Rachel Brownstein [Rachel Brownstein interview - click here]. I wanted lo shots for the newsroom and I needed slapstick for adverts - I got what I wanted as all directors demand, the original divas, lol.
Talk of the Dead stars horror legend Lynn Lowry - so what was it like working with her?
Amazing!!! Yeah a true bucket list moment for this 40 something from the streets, a true talent a professional.
What can you tell us about the rest of your cast, and why exactly these people?
I already mentioned the news team and Lynn. Martina McClements and Paul Sutton [Paul Sutton interview - click here] were both excellent, in fact 10/10. The advert clip zombies Rosalie Bottley, Gavin Voorzta and Rami Hilmi [Rami Hilmi interview - click here] rocked and Rudy Barrow [Rudy Barrow interview - click here] and Eirian Cohen [Eirian Cohen interview - click here] smashed it, the scene with J. Robert Byam and Layla Randle-Conde [Layla Randle-Conde interview - click here] was over schedule and they had no prep time but we nailed it as I wanted - shit cast shit film, but I had a top draw cast so you fill the rest of the sentence.
Do talk about the shoot as such, and the on-set atmosphere?
I'm to passionate to give a fuck about the on set atmosphere if it don't go with what I'm directing, when we shot this we had problem-solving obstacles and I'm in the zone, I always want one-on-one discussions with all cast, and if you dare interrupt me when I'm directing or not go with me flow then yeah, I can be blunt rude and shout but I don't give a Tommy about that, passion for direction is my atmosphere, I want I want everyone in the zone of film making , it's a way of life, the only one.
As for now, the film's still making its festival rounds - so anything you can tell us about audience and critical reception of Talk of the Dead yet?
Fuck no, it's a award winning piece of class, go see it find out for yourself. Nothing like anticipation.
Since Talk of the Dead, you've made First Impressions Can Kill with pretty much the same cast and crew - anything you can tell us about that one yet?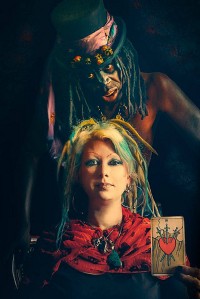 Feeling lucky ?
Want to
search
any of my partnershops yourself
for more, better results ?

The links below
will take you
just there!!!


Yeah, it's dark as hell and I'm loving it, shorter film and a lot more uncomfortable for the viewer, lol.
Any other future projects you'd like to share?
This Car Rocks, a mini dark musical featuring bands Hobo, Howlin Black Soul, Johnny Gunner and The Salt Demons
This year should see Twisted and Essex Warriors released.
Your/your movie's website, Facebook, whatever else?
IMDb: Eddie Bammeke
Twitter: ebammekeactor
Facebook: Eddie Bammeke
Anything else you're dying to mention and I have merely forgotten to ask?
Yeah, this year I'm directing Undercover and Vegas Dirt, two dramas that are going to rock your world.
Thanks for the interview!