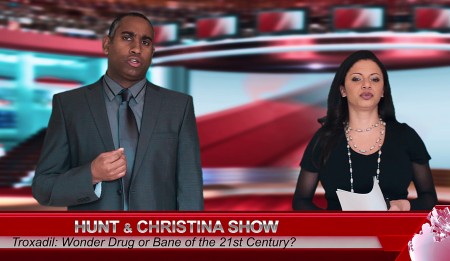 Alexander with Rachel Brownstein
Your new movie Talk of the Dead - in a few words, what is it about, and what can you tell us about your character in it?
It's a comedy horror zombie film with a conspiracy slant. I play Hunt Foster, a news presenter, from the Hunt and Christina Show. He's dedicated to always giving his audience the truth.
What did you draw upon to bring your character to life, and how much Alexander Fernando can we find in Hunt Foster?
I heavily drew upon many newscasters. Watching how they presented the news and especially studying their tone regarding each story they introduced.
I found him fun to play and there were a few similarities between us; such as his humour like his poking fun at the sponsors. And the fact that he always wanted to be truthful to his audience. Hunt is a consummate professional even in the extraordinary situation he finds himself in. I would have personally gone into survival mode and forgotten about the television show.
How did you get involved with the project in the first place?
The title of the film first drew me in. It wasnít until I was asked to do a self-tape audition did I realise that Eirian Cohen (co-producer) [Eirian Cohen interview - click here] was involved with the project. I had met her previously when I attended acting classes at an acting academy she co-owned.
Do talk about Talk of the Dead's director Eddie Bammeke [Eddie Bammeke interview - click here], and what was your collaboration like?
Eddie was so enthusiastic and a real live wire. He has boundless energy on set. It was the first time I had ever worked with him. Heís a very giving director; a real people person, he knew what he wanted but was also a good listener in allowing us actors to be able to give our input for the scene.
With Talk of the Dead being a horror comedy, is horror a genre at all dear to you, and to what extent could you identify with the movie's brand of comedy?
Oddly enough, Mike, the answer is not really. But that doesnít mean that I donít appreciate a good horror film. Iíve grown up enjoying the Hammer horror films and the Halloween movies. Iím also a big fan of George A Romeroís zombie films and especially his Dawn of the Dead. Some of the commentary and humour reminded me just a little bit of this film.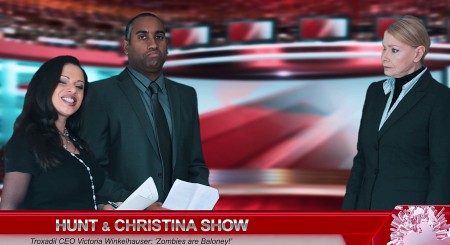 Alexander with Rachel Brownstein, Lynn Lowry
On Talk of the Dead you worked with horror icon Lynn Lowry - so what was acting opposite her like?
Having only seen her on screen, I felt a little intimidated by her. But that was before I met her. She was in fact very easy to work with. It was an incredible opportunity to work and share scenes with her. It was really great seeing her at work.
A few words about the shoot as such, and the on-set atmosphere?
I only spent a day filming with them. I can say they shot very fast. It was a fun set and yet very focused in doing the best job possible. I felt all the film crew were friendly and made you feel very much part of the family, and that obviously includes you Mike [Michael Haberfelner interview - click here]. And yet we still managed to wrap early.
Any future projects you'd like to share?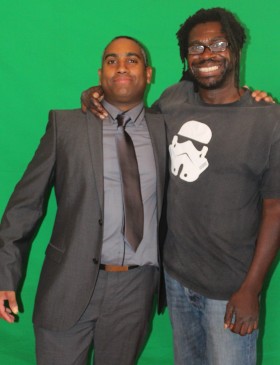 Alexander with Eddie Bammeke
I played a comedian in a commercial for the Hull City of Culture for 2017. Its currently being shown on YouTube and Vimeo. Other than that I had a walk-on part for a television show called Snatch, which was originally a film. I play a flying squad officer.
What got you into acting in the first place, and what can you tell us about your education on the subject?
Iíve always had a fascination with film and always wanted to act from a child. But I didnít think I would be able to remember my lines; so I gave up on that dream. Until I found myself unemployed in 2015 and it was my sister who suggested why donít I attend acting classes with her. We ended up going to Eirian's acting academy and later Act4TV for almost a year.
What can you tell us about your filmwork prior to Talk of the Dead?
My only experience was doing a corporate film for BT (British Telecom) a couple of months before. I was playing a dad. I had to record my voice and the only actual scene I was in was of me crossing a London street to greet ďmy wife and kidsĒ while she was parking.
How would you describe yourself as an actor, and some of your techniques to bring your characters to life?
I would say that Iím a dedicated actor. I strive to give an honest and believable performance above everything else. I love researching and fleshing out a character. The more I know about my characters the better I feel about embodying them. People in general are quite complex and so I try to portray that. I also love studying acting by reading books and watching great actors at work.
Actors (and indeed actresses) who inspire you?
Many actors inspire me for many different reasons. But Iíll list only a few such as James Cagney, Sylvester Stallone, Al Pacino, Denzel Washington, Ben Kingsley, Michael Caine, Idris Elba, Charles Bronson, Frank Sinatra, Charlton Heston, Sidney Poitier, Samuel L Jackson and Robert Downey jr.
Your favourite movies?
Basically I love many movies such as Ben Hur, Star Wars (the original trilogy prior to the Special Edition releases), The Shining, Pal Joey, I Married a Witch, Grease, Saturday Night Fever, Bond movies, Rocky films, Death Wish, Fiddler on the Roof, Carlitoís Way, Planet of the Apes (original five movies), The Omega Man, Frankenstein (with Boris Karloff), Targets, Heat, Bullitt, Magnum Force, The Warriors, Kiss Tomorrow Goodbye, White Heat, The Ten Commandments, Casino, Once Around, Cheeni Kum, City of God, Iron Man, Superman (Christopher Reeve films), American Graffiti and A New Leaf.
... and of course, films you really deplore?
I deplore toilet humour films - you know, the whole gross-out comedy genre. And Iím not too keen on movies that depict graphic sex or violence.
Your website, Facebook, whatever else?

Feeling lucky ?
Want to
search
any of my partnershops yourself
for more, better results ?

The links below
will take you
just there!!!


I donít currently have my own website though I am on Facebook: Alexander Fernando
Anything else you're dying to mention and I have merely forgotten to ask?
I just like to wish you all the best with the feature film Thereís No Such Thing As Zombies, which Talk of the Dead is a part of. I also want to congratulate Talk of the Dead being nominated at the iHorror film festival. Thanks for having me Mike and good luck with all your other projects.
Thanks for the interview!