Hot Picks

Books

If you want to do a little research
away from your computer,
here are some books you might want to read

Michael Weldon - The Psychotronic Encyclopedia of Film

Ballantine Books, 1983

Over 20 years of age but still one of the essential readers for fans of weird, trashy drive-in fare. Go look for it on flea markets, or who knows, you might still be able to catch a copy on amazon.

George E.Turner, Michael H.Price - Forgotten Horrors

Midnight Marquee, 1999

The definite reader about the development of B-horror from 1929 to 1937, included are many weird & forgotten mysteries, spooky Westerns, serials, jungle thrillers, & much else you'd never thought you'd hear about anywhere.

A must !

Pete Tombs - Mondo Macabro

St. Martin's Press, 1998

Definite reader on weird movies from around the world. Does cover Hong Kong, the Philippenes, Indonesia, India, Turkey, Brazil, Argentina, Mexico, Japan. Later, this book would spawn one of the most interesting small DVD labels, also called Mondo Macabro.

Cathal Tohill, Pete Tombs - Immoral Tales

St. Martin's Press, 1995

Extensive reader on sex- & horror-films from all over Europe. Does include articles on Jess Franco, Jean Rollin, José Larraz, Jose Bénazéraf, Walerian Borowczyk, Alain Robbe-Grillet

Bryan Senn - Drums o'Terror: Voodoo in the Cinema

Midnight Marquee, 1998

Interesting reader on the many facets of the subgenre of Voodoo-cinema, from the early talkies until the late 1990's, covering films as diverse as White Zombie, I Walked with a Zombie, Plague of the Zombies, Zombie Flesh Eaters, Angel Heart, The Serpent and the Rainbow and Tales from the Hood, to name but a few.

V.Vale, Andrea Juno (editors) - Incredibly Strange Films

Re/Search, 1986

The title says it all, this book does cover many (back then) neglected filmmakers like Ted V.Mikels, Ray Dennis Steckler, Herschell Gordon Lewis, Ed Wood, Russ Meyer, Joe Sarno, ..., plus short features on weird filmgenres liek the Beach Party films, Juvenily Delinquency films, Women in Prison, Santo, biker films & LSD films.

Jack Hunter, Allen Eyles, Robert Adkinson, Nicholas Fry (editors) - Hammer Films - The House of Horror

Creation Books, 1995

Comprehensive history of Hammer Films, as usual the emphasis is on Hammer's horror output (which is a bit of a shame, there is much to discover in Hammer's not so well known past).

John McCarty - Hammer Films

Pocket Essentials, 2002

A very brief section on the historical details of Hammer Films, succeeded by reviews of the usual often reviewed classics (no surprises here) & a fairly complete filmography of their feature length films. A quick read, but (as with most Pocket Essentials) too thin a book for real substance.

Bill Landis, Michelle Clifford - Sleazoid Express

Fireside, 2002

An entertainingly written tour through the grindhouse cinemas of Times Square (before it got cleaned up), plus features on the filmmakers whose films were played there, & Times Square's favourite genres. expect everything from Ilsa & Olga to Andy Milligan, Eurosleaze & Mondo movies.

Annette Miersch - Schulmädchen-Report

Bertz, 2003

Informative reader on the popular German Schulmädchen Report/Schoolgirl Report-series & its many rip-offs. Unfortunately written in a very academic manner, & somehow the love for the genre seems to be missing.

German language only !

Rudolph Grey - Nightmare of Ecstasy: Life and Art of Edward D.Wood jr

Feral House, 1994

Quite simply put, the definite book on Ed Wood !!!

Jonathan Bignell, Andrew O'Day - Terry Nation (The Television Series)

Manchester University Press, 2005

Study on the famous British TV-scriptwriter. Contains a good, interesting biography, but unfortunately the main body of the text, an analysis of his work, focusses only on the work of his sci-fi-series, Doctor Who, Blake's 7 & Survivors, while totally neglecting his work on comedy & crime drama.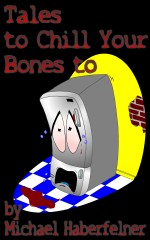 Robots and rats,
demons and potholes,
cuddly toys and
shopping mall Santas,
love and death and everything in between,
Tales to Chill
Your Bones to
is all of that.
Tales to Chill
Your Bones to -
a collection of short stories and mini-plays
ranging from the horrific to the darkly humourous,
from the post-apocalyptic
to the weirdly romantic,
tales that will give you a chill and maybe a chuckle, all thought up by
the twisted mind of
screenwriter and film reviewer
Michael Haberfelner.
Tales to Chill
Your Bones to
the new anthology by
Michael Haberfelner