Your new movie Talk of the Dead - in a few words, what is it about?
Basically, it's a news show (with commercial breaks) where the hosts Hunt (Alexander Fernando [Alexander Fernando inteview - click here]) and Christina (Rachel Brownstein [Rachel Brownstein interview - click here]) discuss the possible zombie outbreak while trying not to step onto their sponsors' toes, and thus they invite Victoria Winkelhauser (Lynn Lowry), CEO of the company held responsible for the (alleged) zombie as well as zombie hunter Jake Reynolds (Paul Sutton [Paul Sutton interview - click here]) and his zombie Lulu (Martina McClements) to the show. Chaos ensues.
What were your inspirations when writing Talk of the Dead?
News shows, actually. I always saw this one as much as a zombie movie as I saw it as a media satire. You kow, your typical news shows where the hosts talk about the most horrible things one minute and about a totally irreverent, cute animal story the next, and whatever may happen in the world, there's always place for sports and celebrity news. And let's not forget to keep smiling ...
One actual source of inspiration though I don't want to give away, but I'll give you two hints: There's a reason why there's an elephant reference in the movie, and why the zombie is called, of all names, "Lulu". (And I do have to thank my great friend Dawn Hills [Dawn Hills interview - click here] to get me onto this of course.)
With Talk of the Dead being a zombie movie, is that a genre you're particularly fond of, and what makes your movie stick out of the crowd?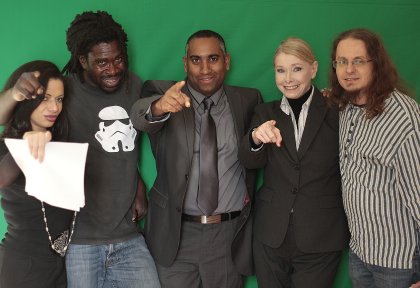 behind the scenes at Talk of the Dead
Rachel Brownstein, Eddie Bammeke, Alexander Fernando, Lynn Lowry, Michael Haberfelner
Basically I just love horror movies in general, and while I wouldn't say I'm especially fond of zombie flicks, I do of course love Romero's classics Night of the Living Dead and Dawn of the Dead, Lucio Fulci's Zombie Flesh Eaters [Lucio Fulci bio - click here], Italian zombie schlock from the 1980s, and several of today's zombie movies that dare to be different ... that said, not too big a fan of The Walking Dead though, even if that series has helped paving the zombies' path into mainstream - not figuratively speaking ;)
What sets Talk of the Dead apart though? Well, I hope the fact that it's much more satire than anything else. This is no bloodbath, and no gross-out comedy full of fart jokes either, this is a serious attempt to say something funny.
Talk of the Dead has its roots in another (future) project of yours, There's No Such Thing as Zombies, right? So how are the two connected, and in what stage of development is There's No Such Thing as Zombies, presently?
Well, originally There's No Such Thing as Zombies was actually to be a sequel to my (zombie-less) screenwriting debut A Killer Conversation, and Talk of the Dead actually was conceived back when I and the original producers wanted to do a crowdfunder, and we figured it would be funny to throw out a few fake commercials and clips from a fake news show to advertise our campaign. Horror icon Lynn Lowry had already shown interest, so it could have worked ... and then my original producers backed out - but I already had a contract with Lynn, so I decided to charge ahead anyways. I did drop the crowdfunding idea though and instead of diffuse clips I collected all my ideas into one coherent short, pretty much a concept proof. And while it can be seen and enjoyed on its own terms, it also serves as a sort of Greek choir for There's No Such Thing as Zombies, which pretty much plays out in front of a maybe-zombie outbreak.
As for what stage of development it's in: At the moment on temporary (intentional) hold, as even if we don't do a crowdfunder we don't have the funds together yet. But besides the Talk of the Dead-segment we've also shot the prologue, another US genre veteran has shown interest to be in the movie, and once the money's in place, we should be able to go ahead pretty soon.
You have produced Talk of the Dead together with Eirian Cohen [Eirian Cohen interview - click here] - so how did she come on board, and what was your collaboration like?
Well Eirian was nothing short of a lifesaver: At first, I only hired her as an actress after the original female lead (of There's No Such Thing as Zombies) bailed, to ask her to step in as producer as well when the project threatened to fall apart only a month before the scheduled shoot - and she said "yes" in a heartbeat ... wow! Now of course, I didn't ask her totally out of the blue, we did in fact work on an earlier project together where she was going to be producer, but while that project has yet to get off the ground for various reasons, I did very much enjoy working with her. Plus, I did know she has an acting school, Northern Star Acting, so I figured she's involved in the business enough to have the right connections to make it work - but that she did actually do it I'll never forget her!
As to what was our collaboration like? Awesome! One has to know this about Eirian, she has enough enthusiasm to fuel a continent, and "It can't be done" isn't in her vocabulary, so these are awesome traits for a producer to begin with, and that she usually manages to make things work is about as vital. And of course, that she seems to be into my brand of humour doesn't hurt either ...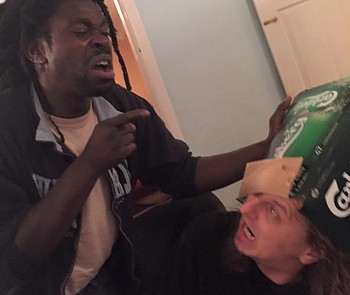 director Eddie Bammeke and writer/producer Michael Haberfelner settling creative differences
How hands-on or hands-off a producer are you actually, also bearing in mind that you've written the script, and how much creative control do you demand?
I do hope as hands-on as I can be. There's one thing I don't want to be, the "producer" who sits back in a couch and orders other people around on set while he tries to get into the panties of the leading lady ;) Seriously, I don't mind dragging stuff, serving people coffee or operating the boom mike if needed, as I just enjoy being on set and being part of the filmmaking process way too much.
As for creative control: Since I usually only produce what I've also written I do have a clear vision. Then I discuss this with the director, and we trade suggestions until we're on the same page. And then on set everything's usually totally different from what we've imagined, but I let the director take over. Of course, I'll veto if anything goes completely against the story, but that's the big exception from the rule and has nothing to do with a powerplay but usually with narrative reason - I mean, I probably know the story best, so should there be an oversight, I reserve my right to step in. But I don't make a habit out of it, as the worst thing on set is two people trying to direct simultaneously.
Do talk about Talk of the Dead's director Eddie Bammeke [Eddie Bammeke interview - click here], and what was working with him like?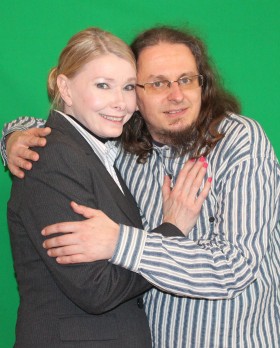 Michael with Lynn Lowry
Well, Eddie is of course a total madman, a spitfire-cockney-talking quite imposing guy who seems to be always laughing and/or shouting - but shouting not because he's an on-set dictator, he just doesn't know how to keep his voice down let alone whisper. That said, it's extremely easy to be on the same page with him as he's very good at reading the script and getting the most out of it, and while he may be loud when he talks, he's also able to listen, and he can see reason if I actually veto one of his decisions (which might have happened no more than twice though).
Talk of the Dead stars horror icon Lynn Lowry - so what was working with her like, and how did you get her even?
How did we get her? Well, when I was still busy promoting A Killer Conversation, she just contacted me and asked me for a role. And really her role as the evil CEO then fell together quite quickly. I hadn't even written her yet when we first talked, but when I figured we could get Lynn, thinking up a role that fit her perfectly seemed like a piece of cake.
Working with her was wonderful. Even if the day of her shoot everything seemed to be in total shambles (as happens on indie sets rather regularly), and she could only understand a fourth of Eddie's broad cockney, she was very ladylike about all of it and delivered a spot-on performance ... and had quite some fun when we partied in the pub afterwards. And I'm sure as a whole she found the experience rather enjoyable, otherwise she wouldn't have asked us if we wouldn't like to do another movie with her - First Impressions Can Kill, shooting in less than a fortnight.
What can you tell us about the rest of your cast, and why exactly those people?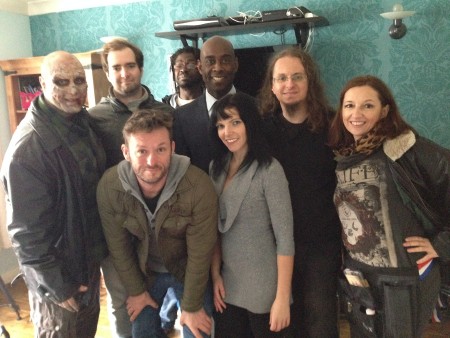 behind the scenes at Talk of the Dead
Rami Hilmi, Sebastian Roberts, Cameron Prudames, Eddie Bammeke, Rudy Barrow, Eirian Cohen, Michael Haberfelner, Anne Derbyshire
Oh God, what a great bunch that was! Rachel Brownstein [Rachel Brownstein interview - click here] and Alexander Fernando were perfect as the news anchors. I think they only met for the first time on set, but played their roles as if they hosted the show with one another for 15 years now and hated each other's guts - they were that convincing. Paul Sutton [Paul Sutton interview - click here] made a great zombiehunter from Doncaster while Martina McClements gave a menacing Lulu the zombie. Eirian [Eirian Cohen interview - click here] was great as the bickering wife, and she'll have the opportunity to much expand that role in There's No Such Thing as Zombies, Rami Hilmi [Rami Hilmi interview - click here] as bickering husband and Rudy Barrow [Rudy Barrow interview - click here] as car insurance salesman I brought with me from A Killer Conversation so I knew they'd be great, and they'll also be in There's No Such Thing as Zombies, Layla Randle-Conde [Layla Randle-Conde interview - click here] cracked me up as the zombie-killing housewife, Reis Daniel and Marcella Woods held their own fighting the undead, and a shout-out to our zombies J. Robert Byam, Gaffyn Voorzta and Rosalie Bottley as well.
Why exactly these people? Most of them sent in self-tapes so I could be deeply involved in the casting process - but others we just knew would work out, and they did!
Do talk about the shoot as such, and the on-set atmosphere?
Utter chaos, mostly! Quite a few of our outdoor shoots got washed out and we had to hastily resettle, we fought against early nightfall, airplane noises, dogshit and on one occasion even bickering neighbours - but we pulled through, and with such a great cast and crew you just have to love every minute of it!
What can you tell us about audience and critical reception of Talk of the Dead?
Really can't tell you much about audience reception yet as we only officially premiere on October 29th at the FANtastic Horror Film Festival in San Diego (so be there!!!), but we're nominated for a few awards there and I hope to bring at least one home (yep, I'll be there in person, so even more reason for you to be there), and we've been accepted in three more filmfests so far and the reviews are all on the positive side - so it seems there are people out there who like it even ;)
You have recently also made The Night Monica Came Back - so what's that one about, and what were your inspirations here?
At a kids' summer camp, poor exchange student Monica (Elizabeth Mae Starbuck [Elizabeth-Mae Starbuck interview - click here]) and their minder Pops (Human Centipede 2's Laurence R. Harvey) die under mysterious circumstances. 20 years later Pops comes back from the dead and gathers all the now grown-up kids from the camp to solve the mystery of his death. Things get out of bounds when Monica (now played by Sandra Valera [Sandra Valera interview - click here]) returns as well and claims to never have been killed. And then a killing spree starts.
As for inspirations: Eirian [Eirian Cohen interview - click here] contacted me because she had hired Laurence R. Harvey for two shooting days and now gathered some of her students from Northern Star Acting for two acting camps, one for teens and one for adults, and she asked me to write a script that would include both casts in the same movie, anything goes as long as it was horror and easy to shoot. So I deviced a spooky murder mystery in the Scooby Doo vein that both kids and adults could relate to, that was full of pop culture references and general silliness ... and I can only hope I've pulled it off, but the actors all seemed to like it very much.
You also appear in front of the camera in The Night Monica Came Back - so what was that experience like, and did you write the character with yourself in mind?
Well, what I can tell you, I totally did NOT write him with myself in mind, I wrote him as a favour for Eirian who wanted a short and easy role for an acquaintance of hers, so I came up with bumbling Chief O'Hara, C.I.D. who probably has no more than three lines. But then Eirian's friend dropped out and she asked me if I could take over - through the door while I sat on the toilet if I remember correctly. I figured I could do it as the lines were easy to learn and at least I knew the character having written him - and he was fun playing, too. Just hope my acting has been up to scratch :P
Again, do talk about the shoot as such!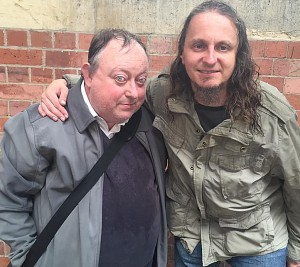 Michael with Laurence R. Harvey
Totally stressful, as we had too little time for everything (as per usual), at the outdoors shoot with the kids the weather showed it's full range from hot to cold, to the point where the last scene we had to shoot and had about 5 minutes before we had to leave was to be shot in pouring rain. Indoors with the adults we at least didn't have to fight the weather, but shoot during the day pretending it to be night, then we had tons of dialogue to wade through, and I think I've had at least 10 cups of coffee to stay awake during it all, also operating the boom mike. In other words, it was awesome, wouldn't have missed it for the world!
Any future projects you'd like to share?
Oh yes: As mentioned above, we'll shoot First Impressions Can Kill in only a few days with the core group of Talk of the Dead including Lynn Lowry (actually the film's even based on an idea of hers). Then I hope we'll be ready to do There's No Such Thing as Zombies soon, and also there's a short I wrote in post called A Mole Walked Into a Bar, produced by Eirian Cohen [Eirian Cohen interview - click here] again, but I haven't been present at that shoot, so can't really tell you much about it. Beyond that ... we'll just have to wait and see, but I'm definitely not done yet ;)
What got you into writing to begin with, and script-writing at that, and did you receive any formal training on the subject?
Well, ever since I could write I did write little stories, I developed a passion for that early on. Why script writing? I just love movies, and always have, so seems to be logical, but I've also written several short stories published in anthologies of the WPaD collective, and have self-published a novel, Bauliche Angelegenheiten (unfortunately German language only).
As for did I receive any formal training on the subject? Nope. I think you can't really learn to write, what it needs is discipline to put your imagination into words and those words into a proper structure. But having reviewed about 8,000 movies for this here site alone has probably given me the analytical footing to identify and apply thought-through narrative structures. And what I think also helped, as a sort of exercise I wrote two murder mystery novels - they both weren't very great and I've never shown them to anyone, but they taught me sooo much about narrative structure, as more than in any other genre, in a murder mystery everything actually has to get together!
That all said though, I have of course read all the standard books on screenwriting, but that's more for craft than art ...
What can you tell us about your filmwork prior to Talk of the Dead and The Night Monica Came Back?
A Killer Conversation was my screenwriting debut, and it was pretty much born out of this interview with actress Melanie Denholme [Melanie Denholme talks A Killer Conversation here] where she just asked the general public for a script with (and I'm quoting from memory here) no more than three characters and one location. That was in 2012, and I just happened to have written such a script 17 years earlier (no lie) which I remembered now and pitched to her half-heartily, not expecting a response - but she liked it very much, and after a mere 6 weeks we (Melanie, Rami Hilmi [Rami Hilmi interview - click here], Rudy Barrow [Rudy Barrow interview - click here], director David V.G. Davies [David V.G. Davies interview - click here] and me of course) were already on set in Wales making that film that actually got a DVD release in the US. And from then, I was hooked ...
You come from Austria but seem to make movies exclusively in the UK - why is that?
Haha, even if that's true on paper, I'm not seeing this as exclusively, it's just where fate has landed me I guess. For some reason, I've never been able to find any connections to the Austrian indie/horror film community while the Brits seem to welcome me with open arms (even if I've never been there for other reasons than filmmaking) and seem to dig my humour for some odd reason. But I'll really film wherever people want me to, and who knows where the story goes next, maybe Hollywood, maybe Bollywood, or hey, maybe even Austria ;)
How would you describe yourself as a writer?
Tough one. I admit I do like dialogue a bit too much, and I think my quirky sense of humour shines through most of what I write, even if I'm trying drama - that's just my persona though. But that said, I'm a rather quick writer should need arise, I try to have things well-structured, and I try to only write what I'd love to read, so I'm not suffering from self-doubt many writers (better than me) do - but then even if I try to be self-critical to constantly improve myself, I also might love my own stuff a bit too much ;)
WPaD-anthologies featuring Michael
Writers, filmmakers, whoever else who inspire you?
I can't say I'm a fan of any particular screenwriter (though usually I enjoy the Coen brothers stuff a lot), my influences are rather classic literature, like Franz Kafka, Edgar Allan Poe, H.G. Wells and the like, but I also love to read vintage pulps, and I hope at least some of this reverberates in my writing.
As for filmmakers, I do love Seijun Suzuki [Seijun Suzuki bio - click here] for his weird approach to genre, the grossly underrated Jess Franco for his delirious filmmaking style, even when making sleazy sex flicks, Dario Argento for his formal mastery ... and I could just go on and on here, really, but it would probably soon bore the hell out of you.
Your favourite movies?
I always say rather jokingly Star Crash, The Heroic Trio, Weather Woman, Vampyros Lesbos and Gladiator Eroticus, all of which are cinematic pulps that bear repeat viewing, feature women that are sexy and strong, and none take themselves too seriously. That said, of course I love classic movies, from vintage arthouse to early genre cinema, I just don't want to bore you with another of these unnecessarily academic lists, so I leave it at that.
... and of course, films you really deplore?
Well, just for the sake of the argument: The Dark Knight - simply I don't get it, it isn't well written, not that well played (though Heath Ledger is admittedly creepy), and while it's about a guy with pointy ears barking like a dog hunting a clown through town, it's not a comedy. Shortly put, wtf?
Your/your movies' website, Facebook, whatever else?

Feeling lucky ?
Want to
search
any of my partnershops yourself
for more, better results ?

The links below
will take you
just there!!!

Find Michael Haberfelner
at the amazons ...

amazon.com

amazon.co.uk

amazon.de
Looking for imports ?
Find Michael Haberfelner here ...
Something naughty ?
(Must be over 18 to go there !)

Talk of the Dead: https://www.facebook.com/theresnosuchthingaszombies/
The Night Monica Came Back: https://www.facebook.com/thenightmonicacameback/
A Killer Conversation: https://akillerconversation.com/
... and hit me up on Facebook at https://www.facebook.com/michael.haberfelner
Anything else you're dying to mention and I have merely forgotten to ask?
Just that: Be on the lookout for Talk of the Dead, hopefully playing in your area soon ... and also for all of the other films mentioned above :)
Thanks for the interview!