Your new film Molly Crows - in a few words, what is it about, and what can you tell us about your character in it?
The character I play is based on a real person from the 17th century. Her name was Molly Leigh, and she was said to be a bad-tempered witch that cast evil spells on the townsfolk of Burslem.
What did you draw upon to bring your character to life, and since your role's based on a real person, how much research did you do on her and her time to get her right? And honestly, how much of yourself can we find in Molly Leigh?
Whether Molly was really a witch or not is lost to history. But people were terrified of her, and after she died she was dug up and re-buried at a right-angle to all of the other graves in the church yard. You can see Molly's grave today, clearly lying in a different direction to all the others.
I play Molly Leigh briefly in the movie, as it is really about a modern-day little girl with psychic powers, who can see and communicate with the spirit world.
Quite a few scenes of Molly Crows see you in heavy makeup. So what was the whole makeup procedure like, and how did the makeup influence your acting?
I was in makeup for nearly three hours, to transform me into a disgusting corpse, with a bald head and bulging eye-sockets. I was then lowered into a stone coffin and well, you'll have to watch it to find out what happens next. It's pretty gruesome though.
On Molly Crows, you also did quite a bit of behind-the-scenes work - so what can you tell us about that?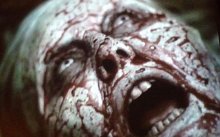 My part behind the scenes was pretty varied. There were three main crew members, and some other crew that were there for certain scenes. I sourced and made costumes and props, including my own shroud for the Molly Leigh scene, and I found actors and crew members to work on the movie, and persuaded them to do it for nothing! Although in nearly all cases the story and the few clips we had were so compelling I didn't have to do much persuading. I co-ordinated the publicity campaign, helping us rack up thousands of hits on YouTube, and helping the cast to use the film to promote themselves locally as actors. It's important when you give up your time for a collaboration, that it is a two-way street. A win-win situation suits everybody. So right from the beginning I was pushing the actors to promote themselves and the movie together, by helping them with press releases and getting them to contact papers and local radio stations with properly written bios and press kits.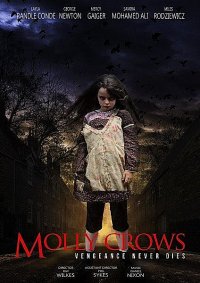 On set I was doing things like looking after actors, getting coffees, being a runner basically. So in a very small crew you do whatever needs to be done, from jobs more traditionally associated with a producer, right down to running around with flapjacks to keep the little kids motivated during the ghost children scenes. Whatever it takes to keep things moving!
How did you get involved with the project to begin with?
Iíve known Ray for years and appeared in several shorts. Iíve been nagging him to make a feature for years. I appeared in a movie with a director Iím not going to name, but when I was on set I remember thinking that the whole set-up was a shambles, and that given a beautiful setting and a set of dedicated actors, that Ray could have come up with something mind-blowing. Actually seeing how a low-budget film was put together, even in such a shoddy way (which was not the actorís or crewís fault) was an education. I saw it as separate parts that needed an overall truth to hold it together. So although Iíd been bugging him to make a feature for years, I bugged him even harder when I got back. He started working on the script & I cleared off to London to be a TV presenter. But I really wanted to be involved with this so I came back to Staffordshire.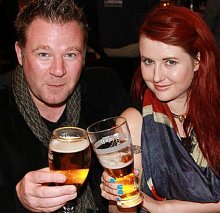 Ray Wilkes with Layla
What can you tell us about your director Ray Wilkes [Ray Wilkes interview - click here], and what was your collaboration like?
Iíve always got on with Ray because all he cares about is what happens on screen. Thatís it. Heís a nice bloke with a good heart, but heís absolutely ruthless about getting the best scene, the best emotion, the best look or best dialogue. I absolutely love working with people like that. I donít mind ripping something up and starting over. I donít mind having a huge, complicated idea & having someone say ďNah, thatís shit mate, itís been done loads of times,Ē or ďToo complicated,Ē or ďI donít like it,Ē
I like working with people that are extremely creative and determined, and the three of us Ė Ray, Phil Sykes and me, weíre all like that. Weíre just tanks! Get out of our way, weíre making a film!
One of the funniest times during the making of Molly Crows was when I was doing Ďback seat editorí and helping make tiny changes to scenes. A local musician had sent in a song, and we were absolutely trashed on Captain Morgan for some reason. We dropped the song over a particular scene, and the result was so haunting and beautiful that we both just sat there, totally pissed but completely in the zone, sobbing like babies. There was another time that Ray had a scary dream about Molly Leigh and he rang me up crapping himself because he thought Iíd put a curse on him or something, that was funny.
A few words about the shoot as such, and the on-set atmosphere?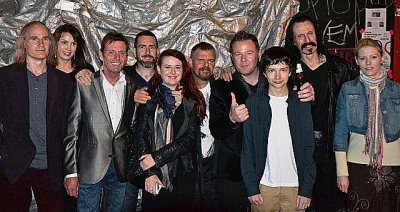 Cast and crew at the Portobello Film Festval
I was on set for certain scenes, but mostly I was doing things off-set. The feeling on set was very friendly, and as always with Ray, it was fast. He doesnít shoot loads.
I do the social media side of things, so I got to know a lot of the cast quite well through Facebook. I ended up writing their bios and helping them with the press and speaking to them on the Ďphone. It was quite strange at Portobello, because there were lots of the cast that Iíd never met before, but I felt like I had. There was a real buzz about this movie & people were excited to be involved. I know that I helped keep the momentum going, but you canít fake a feeling thatís not there to begin with. Both Ray and I were a tiny bit sad at the premier, because it was the ending of a chapter that contained all of these lovely, enthusiastic people.
Molly Crows has had its premiere only very recently, right? So what can you tell us about critical and audience reception so far?
Thatís right, we premiered at Portobello just a week ago. It was chucking it down (for your overseas readers, that is Northern slang for it was raining a lot) but the cinema was standing-room only by the time the opening credits were rolling. The organizer told us it was the busiest night of the festival so far.
I asked a lot of people what they thought of the film afterwards. The main comments were ďVery creepy,Ē and ďThat little girl was so freaky!Ē
There is a gory scene where one of the characters takes a knife toÖ well Iíd better not spoil it for anyone! But the audience were visibly wincing at that, which we loved! We were watching the audience watching the film, and we were pleased to see that people were just staring at the screen, not talking or fiddling with their Ďphones. That was great.
A lot of people said that they immediately wanted to watch it again, because there are a lot of characters and a lot of stories. Everybody seemed to have a different favorite character and part. But the scene with the haunting song by Julia Dowler was definitely one of the most popular with the audience that night.
We won ĎBest Dramaí, which I was just delighted with. It is a drama above everything else. It just happens to be very supernatural.
Any future projects you'd like to talk about?
Iím collaborating with some photographers on a few film projects, but thatís all in the very early stages at the moment. Iím also getting ready for Rayís next movie. Iíll be doing exactly the same as I did on this one, but we are going to go for a budget this time. So Iíll be fund-raising and pitching and all of that side of things, which Iím excited about.
You are originally a model, right? So what can you tell us about that aspect of your career, and what got you into acting eventually?
Iím originally a lot of things! I was an artist and a performer and a TV presenter and designer. Iíve worked on magazines and all sorts of things. The modeling was just another thing I wanted to try, and I did OK for a short, ginger bird from the Midlands. I worked with Maxim from the Prodigy and appeared in a few of his paintings, and I did a lot of crazy, arty stuff. I like working with creative people and artists. I got into acting because Iím a bit competitive, and I wanted to be the best-known model locally. None of the local models had done film, so I googled local film projects, liked the look of Rayís advert and called him up. That was years ago now.
Do talk about your filmwork prior to Molly Crows for a bit!
I did some low-budget horror movies, nothing spectacular. I was a model at the time, and it was a good way to raise my profile. I found I was much more interested in the way that movies were made, rather than appearing in them. I prefer doing TV to be honest.
How would you describe yourself as an actress?
I wouldnít describe myself as an actress. There are people a hundred times more talented than me, that deserve it way more than I do. I like playing freaky characters in movies, and I like being on set, itís the best.
Actresses (or indeed actors) who inspire you?
Audrey Hepburn, because there was just something magical about her, and she strikes me as phenomenally tough and a beautiful person. I watched This Is England again recently, and Vicky McClure is fantastic. I would love to direct Sandra Bullock or Nicholas Cage.
Your favourite movies?

Feeling lucky ?
Want to
search
any of my partnershops yourself
for more, better results ?

The links below
will take you
just there!!!

Find Layla Randle-Conde
at the amazons ...

amazon.com

amazon.co.uk

amazon.de
Looking for imports ?
Find Layla Randle-Conde here ...
Something naughty ?
(Must be over 18 to go there !)

One of my favourite movies of all time is the original Robocop, because itís a gothic, Frankenstein tale with robots and gangsters. Iím not impressed with the trailer for the re-make, because some of those elements just arenít there Ė heís not dead for a start! How can you have a robotic Frankensteinís monster without him starting out as a corpse? Iíd better change the subject there or Iíll be moaning about that all night.
I also love Death Race 2000 because itís hilarious, and Dumbo because itís supposed to be cute, but itís actually dark and weird.
... and of course, films you really deplore?
I can watch a film about anything if itís interesting.
Your/your movie's website, Facebook, whatever else?
Facebook - https://www.facebook.com/pages/Molly-Crows-The-Movie/113795658686195
Trailer - https://www.youtube.com/watch?v=OaaMNnEuoXA&feature=player_embedded
Anything else you are dying to mention and I have merely forgotten to ask?
Thatís it I think! I just want to say that making this film was an incredible experience, and I met so many wonderful people.
Thanks for the interview!