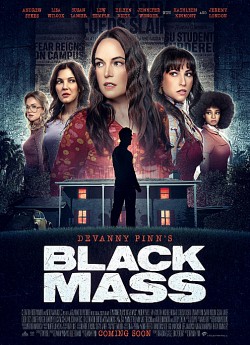 It's a day in the life of Ted (Andrew Sykes), on one hand a small-fry shoplifter always happy to use someone else's ID to his own advantage, on the other a middling womanizer who doesn't mind a few lies to make himself more attractive, and who cruises town in his Volkswagen Beetle to find women who might interest him. And thus it's almost inevitable that he eventually stops at a sorority. First he tries to chat a few of the girls up, to later secretly watch them through the building's windows, spying in on whatever they're doing. When he witnesses a trio of girls dressing up for a night on the town, he follows them to a local dive, tries to get their attention, but gets a little too drunk to ultimately not only freak them out but also get thrown out by the place's bouncer (Mike Ferguson). Somewhat hurt in his pride, he returns to the sorority house, picks up a heavy log, finds entrance to the place, and ultimately goes on a violent killing spree, targeting the girls he has spied on earlier, now sleeping peacefully in their beds ...
There is no doubt about it, Black Mass is a deeply disturbing film, and that's not so much to the pretty graphic murders that make up its third act, the whole thing doesn't feel quite right (and intentionally so) from way earlier, fueled by the decision to not actually show Ted's face full on until the very end (without taking the first-person approach too far), the almost painfully voyeuristic nature of the camerawork that really loads the characters' mostly trivial dialogue with extra meaning, and the measured pace of the film's build-up to the harrowing climax.
What's really unsettling (for all the right reasons) about this film though is that it is actually an excessively researched recreation of the day that led to real-life serialkiller Ted Bundy's gruesome attack on a sorority house January 15th 1978, with most of the occurences and even dialogue corroborated by witness testimony - in an effort by filmmaker Devanny Pinn to give the victims back their voices. And hats off to Pinn, who has this way not only accomplished by what she has set out to do and in the process freed the oft-told tale of Bundy of all iconoclasm, she has also created a pretty remarkable piece of serialkiller cinema, as unusual in approach as it's powerful in its impact, and a film that really hits home and is bound to stay with one for quite some time after watching.