Your new movie Talk of the Dead - in a few words, what is it about, and what can you tell us about your character in it?
The zombie apocalypse is here and despite threats from American lawyers, the Hunt and Christina Show WILL report on it! Christina is fed up of playing second fiddle to Hunt, he is a talentless hack after all. I mean seriously, how pointy can one man be?! Sheís an avid supporter of the truth, and is doing her part. And elephants, she loves elephants.
How did you prepare for your role, and what did you draw upon to bring Christina Moray to life?
I watched several different news programmes; BBC, Channel 4, and a couple online TV stations as I wanted to get a feel for the different behaviours and mannerisms of the newsreaders. The online programmes seemed to have Ďedgierí, more relatable presenters, which I decided to embody for Christina.
How did you get involved with the project in the first place?
Eirian Cohen [Eirian Cohen interview - click here], the owner of Northern Star Acting, the acting academy I attend, mentioned the project in passing and I knew straight away that I wanted to be a part of it, and so as soon as I read the casting call, I submitted my self-tape. I had also offered use of my house as a location well before knowing I could possibly be in the film. It was a hellish commute that morning :P
With Talk of the Dead being a horror comedy, is horror at all a genre dear to you, and to what extent could you identify with the movie's brand of comedy?
The first book I remember buying with my own money was Funland, written by Richard Laymon, a tale of murderous freaks and savage tramps living inside a derelict fairground. Totally age appropriate! I think the first horror movie I watched was Poltergeist. That bloody clown still haunts my dreams. After that, me and my dad set about renting a different VHS (VHS!!!!!) every week, and Freddy Krueger quickly became a familiar friend. So yes, I think itís fair to say that I'm a huge horror fan.
Talk of the Deadís flavour of comedy really tickled me. I have a rather goofy sense of humour as it is, and I really liked the contrast between the subject matter, and the delivery of Hunt and Christina.
On Talk of the Dead you worked with horror icon Lynn Lowry - so what was it like acting opposite her?
Pretty amazing in all honesty. She is, like you say, a legend, with an enviable amount of credits under her belt. Playing against her was wonderful; I felt that just being on the same set as her helped get into the mindset of not only my character, Christina, but of an actor as a whole, like a sort of brilliant osmosis.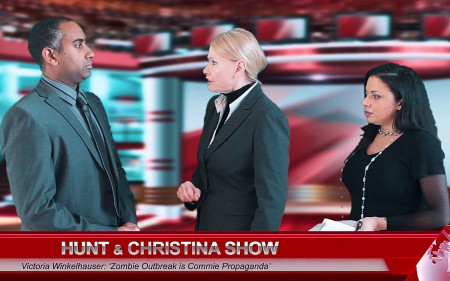 Alexander Fernando, Lynn Lowry, Rachel
Do talk about Talk of the Dead's director Eddie Bammeke [Eddie Bammeke interview - click here], and what was your collaboration like?
Eddie is bonkers. Utterly nutty. Heís got so much energy and enthusiasm, itís impossible not to get swept up in it. As a director, he gave myself and Alex the freedom to interpret our characters, and was really keen to hear our input and suggestions.
A few words about the shoot as such, and the on-set atmosphere?
It was exhausting and painful, it really was. Laughing for eight hours straight really does take it out of you, my sides were still aching for a week afterwards. The atmosphere was relaxed but charged at the same time; I think we were all so excited to be playing together any way, and then Queen Lowry was added to the mix. Itís not every day that you get the opportunity to work with a Hollywood icon.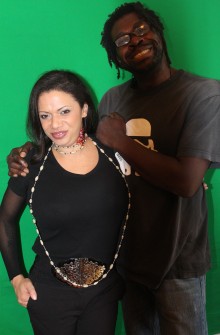 Rachel with Eddie Bammeke
Another film you've recently been in was The Night Monica Came Back - so what's that one about, and what can you tell us about your character in it?
The story sees a group of youngsters, accompanied by Pops, on a trip away. Everything is going so well untilÖ Well, Iím not one for spoilers so letís just say things donít go as smoothly as hoped! My character, Susan, is the first to discover one of her friends has been murdered during a reunion.
Shooting The Night Monica Came Back was actually part of an "actors' bootcamp" - so do talk about the bootcamp for a bit, and how did you get involved with it even?
I went to the bootcamp to assist Eirian; organising, wrangling, and cooking spectacular vegan food (even if I do say so myself!). The focus of the weekend was the business of acting, rather than acting itself. That is to say, what you need to have in place in order to have a chance at success within this weird, wonderful, and frustrating industry we have all decided to be a part of. Thereís a whole lot more to acting than most people can imagine, and the bootcamp was an opportunity to intensively learn and hone the necessary skills, mindset, and coping strategies.
The Night Monica Came Back also stars horror veteran Laurence R. Harvey from Human Centipede 2 - so what was working with him like?
Laurence not only gave us some invaluable advice and techniques, but seeing him in action really helped me (and everybody else Iíd wager) feel like a credible actor. Watching him work, and stumble over a few lines, proved to me that even household names have their off-moments, and that forgetting lines, for instance, is not a mark of a bad actor, which I think is a trap easily fallen into.
Again, do talk about the shoot as such?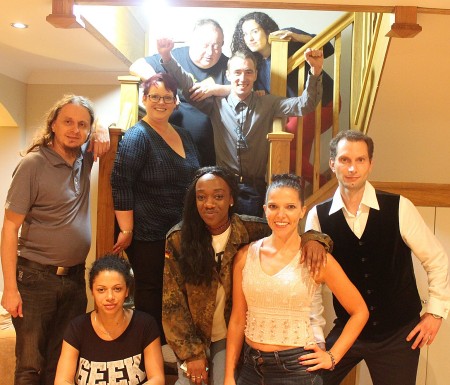 The Night Monica Came Back cast:
Top: Laurence R. Harvey, Sandra Valera
Center: Michael Haberfelner, Sharon Spink, Chris Dudley
Bottom: Rachel, Tshayi Hercules, Eirian Cohen, Petr Malinkovic
For some of the others that attended the weekend, this was their first time on a professional shoot, and I really enjoyed watching them discover what they were capable of producing. As with many shoots, there was a real sense of urgency, which is quite intense to go through, but the camaraderie between cast and crew made it all worthwhile.
Any future projects you'd like to share?
I have scored myself a role in a new television series, Swords of Scavelia, which we shoot the pilot for this December. Itís in a similar vein to Game of Thrones, so lots of swords, scandals, and stunning settings. We are filming at Featherstone Castle in the North East, and I cannot wait.
What got you into acting in the first place, and what can you tell us about your education on the subject?
2014 was the 25th anniversary of one of my all-time favourite movies, The Princess Bride. After watching the Blu-ray, I read the accompanying behind-the-scenes book written by one of the stars, Cary Elwes. In it, he describes the atmosphere on set, the creative process, and the comradeship that developed, and I decided I wanted some of that for myself.
To be honest, I never gave much consideration to acting as a possible career until I started attending classes in January 2015, but I quickly realised that all of the sh*tty experiences and dead-end jobs that Iíve held in my past were all, in actual fact, research and preparation for a career in the creative arts. For example, the man that groped me whilst I tried to look after his table in a restaurant I worked at has now featured several times in my mental preparation when rage and/or disgust is required!
What can you tell us about your filmwork other than Talk of the Dead and The Night Monica Came Back?
To date, the majority of my roles have been in short films and indie projects. I have a couple of features under my belt now, in addition to the upcoming TV role, and I now feel that I have enough experience and knowledge to feel confident going up against established actors at castings.
How would you describe yourself as an actress?
I am still exploring this in terms of my casting type, but I can confidently say that I am engaging and multi-faceted. I eagerly look forward to taking on differing roles in order to challenge myself as to what I can achieve; one of my coaches echoed this when he told me ďI donít think you have any idea of quite how good you are, you now just need the opportunity to stretch your acting legs.Ē
Actresses (and indeed actors) who inspire you?
Iíve recently started watching American Horror Story, and Sarah Paulson has swiftly become an actor that I respect and admire. She is superb.
Your favourite movies?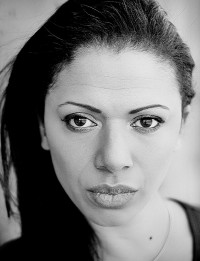 Feeling lucky ?
Want to
search
any of my partnershops yourself
for more, better results ?

The links below
will take you
just there!!!


I donít think youíll have enough bandwidth for me to list them all! I have very eclectic taste, that much I can say. From the Black Stallion to Bad Boys 2, Shrek to Saw, as long as there is a story I can get stuck into, I'm a fan.
... and of course, films you really deplore?
One that really sticks out for me was Taken. I really feel that the horror of such situations (human trafficking) wasnít driven home at all. They had a rare opportunity to convey, at least in part, the true inhumanity that lurks, not at all hidden, in our world, but skirted over it, choosing instead to create almost two hours of naught but facile meme fodder.
Your website, Facebook, whatever else?
Twitter, Facebook and Instagram: @RachelBActor
Anything else you're dying to mention and I have merely forgotten to ask?
Just that one of my favourite people alive is Michael Haberfelner [Michael Haberfelner interview - click here] ;) Heís a good egg that one! [thanks sooo much, Rachel - the editor]
Thanks for the interview!