Your upcoming film Dead Walkers: Rise of the 4th Reich - in a few words, what is it about, and what can you tell us about your character in it?
I think the film is about Nazi scientists who have escaped to perform horrific experiments on people to create super beings to do their bidding. One man has discovered the truth and is out to stop them! The film will have lots of action and there is lots of blood to keep the horror fans happy!
I was given a hellish role a vital part in the film and I canít give too much detail about it without giving too much away. My character gave up her soul to the Nazi swine.
What did you draw upon to bring your character to life, actually?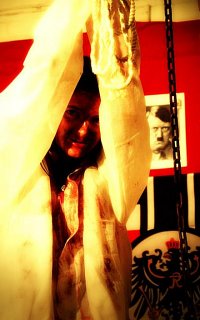 My character had to be very frightened and I just thought back to times in my life I felt like that. Even little things like when I was at school getting ready to do my French Aural exam. I hated French and standing in front of my teacher speaking it out loud was frightening to me! I also thought back to any time I was scared of wasps! I have a wasp phobia - I have never been stung by one! In the summer when a wasp comes into my home I vacate which room it is in and shut it in! I will not enter that room till the wasp has been dealt with, usually by my husband. If a wasp is in the bathroom I have to wait all day to use the toilet if it comes in the bathroom in the morning and I have to wait till my husband comes home at night - itís a long time to hold in a wee! Thinking about those times helped to bring the emotion out for the part. My character was to be in pain too and I actually came away from set with real bruises so I think my screaming was for real so that was dedication!
How did you get involved with the project in the first place?
One of my best friends was in Exorcist Chronicles and he told me what an amazing experience it was and how amazing the cast was. I started following some of them on Twitter. I tweeted Jane Haslehurst [Jane Haslehurst interview - click here] a lot and I found out she lived near me. I invited her to watch me perform in a stage show. I met her afterwards and she told me they were looking for people to be involved for Dead Walkers so I got in touch with the producer and director.
As far as I know, Dead Walkers: Rise of the 4th Reich was your first film experience - so what was the feeling like to stand in front of a movie camera for the very first time, and could you ever be persuaded to do another movie?
I didnít know what to expect as I was a total novice! I didnít know about camera angles and where to position myself. When I got to set everyone was very helpful and looked after me. To be in front of the camera I was very excited and nervous, but being nervous helped with my part. I loved every minute on set and in the waiting areas. Doing Dead Walkers was an amazing experience that I will never forget, and I would love to do another movie one day.
Seriously, when you initially heard the film's title - Dead Walkers: Rise of the 4th Reich -, what were the first thoughts going through your mind? And how can you relate to the film's subject matter?
On hearing the title I immediately thought it would be zombies! With the word Reich I knew it was Nazi related. Iím not a history buff so I donít know much about Nazis, only what I have seen on TV and in films. It was only on set I found out it was not about zombies! I thought it would make an interesting film and I was interested to see how the subject of Nazis was going to be tackled. You will have to see the film to see how nasty the Nazis were!
What can you tell us about Dead Walkers: Rise of the 4th Reich's director Philip Gardiner [Philip Gardiner interview - click here], and what was your collaboration like?
I had heard a lot of good things about Philip. I didnít know what to expect but I felt comfortable with him straight away. There is no messing with Philip, he told me what he wanted and if I didnít do it right first time he showed me how he wanted it to be done! I loved working with Philip he is an awesome director and I learned a lot from him. I was expecting to do my dialogue again and again! I only did it once so Iím guessing that was good! I would love to work with him again if I ever decide to do a film in the future! What I liked about Philip is you never knew what was going to be asked of you! He knew I had no film experience and he pushed me to get the best out of me.
From what I heard, at least parts of Dead Walkers: Rise of the 4th Reich were shot in an unheated warehouse during the coldest days of the year - so what can you tell us about the shoot as such and the on-set atmosphere?
Iím not going to lie to you it was absolutely freezing on and off set. I was so excited and the adrenaline was pumping through me that the cold didnít bother me! I just got on with what I had to do! There were plenty of people around to give me lots of hugs to keep me warm! All the cast was amazing on set we had become a family and no one complained how cold it was! What I liked was there were no divas on set, no one had an ego and everyone just helped each other out! As I was not in Exorcist Chronicles I was worried they would treat me like an outcast but I was wrong, everyone was lovely! I have made some great friendships with people working on Dead Walkers. Michelle [Michelle Gent interview - click here] the producer was fantastic, I had met her a few times before but it was nice during filming to get to know her better and realise what a lovely crazy person she is! She always makes me laugh! The makeup team Bob and Anne are very talented at what they do, it was amazing how they transformed people!
If there ever was a Dead Walkers II: Since the 4th Didn't Quite Succeed Either, Let's Raise the 5th Reich, would you be on board?
I died in this movie, so I donít think I will be on board for Dead Walkers II: Since the 4th Didn't Quite Succeed Either, Let's Raise the 5th Reich - but if that fails and the next one I could be on board for Dead Walkers IV: Since None of the Others Worked, Let's Raise the 7th Reich!
Let's go back to the beginnings of your career: What got you into acting in the first place, and did you receive any formal training on the subject?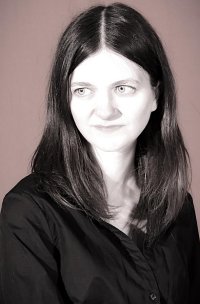 I discovered my love of acting at school and was in school plays. I did my exams in drama at school. I never pursued acting. About ten years later I decided to get a hobby instead of just being a housewife! One of my friends asked me to join the local amateur dramatics group. I started off in the chorus in musicals. After about a year of doing that I was fed up with just being in the chorus as Iím not a good singer! Then Jack Burrows gave me an opportunity to have my first speaking role in a comedy night he was directing. I loved it and I even got to write one of the sketches myself! I learned a lot from Jack and he became a very good friend. He helped me a lot with my acting. From then on I was joining more and more groups - no musicals, just stuck to the speaking roles. I have been acting now for three years and the more I perform the more I fall in love with it. Itís an escape from reality, I love how you can become someone else and affect an audience watching you.
Over the years, you have done quite a bit of stagework, right? So what can you tell us about Dawn Hills, the stage actress, and some of the plays you have performed in?
Even though I have only been acting for three years I have done a lot of plays. I have done various roles from comedy to serious drama to period pieces. I was in a play called Waiting which was written by a local playwright. It was about all different couples waiting for something to happen in their lives. I played the wife of a young married couple who was waiting for a mortgage. My character had an annoying laugh where she snorted like a pig! The play tackled serious issues and I think my part was to bring a lighter side to the play. Last year I was in a piece called Great Britain which had different scenes depicting how broken down Britain is today and how as a community we can build it up again. We covered the London Riots and I got to be violent and beat someone up and strangle them! That part was very different to what I normally play as I normally play the nice funny characters. I did enjoy being evil for once!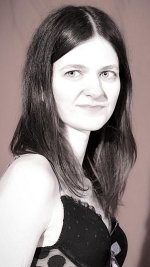 Performing on stage and acting in front of a camera - how do the two compare, and which do you prefer, actually?
They are worlds apart! I didnít realise till I was on set how different it would be! There is a lot of waiting around - but if youíre working with a fantastic group of people there is never a dull moment on or off set! The difference with filming is if you do something wrong the director can shout cut do that again! When you're performing live on stage to a paying audience there is no second chances, if you mess up you have to carry on! I could not choose between the two - I loved filming and I love doing what I do on stage!
According to my information, you also do the occasional writing yourself - care to elaborate?
I started work on my first play called Innocent. It's about a girl who goes through something very traumatic and how it affects her and the people around her. It's not a comedy! Gritty stuff! Then after that I started writing a few sketches and I have just started work on a play called Virus.
I'm new to writing so have a lot to learn but I enjoy getting my thoughts written down and putting my ideas to paper.
Any future projects (of whatever sort) you'd like to share?
Iím currently rehearsing a comedy play called Cash on Delivery which is to be performed in my local theatre this March. I play a girl who has been given some terrible news. I have to do a lot of over-the-top screaming and crying which is easy for me as I have the ability to cry on demand! Kay Vardy [Kay Vardy interview - click here], who I met doing Dead Walkers has published a book called The Anecdotal Drama Teen, she is currently developing it into a stage play and has asked me to be involved with the project which Iím very excited about! Iím also currently writing my first full length stage play which Iím hoping to get to stage next year! I have a few more plays Iím involved with this year. So even though Iím not doing any more filming I still have plenty of things Iím doing. I have always wanted to be in a pantomime and Iím determined this year to be in one!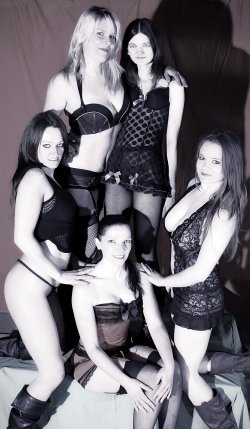 top: Melissa Hollett, Dawn Hills
bottom: Nikki Webster, Eirian Cohen, Jane Haslehurst
How would you describe yourself as an actress, and how do you usually approach your roles?
I donít think I am the best actress as I am still learning! After every performance I do I always think to myself how I could have made it better. Whatever I do I always give 100 percent! When I get given a role I do research on the type of character I have been given. As soon as I get a script I try to learn it as fast as I can! I can learn lines quick I have a good memory! The sooner you're off script the better as you can spend more time working on the movement of the character and how the character should sound! I have just been given a role which will be my biggest challenge to date - I have just been cast has a homosexual man! For my research I will watch lots of Graham Norton and Louie Spence! Last year I was in a play about homeless people I played a girl who was dying on the streets people thought she was a drug user but she was ill from being a diabetic! I had to shake a lot but for most of the play I had to lie down and be still for about an hour! It was very difficult to stay awake for that long especially after a hard day's work! My performance in that play made people cry - I donít know if that was a good or bad response!
Actresses (and indeed actors) who inspire you?
Growing up I loved watching films with Sandra Bullock in, I thought she was a brilliant actress! I also loved watching Johnny Depp, still do! He is a very versatile actor who can do any role justice! At the present Iím loving the work of Anne Hathaway - I recently watched Les Miserables and I thought her performance in that was outstanding! There are some people from Dead Walkers who inspired me to do the best I can. People like Nikki [Nikki Webster interview - click here], Jane [Jane Haslehurst interview - click here], Rachel [Rachel Malone interview - click here] and Eirian [Eirian Cohen interview - click here] and too many more to mention! I was amazed at how talented everyone is!
Your favourite movies?
My favourite movie is Labyrinth! Not just because David Bowie is sexy has the goblin king, I just love all the crazy creatures in it! My favourite is the pink fuzzy ones who loose their heads and kick each other around like a football! I love action films loved the Die Hard series and I have seen all the James Bond films! I donít like the recent Bond films, in my opinion Daniel Craig does not make a good Bond! Best Bond was Pierce Brosnan closely followed by Sean Connery and Roger Moore! The only horrors I like are the ones that mess with your mind like The Happening - that was a good film! Iím not a fan of gore! This is funny to say as I have just been filming a gory horror film! I like comedy, the best comedy film has to be Monty Python the Holy Grail, itís a classic! I could watch it over and over! Just Visiting is another film that is hilarious!
... and of course, films you really deplore?

Feeling lucky ?
Want to
search
any of my partnershops yourself
for more, better results ?

The links below
will take you
just there!!!

Find Dawn Hills
at the amazons ...

amazon.com

amazon.co.uk

amazon.de
Looking for imports ?
Find Dawn Hills here ...
Something naughty ?
(Must be over 18 to go there !)

There are two films I watched and wish I didnít, they are Zodiac and The Tourist! Zodiac was a long film and I will never get that time back! Like I have said I donít like films that are too gory! I will not watch the Saw-films for example! I have a rule when it comes to watching films - I give it half an hour and if it hasn't grabbed me then I switch off! In the case of Zodiac I watched it with friends and they were enjoying it so it didnít get switched off after the half an hour!
Your website, Facebook, whatever else?
I donít have a website. Iím on Twitter @dawnytwiggy88. If anyone wants to find out more about the people who did Dead Walkers they should check out awesometalentagency.com or deadwalkersthemovie.com.
Anything else you are dying to mention and I have merely forgotten to ask?
I sleep in a prawn shape and I have been told I talk in my sleep in different languages! I have yet to see or hear any evidence of this! That would be my response if you asked me the question how do you sleep at night?
Thanks for the interview!
I have enjoyed answering your questions and thanks for letting me do so!