Your upcoming film Dead Walkers: Rise of the 4th Reich - in a few words, what is it about, and what can you tell us about your character in it?
The Nazi scientists managed to escape. They went to various places around the world and secretly continued experiments on human subjects trying to create the ultimate in super soldiers. One man has uncovered the secret and has to try to stop it. Iím not going to tell you anymore because I really donít want to spoil things for anyone. The one thing I WILL say is that these are NOT zombies.
I played Lt Mary Maion, a Romanian spy. Sheís a lover of the hero and one of the very few good guys. Sort of. Nothing is ever quite as it seems in a Phil Gardiner film [Philip Gardiner interview - click here].
Seriously, when you initially heard the film's title - Dead Walkers: Rise of the 4th Reich -, what were the first thoughts going through your mind? And how could you relate to the film's subject matter?
I honestly thought ďExcellent! I can get covered in blood this time!Ē I was desperate for a bit of action and the first thing I did when I got the script was look through to see what was going to happen to my character. I have to say I was utterly thrilled! There have been a bit of a glut of Nazi zombie films recently, no bad thing at all, some of them have been fabulous viewing but I was a little worried that this was going to be another film in an area thatís fast becoming saturated. I was very wrong.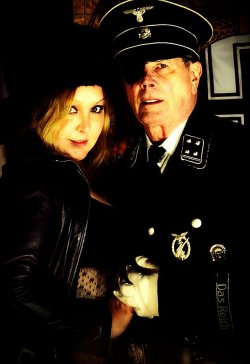 Rachel with Graham Gill
It was well known that the Nazis were, for want of a better phrase, organising breeding programmes in order to try to create the superior race. Itís also well known that Hitler was very much into the occult, marrying the two together wouldnít have been too much of a leap and I know that Phil (Gardiner) researched this meticulously and has years of research under his belt. Itís something that I took a look into a while ago and found some very interesting results. As for the subject matter, itís very difficult to relate to it but I think there will be parts of the film that weíll all relate to on some level. Those times when youíre not quite sure whether youíre dreaming or awake but what youíre seeing at that moment is straight out of a nightmare and it will stay with you for the rest of your life. I think weíve all had those.
What can you tell us about Dead Walkers: Rise of the 4th Reich's director Philip Gardiner [Philip Gardiner interview - click here], and what was your collaboration like?
Phil is wonderful to work with, and Iím not just saying that because I know heíll read this! Initially he seems quite reticent, then you realise heís watching you. Heís looking to see exactly what youíre going to do. He wants to know that you understand what heís looking for and without messing around. He speaks his mind, he tells it all without sugar coating and you know where you are. I admire that, I donít like dishonesty and Iíd rather someone told it as it is than smiled and gave me false compliments.
Phil gives you your freedom, you have the construct of your character and the situation youíre in but itís up to you as the actor to breathe them into life. With a nod and a smile, heíll let you know thatís fine or there will be a bit of a look that tells you that itís not enough for that scene but thereís a trust there that is extremely refreshing.
From what I heard, at least parts of Dead Walkers: Rise of the 4th Reich were shot in an unheated warehouse during the coldest days of the year - so what can you tell us about the shoot as such and the on-set atmosphere?
Unheated, no electricity, no running water, no flushing toilets, asbestos walls and ceilings, broken glass on the floor and roofs that looked like they would completely collapse with a bit of a nudge. It was fabulous! If it had been any other team, Iím sure it would have been hellish, but everyone just dug in, got on and laughed it all off.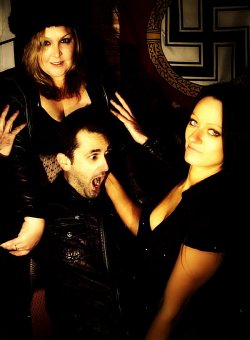 Rachel with Nathan Head, Nikki Webster
I used to think, when you heard actors in interviews talking about how much fun the shoot was or how wonderful everyone was to work with, that it had to be a load of rubbish. It had to be something theyíd made up, there must have been points when they really didnít want to do something in a particular scene. I donít think that anymore. The atmosphere really was incredible. Friendships were cemented and it was a joy to go back in to see those same people every day. I miss them when weíre not working together.
If there ever was a Dead Walkers II: Since the 4th Didn't Quite Succeed Either, Let's Raise the 5th Reich, would you be on board?
In a heartbeat!
Prior to Dead Walkers: Rise of the 4th Reich, you have made another film with Philip Gardiner [Philip Gardiner interview - click here], Exorcist Chronicles - so what can you tell us about that movie and your role in it?
Ahh, Exorcist Chronicles. The one that started it all off for me! It was here I met the majority of people from Dead Walkers. I played the mother of a girl who was possessed. The character was a normal, happy, catholic wife and mother. Her daughter returns after walking the dog, both her and the dog have become possessed. In one afternoon, my characterís life has been turned upside down, she has no idea what to do. Sheís terrified of and for her daughter. It was hugely emotional and I spent a long time sobbing!
From what I've read, Philip Gardiner pushed his cast quite a bit on Exorcist Chronicles - so did you ever have the feeling of being pushed too far, and what can you tell us about your experiences on the movie set?
I never once felt like I was being pressurised into doing anything I didnít want to do. If I had any restrictions, they were ones Iíd placed on myself and I soon realised that I really didnít want to box myself in. It was liberating to throw myself into everything and I soon found that saying Ďyesí allowed me to have a better experience. The best piece of advice Iíve ever been given is that if you can wake up after the day before without regretting anything youíve done, you know youíre alright. I didnít regret a single thing I did and would happily do it all again and more.
I did end up being very close to having hypothermia at one stage and that was scary I will admit, but not only did I come through it I realised that I truly can do anything I set my mind to. We all say we can, but to realise that you really can is quite enlightening. Even learning a Romanian accent!
Let's go back to the beginnings of your career: What got you into acting in the first place, and did you receive any formal training on the subject?
Many moons ago (Iím not saying how many!) I was involved in Saturday morning theatre workshops, I was helping to run them after having been involved in plays, musicals and panto. Other than a minor qualification from college, Iíve never had any formal training. Although my experience has let me teach Drama in secondary schools. Sometimes I think that formal training stops the organic experience coming through, I think that itís sometimes better to think how I would react in this given situation rather than work through it in some form of taught method. Acting should be something intensely personal.
What can you tell us about your filmwork apart from Exorcist Chronicles and Dead Walkers: Rise of the 4th Reich?
Other than being involved with a promotional funding trailer for IíM Perfection (a We Are Heroes production) I hadnít done any filming before.
Any future projects you'd like to share?
More work with the fabulous Phil Gardiner and Michelle Gent [Michelle Gent interview - click here]! Later this year, filming will start on Dusty The Demon Hunter. Iím going to be playing Dustyís mum with the incredible Nikki Webster [Nikki Webster interview - click here] in the titular role. Iím also going to be working very closely with Phil on a secret project. I canít tell you anymore about that right now. No, not even if you ask me nicely.
Over the years you have also done quite a few stage musicals, right? So how does performing and singing on stage compare to making a movie?
Theyíre worlds apart. The same dedication and professionalism is needed for both, but I think theatre audiences are far more critical. You donít have the chance to make a mistake and have it sorted out in editing. If your voice cracks and wavers while youíre singing, everyone there is going to hear it, thereís no hiding. People are also very quick to compare you with the person theyíve seen play that character before. I played Maria in an amateur production of The Sound of Music some time ago, I overheard someone saying ďthat Maria was fantastic, but sheís no Julie Andrews is she?Ē No, Iím not. There is only one Julie Andrews but thatís the unfortunate part of stage work. Itís amazing, the adrenalin buzz is out of this world and itís incredibly hard work but audiences will compare.
From what I've read, you're also a skilled swordswoman and experienced belly dancer. You just have to talk about these two talents for a bit of course?
Oh with pleasure! Iím a living history re-enactor. I havenít been able to be involved for a couple of years for a variety of reasons, moreís the pity, but Iím one of those that sits in authentic medieval costume, basically wool, under a blazing sun or drenched with the usual British summertime rain. But occasionally, I get the fun of playing with my sword. Itís a hand and a half sword, otherwise known as a bastard sword and Iíve been trained by some excellent people. Going out and having a sword fight in the back garden is one hell of a way of beating stress!
Iíve been belly dancing for around fifteen years now. It was actually something my mother used to do, she was a semi-professional belly dancer and once got called on to dance on a table during a corporate meeting! I always thought she looked incredibly beautiful in her costume and make up and found a class and it grew from there. Itís an amazingly sensual and graceful way of moving that seriously improves self-esteem. Thereís a huge amount I could say about the empowerment of the feminine, and there is all that to it too, but I just loved it. Iíve always loved dancing but found that belly dancing really was the thing for me.
Any other talents of yours we need to know about?
I also write for AWESOME Online Magazine and copy edit. Iím an editor of a bi-monthly newsletter for New Writers UK. I like to keep my creative side up as much as possible.
Besides all this, you are also a qualified teacher - now how does this tie in with all the rest, and what can you tell us about Rachel Malone, the teacher?
A teacher, by their very nature, is also an actor. They have to be able to stand in a class of people and present. They have to have a confidence that they can stand and command attention. As a teacher, I was also very approachable, I enjoyed having a class that laughed as well as learned. It was important that my students looked forward to coming into my classes and I loved the whole class environment. Like many other teachers though, I found the restrictions placed on them by upper management too stringent. Being told what you needed to incorporate into every lesson started to make teaching less of a vocation and restricted how I was able to give lessons. Teaching is also ridiculously stressful, itís the most monitored job out there and a work/life balance is extremely difficult to achieve. Itís a regular complaint of most teachers that theyíre working until midnight every night and anyone who honestly thinks that teachers work 8.30 Ė 3.30 and get ridiculous amounts of holiday seriously needs to try it. The average day in school for a teacher is 8 Ė 6, then thereís all the planning and preparation, all the marking, all the extra training that a teacher needs to do in order to keep their qualification relevant. Thatís without the added extras from the school in relation to other training that they think you would benefit from.
Being able to take on all of that and still keep sane is incredible training for anything else you want to do in life.
How would you describe yourself as an actress, and what do you draw upon to bring your characers to life?
As an actress I just throw myself in there. I can see whatís needed and Iím happy to do it. If that means being smothered, and I do mean smothered, in fake blood then bring it on! If itís not a challenge, then whereís the fun? Bringing a character to life takes a lot of thought. Who are they? What have they done? Whatís their family life like? Iíll sit and meditate on them for quite some time, what exactly will they do in order to achieve their aims? Most of us have had some dark times in our lives, or weíve been close to people that have suffered. Weíve had to watch helplessly and all of those experiences are things that Iíve been able to draw on for characters.
Once youíve got that character, you can set yourself up for scenes and just know whatís needed from them in that scene. Itís getting out of character sometimes thatís hard.
Actresses (or indeed actors) who inspire you?
Iím a huge fan of Viggo Mortensen. Heís never the same person twice from film to film. Heís not afraid of any challenges in films; from fighting naked to riding across a desert heíll put himself in any position thatís necessary for the scene. Heís also a massive animal lover and adopted Bill the Pony from The Fellowship of the Ring and the horse that played Hidalgo. They both now live on his ranch.
Helen Mirren is a huge inspiration. She makes everything seem so effortless. Sheís incredibly beautiful and is someone that I could watch opening an envelope.
Your favourite movies?

Feeling lucky ?
Want to
search
any of my partnershops yourself
for more, better results ?

The links below
will take you
just there!!!

Find Rachel Malone
at the amazons ...

amazon.com

amazon.co.uk

amazon.de
Looking for imports ?
Find Rachel Malone here ...
Something naughty ?
(Must be over 18 to go there !)

I usually jump immediately to Jaws. Thereís nothing about that film that I donít like, but Iíve recently rekindled my love for Singing in the Rain. However I will also say that it depends on the time of year, Christmas just isnít Christmas without Die Hard! All of those though, Iíve seen so many times I can quote them. For sheer quality though, I think itís hard to beat All About Eve.
... and of course, films you really deplore?
Those extremely loud and extremely annoying Disney Channel originals! Gah! The films are the same, only the titles and actors change. The endings are usually so cloyingly sweet you can feel diabetes setting in. Stock characters of stereotypes reacting in a stereotypical way with a stereotypical story.
Your website, Facebook, whatever else?
www.facebook.com/RachelMaloneActor
Anything else you are dying to mention and I have merely forgotten to ask?
I take my coffee black.
Thanks for the interview!
Youíre very welcome and the coffeeís on you!