Your upcoming film Dead Walkers: Rise of the 4th Reich - to ask quite bluntly: Why Nazis? Why zombies? And why Nazi zombies? And what new will your film contribute to the zombie and (let's just call it that for the moment) the nazisploitation genre?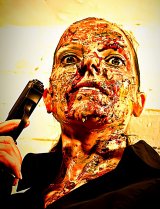 Eirian Cohen
You should have been a Nazi in the film dude, bluntness like that would have been cool.
Why Nazis? Because there's an emotion that remains with most people today about the word and what goes with it. You say Nazi and you know what is meant. It's up there with President Bush.
Why zombies? I'm only going to say this once, there are NO ZOMBIES in this film. So there. Yet again, most folk won't have a clue what is going on and I make no apology. Before you watch it, look up Vril on Google.
As far as I know it's a proven fact that the Nazis dabbled in the occult quite a bit, and the occult is a topic you're somehow familiar with. So how much of your film was based on actual research?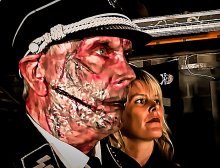 Graham Gill, Melissa Hollett
All of the facts and little bits and pieces are based entirely on research I have done over the years and it was fun to bring some of it together in the film. A lot of it came from a book about James Bond I wrote (called The Bond Code) and how Ian Fleming and Nazis dabbled in the dark arts etc.
This film asks the question what would have happened if a secret scientific occult group of Nazis escaped and continued with their experiments? We discover that the 4th Reich may not actually be real physical people anymore...
What were your inspirations when dreaming up Dead Walkers: Rise of the 4th Reich to begin with?
To be honest I wanted to make a sort of spy-action film and had to bring some paranormal stuff in there for various reasons. I used to love films like The Odessa File and well, it just boils up in your head from all the ingredients.
How would you describe your directorial approach to your subject at hand?
Maybe I'm getting old, but I wanted to let people free on this film. There were so many talented people. I recognised some talents straight away. People like Craig Canning, who is a top award-winning martial-artist and actor, showed immediately that he was the man to take over fight scenes. Others, such as Stephen Foster-Hunt [Stephen Foster-Hunt interview - click here], had been military men, and so he was great for getting the tons of extras into the mindset of Nazi. I also knew I needed to push again if we were going to get that raw, evil feel of the cold wastelands of Romania, so that's what we did. I had a lot of beatings and torture scenes filmed that I knew wouldn't even be used, just to get the team spirit going. Sorry guys.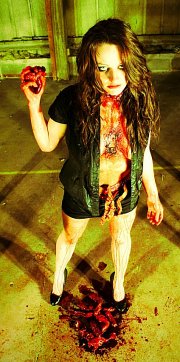 Nikki Webster
Since there are zombies in your movie and quite a few gorehounds in my audience I feel I have to ask: How far is Dead Walkers: Rise of the 4th Reich going in terms of blood and guts, and was there ever a line you refused to cross? And how important is explicit gore for your style of moviemaking to begin with?
I did say I'm only saying this once. I lied. Second time. There are no zombies in this film. As for gore. I'm not a fan of gore to be honest. I think it reveals a distinct lack of imagination. That said, we used at least half a cow, several hearts and a lot of intestines. It stank and there was blood everywhere. Well, the film needed it really because James Mason is no longer with us and his stare would have been sufficient to scare anybody.
One can't help but notice that you've invited quite a few castmembers back from your previous Exorcist Chronicles. Why is that, and what can you tell us about your cast as such? And why exactly these people?
The folk from Exorcist Chronicles came in droves. I drugged them on Exorcist Chronicles and then hypnotised them. Now they are my league of many, my evil hoard that shall help me take over the universal (when we win the lottery) ...
I asked them, because they are absolutely awesome. Nothing less.
Dead Walkers: Rise of the 4th Reich and Exorcist Chronicles both feature casts of dozens, but you have also made films like Cam Girl and Lady of the Dark: Genesis of the Serpent Vampire that feature no more than one actress - so how do these two approaches to filmmaking compare, and which do you prefer, actually?
Totally different. Over 100 people on Dead Walkers, massive locations, dozens of guns, Nazi flags and props. All that takes money and organisation. Thankfully the wonderful Michelle Gent [Michelle Gent interview - click here] and Trevor Gent were always at hand and did such a lot of the background work. There are a lot of unsung heroes in this film – folk like John Sullivan who is a gem!
The single narrative films are just a dream to make. Simple locations, one person, no running around for lighting, sound, make-up, extras everywhere. BUT, the actress needs to be amazing and Melanie Denholme [Melanie Denholme interview - click here] is one of those actresses that can pull it off. I have several such projects in the pipeline right now...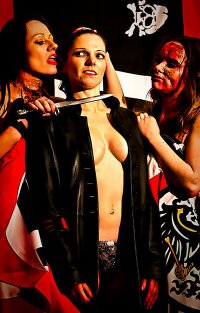 Nikki Webster, Eirian Cohen, Jane Haslehurst
What can you tell us about the shoot as such, and the on-set atmosphere?
I think for almost everybody but me, it was a party. Judging from the amount of cake eaten and banana suits worn. I cannot say how enjoyable it was to do. The most enjoyable sizeable film I have ever made with the best bunch of people. Simple. I may be called a dictator or whatever, but I love em all and somebody has to shout (Michelle normally).
Any idea when and where the film is going to be released yet?
At present it's in post and will probably be out at the end of 2013.
Any future projects beyond Dead Walkers: Rise of the 4th Reich you'd like to share?

Feeling lucky ?
Want to
search
any of my partnershops yourself
for more, better results ?

The links below
will take you
just there!!!

Find Philip Gardiner
at the amazons ...

amazon.com

amazon.co.uk

amazon.de
Looking for imports ?
Find Philip Gardiner here ...
Something naughty ?
(Must be over 18 to go there !)

I am producing several films and have my own pet project I am going to pursue (a film noir thriller), but immediately I will be making a couple of documentaries and planning Dusty the Demon Hunter, Lucifer's Child and a few others that shall for now remain nameless, but one does involve Nazis...
Your/your movie's website, Facebook, whatever else?
My personal website is www.gardinersworld.com, but the best place for folk to go to learn about everybody in the film and what's new is www.awesometalentagency.com or www.deadwalkersthemovie.com.
Anything else you're dying to mention and I have merely forgotten to ask?
Yes, I'd like to know whether you liked the Ultravox song Vienna or not and is it always foggy there?
Thanks for the interview!
You sir are a Knight of the net.