Your upcoming film Dead Walkers: Rise of the 4th Reich - in a few words, what is it about, and what can you tell us about your character in it?
That would be the hardest question of them all. I am not sure what it is about I think it has something to do with Nazis? Yeah Nazis and a lot of blood. Crazy crazy scenes, twists oh and more blood, I like blood. There are spies in there too, Iím pretty certain there is something about the film in here http://www.deadwalkersthemovie.com - but again Iím not sure. You might have to check it out yourself. When someone finds out, would you be kind enough to let me know?
I do know that there are definitetly no zombies and I repeat NO ZOMBIES in this film.
My character, I think I may be able to help you out with that one! I think I played some sort of crazy psycho bitch that seemed to enjoy blood. No wait is that me? Or the character I played? Again Iím not sure. I remember being cold! The best thing to do is watch the film when it is out.
How did you get involved with the project in the first place?
I was drugged up by the director Philip Gardiner [Philip Gardiner interview - click here] in Exorcist Chronicles and made to think that being involved in such a crazy film called Dead Walkers would be a good idea. Or I was hypnotized? Again I canít be sure.
I do know it was such a privilege to be a part of them both and I am so lucky to have met such an amazing team of determined and talented people. I do have to mention that they are extremely off their heads and utterly nuts. This AWESOME team were prepared to chuck themselves into anything thrown at them and did it with style! But again this might have been the drugs talking.
Seriously, when you initially heard the film's title - Dead Walkers: Rise of the 4th Reich -, what were the first thoughts going through your mind? And how can you relate to the film's subject matter?
I thought Ö BLOOD - then soon after that thought, I thought dead and maybe Nazis, guns, spies and zombies! But donít tell Mr Gardiner I said that, I canít take that look he gives you when you do or say something wrong. Itís kind of like the Iím not angry Iím just disappointed-look! But worse!
I initially thought this was going to be amazing! Action packed, weird, twisted and insane - lots of blood! Did I mention I like blood? Well I do and you will see why during the movie. I love films that are based on true facts and background research, this is definitely one of those filmsÖ I think.
What can you tell us about Dead Walkers: Rise of the 4th Reich's director Philip Gardiner [Philip Gardiner interview - click here], and what was your collaboration like? And how did you first hook up with him?
Am I allowed to say the truth? He has paid me a lot of money to say nice things you know!
Heís an absolute pain in the butt! No one likes him and we all talk about him behind his back!!
OK OK ÖÖÖ truth timeÖÖÖ He is a pleasure to work with, he knows exactly what he wants (well most of the time) and how he wants it. His directions are clear (most of the time) and he doesnít shout at you at all (thatís a lie).
... if I go missing after this interview can someone please look inside the boot of Mr Gardiners car? No really I mean it!! Iíve promised my friend Rachel Malone that Iíll give her three rings on the phone when this comes out [Rachel Malone interview - click here].
We first met at a music video shoot that was being directed by Philip Gardiner: Wes Dolan's Reason to Exist, the soundtrack to Dark Watchers: Women in Black, where he forced me into a black suit (gimp suit) and made me crawl around like a weirdo and I couldnít see a thing. I did however really enjoy it (donít tell him) and he then invited me to do some scenes for the Dark Watchers, and our friendship blossomed from there.
We all love him really! Amazing guy! (Help me!)
From what I heard, at least parts of Dead Walkers: Rise of the 4th Reich were shot in an unheated warehouse during the coldest days of the year - so what can you tell us about the shoot as such and the on-set atmosphere?
FREEZING !!!! Absolutely freezing! My hat goes off to the guys that had to wear the paper suits and be covered head to toe in blood! They showed amazing courage and determination for what they did. Everyone helped each other out, it was quite emotional to see everyone become so close and work together, I love these guys, I canít fault any one of them. The warehouse was the perfect location, the atmosphere was perfect, I would do it all again in a heartbeat.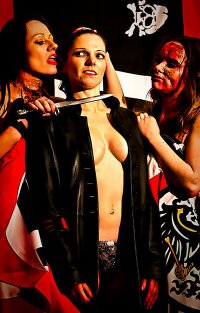 Nikki Webster, Eirian Cohen, Jane Haslehurst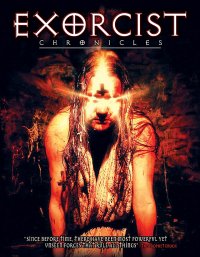 If there ever was a Dead Walkers II: Since the 4th Didn't Quite Succeed Either, Let's Raise the 5th Reich, would you be on board?
HELL YEAH!!!
As I said before I am so lucky to be a part of this team and all the projects involved, I couldnít have asked for anything more, except to do it all again.
You just have to talk about your previous films with Philip Gardiner [Philip Gardiner interview - click here], Dark Watchers: Women in Black and Exorcist Chronicles, for a bit!
Dark Watchers Ė I loved doing the scene for this, I was covered in liquid latex and had ripped clothes on, which was a lot of fun. Although it was a nightmare to get off! I left the set with the latex on and thought it would be a good time to go to the drive-through at McDonalds - well the ladies at the counter had a shock and I couldnít order as I was giggling too much. I then had to drive a few miles and go watch a play that a good friend of mine was in, this was also fun as I was still covered in the stuff. After waxing every tiny hair on my body it finally came off.
The music video - now this is an awesome video, lots going on and it was such a pleasure to make. I played a drunken miner (I looked like a builder) and danced around like an idiot (they had a bar there, not much acting involved). I also played the weird black figure which is shown throughout the video, this was a challenge as my face was covered and I couldnít see a thing, also the material was slippy on that nicely polished floor, so you can imagine how hard it was to walk and see.
Exorcist Chronicles - utter madness but a must-see! Again I have no idea what I was doing or where I was for that matter (must have been when the drugs kicked in) or what was going on, so I canít tell you much about the film so here you go http://www.exorcistchronicles.com check out the link and find out for yourselves. You might want to watch that one too. I do know I met some amazing people on that set too who have become really good friends of mine. They are all nuts but lovely.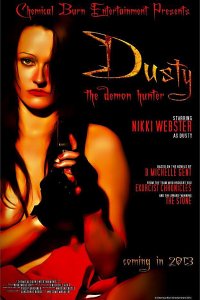 Dead Walkers - ahhh the famous warehouse! I honestly miss this place, nice and warm, electricity, and those working toilets. Dream place. Well joking aside I loved every minute of it. Having intestines and whatever else was in there strapped to me wasnít most pleasant and I still wake up smelling that horrible smell! But if I had the chance to do that all again I would. I would like to take this opportunity to apologise to all those people I hit for real in the torture scenes! Haha, just kidding, I loved every minute of it! Iím sure theyíd all agree, it just made those parts seem more real because the majority of it was.
Anything you can tell us about your upcoming Dusty the Demon Hunter and especially your character (Dusty) yet? And how did you get picked for this one?
Read the books! By Michelle Gent [Michelle Gent interview - click here]! This will give you an idea of what Dusty is about. I am not sure why I got picked for this one, I tend not to ask Philip and Michelle too many questions, just take it and run! And be grateful I was chosen. I know it is going to be a very physical role and I am having to get my fitness levels much, MUCH better! Such an honour as I know how much this means to Michelle. She is a lovely woman. Very quiet, you never hear her ever (thatís a lie).
Any idea yet how you will approach Dusty as an actress? And how much of her do you find in yourself?
Strangely she reminds me of myself when I was younger, sheís different, moody and has an attitude problem with a lot of sarcasm. Iím not like that anymore of course, Iím never sarcastic! I am looking forward to playing Dusty and seeing the characters from the book come to life. Itís also going to be great working with Rachel again!
From what I know, Dusty the Demon Hunter is a rather physical (as in action-heavy) role. So how do you prepare for the movie?
I have been a little out of action due to an injury but I am getting back on form and upping my training a lot. I have a diet and an intense training plan in place which really leaves me no time in my busy life to sleep. But Iím a sucker for punishment and love it! Bring it on.
I am going to take part in Tough Mudder in September and am training for that too which is a very physically challenging project. More about that here http://toughmudder.co.uk.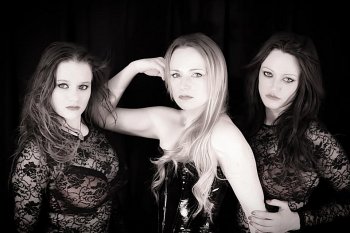 Jane Haslehurst, Melanie Denholme, Nikki Webster
Eirian Cohan [Eirian Cohen interview - click here] is providing a training program for us all in the team and she is also doing a lot of work with a lot of the Awesome Talent team. You can find Eirian on Facebook, through the Awesome Talent Agency and in Awesome Online Magazine with her fitness tips. You can also get to her through http://www.funfitnessuk.co.uk
Any other future projects you'd like to talk about?
There is a secret film I am going to be doing soon, starring myself, Jane Haslehurst [Jane Haslehurst interview - click here] and Melanie Denholme [Melanie Denholme interview - click here]. You can find more about that and the updates on my website or Facebook page. I really canít tell you anymore about that one yet, no, not even if you give me those big puppy dog eyes.
I will also be in a play written by one of the Awesome Talent ladies, Kay Vardy [Kay Vardy interview - click here], this is going to be something special and this means a lot to her. She has just released a book which the play is based on called The Anecdotal Drama Teen - this is a must read and can be purchased here http://www.amazon.co.uk/The-Anecdotal-Drama-Teen-Vardy/dp/1467883646. More updates on this will be on my Facbook page and website:
http://www.facebook.com/NikkiWebsterActress
What got you into acting in the first place, and did you receive any formal training on the subject?
I cannot pinpoint a certain time in my life when I first thought ďI know I want to be an actressĒ - I am and always have been a very determined person, always wanting more and something different. I basically canít sit still! I have been into so many different things from childhood to now. We would be here forever if I told you all the musical instruments Iíve had lessons on or the different dance classes Iíve been in. But it has always been the entertainment side of things Iíve always known I wanted to be something different from the norm. I want to be somebody. I cannot just sit there and let my life pass me by. We get one shot of this and no one is getting out alive, so Iím determined to make it a good one!
Do you still remember your first time in front of a movie camera, and what was that experience like?
Erm? No I donít actually, but I have slept since then, and ate. Speaking of which, I am hungry anyone got a sandwich?
Any films of yours we have not yet covered and you'd like to talk about?
Nothing Iím allowed to mention, see Phil! I can keep quiet!
Besides movies, you have also done quite a bit of theatre - so how does performing on stage relate to acting in front of a camera?
It is a whole different experience, I like them both for different reasons. I would explain the differences but I wouldnít want to bore you.
You're also a model, right? So what can you tell us about that aspect of your career, and how does modelling relate to acting?
If I am completely honest Iím not a big fan off posing like a duck for pictures. I love doing different and weird shoots. I think photos should have meaning, purpose and depth to them. Pictures mean a lot to me, I see them as captured memories. Iíd love to be able to express myself in a future photo shoot and do something completely new and mental, but we will see. I used to do modelling as a teenager for a well-known high street shop and I do have a catwalk certificate as well, I wonít lie I did enjoy that. I suppose modelling and acting are very closely related as you have got to act to get the right look for a pose. But I really enjoy the rush, the challenges and the intensity of acting.
Besides all this, you are presently studying applied science, right? You just have to talk about that side of yours of course!
Now this is just my typical Nikki thing, my thirst for knowledge, I crave to know how things work, the world and humans. I am like that annoying child that asks "Why? Why? Why?" all the time so I thought, I know Iíll find out. I am secretly a geek, it's official! But I love it!
How would you describe yourself as an actress, and some of the techniques you use to bring your characters to life?
I have no idea! I donít like watching myself strangely enough. Iím a little bit mental I guess and will play anything in any situation. Just chuck it at me, I love it.
I have had a lot of life experiences in my short time here on earth, that does help me with a lot of roles. I can relate to almost everything I have played. Even the more fantastical things have a grounding somewhere so if I canít immediately relate to it, I can still imagine it very easily.
Actresses (or indeed actors) who inspire you?
I really do not have many inspirations in my life, I am not usually a follower I like to be different. As strange as this may sound Iíve never looked at anyone and thought I want to be them or I want to do what they do, I always want to do something more and my own. There are people in my life who I love and treasure but Iíd never want to be anyone other than me.
Your favourite movies?

Feeling lucky ?
Want to
search
any of my partnershops yourself
for more, better results ?

The links below
will take you
just there!!!

Find Nikki Webster
at the amazons ...

amazon.com

amazon.co.uk

amazon.de
Looking for imports ?
Find Nikki Webster here ...
Something naughty ?
(Must be over 18 to go there !)

I donít have any favourite movies in particular. I love all different types of movies, ones that really get me thinking and shock me are my favourites. I love the unknown, the unexpected and I do like to laugh, so comedies are always a winner.
... and of course, films you really deplore?
Ones in a different language! With no English subtitles!
Your website, Facebook, whatever else?
Facebook - http://www.facebook.com/NikkiWebsterActress
Website Ė www.nikkiwebsteractress.com
Awesome Talent Agency Ė www.awesometalentagency.com
Awesome Talent Facebook - http://www.facebook.com/awesometalentagency
Anything else you want to talk about and I have merely forgotten to ask?
No itís been an absolute pleasure answering your questions. Good luck with the future!
Thank you
Nikki
Thanks for the interview!