First of all, why don't you introduce yourself to those of us unfortunate enough to not already know you?
I'm Eirian Cohen, a Welsh actress with a passion for all things horror!
You have recently starred in Exorcist Chronicles - what can you tell us about the film and your character in it?
Exorcist Chronicles is not the usual possession type movie, that I can tell you. When the film is released, I will only know a little more than the general public. The director, Philip Gardiner [Philip Gardiner interview - click here] is very secretive. He tells everyone what they need to know and nothing more. As for my character, she was a normal loving wife but was possessed by a demon. What we see in the film isn't the woman at all, but the demon who has taken over her body. This demon is incredibly powerful!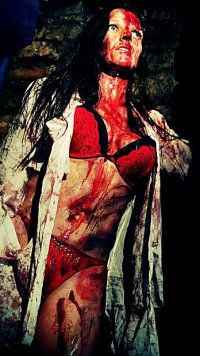 Exorcist Chronicles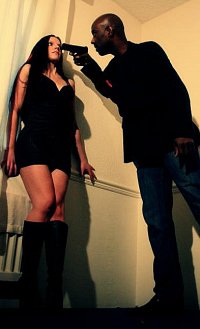 Awesome Killer Audition
Now I'm just guessing here, but I believe you've never been actually possessed ;) - so how did you prepare for your role, and what did you draw upon to bring it to life?
I drove myself crazy watching every paranormal movie I could get hold of. The Amittyville Horror, Paranormal Activity, The Exorcist, The Exorcism of Emily Rose... I also read true life stories of people who believed that they had actually had been affected by a possession which really helped me. Freaked me out as well though. I had nightmares for weeks! How did I bring it to life? I just left all my inhibitions at home and got lost in the character. It was very intense!
What can you tell us about the actual shoot and the on-set atmosphere?
I absolutely loved the shoot. Everyone was buzzing and there was such a good atmosphere. I made some really good friends who I regularly chat to and met some amazing people. It was crazy, it was intense, we got dirty, scared, battered, bruised... and had a LOT of fun! I miss it!
A few words about your director Philip Gardiner [Philip Gardiner interview - click here], and what was your collaboration like?
Oh, Philip Gardiner. So much I could say about this guy! He is just bonkers. He thinks up the most crazy stuff, then thinks "Right, now how can I make it more crazy? More dangerous? How can I scare the shit out of my actors, especially Eirian Cohen mwah ha ha ha" at least I think that's what's going through his mind. Every time I turn up on set he surprises me with something mental and you know what? I'd have it no other way. Keeps things exciting and fun and that's why I'm in this industry! Apart from Phil, the bonkers director though, he is a genuinely good guy and probably one of the most interesting people I will ever meet. He rocks!
You have worked with Philip Gardiner twice before Exorcist Chronicles, on Dark Watchers - The Women in Black and Awesome Killer Audition. Now what can you tell us about these two movies?
Dark Watchers - The Women in Black is a very visual and thought-provoking alien conspiracy movie. It's about 3 girls (Val Monk, Melanie Denholme [Melanie Denholme interview - click here] and myself) who live together. Two go out UFO spotting, mysteriously lose 4 hours and then strange things begin to happen. This film will always be really special to me. It was my first lead role in a feature film, my first to be released and was an incredible experience!
Awesome Killer Audition was an entirely new and different experience again. This film was fully improvised with no-one, not even the director, knowing fully what would happen. It was one continuous long shot and it is in real time. We had one chance to get it right. The story is about an X-Factor style audition and a man (Rudy Barrow [Rudy Barrow interview - click here]) who is rejected, but will not accept it. He flips out and it all goes mental. It's very funny at the beginning before the mood changes. Jessica Messenger [Jessica Messenger interview - click here] and Rob Ireland [Rob Ireland interview - click here] in particular were hilarious!
How did you get hooked up with Philip Gardiner in the first place?
A year ago I auditioned to be a British Scream Queen. There was a panel of judges, Philip Gardiner, Melanie Denholme, Michelle Gent and Lee Roberts [Lee Roberts interview - click here]. I was covered in blood and was carrying a huge blood soaked mallet... They must have thought I was mental but for some reason still gave me a part!
With Melanie Denholme [Melanie Denholme interview - click here] from Dark Watchers - The Women in Black, you've also made Twisted: The Devil in Her Mind - please do talk about that one and your character in it!
Wow... Twisted is just that. Twisted! It's really messed up. It will play on your mind! It was written by author Michelle Gent and anyone who has ever read her work will know about how creative and dark her imagination can be. I don't want to say too much about the plot because there are some fantastic twists and turns and I don't want to give too much away but I am so excited to see the end result of this film. As for my character - she is a burlesque dancer/bartender who is freaky and fantastic... say no more than that. Just wait till you see her!
What can you tell us about Twisted: The Devil in Her Mind's director Eddie Bammeke, and the TV-pilot Undercover Cop you're doing with him?
Eddie Bammeke is so full of energy and enthusiasm it's unreal. He is very passionate about his work and I loved working for him so as soon as he offered me a role in Undercover Cop, I jumped at the chance. The show is hard-hitting and covers a lot of issues we see in society today - drugs, prostitution, violence, bent cops... It's got it all. It's probably pushing the boundaries as far as can be for TV and that is why I love it!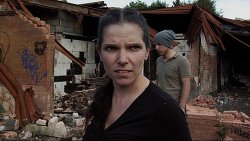 The Eschatrilogy
The zombie-film The Eschatrilogy - again, what can you tell us about your movie and your character in it ... and how much fun was it to fight zombies to begin with?
Ah, The Eschatrilogy! This is another film that will always be very special to me. My first film audition and my first film role! It started out as a short film called A Father For The Dead. It turned out so well that the Morters decided to make it bigger. Two more short films were shot and then it was linked together to create The Eschatrilogy. Three tales, following different people after a demon (the story teller) has brought chaos and destruction into villages to teach humans a lesson about fear. Anyone who loves zombie movies will love this film. In fact, no I think most people whether they are into zombie movies or not will love this film. It was premiered a couple of weeks ago where I got to see it for the first time and I'm just so proud to be involved.
Fighting zombies? I loved playing with guns but when you see this film you will see that when the zombies attack I'm not really in a position to fight...
How did you get involved with that project, and what can you tell us about your director Damian Morter [Damian Morter interview - click here]?
Again, I just went along to an audition. For this one I performed a very sick piece from Silence of the Lambs which caught their attention.
Damian Morter? What a guy! Watch out for him because he is going places. Him and his wife Nicola Morter who produced The Eschatrilogy and brought Safehouse Pictures UK together make a great team. He is a very talented filmmaker, actor, writer and musician. Not only that but a very genuine, down to earth and funny guy. He is a perfectionist and has a hell of a lot of passion for film. Something that springs to mind is while we were filming one of my scenes, there was a lot of blood involved and it accidentally got on one of the cameras. Everyone ran to try to save the camera and get the blood off but instead of being bothered about his camera which was worth thousands he was shouting at them to leave the blood and just watch the shot back to see if we got it right "We can get another camera, we can never take the exact same shot again!" I loved how he thought the shot was more important than the expensive equipment. The shot was great by the way, and the camera was fine in case you were wondering ha ha.
Any other films of yours you'd like to talk about, any future projects?
Yes, I am soon to start filming Molly Crows which is a supernatural horror by Flashgun Films. It was inspired by a true story and is about an English town that is being terrorised by a supernatural force for something their ancestors did a long time ago. I'm really looking forward to getting started on this film. Also in October I will be filming the opening sequence for another horror called Blood Rush by Pentagram Pictures. It is brutal!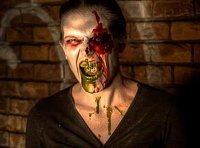 The Eschatrilogy
One can't help but notice that quite a few of your films are of the horror variety - a genre at all dear to you, and why (not)?
I am and always have been a huge horror fan and have watched them from a very young age. Why? I don't know! I don't really want to see people being eaten alive by hoards of zombies or stabbed to death by a serial killer but there's something about horror that I just can't get enough of. I think it's the suspense, the shock factor and fear that give me a huge adrenalin rush. I get lost in them and scare myself stupid!
How did you get into acting in the first place, and did you receive any formal training on the subject?
I left home after just turning 17 to chase my dream of performing. I was lucky enough to get into SLP College of Performing Arts where I did a 3 year diploma. After leaving college, I worked as a dancer in various places but I only started acting seriously about a year and a half ago. I can't for the life of me figure out why. I guess I thought it was impossible. Maybe fear of failing. Who knows? But after seeing how far I've come in that time, I often wonder where I would be now had I started all those years ago. I do believe that everything happens for a reason though!
Can you still remember your first time in front of a movie camera, and what was that experience like?
Oh I'll never forget! It was The Eschatrilogy and I was SICK with nerves. I couldn't stop shaking! I'm glad to say I'm a lot more comfortable in front of the camera now.
You have also done quite a bit of theatre, right? So how does acting on stage compare to acting in front of a camera, and which do you actually prefer?
Acting on stage and acting for film are two completely different things. I love the instant high you get from being on stage and there's nothing like the feeling you get at the end of a show when the audience is going wild. Having said that, if I had to choose one it would be film. I love the realism that there is with film and seeing it after it's all come together is amazing.
Besides being an actress, you also have a career as a dancer - so what can you tell us about Eirian Cohen, the dancer?
I love dancing and have danced as long as I remember. I used to skive classes at school to go for extra dance lessons. I used to be very shy but on stage I would explode! It was my way of expressing myself. I still dance, I always will. It's fun and it keeps me fit, but my main focus now is acting. That's where my real passion lies!
How would you describe yourself as an actress?
Fearless, passionate and driven.
Actresses (or indeed actors) who inspire you?
Leonardo Dicaprio. Since Basketball Diaries, I have followed his career and love all his films. He really is an incredible actor. Another actor I really admire is Anthony Hopkins. He has a way of telling the story just with his eyes. It is captivating. Actresses I admire are Angelina Jolie and Cameron Diaz.
Your favourite movies?
Paranormal Activity, Inception, Bourne Identity, Basketball Diaries, The Shining, Hostel, The Others, Dude, Where's my Car?, Bridesmaids, The Hangover, The Inbetweeners, Bicycle Day to name just a few... I like anything that really makes me laugh, shocks me or keeps me in suspense.
... and of course, films you really deplore?

Feeling lucky ?
Want to
search
any of my partnershops yourself
for more, better results ?

The links below
will take you
just there!!!

Find Eirian Cohen
at the amazons ...

amazon.com

amazon.co.uk

amazon.de
Looking for imports ?
Find Eirian Cohen here ...
Something naughty ?
(Must be over 18 to go there !)

There are none that I really deplore. There are some I just don't get but I can still appreciate them. I personally don't like to watch sad films. I get into films too much and I don't want to be sad! I like my films to grip me, keep me on the edge of my seat and to either scare me stupid or have me in fits of giggles. I like ones that play on my mind afterwards. Psychological thrillers are often more powerful than really gory horrors. If I have nightmares afterwards or wake up during the night having random laugh attacks, it's a winner!
Your website, Facebook, whatever else?
www.eiriancohen.co.uk
www.facebook.com/eiriancohenactress
www.twitter.com/eiriancohen
Anything else you are dying to mention and I have merely forgotten to ask?
Yes! I have recently been turned into an animation. My character is bad ass Anjelica Hit and is for a cartoon by John Broadbent. Here is a link for more info:
http://www.20-20cartoon.com/
Thanks for the interview!