Your new movie Monstrous Disunion - in a few words, what is it about?
It's about the EU referendum in 2016 and how a divided family deal with the oncoming 'pigocalypse' during a family meal.
Basic question: Why pigs?
Haha, well we wanted to make something where characters who were the most fanatical were literally transforming into something monstrous. Sam and I went through a load of different ideas of what they could be. We ended up landing on pigs for multiple reasons, the representation of greed and capitalism itself. It also conjured up images from Orwell's Animal Farm, which really spoke to that aspect of fake revolution that was coming from the Brexiteers. We also were playing off the phrase "pig-headed" and it helped quite a lot that after the writing of this the term "gammon" started being used for angry right wing white men.
Your personal thoughts about Brexit, and the route it has taken since you've made Monstrous Disunion?
When the referendum was announced I was really on the fence to be honest. I feel like the EU is a really complicated issue, and boiling it down to this good or bad framing was really unhealthy for the debate. Ultimately the EU is and always has been a very boring institute dealing with trade and European relations more than anything else. As the campaigns on either side built, it was obvious that the Brexiteers were simply using the campaign as a vehicle to peddle racism and a nostalgia for a time that never really existed. In the end I voted remain to no effect. In hindsight it was kind of obvious, one side was vaguely painting this hopeful image of change and the other was calling for things to stay the same. Since the referendum the "pig-headedness" of either side fermented and the divisions just got worse. In my opinion something like the EU is way too complex to ask the public to vote on, it is not a single issue decision, and it was stupid to call a referendum in the first place. The whole thing has been about aesthetics and been used to move the government further to the right.
(Other) sources of inspiration while writing Monstrous Disunion?
We were thinking of outbreak films a lot, and so the obvious one really is Night of the Living Dead, playing with the idea of paranoia and the power dynamics in that situation. We divided the characters into clear sides to create this us and them-attitude. We were also looking at the way that news infiltrates our lives and shapes our opinions, particularly in Pete and his far-right wing conspiracy theory videos. Despite all these influences and inspirations being quite serious we still wanted to make something fun and absurd.
What can you tell us about your co-writer Sam Mason-Bell [Sam Mason-Bell interview - click here], and what was your collaboration like?
Sam and I have been writing together for almost a decade now. So once we have an idea we find it quite easy to run with it. The writing process was really collaborative, and we agreed on the most part, although we had our moments. As all writers do we can break into bitter argument over some minor aspect but we will either argue it out, or failing that find a compromise. If one of us isn't happy with something we usually agree that there's a reason for that and so we can probably find something better.
This isn't the first time you've worked with Sam Mason-Bell - so what can you tell us about your previous collaborations, and how did you first meet even?
I met Sam when I was studying Drama at uni. He was producing and directing a film called the Wasters. A few friends were in lead roles in the film, and I came on as a glorified extra really. After that I acted in a few more films with bigger roles and became a part of the team. I really wanted to direct, but having only really worked in theatre, I needed more experience in the other aspects of filmmaking. I learnt to use the camera making night club promo videos and by doing film challenges. I also worked with Sam on editing and really developed my skills by trial and error. Eventually I shot The Animals for Sam. It took a year to shoot and you can tell the earlier stuff from the later because I got slowly better as it went on. After that I was Sam's go-to DOP (Lonely Hearts, Millennial Killer, Fixer, Decline and Senseless). But we also worked together on two comedy web series, The Making Of, which I shot and co-wrote with Sam, and Right Here Right Now, which I played the main character in. The spirit of collaboration on our sets is really what makes them work and enjoyable.
Back to Monstrous Disunion: What can you tell us about your film's approach to both satire and horror?
We jokingly referred to Monstrous Disunion as a sledge-hammer horror satire, it's not subtle on the surface. I think it's important now more than ever not to allow satire to be misunderstood especially when creating characters with racist or bigoted views, so I really wanted to slap the audience in the face with the message of the film. I think the funnier moments are the more subtle ones though and I really wanted to take the piss out of every side of the argument. In some ways I wanted to build more horror out of the conversations and the social awkwardness of disagreeing so vehemently at the dinner table, that when they finally start turning into pigs its kind of a relief that you won't hear them talk about Brexit again.
You of course also have to talk about the pig make-up in Monstrous Disunion, and to what extent were you involved in their creation and design?
When Sam and I came up with the idea of creating pig monsters we decided straight away we wanted to keep their human features as much as possible, which is why we used make-up instead of masks. We didn't want to create something too soft or unrelatable, so we were looking at Nosferatu style vampires and then applying the pig imagery to that, like the snout and ears. These were all just rough ideas that we explained to Katy Johnson and Charlie Griffin who really managed to get exactly what we were looking for. Somewhere in between terrifying and hilarious.
Do talk about your overall directorial approach to your story at hand!
I tend to like a bit of a theatrical style, small casts in small locations. I feel that sometimes bringing a big subject down into these small dynamics lets you have a bigger discussion. The characters are all representative of different political views, and what happens to them is also representative of how that viewpoint played out in the referendum discourse. What happens in each scene was written but the dialogue was improvised and so my direction was mostly focused on getting the actors to know their characters, and how their characters might think and react.
What can you tell us about Monstrous Disunion's cast, and why exactly these people?
The cast were wonderful to work with. I've worked with Martin Payne (Mark Baker) [Martin W. Payne interview - click here] numerous times and his attention to detail is always spot on and he perfectly captured the character. I'd not worked with Jeanette Evans (Anne Baker) before but she had the perfect look for the character and honestly ended up knowing the character better than I did. Connor Mellish (Pete Baker) had a bit part in Fixer and just had the perfect look for the character, even though he is nothing like Pete, he really pulled off that snarling smug character. Alexandra Robertshaw had worked with Trash Arts several times, and so we knew that she would be able to get across this quiet uncomfortable character. Jessamie Waldon-Day had worked on a short film with us and we just felt immediately that she would work for Maddie. Ryan Carter has been working with us for years and originally the part was going to be someone else, but after a last minute drop-out Ryan stepped up to play Mikey and despite the short notice he gave a fantastically reserved performance, which is exactly what I wanted from the character. I think in terms of casting one of the only things I was really looking for universally was people who were relatively like minded, I didn't want any real political debates on set.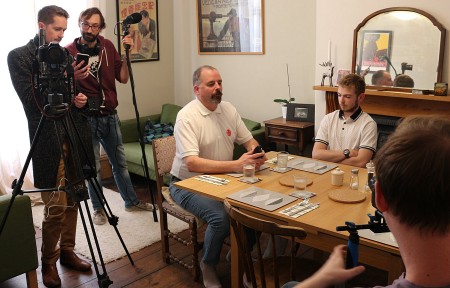 A few words about the shoot as such, and the on-set atmosphere?
We all worked together very collaboratively and we had a lot of fun. After a number of HB Films and Trash Arts collaborations, I knew that having HB Films producing would really mean I could focus on the film itself and directing. I really can't remember a lot of it because I was constantly running around setting things up and trying to work out what the hell I was doing half the time. We shot over two weekends, at first we'd planned to shoot over one weekend, but after one of our actors was ill we had to extend the shoot. Fortunately the location was free again and we managed to finish the film. Everyone seemed to enjoy themselves and in some ways I wish the shoot had been longer simply so I could have actually taken in the atmosphere.
The $64-question of course, where can Monstrous Disunion be seen?
Monstrous Disunion is out on the 1st of January from Darkside Releasing - https://darksidereleasing.com/
Anything you can tell us about audience and critical reception of Monstrous Disunion?
We haven't received too much response from the film yet but it will be live streaming on the 2nd of January on Without Your Head. So I guess we'll see.
Any future projects you'd like to share?
I have recently started working on a web series called My Horror Stories. It's a very basic set up of one actor telling a horror story in front of a black back drop. The story has been built out of a discussion between me and the actor about what fear means to them, their phobias and their ideas. Each story is really different, and terrifying in their own ways. You can see all of these on the Trash Arts YouTube channel, where there will be monthly new releases (Covid permitting).
What got you into filmmaking to begin with, and did you receive any formal training on the subject?
I'd always loved film and TV and started acting in an amateur theatre group when I was 9. Before that I'd wanted to be an author. So story telling was always high on my agenda. I actually did a joint degree of Drama and Media, although I was much more focused on the creative sides of the degree and only really attended my media classes for the editing course. As I was finishing university I got involved with Trash Arts, which really opened up a different creative outlet to me. I think ultimately it was my interest in directing and writing, and my experience in amateur theatre that lead me to making low budget indie films. It's that same idea of creating something out of nothing or very little that really made me feel at home in film.
When it comes to filmmaking, you have worked in numerous jobs both in front of and behind the camera - so why is that, what do you enjoy the most, and honestly, what could you do without?
I think if you're trying to learn a craft you need to have an understanding of every aspect of it. Really my favourite aspects of film making are writing and acting, although I tend to avoid writing for myself as an actor, but I love every job I have done on film sets and in post. The one I would say I'm not very good at is producing simply because I'm terrible at scheduling!
How would you describe yourself as a director?
Collaborative. I'm really not one of those directors that wants everything their way, I get wanting that stamp of ownership, but I think that things work out better when you're open to different ideas and have trust in the people you're working with. I think a good director is supposed to draw on the actors and crews talent around them and help bring that out.
Filmmakers who inspire you?
Artistically I'm inspired by absurdism, playing with narrative format and power dynamics. I love the work of David Lynch, Charlie Kaufman, Wes Anderson, Robert Eggers, Ari Aster, Jordan Peele, Darren Aronofsky, George A. Romero, Sam Rami, Wes Craven and a load of others. I'm really inspired most by seeing low budget work achieving much bigger things from peers like Mike Peter Reed, Tom Lee Rutter [Thomas Lee Rutter interview - click here], Jessica Hunt [Jessica Hunt interview - click here], or older low budget film makers like Michael J. Murphy.
Your favourite movies?

Feeling lucky ?
Want to
search
any of my partnershops yourself
for more, better results ?

The links below
will take you
just there!!!


I really have so many, but if I was to pick one I'd have to say Snowpiercer.
... and of course, films you really deplore?
There's nothing I really go out of my way to hate on. I watch what I enjoy and most films have something in them that is interesting or inspiring. But I'm not a fan of Tarantino, something about the delivery of the dialogue always irritates me.
Your/your movie's website, social media, whatever else?
https://www.facebook.com/BrexitMonsters
https://www.youtube.com/trashartsportsmouth
Thanks for the interview!